Xingcheng
Xingcheng 兴城
is in
Huludao
City,
Liaoning
Province,
China
. Xingcheng's tourism is famous for its "City, Spring, Mountain, Sea, Island, River" (城、泉、山、海、岛、河).
Get in
By bus
Xingcheng is connected to nearby cities by long distant buses. From
Beijing
it is 5 h drive, and from
Shenyang
it is 2 h drive.
By train
Xingcheng has its own railway station, which is in walking distant to Xingcheng Ancient City. There are also buses from Huludao Railway Station.
See
Juehua IslandThe biggest island in Liaodong Bay. Sizewise it is similar with Macau. The island used to be a holy site for Buddlism in Liao Dynasty. Scenic include Dalong Palace from Liao Dynasty, Dabei Pavilion from Ming Dynasty, etc. At Xingcheng Port there are ferries to Jiuhua Island, and one way takes around 40 m.

Shou MountainThe beacon tower on the mountain is from Ming Dynasty. In 1627, Ming army defeated the Jin here. Now the mountain is a national forest park.
Xingcheng Ancient CityThis was built in 1428. It is one of the ten "Best Preserved Ancient City from Ming Dynasty". The ancient city is right beside Xingcheng Railway Station, and it is very convenient for visitors to spend half day in. The entrance for the ancient city itself is free, while one needs to pay if he wants to enter some temples or walk onto the city wall. In 1626, Ming General Yuan ChongHuan 袁崇焕 used the cannons imported from Portugal (红夷大炮 = "Western Cannons") to seriously injure Nurhachi at the East Gate of Xingcheng. Nurhachi died in the same year. The Battle of Ningyuan 宁远之战 (Xingcheng used to be named Ningyuan) was the first battle that Ming defeated Jin. It was an important battle in Ming's history.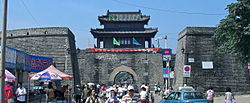 Do
Hot Spring Xingcheng's hot spring has 1300 years' history.

Beach Locals and people from the neighborhood love Xingcheng's beach. 10 RMB/person. Every July is its "Sea Festival" and there can be 100,000 visitors daily.

Eat
Seafood is always popular.