Xishuangbanna
Xishuangbanna
(often just
Banna
is used; Chinese: 西双版纳; Lü: ᧑᧒ ᦗᧃ ᦓᦱ) is in the south of
Yunnan
, near the
Thai
,
Laotian
,
Vietnamese
and
Burmese
borders. The ethnic groups and the local languages in this area are more Southeast Asian than Chinese.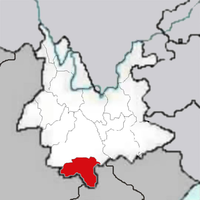 The region is a very popular destination for Chinese tourists. It offers most of the attractions of Thailand — warm climate, tropical fruits and flowers, elephants, prostitutes (legal in Thailand, illegal in China), jungle treks and a reasonably well-established tourist industry — without the complications of a border and different currency.
For other tourists, especially backpackers, the region serves as stop on the
Banana Pancake Trail
; it is on a major route between
China
and
Southeast Asia
.
Cities
, capital and main center of the region
, small town on the Laotian border
Talk
As anywhere in China,
Mandarin
is the lingua franca used for communication between speakers of different languages. However this area, like most of
Yunnan
, has several different ethnic groups and most of those have their own language. In Banna, the largest group are the Dai, ethnically and linguistically very close to Thais.
Get in
There are some flights to Jinghong (
JHG
) from several Chinese cities, but much the most frequent are from Kunming. There are also a few flights from Bangkok; see Jinghong#Get_in.
There is a highway south from Kunming into this region, via Pu'er.
A fast bullet train route all the way from Kunming to Singapore has been proposed. Not all the governments involved have reached agreement yet, but as of early 2014 the Chinese part of the route, Kunming-Mengla is in an advanced stage of construction and the link through Laos to Vientiane is scheduled to be complete by 2019.

See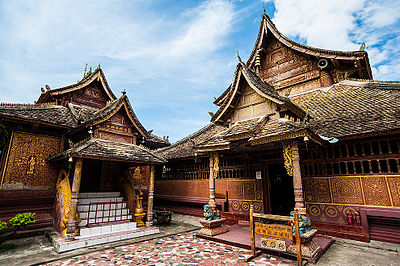 Do
Stay in a
Hani village homestay
and visit tea plantations, do jungle hikes and try the local foods. 300 yuan per night with three meals included.