Yamaguchi (prefecture)
Yamaguchi Prefecture
(山口県
Yamaguchi-ken
) is in the western
Chugoku
region of the main
Japan
island
Honshu
. It is the westernmost prefecture in the island.
Understand
Yamaguchi Prefecture has relatively long history as it is located close to China.
There are no big cities, however there many attractive and interesting smaller cities, where traditional Japanese rural landscapes can still be seen on the outskirts.

Cities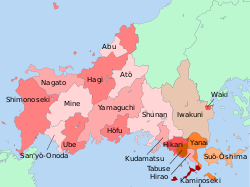 - the prefectural capital
- one of the most beautiful castle towns in Japan
- old city with a famous shrine which is dedicated to Sugawara no Michizane, kami of scholarship
- castle town with the beautiful bridge "Kintaikyo"
- historical city guarding the Straits of Kanmon, and the largest city in the prefecture
- modern city with sculpture, park and airport
- city with culturally important Shirakabe No Machi
Other destinations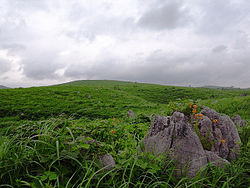 Talk
People speak
Yamaguchi Dialect
, which is very similar to the dialect that is spoken in Tokyo, but the vocabulary is somewhat different.
When you get in Yamaguchi prefecture, you may see the sign of "Oidemase (おいでませ)", meaning "Yokoso" or "Welcome" in Yamaguchi Japanese.
In
Iwakuni
, there is an American base, so some people understand English well. But in other areas, especially in rural areas, few people understand English well. So learning some basic Japanese phrases will help you so much.
In
Shimonoseki
, there are many Koreans. You will find some signs and guides written in Korean. You might also find people who speak Korean if you try.
Get in
By plane
Yamaguchi Ube AirportThe prefectural airport is in Ube city. Yamaguchi Ube Airport regularly connects to Haneda Airport in Tokyo, Japan. Both JAL and ANA are offering the flights from Haneda to Ube. It's about 90 minutes' flight from Haneda to Ube.

Iwakuni Kintaikyo AirportService to Tokyo-Haneda and Naha.
By train
There are five
shinkansen
stations in this prefecture: Shin-Shimonoseki, Asa, Shin-Yamaguchi, Tokuyama and Shin-Iwakuni.
By bus
By Ferry
Several ferries depart from
Shimonoseki
Port International Terminal:
==Get around==
See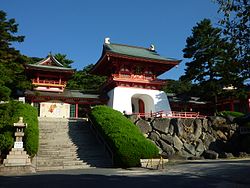 ==Do==
Eat
Fugu. Yamaguchi prefecture is famous for its Fugu (Globe fish).
Kawarasoba. This is a kind of soba (buckwheat noodle) boiled, stir-fried, and put on a tile together with beef, liver, shredded omelet (kinshi-tamago), spring onion and lemon. The famous restaurant of this soba is in Kawatana Grand Hotel.
Drink
Go next
Kitakyushu on Kyushu island is just 650m from Shimonoseki. You can walk under the Kanmon strait through an undersea tunnel.