Yamanouchi
Yamanouchi
(
Yamanouchi-machi
) is a
hot spring
town in
Nagano
,
Japan
, famous for its
bathing snow monkeys
.
Understand
The tourist information center at Nagano station can give you a bus and local train timetable to get to the monkey park, as well as a brochure with a handy map for the walk from the bus stop to the park. English spoken.

Get in
Yamanouchi town's Yudanaka Station is 45 minutes from
Nagano
on the Nagano-Dentetsu rail line; Nagano in turn is 95 minutes from
Tokyo
on the Asama bullet train. The train from Nagano to Yamanouchi is ¥1210 one way; then you need to catch a bus or walk. Upon arrival at Yudanaka Station you will likely be greeted by the info centre's employees handing out free helpful maps on how to get to the Monkey Park. They will also explain that you can buy bus tickets from the window at the front of Yudanaka Station.
If possible, take the Nagano Electric Limited Express. It makes far fewer stops than the local trains, and the seats are more comfortable as the train is newer. It costs an extra ¥100 each way. If you take one of the local trains, it is possible that you will have to transfer halfway down the line onto a different train, although it is usually just a matter of walking across the platform onto the waiting train.
The monkey park is approximately 1.6 km from where the buses and taxis drop you off. The walk is a pleasant one through the woods. While it isn't very steep or difficult, the trail can be muddy or icy, so appropriate footwear is recommended. If you forgot or didn't have a chance to bring proper boots, there is a gift shop/info center at the base of the trail that rents them for ¥500.
Get around
By bus
You can take a public bus to
Shiga Kogen
and get off at Kanbayashi Onsen, which is an easy 30-minute walk away and costs ¥1300 one way. Alternatively - a minibus to the monkey park runs seven times a day from Yamanouchi town and costs ¥1,500 round trip, including admission to the park. Winter only.
On foot
Walking back down to Yudanaka Station from the park takes about 1½ hours (possibly a bit longer in the reverse direction up). The route first follows the off-limit road along the river through forests before entering the beautiful spa town Shibu Onsen after that Yudanaka Onsen. A little further along the way stands a tall statue of a Kannon Buddha.
See
Many people come to this area stay in old traditional hot spring town Yudanaka-Shibu Onsen, experience traditional ryokan accommodation, and hot spring or ski in Shiga Kogen, the highest and largest ski area on Honshu.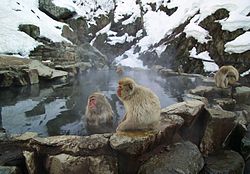 phone: +81 269-33-4379

address: 6845 Yamanouchi-machi

Famous for its population of wild Japanese Macaques (Macaca fuscata), odds are you've already seen this place on TV. The best time for a visit is winter, when snow covers the ground and the monkeys come to bathe in the hot spring at the valley bottom — a unique sight.
Do
Visit the
hot springs
in
Shibu Onsen
(渋温泉) and
Yudanaka
(湯田中).
Sleep
Budget
phone: +81 269-33-2151

address: Yudanaka-Yamanouchi Town

The building and interior are a bit old with Japanese style private and dormitory rooms. The owners are nice. Mr. Yumoto will drive you for free to Jigokudani Monkey Park or an amazing open air hotspring overlooking the valley or the local ski hill. Japanese and Western breakfast is available for a fee.
Mid-range
Minshuku Korakukan Jigokudani

phone: +81 269-33-4376

address: Jigokudani

This hotel is very close to the monkeys — it is actually within the Monkey Park. A great location, but obviously there are no businesses around. It features its own hot spring bath, not shared with monkeys.

phone: +81 269-33-3295

address: Shin Yudanaka Onsen Yamanouchi-cho, Shimatakai-gun, Nagano-ken

Very limited English spoken by staff but they're friendly and will try to communicate with you. Might drive you to the Monkey Park. Offer both Western and Japanese meal options; The Japanese option is recommended as the keiseki is fabulous. WiFi available in rooms
Splurge
phone: +81 26 933 251

address: Shibu Onsen

Super-classy ryokan, run by the same family for 16 generations around 400 years. 10 rooms with open air hot bath and 8 outside and inside hot baths. English spoken. 5 min from Jigokudani Monkey park.