Yarmouth (Nova Scotia)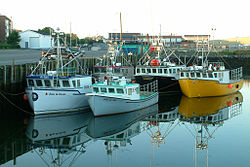 Yarmouth
is a town of 6,500 people (2016) on the western tip of
Nova Scotia
,
Canada
. The town is known for the Cape Frochu Lighthouse and the nearby area boasts traditional Anglo-Scottish and Acadian French culture. It also makes a good base for exploring the inland wilderness areas, which feature over 365 lakes and several major rivers.
Understand
Long connected to fishing due to its proximity to Georges Bank, the town is located in the heart of the world's largest lobster fishing grounds and as a result receives Canada's largest lobster landings each year.

History
It was inhabited by the Mi'kmaq First Nations (Aboriginal) people, who called it Keespongwitk", meaning "Land's End" due to its geographic isolation being at the southwestern tip of the Nova Scotia peninsula.
The region may have possibly been visited by Leif Ericson. An object known as the Yarmouth Runic Stone was found at the nearby village of Overton in 1812. It was interpreted by some to have been carved by Ericson, while others feel the markings are natural scratches gradually enhanced over the years. The stone is preserved at the Yarmouth County Museum & Archives.
The region was visited in 1604 by Samuel de Champlain, who named it "Cap-Fourchu", meaning "forked or cloven cape." The first Europeans to make a settlement on these shores were the French Acadians in the mid-17th century. New England Planters settled at what is now the town of Yarmouth in 1759; the grantees were from Yarmouth, Massachusetts and they requested that Yarmouth be named after their former home. Yarmouth was founded in 1761 when a ship carrying three families arrived from Sandwich, Massachusetts. During the American Revolution, some in Yarmouth were sympathetic to the rebellion. Following the war, Acadians from the Grand-Pré district who returned from exile in 1767 settled in the Yarmouth area. After the American Revolution, substantial numbers of United Empire Loyalists arrived in 1785.
Through the 19th century the town was a major shipbuilding centre, at one point boasting more registered tonnage per capita than any other port in the world. As wooden shipbuilding declined in the late 19th century, Yarmouth's shipowners re-invested their capital into factories, iron-hulled steamships, and railways.
Tourism has been a major industry in Yarmouth since the 1880s when Loran Ellis Baker founded the Yarmouth Steamship Company. Steamship and railway promotion based in Yarmouth created the first tourism marketing in Nova Scotia. Baker's steamships operated between Yarmouth and Boston.
In 1939, examiners at Yarmouth's Merchant Marine Institution made seafaring history by issuing master's papers to Molly Kool, the first female ship captain in the Western World.
The growth of post-war automobile-based tourism led to additional ferry service with New England, a region with many family connections to the Maritimes dating to the 18th century and which accelerated during the first half of the 20th century.
During the first year of the Second World War, Yarmouth was selected as the location for a British Commonwealth Air Training Plan (BCATP) facility. RCAF Station Yarmouth was opened in 1940. RCAF Station Yarmouth closed in 1945. The airfield was sold to the Department of Transport in 1946 and became the Yarmouth Airport. A Canadian Army training camp (known as Camp 60) on Parade Street provided basic and artillery training for 20,000 soldiers during the war.

Climate

Winters are cool and rainy with a January average of −3.0 °C (26.6 °F) though owing to strong maritime influences, temperatures below −20 °C (−4.0 °F) are very rare, and the average high never drops to below freezing at any point in the year. The weather can be unsettled and cloudy due to the Nor'easters coming up the coast from the southwest. As a result, Yarmouth averages only 68–100 hours of sunshine from December to February or 25%–34% of possible sunshine.
Yarmouth's summers are cool due the strong coastal influence from the sea which keeps summer temperatures cool, meaning temperatures above 30 °C (86.0 °F) are very rare. The average temperature in the warmest month, August is 17.0 °C (62.6 °F).
Spring and fall are transitional seasons in which falls are warmer than spring since the waters are at the warmest temperatures in fall and the coldest during early spring. Precipitation is significant, averaging over 1,292 millimetres (51 in) a year, with July and August the driest months on average and November the wettest month on average. An outstanding feature is Yarmouth's late-fall to early-winter precipitation maximum. Summer is the sunniest and winter being the cloudiest. Yarmouth averages 191 days of fog each year.

Get in
By car
From
Halifax
, take Highway 101 on the South Shore or Highway 103 on the North Shore.
By bus
Cloud Nine ShuttleYarmouth to Halifax/Dartmouth and points en route on the #101 and #103 highways, parcel pickups and deliveries, 7 days a week.
By boat
By plane
Yarmouth Airportserves private planes. The closest scheduled services are at Halifax.
Get around
Yarmouth is fairly easy to navigate by car.
Local cab services include:
R & L Taxi

phone: +1 902 742-8294

Sea Crest Taxi

Tri County Cab

phone: +1 902 742-2323

Yarmouth Town Taxi

phone: +1 902 742-7801
See
Art Gallery of Nova Scotia, Yarmouth Branch

address: 341 Main St

Cape Forchu Lightstation. Dramatic, bold coastline and historic lighthouse now open to the public. Small museum and tea room. Cape Forchu was named by Champlain in 1605. Drive to Cape Forchu easily from downtown Yarmouth, passing the numerous fishing shanties and lobster pounds along the way.
Chebogue Salt Marsh and Chebogue Point. The largest salt-water marshland in the province was once the home of a major Acadian French settlement.

Firefighters' Museum of Nova Scotia

address: 451 Main Street

Killam Brothers Shipping Office

address: 90 Water Street

Pelton-Fuller House

address: 20 Collins Street

address: 112 Water St

Explores the Sweeney marine heritage through a number of exhibits including a simulation of a traditional fishing wharf with fishing, processing and ship repair sheds, wharf decks and a coastal freighter.

Yarmouth County Museum & Archives

phone: +1 902 742-5539

address: 22 Collins St

Local museum relating the town's history.
Do
Beaches
There aren't any beaches in the town, but there are a few within a short drive.
John's Cove Beach

address: Highway 304

Sandy curve with views of Yarmouth Harbour

Pembroke Beach

address: Pembroke Cove

Beach on the Atlantic Ocean and a birding destination

Sand Beach

address: Chebogue Rd
Cinema and theatre
phone: +1 902 742-7819

address: 136 Starrs Road

First-run cinema chain.

address: 76 Parade St.

Playhouse and arts centre.
Sport
Deep Sea Fishing Charters

phone: +1 902 742-2713

Undersea Discovery

phone: +1 902 742-7234

address: Hardscratch Road

Scuba diving gear.

phone: +1 902-742-2674

address: 28 Forbes Street

Par 72 golf course (pro shop +1 902-742-2161) Back: 5,897 yards, Front: 5,523 yards.
Tours
C & J's Ocean View Tours

phone: +1 902 745-2536

address: Water Street (Ferry Terminal)

Bus tour.
Buy
There is an Atlantic Superstore, Sobeys, and Wal-Mart.

Eat
Budget
Old World Bakery and Deli

address: 232 Main St

phone: +1 902 742-5918

address: 6B Central Street

The Shanty offers homemade Canadian and Cuban food. Vegetarian and other healthy options. Its mandate is to provide meaningful employment to individuals who face barriers to employment as a result of disability, mental illness, age, language, literacy, etc.

Jo-Anne's Quick-N-Tasty

phone: +1 902 742-6606

address: Route 1, Hebron

Diner with excellent seafood.

Snack Place Restaurant

address: 2 Cann Street

Fish & chips, seafood, etc.

Chuck's Diner

phone: +1 902 742-8448

address: 7 Hardscratch Rd

Drive-in restaurant.
Pizza
Five Corners Restaurant & Pizza Villa

phone: +1 902 742-7876

address: Main St.

Greco Pizza

address: 334 Main Street

Jake's Diner Pizzeria & Deli

address: 322 Main Street

Pizza Delight

address: 77 Starrs Road

Pizza Villa

address: 624 Main Street
Mid-range
Asian
phone: +1 902 742-1688

address: 67 Starrs Road

Canadian Chinese food. All-you-can-eat buffet F-Su 4PM-7PM.

New Century Restaurant

address: 280 Main Street

Canadian Chinese food. All-you-can-eat buffet on weekends.
Seafood
Old Mill Seafood & Dairy Bar

address: 785 Hardscratch Road

Rudder's Seafood Restaurant and Brew Pub

address: 96 Water Street

A five-minute walk from downtown. Known for its seafood, service and spacious wrap-around deck overlooking Yarmouth's waterfront. The 18th-century beamed ceilings and thick plank floors are part of the draw. Live entertainment most nights of the week.

Windlass Restaurant

address: Kelley's Cove
Splurge
Prince Arthur Steak & Seafood House

address: 73 Starrs Rd
Drink
Bars & pubs
Tea rooms and cafés
The Academy Tea Room

address: 113 Main Street

address: 278 Main Street

Joshua's Fine Coffee & Ice Cream

address: 95 Water Street

Mischa's Café and Ice Cream Parlour3198 Hwy 1 Port Maitland.
Sleep
phone: +1 902 742-2446

address: 417 Main St.

Haley's Lounge and Ship's Bell Restaurant. Point of departure for "Experience Yarmouth by Rodd" bus and walking tours.
Nearby
Deerfield
Ellenwood Provincial Park & Campground

phone: +1 902 761-2400

address: Highway 340

Fresh water beach and park
Tusket
Wedgeport
Wedgeport Sport Tuna Fishing Museum

phone: +1 902 663-4345

address: 57 Tuna Wharf Rd, Highway 334, Lower Wedgeport

A museum dedicated to sport tuna fishing with photos, trophies and displays from when Bluefin tuna were plentiful in the area. There are also displays on Acadian culture and Wedgeport's history.
Go next
Acadian Historical Village of Nova Scotia

address: 91 Old Church Road, Pubnico-West-le-Bas

Pubnico is the oldest Acadian settlement where today's inhabitants are the direct descendants of early settlers. The historical village presents the story of Acadians in Nova Scotia.
Tobeatic Wilderness Reserve in Kemptville