Yarmouth and Digby
Yarmouth and Digby
are the two western-most counties of
Nova Scotia
. Traditional Anglo-Scottish and Acadian French culture intermingles amongst the villages, harbours, beaches and lighthouses, a remnant of the colonial past. Away from the shore, there are significant inland wilderness areas, including over 365 lakes and several major rivers.
Cities
— home to a fleet of sea scallop trawlers, and to dive bars and waterfront patio restaurants serving the famous Doggy scallops
— a popular location for sport fishing due to its many rivers and lakes
— an excellent place to explore Acadian history and culture
— known for the Cape Frochu Lighthouse, and traditional Anglo-Scottish and Acadian French culture
Other destinations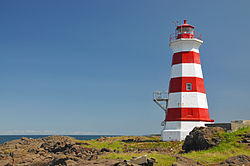 — the westernmost part of Nova Scotia and the southern end of the North Mountain ridge with Long Island lying immediately northeast, an important stopover point for migrating sea birds
-Tobeatic Wilderness Area — A 120,000-ha pristine wilderness area that can be accessed from East Kemptville. A semi-barren landscape, surrounded by more productive woodlands. Expansive wetlands, long stillwaters, fast flowing river and more than 100 lakes provide diverse aquatic habitats.
The Acadie Spirit Trail (French Shore) — explore the vibrant culture and captivating history of French-speaking Nova Scotians
Understand
Yarmouth and Digby, located at the western end of Nova Scotia, offers travellers a variety of coastal and backwoods experiences, and a chance to experience Nova Scotia Acadian culture.
As a fishing region, the seafood is excellent, especially the scallops from Digby.

Get in
By car
Highway 101 - South Shore
Yarmouth to Halifax
Highway 103 - North Shore
Yarmouth to Halifax
Highway 203 - South Shore Inland
Scenic drive from Shelburne (Nova Scotia) through Kemptville to Carleton, near Yarmouth
Many other scenic routes including old Hwy 1 and old Hwy 3.
By bus
Cloud Nine ShuttleYarmouth to Halifax/Dartmouth, operating on the #101 and #103 highways and points en route. Also parcel pickups and deliveries. Service 7 days a week.
By ferry
Bay Ferries
will operate daily to
Yarmouth
from
Portland, Maine
beginning in late summer 2019.
Bay Ferries also runs service to Digby from
Saint John
, New Brunswick.
There is no longer a ferry to
Bar Harbor
.
By plane
The nearest major airport is
Halifax International Airport'
. Yarmouth International Airport (
YQI
) serves only private planes.

Get around
There's just no public transit here. Bring a car, or hitchhike. (Hitchhiking is not truly safe anywhere. If you hitchhike, take precautions.)

See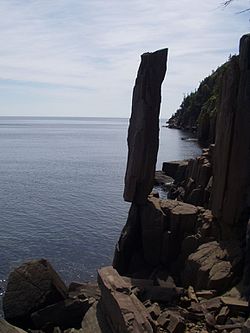 Balancing Column on Long IslandA 1.7-km hike on a well-maintained trail to a column of basalt 6.1 m high by 1.2 m wide balancing on its end over the Bay of Fundy.

Nova Scotia Historic Acadian Village

address: Pubnico

On a 17-acre site that overlooks the Pubnico Harbour, you can step back in time to discover the life and culture of the Acadians in the early 1900s. (Summer only.)
Cape Forchu Lightstation. Dramatic, bold coastline and historic lighthouse. Drive to Cape Forchu easily from downtown Yarmouth, passing the numerous fishing shanties and lobster pounds along the way.
Do
address: Digby

3 days in the first week of August. Scallop-shucking contests, a parade, and an exhibition of local artists.

Tight Lines Guide Service

phone: +1 902 649-2428

Fishing excursions from Port Maitland.
Beaches and parks
Bartlett's Beach, Port Maitland
Mavilette Beach, Mavilette
Port Maitland Beach & Provincial Park, Port Maitland