Yass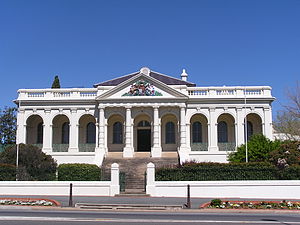 Yass
is a country service town on the Hume Highway in New South Wales, just under an hour south-west of Canberra. It has a range of accommodation and good facilities for those passing through, and a handful of local attractions for wishing to relax a little longer.
Understand

Before the Yass Bypass was complete, the Hume Highway used to pass straight down the main street of town. The high street consisted of service stations, take-aways and motels. There are now highway services on the freeway, and little passing traffic through the town.


Get in
By car
Yass is 3 hours drive from
Sydney
and 6 hours drive from
Melbourne
on the Hume Highway. Yass is approximately a 40-50 minute drive from
Canberra
, the national capital.
By train
Because of an historical curiosity, the train service from Sydney to Melbourne does not pass through Yass. It was linked by a spur line that has long since closed. Accordingly, you will need to be picked up or get a taxi from Yass Junction to Yass.
Train services run from Sydney and Melbourne to Yass Junction and are provided by
NSW Trainlink
(tel 13 22 32). Trains run run twice a day in both directions. It is approximately 4 hours from Sydney by train ($45 economy) and 7.5 hours from Melbourne ($90 economy).
By bus
Bus services are provided by:
NSW Trainlink from Cootamundra and, in the other direction, from Queanbeyan (the service passes through Canberra but does not pick up passengers).
Transborder Express (tel +61 2 6241 0033) weekdays to and from Canberra (see timetable
Greyhound (tel 13 14 99 within Australia or +61 7 4690 9950 internationally) from Canberra, Melbourne and Sydney.
Fearnes (tel 1800 029918 free call within Australia or +61 2 6921 2316) from Canberra.
See
phone: +61 2 6226 1470

address: 756 Yass Valley Way

Gift shop, parking, spacious picnic grounds. Conserved by the National Trust since 1970, this single-storied colonial cottage was built by pioneering pastoralist Cornelius O'Brien in 1835. Between 1839-1873 Cooma was home to one of colonial Australia's great overland explorers, Hamilton Hume (whose name was given to nearby highway), who added his version of Palladian-style wings and a Greek Revival portico. Set in a pastoral landscape the house represents an unusual mix of building techniques and styles and includes a fine, mid-19th century stables outbuilding. A museum to the life and accomplishments of Hamilton Hume is to be found at the house.

Crisp Galleries"Gap Range", Hume Highway, Yass Valley (west of Yass past the Cowra and Harden turn offs). The Crisp Galleries are a permanent exhibit of the glassware works of Peter Crisp.
Do
Country Stuff. It's not exactly the most thrilling town in the world, but its great for photographers and historians!
Eat
If you are passing through on the Hume, there is a major set of services at Yass, that don't require you to venture more than a few hundred metres from the freeway. Fuel and fast food available 24 hours.
Liberty Cafe

address: 171 Comur St
Sleep
Corona Grove Bed & Breakfast

address: 28 Mount Street

Hamilton Hume Motor Inn

phone: +61 2 6226 1722

address: 9 Laidlaw Street

Hi-Way Motor Inn

address: Hume Highway

Kerrowgair Bed & Breakfast

address: 24 Grampian Street

phone: +61 2 6226 9900

address: Cnr Laidlaw & Castor Streets

Free continental buffet breakfast.

Thunderbird Motel

address: 264 Comur Street
Go next