Yatsushiro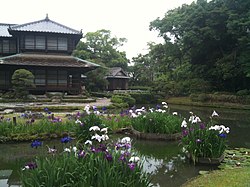 Yatsushiro
() is a city in
Kumamoto (prefecture)
,
Kyushu
,
Japan
.
Understand
Yatsushiro is the second biggest city in Kumamoto prefecture and Japan's largest producer of the igusa grass used to make tatami mats.

Get in
By plane
Kumamoto Airport
is less than an hour away by car.
Kamizono Kōtsū
runs 11
Super Banpeiyu
services a day to and from Yatsushiro (both stations and five central hotels), taking about an hour and costing ¥1400 (¥2600 return).
Fukuoka Airport
is also a good option, though much further away (allow at least 1hr 30mins).
By train
Yatsushiro Station
is the meeting point of the
JR Kagoshima Line
north to
Kumamoto
and beyond, the
JR Hisatsu Line
to
Hitoyoshi
(along the Kuma River), and the non-JR
Hisatsu Orange Railway
south along the coast towards
Minamata
.
Shin-Yatsushiro Station
is 5 minutes north on the Kagoshima Line, on the outskirts of town, and is the city's station on the
Kyūshū Shinkansen
.
Shin-Yatsushiro used to be the northern end of the Shinkansen line, where everyone had to change to a Relay train to Hakata, but since the line was completed in 2011 it has been a little less busy. There is usually one train per hour to each of
Kagoshima-Chūō
and
Hakata
, with some of the latter continuing as far as
Shin-Ōsaka
. It may be quicker to change at Hakata or Kumamoto.
Typical journey times and prices using the Shinkansen to Shin-Yatsushiro are as follows:
Kumamoto: 12 minutes and ¥2400
Kagoshima-Chūō: 45 minutes and ¥5480
Hakata: 50 minutes (by Sakura) and ¥5810
Hiroshima: 2 hours and ¥13,580
Shin-Ōsaka: 3 hrs 40 mins and ¥18,890
JR Kyushu sells a
Nimai-kippu
, valid for one month, which lets you go to and from Yatsushiro or Shin-Yatsushiro to Hakata (or any JR station in the Fukuoka area) for ¥10,200, which is ¥1420 cheaper than buying two normal tickets.
On the JR Kagoshima Line, Kumamoto is 40 minutes and ¥740 away from Yatsushiro. There are usually two trains per hour, stopping at all stations (including trains marked Regional Rapid). Hitoyoshi is a little over an hour and ¥2450 away by Limited Express, or 1 hr 20 mins and ¥1110 by local train.
JR services to Yatsushiro and Shin-Yatsushiro are covered by the Japan Rail Pass and
JR Kyūshū
's All Kyūshū Area Pass and Southern Kyūshū Area Pass (the latter only as far north as Kumamoto).
By bus
Shin-Yatsushiro Station East Exit
is served by 16
B&S Miyazaki
Buses a day from Hitoyoshi,
Ebino
,
Kobayashi
,
Miyakonojō
, and
Miyazaki
, taking 2 hours 20 mins and costing ¥4270 (¥7680 return, valid for 10 days). Operated by
JR Kyūshū Bus
,
Sankō Bus
, and
Miyazaki Kōtsū
.
From Hitoyoshi Interchange these take 40 minutes and ¥1390; this is much faster and more frequent than the Hisatsu Line, and only ¥280 more expensive than the local trains, though you swap the views of the Kuma River for the Higo Tunnel, the longest road tunnel in Kyūshū.
Yatsushiro Interchange
(2.6 km southeast of Shin-Yatsushiro Station) is served by the following buses:
8 Kirishima-gō buses from Kagoshima and Kagoshima Airport, taking a little over 2 hrs 30 mins and costing ¥2830. These buses can also be used towards Kumamoto (1 hour and ¥1440). Operated by Sankō Bus, Kagoshima Kōtsū, and Nangoku Kōtsū.
8 Phoenix-gō buses from Hitoyoshi, Ebino, Kobayashi, Miyakonojō, and Miyazaki, taking 2 hours 30 minutes and costing ¥4270. These buses can also be used towards Fukuoka (2 hrs 20 mins and ¥3090). Only All-Stop (Kakutei) buses stop at Yatsushiro - don't get on the faster Super Phoenix buses! Operated by Nishitetsu Kōsoku Bus, Sankō Bus, and Miyazaki Kōtsū.
See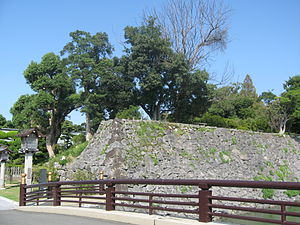 Yatsushiro CastleRuins of the castle are located in the center of the city, by the torrent of the Kuma River
Shohinken - Within the old castle grounds is the Shohinken Tea House, built in 1688 by the Matsui clan. When built, it was on the shore of Yatsushiro Bay. Now it is well inland. It contains a small museum of Matsui relics as well as a small stroll garden. In May, Higo Irises are in bloom.
777 StepsVisible from National Route 3 are 777 steps leading up the mountain. With markers detailing your progress up and rest benches and gazebos along the way, the stone steps are a good place to get some exercise and be rewarded at the top with a great view of the city.
Do
Myou-Kenn-SaiThis is a really exciting autumn festival on Labor Thanksgiving Day(November 23).

Hinagu hot spring (25 minutes and ¥200 by bus from Yatsushiro Station or Yatsushiro-Shiyakusho-mae, or 11 minutes and ¥340 on the Hisatsu Orange Railway to Hinagu-Onsen station, then 10 minutes walk.) Simple spa and carbonic acid hydrogen spa. 40~50 Degrees Celsius. Said to be good for neuralgia and rheumatism.
Buy
Jusco and Youme Town are both in the city, providing shopping centers of various stores and restaurants.
Enthusiasts of pottery can find three Kodayaki kilns in the area. It's noted for its blue-gray crackled glaze with white inlay. The oldest is the former "Sakai" family kiln. The most famous is the Agano kiln in Hinagu.
Eat
Chikuwa, a type of fish sausage
Zabon, a citrus fruit.
Basashi, raw horsemeat served with soy and garlic.
Ayu, a sweetfish from the Kuma River, is a local specialty.
Unagi, eel, locally produced.
Karashi rencon, lotus root stuffed with hot mustard, is famous in the area.
Drink
Nightlife AlleyLocated alongside the city's shopping arcade, this main road hosts Shidax, many bars, and snack bars. Smaller roads branch from the Alley, letting you explore even more bars.