Yeongju
Yeongju
(영주) is a small city to the north of Andong. It is surrounded by Sobaeksan National Park and other rural attractions. The city maintains a traditional atmosphere while being friendly in nature.
Understand
Yeongju takes great pride in it's Confucian history and traditional Korean culture. As a result there are several sites and festivals commemorating this history. The town's demographic is very mixed, with a large older population it is easy to see the stark contrast between tradition and changing cultures.

Get in

===By bus===
From Dong Seoul buses leave every 45 minutes. The journey takes 2 hours 30 min. From Dong Daegu bus terminal buses leave regularly. The journey takes 1 hour and 30 min. From Andong intercity bus terminal buses leave very regularly. The journey takes 40 minutes.
===By train===
From Seoul there are several trains a day to .

Get around
From the local bus terminal buses are regular and inexpensive. Taxis are readily available and are inexpensive.

See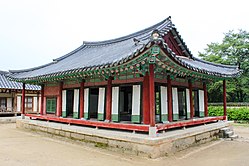 Buseok TempleRenowned as one of the most beautiful temples in the area Buseoksa draws in the most visitors in the fall when leaves cover the area in color. The area has plenty of restaurants and is famous for apples. One of seven Korean mountain mountain monasteries to be inscribed on the UNESCO World Heritage List in 2018.

Sosu SeowanKnown to be the home of Joseon scholars and the first Confucian school. The entrance fee includes the ticket into Seonbichon Village (선비촌), a living museum depicting traditional, Seonbi life. It's one of nine components of the world heritage site "Seowon, Korean Neo-Confucian Academies".

Dosan-seowonAnother of the nine world heritage listed Seowon academies.

Seocheon Falls
Do
Sobaeksan National ParkHike the various trails in and around Sobaek Mountain. There are two main entrances accessible by public transport from Yeongju. The first is Sam-ga which is the shortest hike to the highest point. It takes around 3 hours from the trailhead.

Fantacion Water Park