Yeosu
Yeosu
(여수,麗水, pronounced
YUHsu
) is a coastal city in
South Jeolla
province,
South Korea
.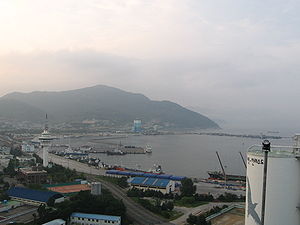 Understand

Yeosu is one of the country's most picturesque port cities especially at night. Famous for its seafood, beaches, flowers and marinas, it is developing as an international ocean resort and tourist destination as well as being selected as a host city for the 2012 World Expo in Yeosu Harbor.
The city of Yeosu consists of the Yeosu peninsula as well as 317 islands (49 inhabited, 268 uninhabited) with population of 300,000. Yeosu is a city of history and loyalty where the headquarters of South Jeolla Province Navy Base was located, and the Great Admiral Yi Sun Shin invented the Geobukseon or "a turtle ship" to save the country while serving as the Navy Commander when Japan invaded Korea in 16th century.
Lying about midway along the southern coast of South Korea, Yeosu has cool summers and mild winters thanks to the sea wind and warm current. Its blessed ocean climate also brings Yeosu relatively longer springs and autumns than other regions.

Orientation

Yeosu is fairly spread out with a ton of districts each segregated by mountains or ocean. The main CBD centered around Jungang-dong and the harbor overlooking Dolsan Bridge is quite compact, however.
West of the harbor and through a mountain tunnel is Yeoseo-dong, a roughly circular neighborhood nestled in between mountains with a small downtown district in the center. A great deal further west lies Ssangbong-dong, home to Yeosu City Hall, a second smaller port and a bunch of fancy tourist hotels.
South of the harbor and across Dolsan Bridge are the many islands and islets that make up the Yeosu chain. Most of the larger ones are connected in a rough circle by a road well covered by public transportation. The vast majority of tourist attractions lie on this ring road.
East of the harbor and tucked on another little stretch of coastline is the site for the Yeosu 2012 World Expo, at present a huge construction site. Yeosu's Korail train station is located here.
To finish off the compass points, to the north is the land access to Yeosu, and all the industrial areas (lit up nicely at night).
Finally, there is an additional urban corridor tucked between the harbour, Yeoseodong and the northern region. This thin stretch contains mostly residential housing, but also an E-mart and Yeosu's Intercity Bus Terminal.
Yeosu is developing like most of Korea, but retains a small-town charm that is vanishing from the country.

Get in
By plane
Yeosu AirportKorean Air and Asiana Airlines fly between Yeosu Airport and Gimpo Airport (Seoul) up to 8 times a day and it takes one hour. Korean Air also has flight between Yeosu and Jeju on Friday and Sunday. The airport has information desk, convenience store, restaurant, snack bar and rent car office. There are buses to various parts of the city but taxi is cheap and more convenient. It can take up to one hour to the downtown (shinae) of Yeosu by car.
By bus
The express bus terminal(고속버스터미널) is connected to most bus routes across Korea. From Yeosu, it takes 5 hours 30 minutes to
Seoul
(Central City terminal) and 2 hours to
Gwangju
, former capital of South Jeolla.
There are two main terminals- one in the middle of the city and one in the Yeocheon neighborhood on the west end of the city. There is a minor terminal in Deogyang neighborhood in the north.
By train
Yeosu has two train stations. The main station is called Yeosu Expo Station
yeosuexpoyeok
(여수엑스포역) which is the southernmost station of Honam line and one stop before that there is smaller Yeocheon Station
yeocheonyeok
(여천역). Check
Korail website
for schedule, to check fare or to book tickets.
The high-speed train
KTX
began service to Yeosu October 1, 2011. A trip from
Seoul
to Yeosu takes about 3 hours 20 minutes.
Get around
The best way around the CBD is by taxi as the city is fairly small and taxi fare is quite cheap. Taxis are highly recommended against if crossing the bridge as Yeosu has some of the worst traffic jams in Korea at this bottleneck, despite its tiny size. Even by bus, it could be optimal to get off, walk the bridge and hop back on the previous bus at the other end. Ridiculous.

By bus
The bus system is very convenient, but a little difficult to utilize. Each bus stop should have a posting of the buses that will arrive and their respective stops but most have been inexplicably vandalised. Those that do still exist are strictly in Korean.
Once south of the main bridge, most buses actually take a similar route so it can be easy to hop on and off in whichever direction to wish to head. The one exception to this is a branch where half the buses turn south-east to stop at the hermitage whereas the rest continue south around the island chain.
The "magic number" bus, if you can call it that, is the 111. This bus travels a zig-zagging route from the Intercity bus Terminal to Hyangiram Hermitage via Jinnamgwan and the harbour, crossing the Dolsan Bridge and passing many of the tourism attractions on the southern islands.

See
Hyangiram HermitageA beautiful temple-like hermitage with views of the sea and the scattered islands that make up Yeosu Peninsula. The hermitage itself is located up the sides of a cliff and the entire complex is connected by a series of very thin trails winding their way through tight caves and under twisted evergreen foliage. Rather claustrophobic, but unique making it one of Yeosu's must-see attractions. The symbol of the hermitage is the turtle, after the distinctive natural hexagonal pattern on the rocks resembling a turtle's shell. In accordance with this, the monks have crafted a veritable army of adorable little stone turtles large enough to perhaps take down Yeosu itself, should they so desire. Lies in a corner of the islands designated as a national park.

Replica turtle shipA full-sized replica of one of Admiral Yi's famed turtle ships. You can have a wander around the inside which is stuffed to the brim with some decidedly seasick looking mannequins acting out their daily routine. Situated just south of Dolsan bridge.

JinnamgwanKorea's largest single-storey wooden pavilion. Has a small museum attached.

Dolsan bridgeA beautiful bridge with changing lights at night and lots of seafood restaurants and romantic cafes around the area. Good place to see Yeosu's famed nightview. For even more striking nightview, climb up to Dolsan Park (돌산공원) when you cross the bridge.

Maritime Fisheries and Science MuseumLocated on the thinnest part of Dolsan island, beside the main road.

West market

Odong island

Jasan ParkView of Yeosu. Statue of Yi Sun Shin.

Manseongri Black Sand BeachAs the only black sand beach in Korea, Manseongri is the liveliest beach in Yeosu with lots of restaurants and cafes along the beach. Along the coast line between Manseongri and Yeosu train station is located Marae Tunnel, the only natural rock tunnel in Korea.

Soho-dongHas a yacht marina, various restaurants and cozy cafes along the coast.
Do
Ocean CruiseEither leaving from Odongdo (오동도) or across Dolsan Bridge(돌산대교), there are dozens of different cruises hopping different islands in Hallyeo Ocean Park.

Mount Gubong

Paraocean WaterparkLocated in the latest and biggest resort in Yeosu, the Ocean Resort waterpark has dozens of indoor and outdoor pools and slides as well as spa, restaurants and shops.
Buy
E-MartYeosu has one E-Mart, located across the street from the Yeosu Bus Terminal(터미널). There is a McDonald's inside.

Lotte MartThere are two Lotte Mart locations in Yeosu: Lotte Mart (Yeocheon 여천) in Seowon-dong, and Lotte Mart (Yeosu) in Guk-dong(국동).

Shopping area in Yeosu shinae (여수시내).
Eat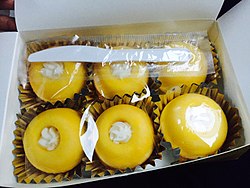 Good restaurants can be found anywhere in Korea, but almost any seafood restaurant in Yeosu warrants merit.
Seafood
Hoe
(회, sashimi) is locally enjoyed with spicy and sour sauce (초장) and wrapped in lettuce along with garlic, similar to the way Koreans enjoy BBQ.
Hoe restaurants (
whaetjib
횟집) are very popular with locals and seafood restaurants in Jonghwa-dong, Soho-dong, atop the cliffs near Dolsan Bridge (overlooking the harbour) and down by the replica turtle ship on the other side, and in Manseongri offer you opportunities to choose your own fish from the tank. You can also eat fresh seafood in each season. Hoe is good in spring and fall, pike eel dishes in summer, and roasted oysters in winter.
For the utmost seafood experience, it is recommended to visit and enjoy the auction center of Suhyup (Fisheries Cooperatives) in Gukdong Fishing Port at 5PM You can eat fresh raw seafood at a low price provided by dealers.
Also very popular among locals is
Seodaewhae
(서대회), raw red tongue sole seasoned with spicy sauce and vegetables. If it's too spicy, it can be mixed with hot rice and sesame oil. Many restaurants near marine terminal offers Seodaewhae.
Kimchi
Another specialty of the city is
Gat Kimchi
(갓김치) made with mustard leaf from
Dolsan Island
(돌산). Now it can be bought in any supermarket or convenience store in Korea.
Korean Full Course(한정식)
Korean Full Course in Yeosu differs from that of Seoul, as the most dishes are seafood. You can enjoy up to 40 different dishes in one meal. Some of the best ones are
Hanilkwan
(한일관) and
Jasan Ubo
(자산어보) in Yeoseo-dong. Minimum $20 per person.
Others
phone: +82 61-666-9997

address: Yi Sun-sin Gwangjang-ro 75, Yeosu, Jeollanam-do

This bakery is selling a special bread called Geobukseon bread and yuzu bread.

Miso Ssambap

address: Yeoseodong (여서동)

Famous Korean style restaurant, known by all cab drivers. Order jeyukbogeum (제육볶음), a marinated pork dish that you wrap in lettuce, served with many side dishes.
There are few western style restaurants in Yeosu and even the few ones serve rather Korean style western food. If you are desperate, McDonalds is in yeoseodogn Emart.
Drink
Main areas to go out:
Yeosu Downtown (여수시내): The busiest area in the city with hundreds of shops, restaurants, bars and clubs. Ask for Chungang-ro(중앙로)or Chinnamkwan(진남관) to find the area.
Yeoseo-dong(여서동): trendy and modern cafes, restaurants, clubs and bars
Yeocheon downtown (여천시내): mainly behind the fire station, dozens of blocks for restaurants, bars and cafes linked to Soho-dong
Soho-dong (소호동): dozens of cafes and seafood restaurants along the coast line near the yacht marina
Dolsan Bridge(돌산대교): romantic cafes around the bridge to enjoy the nightview

Lost Shepard GirlA foreign style "free house" bar, with free pool, darts, and foosball. Features many imported beers, including Guinness on tap. Many of Yeosu's expats hang here on weekends. Located in Yeocheon, near Hobak Night Club and Turtle Park
Cafe
Turtle bean

phone: +82 61-663-0900

address: Jungangdong 746, Yeosu, Jeollanam-do

"Coconut coffee" in the cafe is most famous in the country
Sleep
Budget
A cheap place to sleep is at the local
jimjilbang
(찜질방). This is a kind of bathhouse that has a communal room for sleeping on the floor. It usually costs about 6000 won. Ask a taxi driver for the closest jimjilbang:
Sporex

address: Yeoseodong

A gym on the 4th floor of Yeoseodong's main nightlife strip with a tiny jjimjilbanmg attached. Has showers instead of a spa and limited lockers, but the sleeping room upstairs is quite pleasant. Being a smaller establishment, one can expect a bit better night's sleep and greater chances of successfully nabbing a sleeping mat and headrest cube.
Mid-range
phone: +82 61-686-7977

address: Hak-dong 200-19

Ocean view rooms near Soho-dong yacht marina

phone: +82 61-664-7070

address: Chungmu-dong 346

Nobles Hotel

phone: +82 61-691-1196

address: Hak-dong 77-9

Facilies include sky lounge and business center.

phone: +82 61-662-6111

address: Konghwa-dong 1054-1

Tiffaney Hotel

phone: +82 61-685-2200

address: Hak-dong 200-14

Deluxe rooms have a killer view of the water and start at ₩80,000.
Motels are also everywhere in the city and reasonably priced between $30 and $70. Mainly used by locals, many of them have modern and clean rooms and suites.
Splurge
The Ocean ResortOffers condominium style rooms and other facilities. Located in Soho-dong, the resort overlooks yacht marina and its own waterpark.
Connect
Internet cafes abound in every corner of the city and are open 24 hours. Look for the sign PC방.

Go next
Travel west to
Mokpo
, often regarded as rivalling Yeosu for coastal beauty, east to
Jinju
to seeits historic fortress or north to the bustling city and alternate youth culture of
Gwangju
.
If in season, the iconic world famous Japanese-landscaped green tea plantations of
Boseong
are also a very short hop away to the west. You've likely seen this place on someone's computer desktop.