Yogyakarta
Yogyakarta
— despite the official spelling, the name is usually pronounced and not uncommonly written
Jogjakarta
or just
Jogja
(JOG-jah) — is a major tourist destination in
Indonesia
. It is the capital of Yogyakarta Special Region to the south of Central Java province.
Understand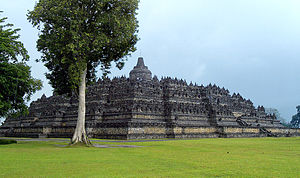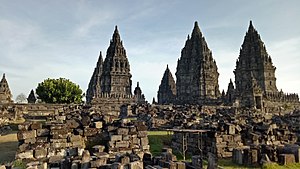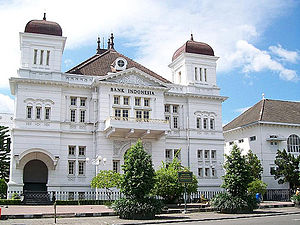 Yogyakarta is a bustling town of some 500,000 people and the most popular tourist destination on
Java
, largely thanks to its proximity to the temples of
Borobudur
and
Prambanan
. The city is a centre of art and education, offers some good shopping and has a wide range of tourist facilities.
The city (
kota
) of Yogyakarta is one of five districts in the semi-autonomous province of Daerah Istimewa Yogyakarta (DIY), the "Yogyakarta Special Region". The other districts are the regencies of:
Sleman on the slopes of fiery Mount Merapi to the north
Bantul all the way to the sea to the south
The hills of Gunungkidul to the east
The lowlands of Kulon Progo to the West
This special status is thanks to the Sultanate of
Hamengkubuwono
, which has ruled the area since 1749 and steered the state through difficult times of occupation and revolution. During the Indonesian war of independence, Sultan Hamengkubuwono IX offered the fledgeling Indonesian government his enclave as a capital city. Yogyakarta became the revolutionary capital of the republic from 1946 to 1949 when Jakarta was still occupied by the Dutch. As a result, the newly-independent Indonesia appointed the Sultan as the governor of the province of DIY — the only one in Indonesia that is not elected directly by the people. The Indonesian central government has tried to weaken the sultan's power by calling for direct elections for the governor. The present sultan, Hamengkubuwono X, was chosen by an overwhelming majority.
Yogyakarta lies in one of the most seismically active parts of Java and has been repeatedly struck by earthquakes and volcano eruptions. The worst in recent times was the earthquake of 27 May 2006, which killed over 6,000 people and flattened over 300,000 houses. The epicentre was south of the city, which avoided the worst of the quake. A surprisingly effective disaster recovery effort repaired most of the physical damage quickly.
Yogyakarta is full of domestic tourists during school holidays, with tourist buses on the visitor hotspots of shopping street Jl Malioboro and the northern palace square, or
alun-alun
, trapped in heavy traffic. Vehicles, parking and vendors contribute to the traffic jams.
Tourist information
There are three information offices, one at the airport, one at the main railway station, and this main one:
Tourist information office

phone: +62 274 566000

address: Jl Malioboro No.16

Has maps in English and can give useful information.
Get in
By plane
Yogyakarta International AirportThis airport is opened for public in May 2019; Citilink from Jakarta has moved completely from JOG to YIA. There are Damri Bus and Damri Minibus from YIA to Wojo Station for Rp 10,000, to Yogyakarta city Rp 40,000, to Kebumen Rp 50,000 and to Magelang Rp 50,000.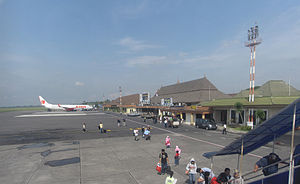 Adisucipto International Airport

phone: +62 274 484261

address: Jl Solo

A small but busy, mostly domestic hub. Near-hourly connections to Jakarta (50 minutes) and Denpasar, while other domestic airlines service major cities in Java, Sumatra, Kalimantan and Sulawesi. For international flights, Air Asia goes to both Kuala Lumpur and Singapore and SilkAir connects to Singapore. There is a tourist information desk and ATMs in the arrival hall.
Getting into the city
Since Adisucipto International Airport is closer to the city centre, there are numerous possibilities to get into the city:
By bus
TransJogja bus 1A goes to the main Tugu train station and Jl Malioboro for Rp3,500. Buy the ticket at the bus stop.
By taxi
Airport taxis cost around Rp50,000 depending on destination. Pay at the desk in the arrival terminal and head for the rank. Give the receipt to your driver, there is no need for any additional payment. It is about half the price to use a taxi dropping passengers off at the departure terminal - insist on using the meter. Expect to pay the Rp2,000 airport entrance fee, even though this has already been paid by the previous passenger on the way in.
By rail
Take the Prambanan Ekspres train that runs between Palur (just east of
Surakarta
) and Kutoarjo, west of Jogja, from
Maguwo station
, a few minutes walk from airport arrivals. In Yogyakarta, the train calls at the main Tugu station, just off Jl Malioboro. In Solo, it calls at Balapan station.
Ride-hailing services
You can use ride-hailing apps to get picked up but you will be picked up outside the airport in front of the Class I Immigration Office on Jl Solo, an eight-minute walk from the terminal.
By bus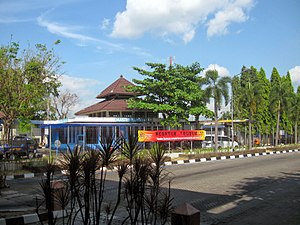 Giwangan Bus Station

phone: +62 274 378288

address: Jl Imogiri Timur, Giwangan

Regular services from across Java and beyond, including Jakarta (9 hours), Bandung (6 hours), and Surabaya (8 hours). In Jakarta, there are many bus stations like Lebak Bulus in the south, Pulo Gebang in the East and Kalideres in the west. Passengers can choose an operator departing to Yogyakarta like Safari Dharma Raya, Handoyo, and Ramayana. From Surabaya, buses for Jogja leave from Purabaya Bus Station. Operators include Sugeng Rahayu and Eka. There is also some scheduled travel available. Buses to Jogja from Bandung leave from Cicaheum terminal, travelling either directly or via Purwokerto (6–7 hours, Rp45,000), from where there are regular buses to Yogyakarta (4–5 hours, Rp30,000).
Small shuttle buses called
travel
ply the routes from Semarang and Solo. One such service is Joglosemar (Jogja-Solo-Semarang), Rp45,000 from Semarang, and Rp25,000 from Solo.
phone: +62 274 623700

address: Jl Magelang Km 5.5

phone: +62 274 385990

address: Purawisata, Jl Brigjen Katamso
By train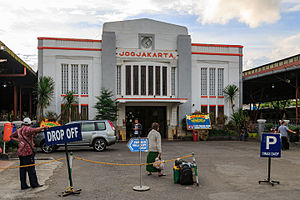 Tugu Railway Station

phone: +62 274 589685

address: Jl Mangkubumi No.1

The main central station, serving cities such as Jakarta, Bandung, Surabaya and Solo. To check schedules and buy tickets enter from Jl Pasar Kembang (i.e., from the east end) and get a queue number from the stand facing the ticket windows. Then go to the opposite side of the room and fill out a ticket request slip, consulting the timetables on the wall to your left. You will be called to the appropriate ticket window, the announcement will be called (in Indonesian only) and displayed on the electronic sign on the wall. To check schedules and buy tickets online use tiket.com.
Lempuyangan train station

address: Jl Lempuyangan

Serves economy class trains and commuter trains.
Get around
Yogyakarta is a relatively small city, so travelling around town should not be too expensive. If you are travelling on foot, a street sign facing you at a corner indicates the name of the street you are entering, not the cross street.
By bus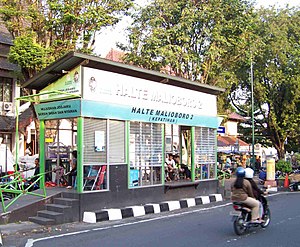 Medium and small buses are the main public transport in Yogyakarta.
The TransJogja rapid transit system operates from 05:30 to 21:30 and stops only at designated shelters. They are air-conditioned and generally safe. Tickets can be bought at the kiosks, and the cost for single trip is Rp3,600. You can buy regular trip cards which cut the per trip cost to Rp3,000, and allows transit to other shelters. Get a free route map for the TransJogja buses at the Tourist Information Centre on Jl Malioboro.
Buses other than TransJogja normally operate 06:00 to 17:00, or 21:00 for some long routes. The cost for a single trip is Rp3,000 regardless of distance (within the city). Usually on a bus there will be a driver and a helper who will hang from the side of the bus and handle money and try to get passengers. The helper will usually tap you on the shoulder to indicate you should pay him. If there is no helper you can pay the driver directly. When you are ready to get off a bus, tell the driver or helper "kiri" (KIH-ree) which means left.
By car or motorbike
There are several car and motorbike rental agencies just outside Tugu Station, on the street that runs east-west just south of the station. A car or motorbike delivery and pick-up at the airport remain the best way to rent them.
Driving a car in Indonesia is never a rewarding experience. But for those that would like to, a Toyota Avanza or Daihatsu Xenia (6 passengers) can be rented for around Rp250,000-Rp300,000 for 24 hours, or Rp175,000-Rp225,000 for 12 hours. A new green car, Toyota Agya or Daihatsu Ayla, can be rented for Rp150,000 for 24 hours. Most of the companies will ask you for the driving licence and ID cards for security reasons.
Renting a car with driver is a more relaxing proposition. A driver will cost an additional Rp50,000-200,000 a day. The cost of a car with a driver may vary depending on whether fuel is included for a set distance or for the whole itinerary. Prices are always subject to negotiation and may increase or decrease due to local demand, type and age of vehicle and your individual requirements at the time. The normal rates (not the high season/peak season) will be around Rp450,000-500,000 per 12 hours service.
A near new semi-automatic (
clutchless
) motorbike can be rented for Rp60,000 per 24 hours; older bikes may come for less, and fully automatic bikes such as a Honda
Vario
or Yamaha
Mio
may sometimes cost Rp5,000-10,000 more. Many roads outside Yogyakarta are unpaved, especially around
Mount Merapi
area, so many motorcycle rentals offer a semi-offroad automatic bike with daily fee around Rp75,000.
By taxi
Yogyakarta's taxis are metered and most drivers are trustworthy. All taxis have a flagfall of Rp7,000 for the first kilometre and then Rp4,250 for every subsequent kilometre. Most trips around the centre should not cost more than Rp20,000. If you find a driver you feel comfortable with, ask for their mobile number so next time you need to travel you can call him directly. Most drivers are more than happy to do this.
By ojek
Motorcycle taxis are widespread. They usually gather at designated spots (
pangkalan
), where you will haggle your way to a ride. Not comfortable or convenient for carrying luggage, but quicker if the traffic jammed.
Nowadays, organized ojek are strong competitors to taxis and
ojek pangkalan
. Pickup is free and you pay according to the printout from the meter. No haggling. Try:
phone: +62 811 307-0707, +62 0852 1007-0707, +62 274 700-0707, +62 274 970-7707

address: Jl Dr Sardjito 11, Jogja; Rumah Makan Ny Suharti, Jl Solo 208 (Janti flyover)

Rp2 per meter or Rp2,000 per kilometer.
Disability ojek are also available in Yogyakarta. The system is run by disabled persons, including the drivers. Using motorcycles with sidecars, the can carry a person with a wheelchair. Spacious enough, so two slim non-disabled people can also use it. Try:
Difa City Tour and Transport

phone: +62 823 2801-6326

Instagram: @difacitytour Twitter: @difact Facebook: difa ct
By ride-hailing
Ride-hailing apps such as Grab and Gojek are ubiquitous in Yogyakarta and can be used to request car or motorbike rides. They are typically cheaper than taxis, have short waiting times in the central area, and are mostly straightforward to use, expect a very little English from most drivers. When you request a car or motorbike using one of these apps, it's handy to have an Indonesian speaker to help you communicate with the driver, or learn some of the keywords and phrases used in this situation. See the
Indonesian phrasebook
.
By becak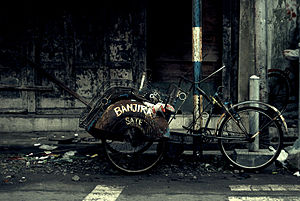 Three-wheeled pedal-powered trishaws or pedicabs, known as
becak
(BAY-cha'), can be found in most parts of Yogyakarta, for shortish journeys (remember there is some poor guy pedalling away behind you).
Haggle
furiously before getting in. Be sure to determine whether the price is for a one-way or return (
pulang
) trip and if you want the driver to wait while you conduct your shopping or business. The journey from within the city to the Malioboro shopping precinct should not cost more than Rp 10,000.
By andong
The two-wheeled horse-drawn carriage is still found in Jogja. While happy to do a tourist jaunt, they are mostly used by the Jogjanese for shortish trips around their neighbourhoods, to and from the market, for example. There is also a "Grab Andong" service which you can order via the app and can be ordered along the Malioboro area.
On foot
As in the rest of
Indonesia
, walking in Jogja is probably one of the least convenient and least popular ways of transport, with two remarkable exceptions:
Jalan Malioboro, with its vibrant street life, colourful shop facades, large walkways and street artists;
The charming Kampung Taman Sari neighborhood containing the remains of the Taman Sari Water Castle.
See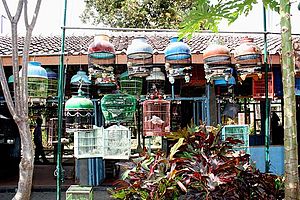 Being one of the oldest cities in Indonesia, Yogyakarta has many heritage buildings and monuments.
The number one must-see attraction is Sri Sultan Hamengkubuwono's palace, better known as
Kraton Ngayogyakarta
. Near the palace are a number of other heritage buildings : the BNI '46 building, the Central Post Office and Bank Indonesia.
Other notable landmarks and attractions are:
Benteng Vredeburg

phone: +62 274 586934, +62 274 510996

address: Jl Jenderal Ahmad Yani No.6

A Dutch fort in front of Gedung Agung (the President's Palace). A great example of Dutch colonial architecture. A few military items are presented, including a twin cannon.

Church of the Sacred Heart of Jesus

phone: +62 274367154

address: Jalan Ganjuran, Sumbermulyo, Bambanglipuro, Jogodayoh, Sumbermulyo, Bambang Lipuro, Bantul, DIY 55764

This Catholic church is remarkable for its Javanese styling. The main building is in the form of a traditional joglo, and there is a chapel in the form of a Hindu temple. Mary, Jesus and the angels are represented as Javanese.

Imogiri royal gravesGraveyard of the Sultan Agung and his descendants, the Yogyakarta and Surakarta royal families. It was damaged during an earthquake in 2006 but has been reopened.

KotabaruThe Dutch officials' residential area has some heritage homes, a colonial style church, monastery (Gereja Kotabaru), and a stadium (Stadion Kridosono).

KotagedeThe capital of the ancient Islamic Mataram kingdom. The tomb of its first king, Panembahan Senopati, is here in the royal graveyard. Before independence, Kotagede was Jogja's economic centre, as it had the largest market and was home to many wealthy batik merchants. Some of the older buildings have been modernised or replaced with newer buildings, but Kotagede remains a prime example of Javanese architecture and city structure. Check out the local silver handicrafts.

Tugu MonumentA downtown landmark. Built by Sri Sultan Hamengkubuwono VI, the spire was originally a sphere representing the universe. During the colonial era, the spire was replaced with a golden cylinder.
The Kraton
The Sultan's palace or
Kraton
encompasses the main palace, the sultan's residential buildings, two
alun-alun
(palace squares), and a large residential area where the sultan's servants used to live.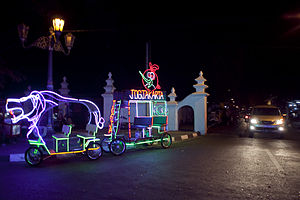 Northern alun-alunBuilt for training the Sultan's army, it was opened to the public during the reign of Sultan Hamengkubuwono IX. Now used for the quarterly Garebeg parade held in the months of Maulud, Besar and Sawal, according to the Javanese calendar. In the parade, the Sultan's servants carry huge cone-shaped offerings to the alun-alun. After the parade, attendees scramble to get a scrap of the offering as it is believed to bring good luck. Prior to the month of Maulud, a popular public fair is held here for 30 days, offers many kinds of goods from traditional handicrafts to Chinese ceramics. A snack associated with the fair is the doughnut-like galundeng. On weekend or holiday nights, pedal cars decorated with lights (gowes) can be hired to make a circuit of the square.

Kraton YogyakartaA calm and elegant example of Javanese heritage with two separate entrances; the Main Court (Pagilaran and Siti Hinggil) and the Residence. The Main Court showcases the grandeur of the Sultan's monarchy, while the Residence is more homely, showcasing the royal family's luxurious lifestyle. There are regular free performances of music and dance. Check out the times when you arrive in Yogajakarta. (Every Sunday at 11:00 as of Oct 2015). There are three gamelans in the palace, and the pavilion nearest the entrance houses one of them. If it is being played, feel free to take a seat and enjoy it for a while.

Carriage MuseumHouses the Sultan's horse-drawn carriages, including two beautiful carriages imported from the Netherlands and known as Golden Carriages (kereta kencana).

Water Castle

address: Jl Taman, Kraton

This is a partly-ruined complex built as a pleasure garden by the first Sultan in 1765. One of the bathing pools was dedicated to the sultan's harem, and he had a tower overlooking the area so he could take his pick. Towards the back is the original entrance to the pools, a small dock connected to a long-since-vanished river; a bit of snooping beyond this entrance will get you to a back street, where one can visit a fascinating network of tunnels and rooms, including an Escher-like series of interlacing staircases over what looks like a disused well.
Siti Hinggil Selatan. This somehow-muted palace is rarely used for formal occasion. You can catch a shadow puppet performance during weekend mornings and nights. There is no admission charge for the show and you can come and go as you please, which you may well want to do as the show is long and somewhat difficult to follow if you do not speak bahasa Indonesian.
Also worth seeing is the prince's palace to the SE of the main palace.
Masjid Gede KaumanOne of the oldest and largest mosque in Yogyakarta. Located on the west of Alun-alun Utara, this mosque was where the Sultan performs his religious rites and ceremonies.
Yogyakarta was designed so that the main elements of the city form an imaginary line. This straight line starts from
Parangtritis
on the coast, through the Kraton and Tugu Monument, and finally to
Mount Merapi
. This represents the Sultan's strong relationship with the guardian spirits of Mount Merapi and the ocean at Parangtritis.
Museums
phone: +62 274 562593

address: Jl Laksda Adisucipto No.167

Delightful museum built around the former home of the late Affandi, one of Indonesia's best-known painters. Several galleries, including one with 30 of Affandi's paintings from his early, impressionist and expressionist periods, and another with paintings by some of his 11 children. The artist designed some of the buildings (the central complex was originally his home and offices) himself, and the grounds themselves are worth the admission price. Helpful staff to show you around.

Aircraft Museum

phone: +62 274 564465, +62 274 564466

address: Jl Lettu TPA Supardal

Holds several antique aircraft from World War II, a Badger bomber, MIG-15 to MIG-21, P-51 Mustang, Catalina flying boat, Auster MkII, Lavochkin LA-11, F-86 Sabre, T-33 Bird and an A6M5 Zero. There is also a P-51 airplane simulator but it was broken (Oct 2015). Children on school trips will see you as a big attraction if you look western so smile and prepare to pose for many pictures.

Kekayon Museum

phone: +62 274 379058

address: Jl Laksamana Adi Sucipto, Demangan, Gondokusuman, Baturetno, Banguntapan

A wayang (puppet) museum with a lush Javanese style garden. Divided into ten sections, where each holds a vast number of puppets from various places in Indonesia.

Sonobudoyo Museum

phone: +62 274 76775, +62 274 373617

address: Jl Trikora No.6

Many Javanese artefacts like wayang puppets, masks, statues, textiles, weapons, and a full set of gamelan instruments. Worth a visit if you have some extra time in Yogya, or you are interested in Javanese culture study. Wayang kulit performances are given every night 20:00-22:00, accompanied by gamelan. Rp20,000.
Candi (ancient temples)
Candi
(CHAN-dee) are ancient structures mainly built during the 7th-9th centuries. They are built from river stones or blocks of volcanic stone . The walls are often carved with reliefs depicting stories from either Buddhism or Hinduism, and a stone statue usually sits at the center. There are many candi in and around Yogyakarta, some have been restored and made accessible.
The two most famous candi are both easily reached from Jogja. Buddhist
Borobudur
is a couple of hours to the northwest. The Hindu temple complex
Prambanan
is just to the east.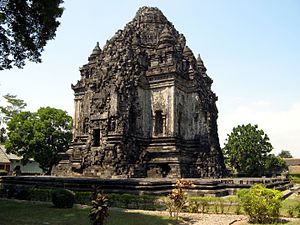 Candi KalasanThe oldest Buddhist candi in Yogyakarta. Built in 778 AD by Rakai Panangkaran of the Sanjaya dynasty. He was a Hindu but he built this Buddhist temple, reflecting the harmonious religious life during that time. The walls are covered with ancient white cement called bajralepa. It was built in honour of the goddess, Dewi Tara. A bronze statue of a Boddhisatva found in the candi has been removed.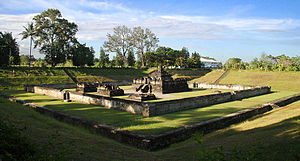 Candi SambisariConsists of one main candi and three supporting candis (perwara). You can see lingga and yoni, symbols of male and female sex, inside the main candi. There are three statues in the wall of the main candi, Agastya on the south side, Ganesha on the east, and Dewi Durga on the north. From the lingga, yoni, and the statues, it has been concluded that Sambisari was built to worship Siva. There is no definitive agreement about when and who built the candi. But from the Wanua III inscriptions, Candi Sambisari is considered to have been constructed between 812 and 838 AD).

Candi SariBuilt as the dormitory for a Buddhist monastery. There are two floors with three rooms on each. The reliefs are similar to those at Candi Kalasan and the walls are also covered with bajralepa. There are Boddhisatvas and Dewi Tara carved beside the windows indicating the link between Candi Kalasan and Candi Sari. The roof consists of 9 stupas in a grid formation. The holes in the construction show how timbers were used as part of the building process. This candi is considered to have been built in the same era as Candi Kalasan.
Art galleries
phone: +62 274 560404

address: Jl Suroto No.2, Kota Baru

A cultural institute set up by the Kompas Gramedia publishing and media group. Branches in Jogja, Jakarta, Solo and Bali. Art exhibitions, movies, book discussions.

phone: +62 274 371015, +62 81 2273-3564

address: Jl DI Panjaitan No. 41

Fine art and modern art exhibitions, book discussions and performances.

French/Indonesian Cultural Center (LIP)

phone: +62 274 566520

address: Jl Sagan No.3

Art exhibitions, movies, book discussions, performances, library.

phone: +62 274 419999, +62 274 412021, +62 274 7161188

address: Jl Pekapalan No.7

Modern art gallery exhibiting avant garde artworks.

phone: +62 274 376114

address: Jl Tirtodipuran No.3

Art space managed by artists including gallery, performance space, bookstore and restaurant. .Art exhibitions, performances, book discussions. Has accommodation for rent.
Do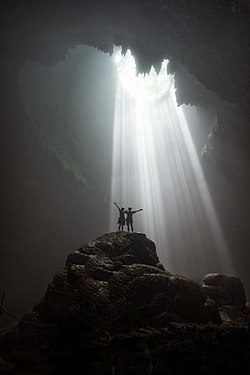 phone: +62 852 9082 6793

address: Jl Kartini No.7, Sagan

Local people offer authentic activities such as fishing in the South Sea, traditional Javanese archery, cooking classes, classical Javanese dance and even tours to Boroburur and Mount Merapi. A social enterprise providing opportunities for underprivileged people.
Caving — Yogyakarta has many caves, one of the best in Goa Jomblang in Wonosari, Gunung Kidul Regency.
Golf — at Merapi Golf, 18 holes designed by Thomson, Wolveridge & Perrett. On the slopes of Mount Merapi, where you can enjoy the scenic view of the mountains while playing. The course was partially damaged during the 2010 eruptions but has been restored. There is also a smaller course in the grounds of the Hyatt Regency Hotel.
Horse-drawn carriage rides — traditional horse-drawn carriages, the four-wheeled andhong and the two-wheeled horsecart call dokar, wait for tourists outside hotspots like the train station, the Kraton and Mal Malioboro. Haggle furiously. The traditional route is from Jl Malioboro to the Kraton. Andhong often want to take you to shop for fake Dagadu t-shirts at hefty prices in Ngasem. The cost for a round trip is about Rp20,000. They usually ask for Rp30,000 but may settle for less. While andhong primarily serve the tourist market, dokar are used more generally by the Jogjanese but are still happy to give you a tourist jaunt. Andhong can hold up to five adults, while a dokar will take about two only.
Masangin (masuk antara dua beringin, passing between the two banyan trees) — you can play this simple, fun game on the southern alun-alun. Participants are blindfolded and must walk straight between the two ancient banyan trees. It sounds easy but most participants usually fail.
Rafting — a splashy ride on Elo or Progo rivers. There are a number of operators, including Kisik River Camp.
Reflexology — achieve soothing experience by having a short reflexology massage. One of the hippest among Jogjanese.
Street chess— when it's quiet, particularly around the end of Jalan Malioboro near the Kraton, the becak drivers will play chess on the street with large wooden sets. You are welcome to challenge them and it's fun. This is how they pass the time between fares, so some play for several hours each day - you'll be up against some stiff competition. Don't offer or accept any bets on the outcome - it takes the fun out of a good way to interact with the locals and pass the time.
Sunday morning on the university boulevard — every Sunday, the main boulevard in the Gadjah Mada university campus is thronged with students joggers and martial arts enthusiasts. Get there between 07:00-09:00 for a bit of exercise. After that, replace the calories you lost by sampling the foods from the many stalls. The choice includes opor ayam' (chicken curry with rice cake), bubur ayam (rice porridge with chicken), 'siomay (fish dumplings) and sate ambal (chicken satay with tempeh sauce). Don't forget to check the flea market nearby.
Yoga & meditation — widely available including:
phone: +62 274 742 7925, +62 274 566717

address: Jalan Cendrawasih 36, Demangan Baru

daily classes
Learn
Jogja is a city of education as well as culture. It is home to at least four universities. Besides the pre-eminent Gadjah Mada University, it also hosts Yogyakarta State University (
Universitas Negeri Yogyakarta
), the Islamic University of Indonesia (
Universitas Islam Indonesia
) and the Sunan Kalijaga State Islamic University (
Universitas Islam Negeri Sunan Kalijaga
).
Indonesia's largest art school, the Indonesian Institute of Art (
Institut Seni Indonesia
) is also in the city, offering undergradate and postgraduate degrees related to traditional arts such as Javanese dance, wayang performance and gamelan music, and to modern and contemporary arts like theatre, broadcast, and graphic design.
It may be possible for non-Indonesians to study at these universities through the Indonesian-government Dharmasiswa scheme. Studies in Indonesian performing arts are a particular focus for recipients of this support.
Jogja is well-known for its language schools. There are many to choose from, including:
Wisma Bahasa

phone: +62 274 561627, +62 274 520341, +62 851 0147-8518, +62 817 545-1406

address: Jl Affandi, Gang Bromo No.15A, Mrican

The oldest Indonesian language course in Yogyakarta, since 1982. Provides Indonesian, Javanese, Tetum, and English courses. Branches in Jakarta and Bali. Offers e-learning.
Alam Bahasa - Bahasa indonesia course An Indonesian language course with combination of Bahasa Indonesia classes, cultural and travel activities. New classes start anytime.
address: JL. Brigjend Katamso, Prawirodirjan GM II/1226 Gondomanan

A place where you could learn both Javanese and Modern dance, Macapat and Javanese language (both speaking and writing)
Buy
Jogja is the home of batik, traditional wayang puppets, sculpture, ceramics and silverware. Handicrafts from outside Jogja can also be found. Alternatively, as a modern city, there are stylish malls offer interesting goods and services at a reasonable cost.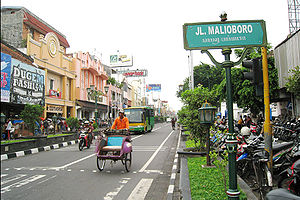 Jalan MalioboroWell-known shopping street very popular with domestic and international tourists alike. Stretching from Tugu train station in the north to the alun-alun in the south, it is 2 km long and home to hundreds of shops and street-stalls offering all kinds of handicrafts. The street is partly pedestrianised and no motorbike parking is allowed. Motorbikes can be parked in the Abu Bakar Ali area from where there are two free shuttle buses to Malioboro.
Handicrafts
phone: +62 274 373192

address: Jl Dalem KG III/978, Purbayan, Kotagede,

The Monggo chocolate factory!

Saptohoedojo Art Gallery

phone: +62 274 488443

address: Jl Raya Solo, Maguwoharjo, Depok, Sleman

This sprawling complex houses an utterly eclectic collection of Indonesian art, ranging from abstract modern paintings and batik shirts through gamelan instruments and stuffed tigers to Papuan tribal totems complete with the skulls of vanquished enemies. Everything is for sale and previous customers, pictures of whom are proudly pasted on the walls, include Pope John Paul II and the Dalai Lama. While the adjoining restaurant looks quite attractive, the food served is rather disappointing.

Tabubu Ethnic Music Shop

address: Jl Saman, Block 2, no. 167, Rt. 06, Bangunharjo

They make and sell traditional musical instruments (flutes, drums, stringed instruments, etc.) from various parts of Indonesia. The shop is in the owner's house, and he is very friendly - just drop by and you can see and try the instruments he has on display. If you want to buy, however, you will have to make a custom order, as the instruments on display are not for sale. The prices are pretty good, starting at tens of thousands of rupiah for the cheaper flutes to hundreds of thousands for stringed instruments.

phone: +62 274 375208

address: Jl. Panembahan Angkurat 58

This handicraft shop opens its door for business in 1954 and still operating today. It offers a large selection of Javanese handicrafts such as wayang kulit (leather puppet), wayang golek (wooden puppet), batik, keris, silverware, sculptures, and traditional outfits.
Dagadu (lower ground floor Malioboro Mall). Offers funny contemporary t-shirts and souvenirs that revolves around Yogyakarta people's culture.
Ciamis Art Shop, Jl Malioboro No.153. Shadow puppets, masks, carvings, and more at fixed prices that are lower than in the market. Open 09:00–13:00 and 18:00–20:00.
Nadzar, Jl Malioboro No.187. Huge souvenir shop specializing in batik, art, jewellery, and more. Has every souvenir you could imagine at fixed prices.
Batik
There are some excellent batik galleries selling hand-made paintings on cotton and silk. The cloth folds up easily for transport and can be ironed later. There are also several scams which you should avoid. Authentic batik should look vivid on both sides of the cloth; whereas stamped batik will only look vivid on one side. To get the best price, visit a gallery where they grade the quality of the pieces, usually using a scale from A-Z. Prices range from Rp50,000 for A (small student paintings), to Rp1,000,000 for Z paintings (usually large pieces done by master artists). You may be able to haggle an extra 25% off the marked price. Beware shops which buy and resell the paintings, marking up the prices for Z-level artwork to Rp8,000,000 - this is massively overpriced.
Hamzah Batik

phone: +62 274 588524, +62 274 518127, +62 274 547016

address: Jl Ahmad Yani No.9

The large family-owned store offers plenty of handicrafts, not only from Yogyakarta but also from all part of Indonesia.

phone: +62 274 646-3175, +62 812 2706-8768

address: Jl Parangtritis 8.5 km, Tembi, Timbulharjo, Sewon, Bantul

This gallery just outside Yogyakarta offers something a little different to batik collectors: a chance to visit the studios of renowned batik artists and villagers and meet them as they work. Social entrepreneur Tatang Wibowo started this project in 2011 as a way to continue supporting local artists in an innovative tourism model. It's a rare opportunity to make a connection with the people who make batik.
Ori Art Gallery
is a reputable batik painting shop with a large selection and fair prices, and you can usually watch an artist there demonstrating the fascinating and meticulous technique.
Traditional markets
Pasar Beringharjo

address: Jl Pabringan No.1

The largest traditional market in town. The vendors sell many kind of goods, ranging from basic household items (vegetables, fruit, meat) to many kind of handicrafts. Haggle furiously.

Pasar Ngasem

address: Jl. Polowijan No.11, Patehan, Kraton

It used to be a market that sold fowls. in 2010, it was relocated to Pasar Satwa dan Tanaman Hias Yogyakarta (PASTHY) Dongkelan, and now Ngasem market sells daily goods, traditional snacks and souvenirs.
Shopping malls & supermarkets
Malioboro Mall

phone: +62 274 551888

address: Jl Malioboro No.52-58

Yogyakarta's premier shopping mall for shopping in hassle-free, air-con comfort. Features a large Matahari department store, a Hero supermarket (B1F), a Periplus book store with a good English selection (B1F), and all the usual suspects of Western and Indonesian fast food (McDonald's, Pizza Hut, KFC, EsTeler 77, etc.) Home to the largest Dagadu outlet.

Galleria Mall

phone: +62 274 583661

address: Jl Jendral Sudirman 99-101

A compact mall anchored by Matahari department store. The food court at the basement is popular among the youths. Features many interesting restaurant including KFC, McDonald's Express, Thai Express, Bakso Gress (Chinese meatballs served with noodles), Mie Nusantara, Bee's (Japanese Bento), Es Teler 77, Cheers Cup (assortments of fresh drinks).

phone: +62 274 274 4331000

address: Jl Laksda Adisucipto

Located next to the historical Ambarrukmo Hotel, the huge 5-floor shopping complex features a Centro Department Store, Carrefour Hypermarket, Gramedia Bookstore, Timezone, 21 Cineplex, Bread Talk, Starbucks Coffee, Dagadu, etc. The food court is on the 3rd floor. ATM center is on the lower ground floor.

Ramai Mall and Ramai Supermarket

phone: +62 274-562482

address: Jl Jendral Ahmad Yani No.73

Big department store. The least expensive A/C supermarket in Jogja.

Mirota kampus dept store and supermaket

phone: +62 274-561254

address: Jl Simanjuntak No.70

Progo -Mall & Progo Supermarket.

phone: +62 274 513419

address: Jl Mayor Suryotomo No.29

Has operated since 1968.

Jogja City Mall

phone: +62 274 530-5853

address: Jl Magelang KM. 6 No. 18, Sinduadi, Mlati, Sleman

Integrated with the Sahid Rich Jogja Hotel.

Hartono Lifestyle Mall

address: Jl Kaliwaru Raya No.17, Condongcatur, Depok, Sleman

phone: +62 274 622040

address: Jl Raya Magelang Km. 6

phone: +62 274 550905

address: Jl Urip Sumoharjo and Jl Godean

There are now three Giant supermarkets in Jogja.
Eat
Sweet & chilli cuisine
It's not a big secret to Indonesian people that Yogyakarta people adore sweet foods. The local dish known as gudeg, for example, is distinctively sweet in flavor. Local snacks, such as
bakpia
and
yangko
, are extremely sweet. However, not every local dish is sweet.
Krecek
—the orange-ish fried beef often served with gudeg—is challengingly hot for the untrained tongue.
Lodeh
made by the locals, though often considered 'too sweet' by other Indonesians, also has a hint of a fiery chili taste. It's a good idea to ask the food vendor whether the dish is hot or not. For those who are just curious, simply ask them to omit the chilli from the dish and serve it separately. This way you can still taste the original flavor of the dish, but add the chili only if you want it.
Yogyakarta food used to be known for its sweetness. However, as more and more people move to Jogja, the city starts seeing more diversity in flavor. Now you can find many kinds of interesting dishes, from sweet, spicy, to fiery. Sometimes a fusion from other cuisines such as Chinese or Western can be found. Restaurants in the center often close quite early by Western standards, with admission often refused after 21:00.
If you want to eat the traditional way, head to Malioboro for a
lesehan
dinner in front of the closed shophouses, similar to the Japanese eating style on a
tatami
, but you sit on a mat and eat with your hands (you can ask for cutlery though). The food is ready to serve, — vegetables, fried and grilled meat (satay, seafood) are the most common, served with white rice. You can also order traditional
gudeg
. While this is a favorite among locals for the mingle for hours, do not expect very cheap prices.
Local delicacies
The following dishes are recommended:
Gudeg, a curry of jackfruit, chicken and egg served with rice, and is the most famous local dish. Goopy slop in various shades of brown, the stuff does not look particularly appetizing, but it can be tasty if done right. There are many gudeg restaurants, but the most popular are: Gudeg Wijilan, Gudeg Juminten, Gudeg Bu Tjitro, Gudeg Tugu, Gudeg Bu Ahmad. If you can wake up early in the morning, you may find small stalls serving Gudeg just at the corner of the street, or close to traditional markets. If you can't sleep at night, you can go to Jalan Janturan and enjoy the Gudeg Pawon (enjoying gudeg inside the old style kitchen) that open in late night. Due to the heavy fiber content of young jackfruit and the thick coconut milk, those who have weak stomach may have trouble with gudeg.
Ayam goreng Mbok Berek, (Mbok Berek's fried chicken). Fried free range chicken with mild garlic and coriander flavour served with crunchy crackers.
Nasi langgi, locally known as sego langgi (langgi rice). Warm rice served with various side dishes. Can be found in small stall in Gandekan St.
Kipo, bite-size snacks made of green tapioca dough filled with sweetened grated coconut. Can be found in Kotagede.
Bakpia, another bite-size snack made from sweetened green bean paste wrapped with thin dough pastry. The most popular bakpia is known as Bakpia Patuk, which not surprisingly, are sold in Pathuk street, also known as Jl. Aip K.S. Tubun.
Jadah tempe, sandwich of rice cake and sweet beancake. Can be found in Kaliurang.
Es rujak or rujak es krim, a fruit salad made from mangos, papayas, apples, pineapples, cucumbers etc., mixed with palm sugar, lime juice, salt, chillies and (of course) ice cream (es krim). All flavours (sweet, sour, bitter, spicy, salty) in one plate. In case you are at UGM campus, have a look along Jalan Kaliurang. Small foodstalls sell es rujak there (only very late morning to early afternoon). If you are not close to UGM, keep your eyes open.
Budget
Pasar Tiban Kauman
During the Ramadhan fasting season, the local residents at Kauman area open a temporary market selling many kinds of appetizing snacks and dishes. This market is not only great for sampling local foods, but also great for experiencing old architecture as it is set on a long pathway of a classic Javanese neighborhood. It opens at around 15:00 and closes at 18:00, as the foods are meant to be eaten for breaking the fasting at dusk. Consuming the food in the area before dusk, even if you are not fasting, is considered inappropriate. Kauman means the place for preachers since it is in the same block of the Masjid Agung (the sultan's royal mosque). It was home to many Islamic leaders such as Ahmad Dahlan, the founder of the mainstream Muhammadiyah movement.
Yogyakarta is a heaven of inexpensive foods, and some tasty and filling dishes can cost as little as Rp5,000. There are hundreds, if not thousands, of hawker stalls offering inexpensive foods.
Angkringan Tugu

address: Jl Wongso Dirjan

Famous for its small rice packets (sego kucing). Drink kopi joss, strong Javanese coffee heated by dropping a piece of glowing charcoal into it.

Bakmi Jawa Harjo GenoBe prepared to wait up to two hours! Tip: if you think that fried noodles go well with beer, you can grab a Bintang at the nearby Tante Lies restaurant.

Warung Vegetarian Somayoga

phone: +62 274 711-0221

Vegetarian/vegan organic food. Typical Indonesian food. Very tasty.
Gudeg Tugu, Jl. Diponegoro, close to Kranggan marketplace, 19:00-01:00. Popular Gudeg stall. A complete dish consists of: warm rice, shredded chicken, brown hard-boiled egg, gudeg, areh sauce, and the hot & spicy sambal goreng krecek. Rp7,000-10,000.
Kamikoti Cafe, Ngadisuryan No 4, Alun-alun Selatan. Serving good quality milk, coffee & tea at affordable prices, near Masangin and the Taman Sari complex. From Rp 5,000.

KindaiThis breakfast place serves delicious soto Banjar (a chicken soup from Banjarmasin, South Kalimantan) with a choice of chicken wing and/or egg. They also have nasi kuning (yellow rice) and sate ayam (chicken satay).

Milas Vegetarian Restaurant

phone: +62 274 742-3399

address: Jl Prawirotaman IV/127B

Excellent vegetarian restaurant with an organic vegetable garden, multilingual library, and handicraft shop. They train local youth in organic farming, cooking and running a restaurant. Eat in small, open bamboo huts placed around a small enclosed garden. Delicious fruit shakes.

Rame Rame Vegetarian

address: Jl Beskalan

A very small restaurant with meat and vegetarian options and owned by a very friendly woman. Has a delicious soup, noodles, mushrooms, vegetables, meatballs and cilantro for Rp9,000.
Rumah Makan Es Ceria Jl. Gandekan Lor No. 42. (close to sraswijyan, just go west from hotels and turn left). Great, cheap food including a smorgasbord where you choose what you like and then the cashier estimates a price. Tasty and cheap. Also ice deserts and fruit shakes.

Sagan Super Sambal

phone: +62 274 589279

address: Jl Sagan I no. 5 and Jl Timoho no. 111

Specialising in sambal, the Indonesian delicacy of spicy, hot chilli infused sauce. Also, Indonesian-style beef ribs.
Soto Pak Soleh. Tegalrejo, near Diponegoro Museum. This well-known restaurant is Pak Soleh's family business and is now operated by his son. They only serve Yogyakarta-style beef soup as their main menu, which has a spicy taste from ginger. Rp 5,000.
Waroeng Jepara, Jl. Wolter Monginsidi 49, Jogjakarta. Fame for their traditional Jepara flavours (only warung in Jogjakarta that serves Jepara food), this modern-furnished warung is run by friendly locals. Speciality includes "pecil pari" (spicy stingray), "bothok tahu" (tofu in papaya leaf) and "sayur lodeh" (jackfruit soup). Rp 5,000-30,000.
Xtra Hot, Jl Main, Kaliurang, (next to BCA Bank). A local tent (tenda) restaurant specialising in grilled food, with a good variety of sambals (chili) to choose from, yet with good prices. From Rp 4,500.
Soto Sawah Pak Slamet. A local chicken soup outlet west of Jogja, open morning-afternoon. Rp5,000

Soto Pak MartoA local delicacy - usually eaten for breakfast - of beef based soup served with rice (mixed in or separate). Offal are include in unless specifically asked for beef only. Fried offal, to be eaten with kecap manis, is delicious.

Pempek Ulu Bundar Located strategically near to Mirota crossroad, serves delicious pempek and kakap meat ball soup. Most expensive menu is Rp 5,000.
The House of Raminten, Jl. Faridan Muridan Noto 7, (next to Mirota Bakery, can be reached using Trans Jogja bus). Javanese restaurant with traditional food like jamu godhog (Indonesia's herbal recipe). From Rp5,000.
Dapur Solo, Jl Demangan Baru No. 1. Special Yogyakarta and Jawa Tengah delicacies. Famous here are nasi timlo and nasi liwet.

Soto Kadipiro

phone: +62 274 618722

address: Jl Wates No.31, Gang Darussalam, Ngestiharjo, Kasihan, Bantul

Pecel Solo

phone: +62 274 866588

address: Jl. Palagan Tentara Pelajar 52, Sleman (adj Hyatt Regency)

Offers a large selection of Solo style foods like Pecel Solo (vegetables with peanut sauce), Sego Liwet (steamed rice with sweet curry sauce), Nasi Kebuli (pungent rice with roasted lamb), and Bebek Goreng (fried duck Solo style). Rp 10,000-30,000.

Empek-Empek Kamto

phone: +62 274 514294

address: Jl. Beskalan 3

Originating from Palembang, deep-fried fish cake and served with sour soy sauce. There are many varieties of empek-empek: kapal selam (means submarine) comes with boiled eggs inside, adaaan/bulat has a garlic taste, while lenggang is an empek-empek omelette.
Bakmi Kadin, Jl. Bintaran Kulon 3. Javanese style soft-fried noodles. Don't miss the popular wedang bajigur, a local beverages made from warm coconut milk with subtle ginger flavour and garnished with diced coconut and kolang-kaling. Local kroncong street quartet often performs in the area. Rp 18,000-20,000.
Sate Karang, Lapangan Karang, Kotagede. 17:00-22:30. Grilled beef satay served with lontongs (rice cake), peanut sauce and thin curry soup. Rp 15,000.
Mid-range
address: 2nd floor, Hartono Mall

Mediterranean-themed restaurant with modern and Indonesian-inspired dishes and drinks. Alhambra features views of the city and a spa with good massages.

AgliOö!Used to be the best pizza in town. Now it moved a couple of blocks away from the original location, and probably changed the chef too - the quality has definitely gone down.

phone: +62 274 554554

address: Jl. Kaliurang km 5.5

Many kinds of local Indonesian foods: Nasi kebuli, nasi merah, soto betawi, sate buntel, mushroom satay and also dessert like pancakes, and ice creams. It has a garden with lots of bamboo tree and other plants. The waiters use wireless gadgets to serve their customers in order to maintain a 'paperless' order system.

Ayam Goreng Suharti

phone: +62 274 515522

address: Jl. Laksda Adisucipto 208

A very popular mbok berek (fried chicken) restaurant, the recipe still remains a secret.
Dixie Easy Dining (Dixie), Jl. Gejayan 40b (south Selokan Mataram), +62 274 560745. Offers western and Asian dishes in a modern Asian style. Nice modern-ethnic interior. Rp 8,000-50,000.

phone: +62 274 8242 123

address: Jl. Suryodiningratan 10

Serves Italian style wood fired Pizzas, authentic Indonesian dishes, pork & beef BBQ and Western & Mexican specialities. The English speaking staff serve you at the comfortable grape pergola, air-conditioned room indoors or on the beanbags in the secluded garden. Happy-Hour till 7pm. Free plunge pool, billiard table & wifi available.
Gudeg Sagan, An eating place in Jalan Sagan (In front of Toko Sagan Baru) offering rice, seasoned porridge, gudeg, areh sauce, sambal goreng krecek, complete with chicken and brown hard-boiled egg.

Gudeg Wijilan Yu Djum

phone: +62 274 515968

address: Jl. Wijilan 31, Kraton & Jalan Kaliurang km 4.5, Karangasem CT III/22

A more lavish variety of Gudeg, served with thicker sauce, and more expensive as well.

Kedai Rakjat DjelataJavanese cuisine with a modern twist. Tasty food in a nice setting, yet not expensive.

Kedai Tiga Nyonya

phone: +62 274 589315

address: Jl. Jendral Sudirman 16.

Peranakan food restaurant, a fusion of Indonesian, Chinese and Dutch cuisine. Their speciality is grilled fish, sour ribs soup and candlenut chicken.

phone: +62 812 29 42 66 85

address: Gang Sartono 858 / MJ 3

Local home cooking. There is a small terrace and guests can settle in a gazebo.

Mie BandungDespite the name, this is not a noodle restaurant, but rather a Chinese restaurant. Don't expect authentic Chinese food, but rather Indonesian-Chinese. The wonton is really good though, and they also serve beer! If you find yourself craving Chinese food in Jogja, this is one of the few places you can go to.

Pesona Rasa

phone: +62 274 7001471

address: Jalan Aip. II K. S. Tubun no. 15

A nice Chinese food family restaurant. Serves delicious and fresh Chinese dishes as: fried rice, fried noodle, tofu, fresh capjay and vegetables. In Pathuk area, 5 minutes from Malioboro. With friendly service and wallet-friendly price.
Quali Resto, Plaza Ambarrukmo, 3rd floor, near the foodcourt. Serves various kind of Chinese dishes, but their specialty is kwetiaw (wide noodles). Rp 20,000.
Sapi Bali, Jl. Umbul Permai, Mudal, Sariharjo, Ngaglik, Sleman, Yogyakarta, +62 274 7858938. Serves Balinese style ribs, although a little too hot and spicy for some foreigner. If you do not like hot and spicy food, opt for the Soy Sauce Ribs. Rp 25,000.

Sendang K Pitoe

phone: +62 274 747 1114

A famous shrimp and sea food restaurant located on the outskirts of the city specifically Jamur, Minggir, Sleman. Very delicious fried shrimp served fresh from the ponds in the still relatively untouched village. Should not be confused by the nearby Mang Engking, also a shrimp restaurant with an ill-earned reputation for dirty food.

TakigawaJapanese restaurant that also serves shabu-shabu (Japanese hot pot).

Via Via, Jl. Prawirotaman, An excellent traveller's cafe, there are clocks on the wall showing the time in other Via Via cafes around the world and a mix of travellers and Indonesian locals. Offers a range of western dishes (good French onion soup) and specialty Indonesian dishes at a good price. Caters very well to vegetarians (tofu and tempe). Cane chairs and lots of space and games. Rp 30,000-100,000.

phone: +62 896 6011-1730

address: Jl Imogiri Mangunan Km. 3, Desa Giriloyo, Wukirsari

Part of the Bumi Langit Institute, a charitable community-based permaculture foundation. The café is part of their outreach, offering mostly local dishes made with locally-grown and organic produce. In a beautiful open joglo building perched high on an escarpment overlooking Jogja in the distance. Farms tours available. Some local produce - jams and syrups - available to buy.
Splurge
Jogja has many 'high-end' restaurants serving western to Asian to Asian-fusion cuisines.
Royal Garden Restaurant

phone: +62 274 386767, +62 274 373343

address: Jl. Pekapalan 7, Alun-Alun Utara

Chinese-Indonesian dishes with kraton style atmosphere.

Gajah Wong

phone: +62 274 588294

address: Jl. Gejayan

Serves French, Italian, Indian, Chinese and Indonesian. Divided into 3 zones: Country, Javanese and Colonial, each is lavishly decorated and themed with live music. In the Javanese zone, you can hear Javanese gamelan music, while the Colonial zone has a live jazz band.

Androwino Bistro

phone: +62 274 488588

address: Jl Laksda Adisucipto Km 8.7.

The all-day dining restaurant offering Continental and Asian cuisine in a relaxed modern Javanese setting. On the top floor of Sheraton Mustika Yogyakarta Resort & Spa where at the entrance of the restaurant guests will be welcomed with a big painting of grandfather from the hotel's owner named Sampean Dalem Ingkang Sinuhun Kandjeng Susuhunan Pakoe Boewono X, 1896 – 1939 (King of Solo) and guests will see the beautiful landscaping of Tamansari water castle swimming pool and breathtaking mount Merapi.

Sasanti Restaurant

address: Jl Palagan Tentara Pelajar (just south of the Hyatt Hotel)

Western and Indonesian dishes with lush garden decoration.
Drink
Caution:
Traditional alcoholic drinks are common in Yogyakarta, although they're illegal. Some of them are not distilled well, therefore they may contain methyl alcohol (methanol) instead of ethyl alcohol (ethanol) only. Methyl alcohol will likely make you blind and might even kill you. Sometimes vendors also mix the alcohol drinks with much cheaper industrial methyl alcohol. In two days only in February 2016, more than 40 people died in 2 regencies of Yogyakarta due to consumption of such. Don't try it. Beer in a can or bottle is safe, but avoid mixture alcohol drinks from unreliable cafes.
Clubs
Usually all clubs willing to give free entry before midnight if you call and ask for a guestlist, unless on an important event night.
Republic

phone: +62 274 566353

Hotel INNA Garuda, Jl. Malioboro 60. DJs and live music.
Boshe VVIP Club, Jl. Magelang. Highly packed every night. Free entry for girls. Live Music and DJs.
Liquid, Jl. Magelang (Near to Boshe VVIP Club). Packed every night and free entry for ladies. Unclear If the drinks are fake or genuine, but they are cheap. Live Music and DJs.

Embassy

phone: +62 274 484950

In Sheraton Hotel complex area (there's a tunnel connecting the club). Entrance fee around Rp35,000-100,000, depends on the event. Full set DJs. Music range from trance, house, to dubstep. The drinks are genuine, but are pretty pricey. Have a weekly discount night called Monday Madness 50% off. Usually they have free drinks from 22:00-02:00 on the last Thursday of every month with fee Rp 100,000/person.
Platinum, Jl. Sudirman
Cubic, Demangan
SUGAR Excecutive Club, Jl. Tentara Pelajar (Indoluxe Hotel)
Terrace, Seturan (near STIE YKPN)
Lounges & Bars
Lounges / cafes are an ever growing phenomenon throughout Indonesia's trendy inner city environments.
address: Jl. Sosrowijayan No.2

Offers local and international dishes, coffee, and a range of beers and mixed drinks.

phone: +62 274 4284 123

address: Jl. Suryodiningratan 10

Cosy beanbags in a lush garden or sitting under grape pergola. Live Music Thurs till Sat nights from 9pm. Free plunge pool, billiard table & wifi.
Corner of Jl. Parangtritis & Prawirotaman A bunch of casual street bars are found here, some of them with loud music and bar girls.
Sleep
There are hundreds of hotels in Jogja. All the major international and national chains are represented — Accor, Sheraton, Hyatt, Melia — but there is much of local interest at all budget levels.
Budget under Rp250,000
Most of the budget accommodation is on Jl Sosrowijayan (adjacent to Jl Malioboro) and in the Jl Prawirotaman area, about to the south of the centre.
Malioboro and Sosrowijayan
Many backpackers find places to stay on the alleys around Gang Sosrowijayan, close to the Tugu train station and Jl Malioboro. Gang-3 is a red light area. The 'losmen' tariff is from Rp100,000 a day in low season and up to Rp250,000 a day for a losmen with facilities: aircon, en-suite bathroom and TV. The gangs are 10-15 minutes walk from the train station. If you follow one of the touts advertising cheap accommodation your stay might be more expensive as they will get a commission for bringing you there.
phone: +62 274 563502, +62 813 2858-5516

address: Sosrowijayan Wetan GT I/140, Gang 2

Across the street from Setia Kawans alley, clean, friendly European owner, bar facilities, A/C rooms and fan rooms. Each room has private bathroom with shower, western toilet and sink. Credit cards accepted.

phone: +62 274 560452

address: Jl Sosrowijayan No.76

A small hotel with clean and comfortable rooms, traditionally designed. All rooms have a private bathroom attached. Rooms with a balcony are available.

phone: +62-274-383033

address: Jl Wahid Hasyim No.23, Nagampilan

Air-con 4/8 bed dorms with own/outside bathroom. Free WiFi and breakfast.

Edotel

phone: +62 274 558436

address: Jl Kenari No.4

Neat hotel run by students of the vocational high school next door so all the income benefits the school. The beds are big and cozy, and its in a great part of town, near the center but quiet. The student staff are wonderful and there are hot showers and WiFi in all rooms. In a fairly conservative Muslim part of town - couples will not be able to share a room unless they are married, even same sex friends sharing a room can be problematic.

La Javanaise Homestay

phone: +62 274 556054

address: Sosrowijayan Wetan Gt 1/187

Very friendly and welcoming place to stay near Jl Malioboro. Includes breakfast.

Losmen Candi

phone: +62 817 4121 1997

address: Jl Pasar Kembang No. 5

Clean and tidy with various options to suit the budget traveller including 4-person rooms.

Losmen Nuri

phone: +62 274 543654

address: Jl Sosrowijayan Wetan GT I/77

Very clean rooms, nicely decorated and a good atmosphere, rooms with shared or own bathroom. From Rp100,000 (negotiable).

Lotus Losmen

phone: +62 274 515090

address: Sosrowijayan Wetan GT I/167

Quiet place deep in the back alleys of Sosrowijayan. Friendly owner will make you a nice breakfast. Small but cozy roof terrace. Rooms are clean with attached bathroom. Good WiFi.

Monica Hotel

phone: +62 274 580598

address: Jl Sosrowijayan GT1/192

Renovated, clean place. Make sure to insist on getting a receipt and keeping it for the duration of your stay in the city.

phone: +62 274 585138

address: Jl Malioboro 26

5 rooms with fan and attached bathroom, 4 rooms with fan separate bathroom. Free WiFi.

Setia Kawan

phone: +62 274 512452

address: Sosrowijayan Wetan GT.1/27

Artistic hotel down one of the two main alleyways close to the train station. Clean, comfortable, and imaginatively decorated rooms without windows (think Dali meets Indonesia). Down the street is the owner's restaurant, offering a variety of Indonesian and vegetarian meals for cheap. If you sit at the rooftop be quiet, otherwise you may be kicked out without warning. Often full.

phone: +62 812 2860-7080

address: Jl Palagan, Tentara Pelajar No. 21D, Sleman

phone: +6281280107020

address: Jl Sastrodipuran No.19

Not really a hotel, feels like home. Basic but managed by Indonesian travellers knowledgeable about the needs of other travellers. Serves awesome local breakfast. They change the breakfast menu daily. In the quiet part of the city center. Free breakfast, Wi-Fi, drinking water, tea and coffee.
Hotel Oryza, Jl. Sosrowijayan, right across from the Bladok. A lovely traditional Javanese house with internal courtyards. Clean rooms, laid back atmosphere, free coffee and tea. Basic rooms Rp140,000 with shared bathroom. Standard room with internal bathroom and A/C Rp190,000.
Prawirotaman
phone: +62 274 372051

address: Jl Prawirotaman XI/597a

Fan single and double rooms with common bathrooms.

phone: +62 274 378318

address: Jl Prawirotaman I/40

Clean rooms with fan or A/C arranged around a garden filled with the sounds of birdsong and running water. TV, pleasant, attentive and helpful staff. Free WiFi, water, tea and coffee.

Parakesit Guesthouse

phone: +62 274 375002

address: Jl Prawirotaman I/24b

Has fan and A/C single/double rooms all with own bathrooms and TV. (All prices are negotiable). The family run Parakesit GH has the lowest cost rooms in Jl Prawirotaman 1.

phone: +62 274 376167

address: Jl Prawirotaman I/14

Fan and A/C rooms with own bathrooms. Credit cards accepted.

Rumah Eyang

phone: +62 812 2711-7439

address: Jl Parangtritis, Gang Sartono 823

Tranquil with a serene touch, beautiful garden and art gallery space away from the hustle of Jl Malioboro. Twelve rooms with bathroom facilities, air conditioning/fan, and breakfast.

Sartika Hotel

address: Jl Prawirotaman 1

Fan double rooms with own bathrooms.

phone: +62 274 374748

address: Jl Prawirotaman Mg 3/514A

Some rooms have A/C and/or ensuite bathroom; every room is different, but all are clean and comfortable. WiFi is available. Breakfast is served at the guesthouse. Restaurant and tour agency nearby.

Wisma Gajah

phone: +62 274 375659

address: Jl Prawirotaman 4

Doubles and singles with swimming pool and terraces.
Mid-range
phone: +62 274 446-1611

address: Jl Pakem-Turi km 5, Turi, Sleman

Venezia Homestay

phone: +62 274 374049

address: Jl Tirtodipuran 27

Indraloka Homestay

phone: +62 274 544428

address: Jl Cik Di Tiro 18

Wisma Gadjah Mada

phone: +62 274 563461, +62 274 557216

phone: +62 274 376 057, +62 274 7473828

address: Jl Prawirotaman I/15A

Prawirotaman's most modern establishment, clean white sheets, fluffy doonas and AC. Each room has a unique decor and colour scheme. Also has a coffee house, a library, and restaurant.

phone: +62 274 373031,+62 274 384438

address: Jl Menukan 5, Karangkajen

Balinese-style garden courtyard and swimming pool, good clean rooms.

phone: +62 274 566353

address: Jl Malioboro 60

Established in 1908. 240 rooms are furnished in classic but modern elegance & face Jl Malioboro.

phone: +62 274 274 563288

address: Jl Cendrawasih 36, Demangan Baru

A blend of traditional Javanese and Balinese style with western facilities.

phone: +62 274 582465

address: Jl Kemetiran 21

Near to Jl Malioboro.Cozy, affordable, close to 3-star class.
Splurge
Stay safe
Jogja has its share of petty crime like
pickpocketing
, especially in city buses and along Jalan Malioboro when crowded.
Watch out for gallery scams and street sellers trying to get a commission for batik. These tend to occur around the Kraton and Malioboro areas. Scammers will approach tourists and tell them about a government art centre and will hire cheap transport to the 'genuine' gallery. If you're interested in buying batik, this isn't necessarily bad, but you are, in essence, being manipulated.
Be cautious when walking in the city. Traffic is brutal! You might have difficulty crossing roads and streets, especially in crowded places. Pavements, even where they exist, are in poor condition, and signs over the pavement hang lower than head height for many foreigners, so watch your feet and your head. At night, street lighting will usually be poor, making it even harder.
Mount Merapi
volcano looms over the city. The last eruption was in May 2018, spewing ashes about 6km high. Although it wasn't as big and destructive as in 2010.
Try to travel in groups if going to or from Parangtritis beach. The long stretch between Jogja and the beach can be dangerous at night. You may get stopped by someone riding a motorcycle trying to rob you. There are few police stations along the road, and often unoccupied.
Never swim at
Parangtritis
beach due to strong rip currents.
Connect
Telephone
The area code for Yogyakarta is 0274.
Internet
There are many internet cafes in Yogyakarta which offer speedy access. Some hotels provide free wifi in the lobby. The Taman Sari foodcourt at Ambarrukmo Plaza, locally known as
Amplas
, offers free Wifi.
The 24-hour Indomaret on Jalan Malioboro offers free Wifi and wall sockets, but can be a little noisy.
B@yonet

phone: +62 274 550553

address: Jl. Jendral Sudirman 75

Gama Student Internet Center

address: UPT Perpustakaan Unit 2 Universitas Gadjah Mada, Jl. C. Simanjuntak

Ibis

address: Ibis Maliboro Hotel lobby

DOJO hotspot centre

address: Pogung Kidul Sleman

Shooternet

address: Jl. Ampel 10 Papringan

Indraloka Home Stay

phone: +62 274 544428

address: Jl. Cik Di Tiro 18

Fox Net

phone: +62 274 511 359

address: Jalan A.M. Sangaji No. 3 Yogyakarta

Internet café (warung internet), streaming, burn CD, print, scan.
Cope
Emergency
Ambulance

phone: 118

Police

phone: 110

Yogyakarta Police headquarters

phone: +62 274 563494

address: Jl. Ringroad Utara

Yogyakarta Police station

phone: +62 274 512511, +62 274 512940

address: Jl. Reksobayan 1
List of hospitals with 24 hours emergency room (ER), (
UGD
):
RSUP Dr. Sardjito

phone: +62 274 274 587333, +62 274 547783

address: Jl. Kesehatan 1

A JCI-accredited international hospital.

RSUD Kota Jogyakarta

phone: +62 274 371195

address: Jl. Wirosaban 1

RS Bethesda, Jl

phone: +62 274 586688, +62 274 562246

address: Jendral Sudirman 70

RS Panti Rapih

phone: +62 274 563333

address: Jl. Cik Ditiro 30

RSUD Panembahan Senopati

phone: +62 274 367381

address: Jalan Doktor Wahidin Sudiro Husodo, Bantul
Consulates
France Consular Agency in Jogjakarta

phone: +62 274 566520, +62 274 547409

address: Institute Franco-Indonesien Jl. Sagan 3 No. 1, Yogyakarta 55223
Libraries
phone: +62 274 511314

address: Jl. Suroto No.9

phone: +62 274 562070
Go next
North
East
The Hindu temples of Prambanan, 20 minutes away, are a close second to Borobudur. The smaller temples of Kalasan and others are on the way to Prambanan. The entrance to Borobundur or Prambanan Temple costs 362.500 Rupiah each.
The city of Surakarta AKA Solo, a 45-min drive (also accessible with the Prambanan Ekspres train or the Joglosemar bus - see the Get In section) to the east is Yogya's royal twin and home to two royal kingdoms that are ancestrally related to Yogyakarta's Kingdom. The city's royal past is indicated through the two major keraton or palaces that are able to visited: the sprawling Keraton Kasunanan Surakarta, where the Pakubuwono kings live and the smaller but equally grand Pura Mangkunegaran palace, seat of Prince Mangkunegara. It is also a thriving arts and cultural center, home to the biggest batik manufacturers in Indonesia and the Danar Hadi Batik Museum, which has the most diverse batik collection in Indonesia. Last but not least Solo offers a wealth of culinary experience such as timlo (meat soup), its own soto or the fabled serabi (Javanese pancakes).
Ratu Boko palace, 2 km south of Prambanan. An ancient royal palace complex, similar in architectural layout with other Kratons or palaces in Java. Magnificently located on top of a hill, Ratu Boko has been recently restored.
South
Parangtritis on the south coast is one of the better known black sand beaches. Local folklore suggests that this beach is the palace of the legendary Nyai Loro Kidul or 'Queen of the South'. It is common knowledge among locals not to wear anything green in color, or the Queen will entice the wearer into the ocean to drown. Warning: Never swim at Parangtritis beach. Its wild waves are known to be extremely deadly (rip currents): many people have died who ignored these precautions. There are also other beaches with white sands, but you have to arrange with travel agent to rent a car with the driver as their locations are quite remote (2 hours from the city centre) in the hilly Gunung Kidul region. These beaches are pristine and sometimes off-the-beaten-path, such as Kukup beach, Krakal beach, Drini, Sundak beach and Baron but the swimming warning still applies.
Ngobaran Beach is in Gunung Kidul region, 50 km from Yogyakarta. This is a pure beach with a number of marine attractions to explore. When the tide is low in the morning the visitors can join the local fishermen to collect seaweed or go fishing for stranded fish between the reefs at the beach. Some believe that somewhere in the beach lie the remains of King Brawijaya's fort and his men "Sabdo Palon Ngoyogenggong". This beach includes a cave, which leads its explorers to a striking underground stream. If you go to Ngrenehan Beach for the grilled fish just drop by Ngobaran Beach, it has a high cliff and is around 2 km from Ngrenehan Beach. Many sea animal species are present in the coral reef and inter-tidal zones, ranging from sea urchin, starfish, to various types of cockleshells.
Ngrenehan Beach, Kanigoro Village, Saptosari. (about 30 km south of Wonosari). A small bay surrounded by rocky hills that has fascinating panorama and swirling waves hitting white sandy beach and rocky edge of the hills. The local fishermen can prepare fresh or grilled fish for visitors.
West
Jakarta
- The Argo Lawu train makes the 7-hr train ride.