Yongin
Yongin
(용인, 龍仁) is in
Gyeonggi
province in
South Korea
.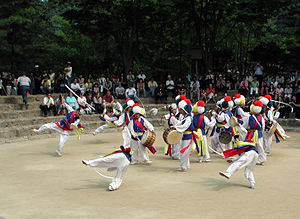 Understand
Yongin is home to large scale amusement parks and resorts (including Korea's largest, Everland), the Korean Folk Village and a ski resort. Although it is outside of the capital
Seoul
, it is often regarded as a suburb and is reachable on the Seoul metro network.
One of the main television stations, MBC, has its drama studios here, with its K-Drama productions being extremely popular throughout East Asia.
Get in
By subway
Seoul Metropolitan Subway Bundang Line passes through Yongin, stopping at Jukjeon Station (죽전역) and Sanggal Station (상갈역).
Bundang Line : Sanggal to Jukjeon
Ever Line : Gihueng to Jeondae‧Everland
By bus
Some buses from
Suwon
also operate.
from Suwon to Suji: 60, 660, 720-1, 720-2, 720-3, 730
from Suwon to Yongin : 10, 10-5, 37, 66, 66-4
from Gangnam to Yongin : 5001, 5001-1, 5002, 5003
from Seoul Station to Yongin: 5000, 5005
to Everland: 5002 (Gangnam Station), 5700 (Jamsil station)
See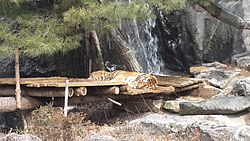 Other sights
phone: +82 2-789-1674

address: 25, Yongcheon Drama-gil, Baegam-myeon, Cheoin-gu, Yongin-si, Gyeonggi-do 경기도 용인시 처인구 백암면 용천리 778-1번지

A backlot built by MBC, one of South Korea's three major television stations. This backlot has been used to film many popular Korean period dramas (사극 sageuk) that have become big hits all over Asia. Visitors may tour sets representing different periods in Korean history from the Three Kingdoms period up to the Joseon Dynasty and if they are lucky, may be able to watch the filming of a period drama series.
Do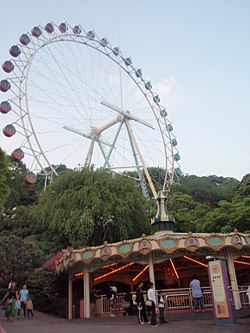 EverlandSouth Korea's most famous theme park. You can experience: T Express: The worlds steepest wooden roller-coaster that reaches speeds of up to 104 km/h. The parade: Various parades throughout the year. Zootopia: A zoo. A mini safari through the zoo can be taken. Animals include bears, tigers and a liger.

Hiking - There are hiking trails all over the city.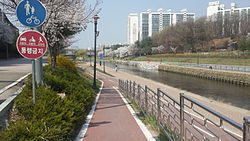 Tan streamIt's a branch of Han River. It goes through Yongin,Seongnam and Seoul. You can walk and ride a bicycle. It has exercise equipment, small basketball courts and inline skating rinks sparsely. In the spring, you can see a variety of flowers in full bloom, especially cherry blossoms.
Drink
Bojung Cafe Street

address: 11-3, Jukjeon-ro 15beon-gil, Giheung-gu, Yongin-si, Gyeonggi-do

There are a lot of charming cafes on this street, which is designated as a cultural car-free street. A flea market is held every weekend. You can buy accessories, fragrant candles and handicrafts there.