Yonkers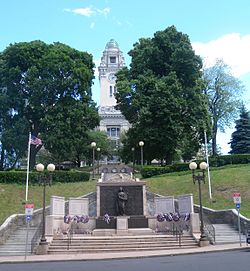 Yonkers
is in
Westchester County
and the fourth largest city in
New York
state. It is a suburb of
New York City
and directly borders the
Bronx
borough of New York City.
Get in
The South County Trail Way is a well paved north-south bikeway through the middle of Yonkers, south to The Bronx and north to central Westchester County.
By plane
Westchester County Airport (HPN)

phone: +1 914-995-4860

About 35 minutes' drive away, HPN is Yonkers's closest airport. The major carriers are American, Delta, JetBlue, and United, with service also provided by Cape Air and Tradewind Aviation. Destinations include Atlanta (ATL), Charlotte (CLT), Chicago (ORD), Detroit (DTW), Fort Lauderdale (FLL), Fort Myers (RSW), Orlando (MCO), Philadelphia (PHL), Tampa (TPA), Washington, D.C. (DCA), and West Palm Beach (PBI). The smaller carriers provide service to various New England localities, including Boston (BOS), Hyannis (HYA), Martha's Vineyard (MVY), Nantucket (ACK), and Provincetown (PVC).
The three major airports in the New York City area offer service to just about anywhere. Westchester-based taxi and livery cars offer regular service to and from the three internationals from most areas of the county. New York City yellow cabs must take you to Westchester, but the fares can be expensive, especially as they double upon crossing the city line. Instead, ask if your hotel offers shuttle service.
By train
Yonkers is served by the
Hudson Line
of
Metro-North
, travel time on the express service from New York City's
Grand Central Terminal
is about 25 minutes. Slower local service is available between other Metro-North commuter stations. On-board train fares are subject to a stiff surcharge, so buy your tickets at the station ticket office or at vending machines. Additionally,
Amtrak
serves Yonkers with some
Empire Service
trains between NYC and upstate New York as well as the long distance trains
Adirondack
,
Ethan Allen Express
and
Maple Leaf
.
is located on 5 Buena Vista Ave. Taxis should be available at the arrival of all trains.
See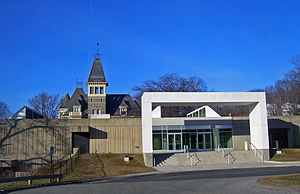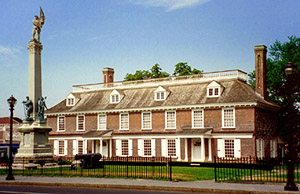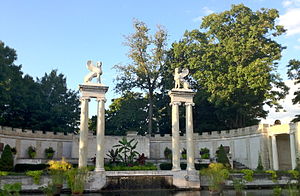 phone: +1 914 963-4550

address: 511 Warburton Ave

Exhibitions on regional history, Hudson Valley art, and the only public planetarium in Westchester County. It is the largest museum in Westchester County.

Untermyer Park

address: 945 North Broadway

Greek gardens, canals, reflecting pools and other created "ruins". Untermyer Performing Arts Council produces live performances in the park. The performances are admission free and are done through out the summer. Special Concerts throughout the year are announced on their website.

phone: +1 914 965-4027

address: 29 Warburton Ave.

A Colonial-era manor house which today serves as a museum and archive, offering many glimpses into life before the American Revolution.

phone: +1 704-1896

address: 201 Seminary Ave

The major seminary of the Archdiocese of New York. It educates men destined to serve as priests within the Archdiocese and elsewhere in the United States and abroad. The Seminary has hosted Pope John Paul II in 1995 and Pope Benedict XVI on April 19, 2008. They both led an afternoon prayer service and visited with the seminarians.

The Old Croton Aqueduct TrailWork began on the Croton Aqueduct in 1837 to tap the waters of the Croton watershed in Westchester County for the residents of New York City. It runs north-south, parallel to the Hudson Line of Metro North, so it is readily accessible from New York City by public transportation. In Yonkers, the hiker passes the lion gates at the lower end of the old Untermyer estate (now Untermyer Park). Passing by Glenwood in Yonkers, one passes by the Hudson River Museum. In Glenwood urban conditions are encountered. The trail ends at Lamartine Avenue in Yonkers.

address: Midland Ave

A multi-use park with some pockets of good habitat. Good birding except during summer when it's overrun with people. Tibbetts Brook Park, 161 acres with its mammoth 412' x 125' pool, is one of the first parks developed by the County. The Park offers many recreational activities throughout the year and hosts ethnic celebrations, fairs and festivals during the summer months. The South County Trail Way provides easy access afoot or by bicycle.
Do
phone: +1 914 231-3450

address: Jackson Ave

Mountain biking- Helmet required, trail map is available online. 278 acres of wooded terrain located in the southern end of the county offers trails for beginners as well as advanced.

Yonkers RacewayFounded in 1899 as the Empire City Race Track, is a one-half-mile standardbred harness racing dirt track and a New York state-approved video-lottery terminal (VLT).

phone: +1 914-968-4200

address: 810 Yonkers Ave.

A harness racing track that has renovated its grounds and clubhouse and added legalized video slot machine gambling in 2006. Gambling age is 18.

Ej Murray Memorial Skating Ice and Roller Skating Rink

phone: +1 914 377-6469

address: 348 Tuckahoe Rd

Offers public skating, figure, ice, and roller skating lessons, ice hockey programs and leagues, speed, figure, and ice hockey clinics and camps. Most of these are offered to groups of all ages or offered in separate sessions for adults and youth. Also can be used for birthday parties. Skates can be rented. Snack bar and pro-shop are available.

Clearview Cinemas

phone: +1 914 793-3406

address: 2630 Central Park Ave.

Pricing: general admission is $11, seniors are $9, children are $8.25, and the matinee special is $9. For 3-D movies at $3.50 per ticket. Also, NOT completely handicap accessible. Call beforehand for more information on handicap accessibility.

Homefield Bowl

phone: +1 914 969-5592

address: 938 Saw Mill River Rd.

Located very close to all major highways. Open from 9AM-1AM Monday through Sunday and until 2AM on Saturdays. Offers work and birthday party packages as well as a bowling camp. Offers a snack bar, lounge, and pro-shop. Also, leagues, tournaments, and monthly, weekly, and daily specials.
Buy
phone: +1 914 233-0186

address: 8000 Mall Walk

Cross County Shopping Center is an open-air shopping mall, opened in 1954 as the first mall in Westchester County. A recent renovation has modernized and beautified the center. Cross County is anchored by Macy's, Old Navy and Sears, as well as a Super Stop & Shop supermarket, a multiplex cinema, and Blink Fitness. Shops include H&M, Michel Kors, Zara, and more. Among the dining options are Olive Garden, Red Lobster, Longhorn Steakhouse, and others.

Central Park AvenueNY 100 Central Park Avenue runs for eight and a half miles from the City of Yonkers through Greenburgh to White Plains. A very big shopping avenue with stores including T.J. Maxx, Best Buy, Car Dealers, and many privately owned stores.

phone: +1 914-207-2900

address: One Ridge Hill Boulevard

An outdoor mall featuring high-end shops, restaurants, and a movie theatre. Stores include the Apple Store, Brooks Brothers, the Container Store, H&M, Legoland Discovery Center, L.L.Bean, Lord & Taylor, Orvis, Papyrus, Sur La Table, Uniqlo, Whole Foods and many more. Among the dining options are the Cheesecake Factory, Texas de Brazil, Yard House and others.
Eat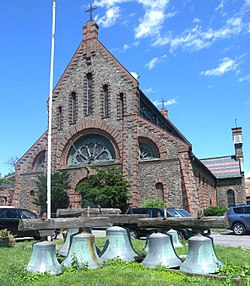 Nathan's Famous Hot Dogs

address: 2290 Central Park Ave

address: 35 Main St

Bistro Chartreuse is a wonderful French-American bistro that takes its name from the liquor Chartreuse. Creative menu featuring the green chartreuse liquor in many dishes and drinks. Located within a 2-minute walk of the downtown Yonkers train station, the restaurant has gotten rave reviews from Manhattan chowhounds as well as local diners.

address: 125 Tuckahoe Rd

Pizzeria and Restaurant branch of the first Pizza Parlor in America - Totonno's of Brooklyn, est. 1924.

Stew LeonardsA small chain of supermarkets in Connecticut and New York that Ripley's Believe It or Not! has deemed "The World's Largest Dairy" and that Fortune Magazine has deemed one of the top "100 Best Companies to Work For".

ZuppaOpened in March 2003, Zuppa was one of the first projects to spark the redevelopment of Yonkers' Downtown Waterfront District. Zuppa is a white table-clothed Italian restaurant that you will remember forever. The cuisine of Zuppa is Italian, a refined collection of dishes with the emphasis of enjoyment, taste and pairings.
AndiamoAndiamo is a take out and catering portion of Zuppa Restaurant. They offer gourmet foods, panini, wraps, and full service catering for breakfast, lunch and dinner.
phone: +1 914 476-6666

address: 351 Saw Mill River Rd

Since 1971, this second generation establishment serves award-winning pizza and Italian entrees in a family friendly, family run atmosphere. Dine in, take out and delivery are available as well as a private dining room that seats up to 40 patrons. Daily specials such as momma's napolitano meatballs over rigatoni, chicken scarpriello, homemade cavatelli with broccoli rabe and veal chop Milanese, are posted on their website.
La Lanterna Ristorante & Caffe
phone: +1 914 476-3060
address: 23 Gray Oaks Ave
Carlo's Restaurant

phone: +1 914 793-1458

address: 688 Tuckahoe Rd

A staple in the area since 1976, the year opened. Serving lunch and dinner. Opens at 11AM on weekdays and noon on the weekends. Closes at 10:30PM Except on Sundays when close is 9PM Serves authentic Italian-American food at a reasonable price in a casual atmosphere. Catering is also offered.
Raceway Diner

phone: +1 914 969-4343

address: 833 Yonkers Ave

Authentic American food served with fast and friendly service in a casual atmosphere. Serves breakfast, lunch, dinner, and desert 24-hours a day 7 days a week. Very reasonable prices.
Pizza Beat

phone: +1 914 961-4456

address: 2575 Central Park Ave

Family owned. Serves a little bit of everything but with a specialty in Italian-American dishes. No matter how crowded service is fast and friendly. Reasonably priced. Casual atmosphere.
Saw Mill Diner

phone: +1 914-423-5297

address: 337 Saw Mill River Rd

Daily specials for breakfast, lunch, and dinner, $1.25 coffee, family owned and homemade, delicious eats. Under new ownership and re-opened December 2015.
Drink
Rambling House

JC Fogarty's

Burke's BarBurke's was established in December of 2001 and has become to be known as Westchester's premier venue for the hottest new bands, great food and traditional Irish atmosphere. With 19 beers on tap, Burke's offers a unique environment for happy hours, family gatherings, alumni reunions or any other celebration. Burkes also hosts a huge private party room that can accommodate up to 75 people.
Sleep
Go next
New York City
is immediately to the south.
The rest of the
Hudson Valley
is to the north.