York (Ontario)
The former York Township boroughs/cities of East York, York and North York were part of Metropolitan Toronto, which was amalgamated as Toronto in 1998. See Toronto/North York and the former City of York in Toronto/Midtown.
York
is a region in the
Greater Toronto Area
of
Ontario
, Canada. The successor to York County (from which Metropolitan Toronto was split in 1953), it includes sprawling north-of-Toronto suburbs (such as Markham and Vaughan) north of Steeles Avenue in telephone area code +1-905.
Cities
(town) - local government seat of Regional Municipality of York
(town)
(town)
(town)
(township)
(town)
(town)
(city)
(town)
(village)
Get in
Air
The main airport serving York Region is
Toronto Pearson International Airport
(YYZ), which is located just outside the Region's southwest border, in
Mississauga
. There are two small local airports in southeast York Region, Buttonville Airport (privately-owned, scheduled to close October 2017) and Markham Airport.
GO Transit
GO Transit
offers
commuter bus and train service
connecting downtown
Toronto
to York Region. GO Transit bus routes to York Region originate from Union Station, York Mills Station or Yorkdale Station in Toronto all along Toronto's subway line 1. GO Transit's three commuter train lines (Barrie line, Richmond Hill line, Stouffville line) to York Region originate from Toronto Union Station. GO trains on the Barrie Line operate approximately every hour to Aurora daily starting late morning. There are GO Bus connections at Aurora to and from
Barrie
. GO trains on the Stouffville Line operate approximately every hour to Unionville GO station weekdays starting late morning. Otherwise, GO train service on all three lines is commuter-oriented with trains running inbound to Toronto during the morning rush hours and outbound in the afternoon rush. GO bus has a terminal at the Highway 407 station in Vaughan.
Viva/YRT buses
Viva and YRT buses offer service from Finch Station in Toronto into York Region. See next section.
Subway
Subway Line 1 Yonge-University provides service from downtown
Toronto
to three stations in Vaughan, York Region. The three stations are Pioneer Village (at the Toronto/Vaughan border), Highway 407 and Vaughan Metropolitan Centre, all having bus connections. A trip from Union Station in downtown Toronto to Vaughan Metropolitan Centre takes about 50 minutes. Subway service is provided by the Toronto Transit Commission and uses only
TTC fares
. There are no free transfers between the subway and YRT, Viva, Go Transit or Züm buses.
Get around
Public transit
York Region Transit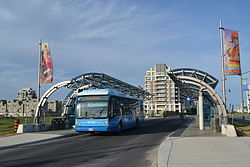 York Region Transit
offers two types of bus service within York Region:
Viva - Express bus system in York Region with limited stops and some Bus Rapid Transit routes. Viva bus routes are identified by colour.
York Region Transit (YRT) - Local bus system in York Region with routes identified by number.
Viva buses offer faster service serving fewer stops than do YRT buses, and are also more comfortable than YRT buses. Viva serves only high-volume routes with often more frequent service than YRT buses. YRT offers a network of many local routes. Sometimes a YRT route may overlap or run parallel to a Viva route serving the local stops that the Viva route would bypass.
Both Viva and YRT buses share the same fare structure which allows transfers between the two services on the same fare. A fare allows stopovers and round trips if you can do it all within 2 hours.
For Viva buses, fares are paid at a machine on the platform before boarding the bus, and customers can enter or exit Viva buses at any door. Customers are required to have proof of fare while riding, as fare inspectors conduct random spot-checks to ensure people have paid the proper fares. Anyone caught without proof of fare can be subject to a fine or criminal charge. For YRT buses, fares are paid at the front door of the bus upon boarding.
Presto card
is accepted on all Viva and YRT routes.
GO Transit
GO Transit
serves multiple towns/cities in York Region. GO Bus offers express service with limited stops by utilizing major highways and travels much faster than YRT or Viva. GO Trains serve communities in a north-south manner. Almost all GO Train stations and GO Bus stops offer connections to YRT.
GO Transit fares are based on point-to-point.
Presto card
is accepted in the entire GO Transit network. Passengers taking YRT before/after taking GO Train pay only $1 for the YRT fare.
Toronto Transit Commission
A few TTC routes operate from a Toronto subway station into York Region. If your trip crosses the city limits, you must pay a
double fare
: a TTC fare south of Steeles Avenue, and a YRT fare north of that street. You can pay both fares with a
Presto card
or exact cash. Presto tickets are
not
valid in York region. For northbound TTC buses crossing Steeles Avenue, you pay the TTC fare when you board the bus in Toronto and the YRT fare when you get off in York Region. For southbound buses, you pay the YRT fare when you board in York Region, and the TTC fare when you get off in Toronto.
The following TTC bus routes cross into York Region (listed from west to east):
See
Newmarket has its pretty Main Street Heritage Conservation District.
Unionville is a historic village focused on its Main Street, first developed in the 1840s in what was then Markham Township. As typical of a small village, it boasts numerous quaint period buildings in an idyllic surrounding.
Do
Canada's Wonderland, a large theme park in Vaughan.