York (Pennsylvania)
York
is a city in the
Susquehanna Valley
region of southern
Pennsylvania
. It is billed as the "factory tour capital of the world" for its numerous factory tours. It was a major city in U.S. revolutionary history as well, hosting the Continental Congress for a time. It is often viewed by locals as the first capital of the United States but it is unsure if this is actually true because it was never officially named the capital and it was only viewed as the capital because the Articles of Confederation were adopted in the York County Courthouse.
Get in
By plane
York has no local international airport, but nearby
Harrisburg
has the
Harrisburg International Airport
. For more direct flights, people can fly into BWI airport in Baltimore, or possibly to Philadelphia. The York Airport is 7 miles past the city on US 30 and is a general aviation airport with no scheduled flights.
By train
Nearby
Lancaster
has an
AMTRAK
stop on the
Philadelphia
to
Pittsburgh
line. Nearby
Harrisburg
also has a transportation center that provides service for AMTRAK trains on the same line.
By car
Using a car is the easiest way to arrive in York. The following highways connect the city with others in the region:
I-83 south Harrisburg and I-83 north Baltimore
US-30 west Lancaster & Philadelphia and US-30 east Gettysburg
By bus
Greyhound
operates a station in York with connections to Harrisburg, Philadelphia, Baltimore, and beyond.
Get around
Walking is the easiest way to explore the downtown area, as everything is close enough together. Municipal parking garages are available with very reasonable rates ($0.75/hr).
Rabbit Transit
is also an option when getting around the city but can be fairly expensive if used multiple times for short distances. All day passes are available though for those that want to use the bus to get around.
See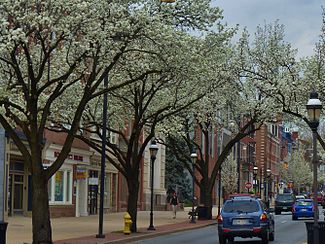 William C. Goodridge Freedom Center and Underground Railroad Museum

phone: +1 717-848-3610

address: 123 E Philadelphia St

Wolfgang Candy Company Factory Tour

address: 50 E. 4th Ave

Take the Wolfgang Factory Tour! Free samples of chocolate on the tour and discounted chocolate for sale at the end.

address: 1425 Eden Rd

Come see where America's favorite motorcycles are made. Tours are free and last about one hour (M-F 9AM-2PM). Please dress appropriately for factory tours. Reservations requested for group of 10 or more. Children under the age of 12 are not allowed on the factory tour.

Martin's Potato Chip Factory Tour

address: 5847 Lincoln Highway (US Route 30)

Take a 45-minute tour of the Martin's Potato Chip Factory. Reservations required.

Snyder's of Hanover Factory Tour

address: 1350 York St

Take a 1-hour tour of the Snyder's of Hanover Pretzel Company Reservations are required at least 24 hours in advance of tour.

Strand-Capitol Performing Arts Center

phone: +1 717-846-1111

address: 50 North George St

Go see performances from local and national stars on stage. Ticket prices are fair since this is a non-profit organization.

York Barbell Factory Tour

address: 3300 Board Rd

One of the largest producers of weight lifting and exercise equipment, it produces some of the equipment used by Olympic athletes, and can be found all around the world.
Do
address: 50 Washington St

An independent minor league baseball team that plays in the Atlantic League. They play at Sovereign Bank Stadium in downtown York. Season lasts from May to September.

phone: +1 717-848-2596

address: 334 Carlisle Ave

The York Expo Center hosts many events throughout the year including the York Fair in September which is America's longest running public fair.
Historic Downtown York: Take a tour through downtown York to see the city's historic roots.

York Barbell Weight Lifting Hall of Fame

address: 3300 Board Rd

Take a tour of the world's largest weight lifting producer, also visit the weight lifting hall of fame

Heritage Hills Hotel and Golf Resort

address: 2700 Mount Rose Ave

Fun for the entire family, eat at the pub, or for more finder dining Iron Woods. A golf course voted one of Pennsylvania's best and in the winter time a snow tubing experience that can't be forgotten at Avalanche Express. There is also a miniature golf course and summer kids camps. Heritage Hills even has a spa and hair stylist.

West Manchester Mall

phone: +1 717-764-5942

address: 1800 Loucks Rd

A great mall with tons of shops and restaurants, also the Regal Cinemas movie theater is there. (has since become partially abandoned. Regal Cinemas is still quite popular, and some new shops have been and are in construction.)

Frank TheaterIt has HD screens and extremely comfortable chairs.

York City Ice Arena

address: 941 Vander Ave

The coolest fun around York. It has ice skating classes, free skates, a concession stand, and there is an ice rink to watch local and high school games.

Couselor ParkCouselor Park is a fun time for everyone, with a running track, six basketball courts, a pond for fishing and skating in the winter, three playgrounds, six baseball fields, and multiple soccer fields.

Springetsberry ParkA park on the east end of town, amazing fun for everyone. It has a long jogging track, a huge playground, multiple soccer and baseball fields. Basketball courts, and an outdoor hockey rink. It even has a summer festival called Saturday in Park with tons of food trucks and a brilliant Fire Work Show.

Out Door Country Club (ODCC)

phone: +1 717-764-1188

address: 1157 Detwiler Dr

Established 1892 it is one of York's Premiere Golf Courses. It also has one of the best restaurants in all of York. It also has a driving range, tennis courts, a swimming pool, and a pub for after a long day of golf.

Colony Park Lanes North and EastTwo great bowling alleys with fun for everyone. It has the lanes available for rent and league play. A bar for those of age, a concession stand, and an arcade.
Buy
address: 50 E. 4th Ave

Wolfgang Chocolate factory store with chocolate to please anybody.

phone: +1 717 848-6630

address: 375 S Belmont St

Stauffer's cookies are sold from an outlet store in downtown York.

phone: +1 717-764-5942

address: 1800 Loucks Rd

Go shopping, have dinner, and catch a newly released movie all in the same location.

York Galleria

address: One York Galleria

A great two-story mall with a food court, sears, Bon Ton and JCPenny. Great fun for everyone. It has something for everyone and even has an arcade.
Eat
address: 34 W. Philadelphia St

Numerous food stalls perfect for lunch time browsing. Reasonable prices and something for everyone ($3-6).

The Left Bank

phone: +1 717-843-8010

address: 120 N. George St

Named for the Left Bank in Paris France, this restaurant offers a wide variety of international cuisine at affordable prices.

The Roosevelt Tavern

phone: +1 717-854-7725

address: 50 N Penn St

This building dates back to 1860 and is one of the finest restaurants in York, famous for the delicious cream of crab soup.

phone: +1 717-848-5369

address: 48 N Beaver St

Delicious food at affordable prices. Everything from Quesidilla's to their famous crab pretzels

Rutters Farm StoreRutters is a staple in York and all over south central Pennsylvania. You can get everything from a dozen eggs to some made-to-order sandwiches. They are all over York for your convenience and some are even equipped with gas stations and car washes making it all more the convenient.

Round the Clock Diner

address: 222 Aresenal Rd

Round the Clock Diner, open literally around the clock. A typical diner with a long menu and many choices. The food is delicious and cheap. A great place for Saturday and Sunday morning breakfast.

Alexanders Diner

address: 840 Carlisle St

An extremely cheap family diner with excellent food. Great for breakfast for anyone and can eat a very filling breakfast for under four dollars.

A Won Buffet

address: 907 Loucks Rd

A Tasty and cheap Chinese buffet. Lunch special can eat for under six dollars, it has a great selection of traditional Chinese cuisine mixed in with some American dining (for those feeling less adventurous).

Roburrito'sWith multiple locations across York, Roburrito's has gained a reputation amongst locals as an excellent low-cost burrito diner.

phone: +1 717 845-8988

address: 935 Loucks Rd

One of several hibachi locations in York. This one is the best but also the most expensive. The staff is energetic and obviously love their job. Come on one of the weekend nights, and be thirsty. They have squeeze bottles filled with sake and they're not afraid to use them.

phone: +1 717 755-9638

address: 2300 E Market St

Another hibachi joint in York. This one has the distinction of being the least expensive. The food is great, on par with Fujihana. The place is quiet if you come to sit with your friends to chat, something Fujihana can't match.

Emperors Chinese Food and Sushi

phone: +1 717 650-1618

address: 1405 Kenneth Rd

This Chinese restaurant rivals Tokyo Diner and Fujihana, albeit not as well. The food is not as great as either and the prices aren't as good as Tokyo Diner's. If you do decide to go, go on a Monday, which features 50% off hibachi dinners.

phone: +1 717 755-3761

address: 100 Memory Ln

This restaurant is off Memory Lane and features seafood and salads in addition to its famous steaks.

phone: +1 717 600-8226

address: 1170 Haines Rd

Mexican/Italian fusion restaurant. Order pizza and tacos at the same place!

phone: +1 717 801-1238

address: 2600 E. Market St

One of the best Mexican restaurants in York. The atmosphere is upbeat and the employees are friendly. The food is fantastic. It's attached to a Quality Inn, so be on the lookout or you may miss it.

phone: +1 717 840-4040

address: 1201 Memory Lane Ext.

Authentic Italian cuisine. A bit pricey, but that's the cost of a high-quality meal.
Drink
Jackie B's

phone: +1 717 854-6247

address: 300 Mulberry St

Wings, prime rib, steaks, seafood.

Banana Max

phone: +1 717 600-1133

address: 1401 Roosevelt Ave

A bar, Drink specials on Thursday and Saturday 8PM-midnight, DJ dance party Tu-Sa. Friday Happy Hour and free food at the buffet.

Cobblestones

phone: +1 717-848-3866

address: 205 S. George St

A restaurant and sports emporium, with 67 beers on tap. The perfect place to watch the big game or to simply go and relax with friends. 6 pro sized pool tables, a balcony for private viewing, NTN trivia, and over 40 TVs including 4 large HD projection screens
Sleep
phone: +1 717-846-4940

address: 1650 Toronita St

All guests are welcome to use the large indoor pool, restaurant & bar, the high-speed internet in all of the redesigned guest rooms, cable TV, and all rooms are non-smoking. Great rates are available for great customer service and rooms.

phone: +1 717-741-1000

address: 140 Leader Heights Rd

All rooms include a microwave and mini-fridge, and complimentary Wi-fi. Free hot breakfast.

Country Inn & Suites by Carlson

phone: +1 717-747-5833

address: 245 St. Charles Way

This hotel features country-style décor, free high speed internet, an indoor pool and fitness center.

phone: +1 717-840-1500

address: 1550 Mount Zion Rd

All rooms include cable and premium TV channels, a refrigerator, and free internet access.

phone: +1 717-848-1111

address: 48 East Market St

Free Wi-Fi, valet parking, washer and dryer, and two on site restaurants (including one that is rated four diamonds by AAA) are at the three-star Yorktowne Hotel.

phone: +1 717-848-2100

address: Arsenal Road And North George St

All guests can enjoy a free hot continental breakfast, free high-speed wired and wireless internet, and the indoor heated pool.

phone: +1 717-755-0123

address: 2700 Mount Rose Ave

One of the nicest hotels in York, with many other amenities offered. Never a dull day in Heritage Hills, it has the Serenity Spa, a golf course voted one of the best in Pennsylvania, miniature golf, a driving range, avalanche express snow tubing in the winter time, and it has two restaurants.

Day Six MotelsCheap stays with comfortable accommodations, great if your just passing through or if you don't want to spend a lot of money. Right up the hill from the Four Points by Sheraton.
Connect
YorkPA.orgOfficial web site run by the York County Convention & Visitors Bureau.

InYork.comNews portal run by the York Dispatch.
Go next