Yorke Peninsula
Yorke Peninsula
begins at the head of the Gulf of St Vincent and to north of the state capital of
Adelaide
. It is located to the west of the city of Adelaide between
Fleurieu Peninsula
and
Eyre Peninsula
in
South Australia
. Shaped like a leg, Yorke Peninsula has over 700 km of coastline and is a distinctive part of South Australia's coastal landscape.
Understand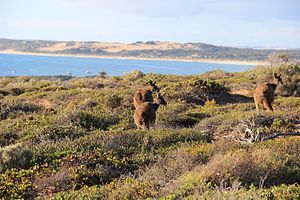 Yorke Peninsula is rich in agriculture and marine resources and has a healthy fishing industry supporting recreational fishing, crayfish, crab and oyster businesses. Extractive industries also exist in the region including limestone, dolomite, gypsum and sand. High quality salt is harvested at
Price
by
Cheetham Salt
, this is the only remaining food grade salt producer in Southern Australia.
Yorke Peninsula experiences a mild maritime climate. Minimum winter temperatures average around 4°C and the maximum can reach 40°C during summer. Average annual rainfall is around 350 mm/annum near the coastal areas. The wettest months are from May to September. Winds can be quite strong along the coast, especially around the southern limits and offshore islands. Strong offshore winds can create hazardous maritime conditions, particularly during winter and sometimes in spring.
Agriculture is big business on Yorke Peninsula, with harvest commencing in November and throughout the summer months.
Tourist information
Get in
By car
Yorke Peninsula begins 90 minutes drive from Adelaide's CBD or from Adelaide Airport. Coming from Adelaide, National Highway 1 takes you from the northern suburbs onto the 4-lane dual carriageway national highway that passes through the towns of Lower Light, Dublin, Windsor, Wild Horse Plains and on to Port Wakefield.
From
Port Wakefield
you can continue onto the
Copper Coast
towns of
Kadina
,
Wallaroo
and
Moonta
, or head south along the coast to picturesque seaside townships or right down the
Bottom End
to
Innes National Park
. The trip from
Adelaide
to Innes National Park, at the foot of Yorke Peninsula, will take around 3 hours or more by car. Most major roads on the peninsula are surfaced with asphalt.
Many secondary and minor roads on the peninsula are un-surfaced graded dirt roads. Some of these roads may run for extended distances and care should be used to avoid accident due to the sometimes slippery conditions. Windscreen breakage is also possible from stones being thrown up by the wheels of passing vehicles. Always moderate your speed and take care not to cause either yourself or other road users any damage by not fully understanding the prevailing local conditions. These
unsealed
roads are frequently surfaced by
grading
machines and care should be used when driving near any roadworks that are in progress.
By bus
Buses travel daily to the Yorke Peninsula from Adelaide Central Bus Station. Most towns are serviced by the buses, but not always every day due to different schedules.
phone: +61 8 8821 2755

address: Depot: 5 England Street, Wallaroo

Operates scheduled motor coach and charter services to the Copper Coast towns of Kadina, Wallaroo and Moonta; and to other Yorke Peninsula towns including Ardrossan, Stansbury, Edithburgh, Minlaton and Yorketown and over 57 locations throughout South Australia.
By ferry
Sea SA Car & Passenger FerriesCrossing the Spencer Gulf in just over 2 hours between Wallaroo on the Yorke Peninsula and Lucky Bay (near Cowell) on the Eyre Peninsula. The 56 m Aurora ferry carries 85 cars and 300 passengers.
Events & festivals
phone: +61 8 8821 4500

address: Kadina, Moonta & Wallaroo

The world's largest Cornish Festival is celebrated in South Australia's Copper Coast every 2 years. Rich in Cornish heritage, the towns of Moonta, Wallaroo and Kadina, known as 'Australia's Little Cornwall', host the week-long Kernewek Lowender – which translates from the Cornish language to English as 'Cornish Happiness'. Visitors can experience the Cornish impact on this region all-year-round by visiting the Moonta Mines State Heritage area, Wheal Hughes Copper Mine, indulging in a locally baked Cornish Pasty.

phone: +61 8 8827 2040

Major focus on agriculture and features extensive displays of the latest agricultural machinery and equipment, technology, information and services in 30 hectare of static displays. This is one of Australia's iconic agricultural field day events and as such is a significant event for the region. It also offers travellers an opportunity to view the people, equipment, agricultural technology and social interactions of this community. Events include sheep dog trials, fashion parades, wool and sheep displays, speaker presentations, quality crafts and extensive farm machinery and general equipment displays. The field days were first held in 1894 to demonstrate agricultural machinery and are Australia's longest running such event. The next field day event is to be held on 27th, 28th and 29th September 2011.
See
Lighthouses. The rough seas along the southern coastline of Yorke Peninsula have caused many a shipwrecks, which is why this area has a number of lighthouses. Lighthouses at West Cape, Cape Spencer, Althorpe Island, Corny Point and Troubridge Hill (not to be confused with the more historic lighthouse on Troubridge Island continue to guide the way for passing boats and sailors to warn them of the dangers.
National Parks and Wildlife reserves include the Althorpe Islands group, Innes National Park, and Carribie, Leven Beach, Point Davenport, Warrenben, Troubridge Island and Wills Creek Conservation Parks. Bird Islands Conservation Park is also in the region, further north of Goose Island Conservation Park near the township of
Wallaroo
.
The land comprising Althorpe Islands, Goose Island and Troubridge Island Conservation Parks is traditionally associated with the Narungga people of Yorke Peninsula.
phone: +61 8 8854 3200

address: Stenhouse Bay

Innes National Park is one of the best known attractions on Yorke Peninsula, with over 9200 ha of mallee bushland. The discovery of the elusive Western Whipbird in 1962 was followed by the opening of the National Park in 1970. Birdwatchers will love to explore this Park, with over 140 species including Ospreys, Hooded Plovers and Malleefowl.

Moonta Mines State Heritage area

phone: +61 8 8825 1891

address: Moonta Mines

This state heritage area covers most of the land under the Moonta Mining Company lease. Now operated by the National Trust, the area includes the Museum, Tourist Railway, Sweets Shop and Family Resource Centre. The National Trust is applying for National and World Heritage Status concurrently.
Do
Boating and fishing guideThe Yorke Peninsula Fishing Guide covers the over 700 km of coastline from Port Gawler all the way around the leg to Port Broughton. The free guide is also available from the Yorke Peninsula tourism office, Visitor Information Centres and outlets.

Diving and snorkelling. The area is popular with diving groups from the nearby city of Adelaide. Due to the colder southern ocean waters a wetsuit is often required for snorkelling or scuba diving activities or for any prolonged periods in the water even in the warmer summer months. Refills for scuba cylinders (air only) are available from businesses in Edithburgh and Port Victoria, and from the local dive club at Wallaroo.

Reef Encounters Fishing Charters

phone: +61 8 8854 4102

address: 17 Osprey Drive, Marion Bay

Reef Encounters Fishing Charters has been operating on the Yorke Peninsula since 1998 and is recognised as one of the leading fishing charter services in South Australia. The business is owned and operated by Mark, whose reputation is his guarantee of an awesome fishing adventure.
Shipwrecks. Visit the many shipwreck sites of the Yorke Peninsula. Some require a dive other do not. The Wardang Island Maritime Heritage Trail has eight shipwrecks within 16 km (10 mi) to explore in clear shallow waters making it ideal for novice shipwreck divers. The Investigator Strait Shipwreck Trail, between Yorke Peninsula and Kangaroo Island, highlights 10 of the 26 shipwrecks dating from 1849 to 1982.
Surfing. The Bottom End is famous for surfing having many excellent surf beaches, some are easier to get to then others and some local knowledge would be helpful for any uninitiated visitor. The Yorke Peninsula is home to some committed surfers. Each October long-weekend, Innes National Park hosts one of South Australia's most prestigious surfing events, the Cutloose Cooper's Yorkes Classic.

phone: +61 8 8825 1891

address: Wallaroo Road, Moonta

Dress up like a miner in a hard hat, cap lamp and boots for the underground mine tour and head into the large underground tunnel that descends 55 m below the surface. Cathedral like workings ('stopes') can be seen above the fools gold glittering in the walls of the mine tunnel along with blue patches of copper leaching through the walls.

Yorke Peninsula's Home Grown TrailYorke Peninsula is home to some of the state's key farming and produce businesses. The tour provides a behind-the-scenes view of the region's produce operations and a participant can visit primary industry and grass roots businesses. The tour gives an insight into a range of local industries including wine making, sheep and horse studs, alpaca farming, and handmade paper making. Visitors are offered special on-site tours to a variety of businesses and producers.

Clare ValleyThe Clare Valley, situated in the Mid North of South Australia, is one of the best wine regions in the state and country. Home to spectacular views, wineries and wildlife, it is a popular tourist destination for wine lovers and travellers.
Eat
Make sure you have Cornish Pasty during your Yorke Peninsula stay. These are a legacy from the Cornish miners that settled in the towns of
Moonta
,
Kadina
and
Wallaroo
to work in the prosperous Copper Mines. Cornish Pasties can be purchased from a number of cafes or bakeries throughout Yorke Peninsula.
phone: +61 8 8854 4141

address: Main Rd, Marion Bay

Chef Adam Sommariva provides an innovative and fresh menu including the signature dish, the 'Marion Oscar', a premium scotch fillet, chat potatoes, asian greens, served with Moreton Bay Bugs and lime dill mayo

phone: +61 8 8854 5063

address: 154 Bay Rd, Point Turton

Overlooking the beautiful views of Hardwicke Bay and Flaherty's Beach, try the fish.

phone: +61 8 8825 2315

address: cnr Maitland Road & Warren StreetMoonta

Visitors to The Coffee Barn Gelataria receive a truly international experience – with Italy, Scotland, Cornwall and Australia combining to make a memorable visit. Decadent sweet treats include gelato/ice-cream made on premises, truffles, Italian espresso coffee and hot chocolate, Scottish breakfasts and shortbread. The Coffee Barn Gelataria, and nearby Villa Martini Bed & Breakfast provides a little bit of Italy and Scotland in Cornish country.
Drink
phone: +61 8 8834 1258

address: Minlaton-Maitland Rd, near Urania

Varieties include Shiraz, Cabernet, Chardonnay, Viognier, Port, Liqueur Chardonnay and Ratafia. All are harvested, processed and bottled on site. Function Centre available for wedding receptions, conferences, social events and meetings. Barley Stacks is the first cellar door winery on Yorke Peninsula. The vineyard is planted adjacent to the old Urania Barley Stacks, which were active up until 1967.

phone: +61 8 8823 3457

address: 49 Owen Tce, Wallaroo

Bars and a huge beer garden and entertainment on Friday and Saturday nights. Drive through bottle shop-enter by Owen Tce or Irwin St.
Sleep
Budget
Camping
Central & Southern Yorke Peninsula has a range of camping locations scattered around the region. around the coastline and inland.
Permits
Some camping locations which require a permit, and in some cases the payment of camping fees. Camping permits can be puchased at locations throughout Central & Southern Yorke Peninsula , or contact the District Council of Yorke Peninsula on +61 8 8853 3800 for further information.
phone: +61 8 8854 3200, +61 417 883 678 (after hours)

address: CMB Stenhouse Bay

The park has a range of designated campgrounds throughout, each varies in size and all (except Casuarina) are on a first come-first served basis. Fees apply to enter the park and for camping.
Mid-range
Splurge
phone: +61 418862260

address: 8 Randolph St, Port Hughes

4 1/2 star deluxe holiday accommodation for travellers.
Stay safe
Yorke Peninsula is generally a safe region. It is still advised that when travelling, close your vehicle windows and conceal all valuables including your purse, handbag, shopping, phone and laptop; and when parking, lock your vehicle and don't leave your keys anywhere they can be found.
Speed limits on Yorke Peninsula are 50 km zones within towns, and on open roads are either 100 km/h or 110 km/h. Please be aware of the speed limit signs when driving. Ensure you are carrying a fully inflated spare tyre, suitable basic tools to change a flat tyre and always a supply of drinking water, most especially in the summer months.
As Yorke Peninsula is a farming region, please take care when driving throughout the area as farmers may be moving equipment or stock on the roads.
Fire danger
A fire danger period exists between November and April each year in South Australia. During fire danger periods there are fire restrictions that apply, including total fire ban days. For up to date details of fire bans, visit the Country Fire Services's fire bans page or telephone 1300 362 361. In times of very high fire danger the electricity supply may be shut off without warning in order to mitigate the danger of fire arising from damage to high voltage power lines.
Connect

Cellular (mobile) telephone network reception may not be available in many areas especially those distant from cellular network repeater towers normally located along the major highways and near larger townships. Hilly terrain will also effect reception. In an emergency seek higher ground. Some networks provide a poor coverage in regional and rural areas. It is generally considered that the best reception is available from either Telstra or Optus when in areas such as Yorke Peninsula.
For emergency services including police, fire services and ambulance call 000 from any telephone and ask the operator to connect you. Such calls are placed without charge to the calling party.

Go next