Yorkton
Yorkton
is a city of 16,000 people (2016) in
Central Saskatchewan
,
Canada
.
Understand
In 1882 a group of businessmen and investors formed the York Farmers Colonization Company. The company founded the settlers' colony on the banks of the Little Whitesand River where lots were given freely to settlers who purchased land from them. The colony remained at its site until 1889 when the rail line was extended to the Yorkton area. The colony townsite was relocated alongside the new rail line.
The first settlers to the Yorkton colony were English from Eastern Ontario and Great Britain. west were Scottish settlers at the settlement of Orkney, Saskatchewan. A significant number of residents are also descended from immigrants from Ukraine who came in the early 20th century.
Yotkton is primarily a service centre for the farming industry in the region.

Get in
;By car: Yorkton is 189 km northeast of
Regina
on Saskatchewan Highway 10, or 331 km southeast of
Saskatoon
on the
Yellowhead Highway
16.
;By plane: The closest major airport with scheduled service is in
Regina
, served by Air Canada and Westjet.
Yorkton Municipal Airport

address: Highway 9

A base for commercial, private helicopter and fixed wing aircraft.
Get around
Taxi: Yorkton is served by Redline Taxi (+1 306-783-1010), York City Taxi (+1 306-782-6666), and G & M Taxi (+1 306-782-4420).
Bus: The Yorkton Community Dial-a-Bus is personalized transportation that uses a central dispatch centre which takes your call, and dispatches the bus to the stop you require when you need it, M-F 7AM-7PM and Sa 9AM-4PM. The bus operates on two routes covering the north and south halves of the city. If you are downtown, you can catch the bus at the Transit Center on the hour and half hour. Call (306) 786-1789:
Local maps are available at the Yorkton Tourism Centre, at the junction of Highways 9 and 10.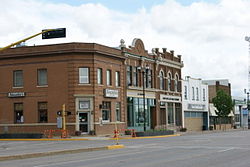 See
Located on several buildings in downtown Yorkton are murals depicting historic personalities.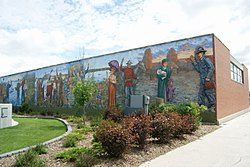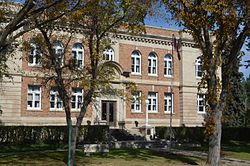 Parks
There are
ten parks
in or near the city, including three provincial parks. Highlights include
York Lake Regional park with a 18-hole golf course, four-diamond slowpitch complex including two lighted fields, and the Yorkton Canoe and Kayak Club's facilities.
BMX bike course located east of Columbia School.
Skateboard Park: on the Gallagher Centre grounds, just to the east of the main entrance on the north side of Broadway. Skateboard park users are welcome to use the washroom and food service facilities at the Gallagher Centre. Includes obstacles such as a bowl, ramps, grind bars, and staircase.
Heritage Heights Park: tennis courts; in the northeast end of Yorkton on McBurney Drive.
Knights of Columbus Park: tennis courts; on Circlebrooke Drive, southwest side of Yorkton.
Silver Heights Water Park and Playground: water park and tennis court; located on the southwest end of Yorkton, on Sunset Drive North.
Museums
Western Development Museum Yorkton

phone: +1-306-783-8361

address: Highway 16A West

The YWDM tells the story of early immigrants and their struggles in early Saskachewan, it houses the gigantic Twin City gas tractor, one of only two in North America!

Yorkton Sports Hall of Fame and Museum

phone: +1 306-786-1740

address: 455 Broadway Street West in the Gallagher Centre

It holds preserved sport memorabilia, historic archives, and collectibles.

phone: +1 306-786-2992

address: in the Godfrey Dean Cultural Centre at 49 Smith Street East

The only professionally-operated public art gallery within a 100-km radius of Yorkton. It curates, exhibits and promotes the work of local, provincial and national contemporary artists who address issues affecting the Yorkton region. The Dean opens exhibits in its 2 galleries about every 6 weeks. It also opens its doors to the cultural and artistic programming of local organizations and schools.
Sports
Yorkton is home to the Yorkton Terriers, Yorkton's SJHL hockey team. It is also home to the Yorkton Cardinals, a baseball team playing in the Western Major Baseball League. Yorkton has many other sports teams, ranging from children's to adults.
Jubillee Baseball Park: On Foster Street, the city's main baseball park. A batting cage, 4 diamonds including 2 senior (one with grass infield), 1 bantam and 1 pee wee diamond.

Cherrydale Golf and Campground

phone: +1 306-786-6877

Par 23/27 golf course, campground, showers, fire pit, ball diamond, horse shoes, driving range, nature trails, beach volleyball. 1-May-2017 to 1-Oct-2017

phone: +1 306-786-1711

address: Highway 52 west of Yorkton

18-hole public golf course, par 72, 6,200 yards, with driving range and practice areas. Cart and equipment rentals, pro shop, food and beverage service. Located on the west boundary of the city along Broadway.

phone: +1 306-783-8424

18-hole green grass golf course with driving range, and licensed clubhouse, club and cart rentals available.
Do
phone: +1 306-782-7077

Late May. The Yorkton Film Festival started in 1947. The first international festival took place in 1950, and is North America's longest-running film festival. Film makers from across Canada make their way to Yorkton for workshops and showings. For the public, this is an opportunity to view the very best of Canadian short films and videos (under 60 minutes) free of charge. The festival's LobsterBlast, a lobster meal followed by skeet shooting.

address: Farrell Agencies Arena – Gallagher Centre

Held annually in May or June (June 3-4, 2017), with hundreds of dancers expected from Western Canada and north-west United States, it is a dazzling experience.

address: Yorkton Exhibition Grounds, 455 Broadway Street West

The Yorkton Exhibition Association offers year-round activities and events , including the annual summer fair held annually in early July. Chuckwagon and chariot races, parimutuel horse races, midway, grandstand entertainment, 4-H livestock shows, and a variety of displays and food concessions.

Threshermen's Show and Seniors' Festival

phone: +1 306-783-8361

address: Western Development Museum, Highway 16A West

Held annually in August. Horse-drawn wagons, stooking and threshing crews, and steam tractors spring to life each summer at the annual Threshermen's Show and Seniors' Festival. Visitors can try their hand at stooking, visit the sawmill, watch the Story of Harvest as methods from single horse plows to giant steam engines are demonstrated. The museum schedules special events and has permanent displays open for viewing. Among the special events is a demonstration by the York Colony Quilter's Guild, a group of ladies who keep alive this very practical pioneer art form.
Yorkton Historical Walking Tour: A self-guided walking tour, taking approximately one hour, that passes by 30 private and public buildings that capture the essence of Yorkton's early years, and the many beautiful yards and gardens in the city. Brochures are available from Tourism Yorkton and City Hall.

Ravine Ecological PreserveThe starting point for this self-guided nature trail of 2½ km is at the Gallagher Centre, on Broadway Street West, or the parking area to the west of the preserve. A boardwalk crosses the marsh. Station markers and an interpretive brochure guides walkers across the marsh and through the flora and fauna. Shorter walks may be taken. The preserve is open all year round. Guided tours are available upon request.

Yorkton Events CalendarEvents in the Yorkton area.

Water Park at the Gallagher Centre

phone: +1 306-786-1744

address: Broadway Street West

A lane pool and a large water park with many features, including a waterslide.

phone: +1 306 786-1777

address: 397 Darlington St. E.

Gymnasium, racquetball and squash courts; walking track.

phone: +1 306-783-5183

address: 49 Broadway St E,

Open bowling for all ages, glow bowling, and a licensed facility.
Buy
Sunflower Arts and Crafts Show and Sale

phone: +1 306-783-8722

address: Gallagher Centre (Broadway Street West)

The largest unjuried show and sale in Saskatchewan. Yorkton Arts Council's annual September event attracts thousands of visitors; 190 artists and crafters show their work.
Eat
Budget
Humpty's

phone: +1 306-782-0640

Specializes in breakfast, good selection of lunch and supper features.

Ice Cream Cabin

phone: +1 306-783-1319

address: 332 Broadway St W

Homemade soups, sandwiches and ice cream.
Mid-range
Scoops

phone: +1 306-782-2013

address: 37 Broadway St. W.

Yorkton's only open-air café. Smoothies, ice cream, coffee.

Touch of Asia Buffet

phone: +1 306-783-2742

address: 14 Dracup Ave

West Broadway Grill

phone: +1 306-782-2422

address: 328 Broadway St W

Home-style breakfast and lunch.

Wings

phone: +1 306-782-0278

address: 21 Betts Ave

Chinese food.
Splurge
Manos

phone: +1 306-786-7555

address: 277 Broadway St E

York House Dining and Lounge

phone: +1 306-782-4333

address: 12 4th Ave N
Drink
5th Ave Cup & Saucer

phone: +1 306-890-0184

address: 60 5th Ave. N

Home-style coffee shop, variety of drinks and food items. Often hosts live musical performances.

Pockets

phone: +1 306 782-0922

address: 366 Broadway St. W

Sports bar. Pool tables, Arcade Games, VLTs.

Holly's NightclubOnly Top-40 dance music club in town, often referred to as the "Meat Market" by locals and generally frequented by the city's youngsters; occasionally middle-aged people go there.
Sleep
Hotels and motels
Beds and Breakfasts
Lazy Maple Bed and Breakfast

phone: +1 306-783-7071

address: 111 Darlington Street West

A quiet, cozy, smoke-free authentic Ukrainian home. Two bedrooms; kitchen/living area and a full bath. Large flower and vegetable gardens; home cooked breakfast, Ukrainian food and souvenirs. Bicycles available for guests. Within walking distance of the ecological preserve, tennis courts and playgrounds.

Lorraine's Bed and Breakfast

phone: +1 306-783-6007

address: 146 Franklin Drive

Three bedrooms, private bathroom, living room, TV, and fridge. Non-smoking.

Patrick Place Bed and Breakfast

phone: +1 306-783-3762, +1 306-621-8656 (cellular)

address: 88 Fifth Avenue North

Four luxury suites: Sleeping porch with whirlpool tub and private verandah; The Garret; William's Room; and Sadie's Room. In-room tea and coffee facilities, television, telephone and wireless internet. Situated downtown in a Yorkton heritage home. Non-smoking house. Breakfast is included.
Stay safe
Although generally safe and pleasant, there has been an increase in gang activity. It is not recommended to venture alone after dark unless you plan on staying on the main streets.
Be alert when leaving bars or nightclubs at closing time on weekends. As with anywhere else in the world fights occur.

Go next