Yoro
Yōrō
(養老) is a small town in southwestern
Gifu prefecture
,
Japan
nestled between the farming land of greater Nagoya and the mountains.
Understand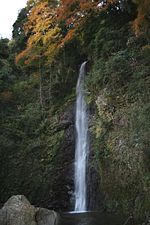 Yōrō lies at the foot of the mountains and is a popular
momiji
(autumn colours) viewing spot of central Japan. It is also the region chosen by the architectural duo Arakawa-Ginz to be first turned into their vision of the future.
Get in

The local Kintetsu Yoro train line running from Ogaki to Kuwana stops at Yōrō about halfway.
Nexco also upkeeps an expressway service area and interchange on the northern fringe of town.

Get around

Walk, or if you are staying over, hop in the courtesy car that most local onsen-resorts provide.

See
Autumn colours and waterfalls in the nearby mountains. Numerous hiking courses exist as well as a chairlift.

Do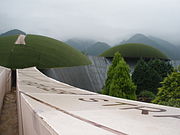 Fall on your arse. No, seriously. Although part of a broader, unfinished vision for Yōrō, the existing Site of Reversible Destiny at Yōrō Park is for all intents and purposes a theme park where the theme is you, yes you, falling on your butt. Its sloped surfaces and utterly bizarre design is intended to disorient visitors. Try not to miss the pitch-black tunnel system on the northwest side: don't worry, there's no creepy crawlies living in there! The grand artistic vision is essentially that people rely on their physical senses too little and that peoples' lives can be made to revolve around navigating man-made objects (namely their houses). There are tonnes of books written on Arakawa-Ginz and their architecture and philosophies which make for interesting reading to say the least. These are the same crew that made the unusual apartments in Mitaka incidentally. Even the website is a trip, be sure to read the directions for use. A short walk uphill from the train station. Admission 710 yen, gift shop stocks helmets.
Sleep

There are a tonne of upmarket onsen resorts a ways north-west of the train station.

Stay safe

Yōrō Park is still open during mild rain so uhh... whilst it is undoubtedly more fun this way, be careful.

Go next