Yoron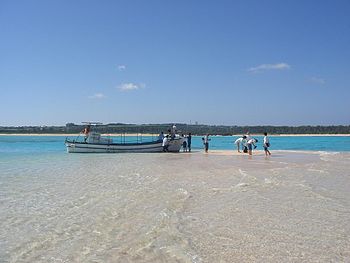 Yoron
(与論島Yoron-tou) is a small island in the
Amami Islands
chain in
Kagoshima
,
Japan
.
Understand
Yoron is tiny, only about 20 km², and has a population of about 6,000 people. It does not "feel" like the other Amami or Okinawan islands: it is similar to a rural village in the ocean. Chabana (茶花), located on the west side of the island near the small airport and ferry port, is the main population center of Yoron. While tourism is part of the local economy, it is geared more towards Japanese than Westerners. Hotels are not luxurious compared to those on the larger islands.  
If you're looking for nightlife or a wide variety of activities, Yoron is not a good option. However, if you want a sleepy island with pristine beaches and crystalline ocean, Yoron may be a well-kept secret.

Talk
There is almost no spoken or written English. Be friendly, respectful of locals, and willing to get by without English.

Get in
Round trip ferries depart from
Kagoshima City's
south port daily, stopping at the
Amami Islands
, including Yoron, and continuing to
Okinawa
. These are serviced by
Marix
and
A-Line
Ferry companies. Fare is about 13,000円(yen) to Yoron from Kagoshima City. There may be additional ferries to other parts of Japan, such as Osaka, from time to time.
Ferry departures change from time to time, but in general resemble the following: Ferries depart Kagoshima at 18:00 and arrives at Yoron the next day by 13:40, continuing south to Okinawa at 14:00. Return ferries arrive at Yoron from Okinawa at 11:45, and depart for Kagoshima at 12:10, arriving the next day at 08:30.
The walk from the port to most accommodation is significant, but very doable and even pleasantly rural. Make arrangements if you want to skip the short walk. The taxi companies are
Minami Taxi
(南タクシー tel. 97-3331) or
Taiyo Taxi
(大洋タクシー tel. 97-2161).
Yoron also has an airport with service to
Amami Oshima
,
Okinoerabujima
,
Naha
(Okinawa), and Kagoshima, but flights are more pricey.
Get around
You may want a rental car or scooter to travel around Yoron, as there is almost limited transportation. If you want to rent a car, you need an international driving permit - the rental agencies on Yoron are more strict than in other parts of Japan.
Nankoku motors (南国モータース tel. 97-2141)
Yoron Rent-a-car (ヨロンレンタカー tel. 97.3633)
However, there is a bus that tours the tiny island several times daily, going in a circuit both north and southward. In Chabana town:
Southbound buses leave at 08:32, 11:32, 14:32, 16:02, and 18:32
Northbound buses leave at 07:32, 09:32, 10:32, 13:02, and 17:42
Additionally, though a bit inconvenient, roughing it on foot isn't impossible on an island of this size.

See
Besides
diving
or
snorkeling
, the main attraction of Yoron is the pristine
beaches
. Since Yoron is so small, the beaches are small; the biggest are a few hundred meters long, but you'll have them mostly to yourself.
There is a cultural museum and shrine on the island's hill called the
Southern Cross Center
(tel. 0997-97-3396). It is worth a look if you have some extra time on your hands. Entrance fee is ¥300 for adults (¥150 for children) and hours are 09:00-18:00.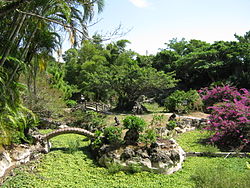 There is also a nice little garden called the
Yunnu Rakuen
 (ユンヌ楽園), which is the island's name in it's original language followed by the japanese word for paradise. You can see traditional huts once lived in and a variety of plant life, some of it looking very exotic indeed.
Far from town is a campground near a stretch of beach from which a
sandbar
called Yurigahama (百合ヶ浜) can be seen rising out of the ocean when the tide is right. There are boat rides to the sandbar for about ¥2000, and if you are an extremely strong swimmer, you should be able to snorkel out to the sands.
There is also a small cave shrine on the island.
There is a "folk" village on the island with traditional huts.
These sights and many more are on a map available for free at the
sightseeing center
(tel. 0997-97-5151) near the bus stop in Chabana. You can't miss it.
Do
Diving, glass-bottom boat rides, riding a jet ski or kayak, and wind sailing are all options. While the coral around Yoron is healthy, it tends to be rather dull colors. However, a wide variety of fish populate the waters. A single coral head may have 50 or more species of fish. Certain times of the year bring small local festivals as well.

Eat
Almost all restaurants and food stores are located in Chabana.
Seaside Avenue (海岸通り, Kaigan-dōri) has a comfortable atmosphere. It features basic Japanese food like curry rice, along with western favorites like pizza and hamburgers. It is on the top floor of the two story building near the pier.
Frypan (ふらいぱん) is in a small house close to the post office. It has well-prepared yōshoku food.
Izakaya Kayoibune (居酒屋かよい舟) is a basic izakaya on the main street in Chabana. It has a picture menu, making it one of the more foreigner-friendly restaurants on Yoron.
Izakaya Hyōkin (居酒屋ひょうきん) has excellent food. However, there is no English menu or picture menu. Also, the place has a decidedly "locals-only" orientation.

address: Yoron-cho, Oshima-gun, Kagoshima Prefecture Chabana 2,315

Run by a warm and helpful couple, this is an Italian restaurant open at lunchtime for the half the week (it is closed on Wednesday, Thursday and Sunday). The husband (Toshi-san) speaks English and Italian and spent time as a sculptor in Tuscany. The pasta with tomato sauce and prawns is particularly delicious.This is freshly prepared and well-cooked food by people keen to share the best of Yoron with travellers. (Aman means 'hermit crab' in the local dialect and a unique recreation of an Italian fresco with added hermit crab can be seen on the back wall of the restaurant.)
Drink
Bar Natural Reef (opens at 20:30) is on the main street in Chabana.
Wherever you go, you might like to give the Amami islands' brown sugar shochu a taste.
Cafés
address: 2019 Furusato 〒891-9307 鹿児島 県 大島 郡 与論 町 古里 2019

A delightful garden café with beautiful sea views and friendly service. English spoken. Limited menu but the emphasis is on the environment, not the fare.
Sleep
There is a campsite at Yurigahana beach on the east coast of the island. It costs ¥350 per tent per night, and there is also the option to rent a 'bungalow' (a one roomed mushroom shaped structure atop a pillar, in which 2 people can fit comfortably and perhaps 4 at a squeeze) for ¥610 a night.
Hotels, and traditional Japanese guesthouses are available on the island. Traditional guesthouses tend to include meals at set times, but sometimes a discounted room without meals is no problem. Most accommodation is organized either around Chabana, on the west side of the island near the ferry port and airport, or on the east side of the island (near the campground). There are about 12 places to stay on each side, mostly guesthouses with a couple hotels or resorts. The sightseeing center (tel. 0997-97-5151) can make recommendations or provide phone numbers for each place (again, English is unlikely to non-existent on Yoron).
phone: +81 997-97-2272

address: 〒891-9301 鹿児島県大島郡与論町立長東兼母195-1

Clean, opened in May 2016, attractive, compact and well-equipped villas convenient for the sea and Chabana town. Only Japanese spoken. Laundry and restaurant on site.
Stay safe
Yoron does have a small hospital in Chabana (tel. 97-2511) and a few clinics.