Youngstown (Ohio)
Youngstown
is a mid-sized city in
Northeast Ohio
and is the county seat of
Mahoning County
.
Get in
By plane
Youngstown-Warren Regional Airport

phone: +1 330 856-1537

This airport is rather small and has had trouble attracting more than a handful of flights or giving any staying power to flights. There are charter flights to Atlantic City, too.
By car
Youngstown is served by the following interstate highways:
I-76 serving Akron and Youngstown and connecting to beyond Pennsylvania to the east.
I-80 is the Ohio Turnpike (a toll road) that runs across the northern part of the state, serving Cleveland, Akron and Youngstown (where I-80 and I-76 criss cross).
I-680 provides access to downtown areas and outer suburbs.
By bus
phone: +1 330 743-4141

address: 340 W Federal St

Stops at local transit station.
Get around
WRTAprovides the inner city and suburbs with bus transportation.
There is also a taxi station next door to the Greyhound / WRTA station in West Federal Street.
See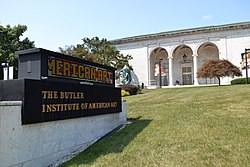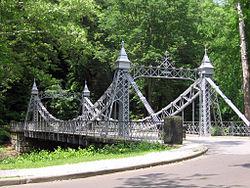 Butler Institute of American Art

phone: +1 330 743-1107

address: 524 Wick Ave

First museum of American Art.

phone: +1 330 941-1400

address: 525 Wick Ave

Contemporary art museum for Youngstown State University, it features both student/faculty works and traveling shows.
Do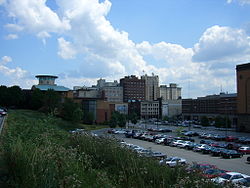 phone: +1 330 746-5600

address: 299 E. Front St.

Home of the Steelhounds and site of many major concerts

Powers Auditorium

address: 260 W. Federal Plaza

Built in 1931 by the Warner Brothers. Home to The Youngstown Symphony.

phone: +1 330 788-8739

address: 600 Playhouse Lane

America's Oldest ongoing community theater
phone: +1 330-406-0606

address: 4749 South Ave. Youngstown, OH 44512

The Oakland Center for the Arts (or the Oakland, as it is usually called) is an interdisciplinary arts center based in Youngstown, Ohio. The center was established in 1986 by Youngstown native Alexandra Vansuch and a group of local performers and civic-minded individuals, as a community venue for theater, film, music, literature, dance, and the visual arts. The center specializes in performing locally written plays, as well as offbeat, obscure plays and musicals such as Bat Boy: The Musical, Baby, Jacques Brel is Alive and Well and Living in Paris, and Assassins. Their award-winning work has gained them local and regional acclaim. Reopened in 2016 for a new start with Kids First Theatre Initiative, a premier children's theatre company in Youngstown, and have 6-7 productions per year since reopening.
Sports
Outdoors
Mill Creek MetroparksLocated in the heart of Youngstown, OH. Mill Creek Park encompasses approximately 2,600 acres, 20 miles of drives, and 15 miles of foot trails, and a rare collection of gardens, streams, lakes, woodlands, meadows and wildlife for all to enjoy. Visitors will find a wide range of recreational opportunities such as hiking, biking, picnicking, boating, Par-3, or championship golf, tennis, sand volleyball and more. Many of the facilities can be found at the James L. Wick, Jr. Recreation Area. Universally accessible trails, fishing pier, playground and picnic areas are located throughout the Park. Cabins and pavilions for group events are available for rental year-round. Mill Creek Park is the largest metropolitan park in the country, more than three times larger than Central Park in New York City!

Broadman Township ParkHas an outdoor theater and trails.
Buy
Southern Park MallBoardman

phone: +1 330 652-6980

address: 5555 Youngstown-Warren Rd, Niles
Eat
phone: +1 330-740-0000

address: 17 W Federal St

Downtown pizzeria

phone: +1 330-788-0356

address: 3931 Handel's Court

Ice cream chain based out of Youngstown

phone: +1 330-726-0895

address: 7413 Tiffany S, Boardman

Steakhouse

Scarsella's Italian Restaurant

phone: +1 330-788-0806

address: 4151 Market St

phone: +1 330-746-7067

address: 410 N Walnut St

Inner Circle Pizza
Drink
phone: +1 330-707-4474

address: 534 Mahoning Ave

Great beer selection. Located next to B & O Station

address: 124 W Federal Plaza

Downtown Draught HouseTons of beer selections. Houses the Spacekat BBQ.

Irish Bob's

Shenanigans

address: 530 Mahoning Avenue Suite A

Great little brewery with growler hours and very good beer.

phone: +1 330-654-9181

address: 3020 Scenic Avenue, Berlin Center
Sleep
Connect
phone: +1 330 744-8636

address: 305 Wick Avenue

Beyond books, the public library has public computers, as well as a makerspace with 3D printers, laser cutters, and other tools.
Go next
Golf
The Youngstown Region was ranked #4 in the country for golf by Golf Digest.
Mill Creek Golf Course - West Golf Drive - Youngstown
Pine Lakes Golf Club - 6233 Liberty Street - Hubbard
Reserve Run Golf Course - 625 E. Western Reserve Rd. - Youngstown
Kennsington Golf Club - 4171 Westford Place - Youngstown