Yuma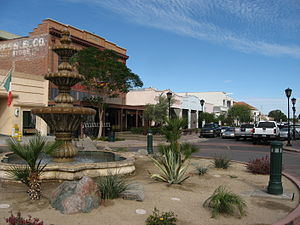 Yuma
is the largest city and county seat of Yuma County,
Arizona
, located near the borders of
California
and
Mexico
.
Understand
phone: +1 928-783-0071

address: 201 N 4th Ave
Get in
By car
Yuma is on Interstate 8, about 2 hours and 40 minutes east of
San Diego
, and 2 hours and 30 minutes west of the town of
Casa Grande
at the intersection of Interstates 8 and 10 between
Phoenix
and
Tucson
. Note that Yuma is located at a freight train stop; the last before California. This results in a lot of transients in the small conservative town. The police, in line with other places in Arizona, are quick to arrest 'loiterers'. If you are traveling with a backpack and don't look like a college student, be prepared to be rousted and harassed.
By plane
By train
Yuma is served by
Amtrak
via its triweekly
Sunset Limited
route between
New Orleans
and
Los Angeles
. Additionally, the
Texas Eagle
provides services to and from
Chicago
. Westbound trains inconveniently arrives around 3AM, while eastbound ones arrives late evening around 11:30PM. Notice however that delays are quite common.
Yuma station
is located at 281 Gila Street, the station has no shelter or restrooms but is located just a block from downtown.
By bus
phone: +1 928-783-4403

address: 1245 S Castle Dome Ave

As this just a pick-up and drop-off point, tickets should be purchased beforehand online or over the phone. Tickets can also be purchased at the local office (2715 E 14th St).
Get around
Yuma County Area TransitThe public bus network in Yuma county, local services usually operate M-F 5:50AM-7:30PM, and Sa 9AM-6:30PM. Buses serve border crossings at both Andrade and San Luis. There is limited evening service to local colleges and universities until 11PM on weeknights. Also, an inter-city service linking Yuma with El Centro, California, is available three to four times a week. A good system map can be found on YCAT's website
See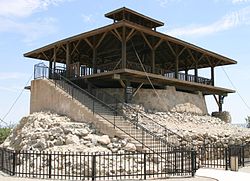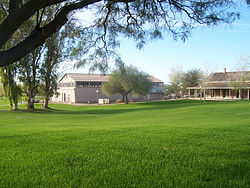 Do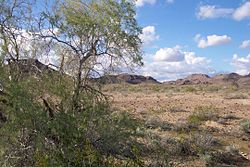 Events
phone: +1 928-344-5451

address: 2520 E 32nd St

A three-day event held annually in early February.

Yuma Crossing Day & Redondo Fiesta

phone: +1 928-782-1841

address: 200 block of Madison Ave

An annual reenactment of the historic Yuma Crossing, accompanied with a fiesta featuring folklorico dancing, mariachi music, food, and other entertainment.

Quechan Indian Day

phone: +1 760-572-0213

address: Quechan Dr to Indian Hill

An annual parade with Quechan dancers and musicians from the nearby Fort Yuma Indian Reservation.

phone: +1 928-343-1715

address: 1280 W Desert Hills Dr

A three-day event held annually in March, this is one of the southwest's largest classic car shows. Features live music and food.

phone: +1 928-783-3530

address: 645 S 2nd Ave

Regional heritage cooking classes hosted by chef Tina Clark in a restored 1909 Gothic church.
Outdoor activities
Telegraph Pass Trail

address: N Frontage R (trailhead)

A 4.3-mile hike with rewarding views at the top. The best times of year are fall through spring; plan on spending about 3 hrs.

Desert Hills Municipal Golf Course

phone: +1 928-373-5220

address: 1245 W Desert Hills Dr
Buy
Martha's Gardens Medjool Date Farm

phone: +1 928-726-8831

address: 9747 S Avenue 9 3/4 E

phone: +1 928-329-6607

address: 254 S Main St

Offers unique work by local artists and craftspeople.
Eat
Yuma is a good place to get Mexican food if not accustomed to the region.
Budget
phone: +1 928-783-4213

address: 1030 W 24th St

Addicting Mexican food. Homegrown fast food, great choice for a quick lunch or early dinner.

Chretin's Restaurant & Cantina

phone: +1 928-782-1291

address: 505 E 16th St

Very vivid taste. Mild salsa.

El Papagallo Mexican Restaurant

phone: +1 928-343-9451

address: 1401 S Ave B

Slightly more expensive than most Mexican food, but good nonetheless. Hot salsa, mild available. They charge per glass for refills.

Mi Rancho Restaurant

phone: +1 928-344-6903

address: 2701 S 4th Ave

Slightly soft taste as far as Mexican goes. Mild salsa.
Mid-range and splurge
phone: +1 928-329-7442

address: 1325 S Yuma Palms Pkwy B5

Great teppanyaki grill and sushi bar. Regular seating available.

Brownie's Restaurant

phone: +1 928-783-7911

address: 1145 S 4th Ave

Home-style breakfasts are their most popular items.

phone: +1 928-726-5551

address: 2690 S 4th Ave

phone: +1 928-783-1166

address: 2355 S 4th Ave

Great dinner salads and steaks.

phone: +1 928-328-1444

address: 1551 W 5th St

Owned and operated by the same family since 1935.

phone: +1 928-317-1961

address: 1951 W 25th St

phone: +1 928-782-7988

address: 600 W 3rd St
Drink
phone: +1 928-782-6200

address: 179 E 1st St

The Dunes Bar

phone: +1 928-726-4721

address: 711 E 32nd St

This restaurant/bar has live entertainment throughout the week. Monday is Military appreciation, Wednesday Reggae band, Thursday Hip Hop band, Friday ladies night, Sunday Fun day (drag shows etc.)

phone: +1 928-783-5647

address: 38 W 2nd St

A dance club/bar that is for a little older crowd. Normally they have both a DJ and a live band playing on weekends. During the day (happy hour) it doubles as a hang out for businessmen/women

Manske Lounge

phone: +1 928-726-9258

address: 3001 S Pacific Ave

A bar with a little more of a Hispanic influence, but a variety of music. Small dance floor, pool tables, large bar, and tables to sit at.

Platinum Cabaret

phone: +1 928-783-5000

address: 822 E 21st St

A strip bar that provides adequate entertainment. Most Fights are on big screens. Also, Wed nights are coin nights. Should be good for all the businessmen that are in town during the week.

phone: +1 928-782-7427

address: 233 S 4th Ave

A historic bar and grill.
Sleep
Lodging
Camping
Fortuna PondA popular camping and fishing destination managed by the Bureau of Land Management, with a 14-day limit. A license is required for fishing; contact the AZ Game and Fish Dept (tel. 928-342-0091).

Mittry Lake Wildlife AreaManaged by the BLM, with vault toilets, no drinking water, 10-day limit.
Go next
Yuma is next to the Mexican border, but getting in is not quite as easy as it seems due to the Colorado River.
There is no access bridge from any part of the city.
Due to a geographic oddity, Mexico is both to the west (shorter), and to the south (further). The shortest way is to go into California on I-8, then south on Algodones Road (Exit 166/State Route 186), and cross the border into metro
Mexicali
. (The first town is called Los Algodones.) You can also go south on US-95 from Yuma for just over 20 miles, and cross the border into
San Luis Rio Colorado
.