Yungas Road
The
Yungas Road
is in the
La Paz department
of
Bolivia
.
Cities and towns
North Yungas
– The most popular town around with many accommodation options.
– A little village and transport hub of the region, for onwards travel into the Tropical Lowlands (Santa Cruz, Beni, Pando)
– A village a the end of North Yungas Road with showers, other amenities for travellers and a few accommodation options.
– A village offering adventure tours in the Yungas Road region.
South Yungas
– For a safer and more relaxed trip to Yungas, check out this village at the eastern side of the (South) Yungas Road. A great alternative to Coroico and convenient if you connect from/to Quime or even Cochabamba (very far and slow).
– A stopover/hub along the South Yungas Road. The Takesi Inca Trail from La Paz leads here.
Understand
The Yungas Road is better know by the name of Ruta de la Muerte or Death Road indicating the many deaths and accidents that happened here. Nowadays, a highway has replaced the once so dangerous road. And what is left is being exploited for marketing purposes by mountain bike tour companies in La Paz. Nevertheless, the region is a hidden gem and beside the road it offers many hiking and leisure opportunities worth staying here a couple of days.

History
Built by Paraguayan prisoners during the Chaco war in 1930.
There was an average of 100 motor fatalities a year, when the road was the main corridor. A world record, mostly due to the Bolivian driving style than to the road itself. Though, in the ten years that mountain biking companies have been biking down the road, there have only been 12 biking fatalities).

Landscape
Flora and fauna
Climate
Get in
By bus
Frequent buses from the
Terminal Provincial Minasa Yungas
in La Paz will go by and stop in Yolosita (Bs. 20). From there you can hike up to Coroico, there is a direct trail, or take a minibus for Bs. 5. There are also a few direct connections to Coroico.
Regular bus travel between Yolosita and Yucumo (
Beni
department), especially in the evening: Bs. 40-50, 8-10 hr.
By bicycle
Usually, if you book a tour, this is the way you come in.
Nevertheless, you can also rent a proper bicycle in La Paz, let the bicycle be carried to the to pass at 5,000 m or the and cycle down into the valley.
On foot
Likewise, getting dropped off at the beginning of North Yungas Road (Bs. 10-15 by bus), you can hike down into the valley.
Or you get dropped of even earlier and do the
El Choro Trek
. Also, see
below
for all hiking options.
You might consider starting your trek near La Paz, but it is probably better to do that in a group of 3 or more.
Fees and permits
There are several toll stations along the North Yungas Road relevant for cyclists, probably due to the fact that it is a popular destination for MTB tours:
– Bs. 25 once, either top or bottom
– Bs. 25 once, either top or bottom
– Bs. 3, when going directly to Yolosita, just a few km before Yolosita
Also, there is a tool booth at the entrance of Coroico, but it probably only applies to cars.
Get around
On foot and navigation
There region consists of many interesting hiking and cycling trails. For reliable trails, consult
OpenStreetMap
, which is used by many mobile Apps like
OsmAnd
(complex with many add-ons) and
MAPS.ME
(easy but limited).
See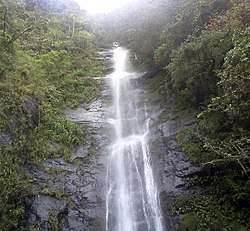 Tres CascadasThree picturesque waterfalls about 10 km away from Coroico, one way. This is a full day hike. Especially the third waterfall, La Jalancha, looks impressive.

TocañaA black Afroboliviana community with its specific music and dresses. Read on their history and pay them a visit.

Castillo del LoroHere you will find a surprise: a European castle, built in the 1930s, emerges in the middle of the coca and flower growing region. It's a treat because the people who run the castle/hotel have built many narrow roads for hiking through mountains and mountain cascades. Much calmer and relaxing than Coroico. The hotel is called the Hotel y Parque Ecológico el Castillo del Loro.
Do
phone: +591 75274751

address: Office: Plaza, Coroico

30 minutes away from Coroico there is this community project that offers canyoning and trekking. Canyoning involves rappelling down 8 natural waterfalls with pure, fresh, crystal clear water in the middle of the Yungas Jungle. You can also enjoy trekking through the Yungas tropics appreciating nature and fauna, breathing healthy full of oxygen air.

FB

.

Pozas del VaganteRiver swimming.

Laguna CedromayoA nice swimming pool next to a waterfall, in case it gets really hot.

Zip Lining (Station)

address: Yolosa

A 1,500-m zipline developed by the community in 2010. It flies at speeds of up to 85 km/h. Besides this station there is another across the river. Maybe you can go from this one the whole way. Check it out in case you go by with the bicycle.

The "Vertical Route" CircuitThe communities San Juan de la Miel and Villa Ascensión offer this commercial 6-hr adventure tour along 5 different "iron activities": abseiling, iron steps, a hanging bridge of 30 m, a 100-m zip line, and a rope swing. The "road" is both, vertical and horizontal, equipped with nails, dams, staples, chains, handrails, suspension bridges and zip lines. They allow safe access to otherwise difficult areas.
Hiking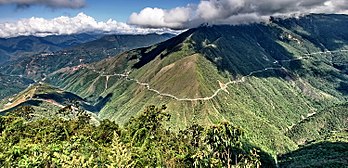 Hike the Yungas North RoadIt is also possible to hike down the North Yungas Road to Cocoico within a day. It is 30 km, but downhill all the time. Or hike up, if you feel like it (2000 m in altitude!), and take any bus from the top end back to La Paz.

Two interesting two- or three-day hikes go from La Cumbre (the highest point between La Paz and Coroico, 4,700 m) to Coroico (1,700 m).
El Choro TrekThe most famous is the old Inca Road trek, which was the most important connection between the Yungas and La Paz until the 1930s. This is a beautiful and exciting track that runs northwest of the highway (La Paz-Yolosita) and the North Yungas Road through local villages and down to Yolosita.

Eco-víaThis is a road carved in the mountains, with the idea of having a train connection. It never did function, but as a train needs relatively flat terrain, it's a much more accessible option for people not used to walking. It can be done in two or three days, but come well prepared: the first two days you will not encounter any villages.
There is little information available on this trail here. So, you best off heading to a "tourist information" in Coroico and get more details. They will probably tell about where the trail starts and ends. Then consult OpenStreetMap to find the actual trail and rest of details.
Takesi Inca Trail – A demanding and exciting 40 km 2-3 days mountain trail that you start in La Paz and end in Yanacachi along the South Yungas Road, or vice versa. More information on the stages of the trail, can be found here.
There is some good hiking in the surrounding of Coroico. There are several one day hikes, which include going for a swim in wild and clear rivers, seeing local agriculture (coca, banana, coffee, citrus fruits), old Casas de Hacienda (the houses of the former landowners), virgin forests and Afro-Bolivian communities. Checkout the destinations under #See.
Mountain biking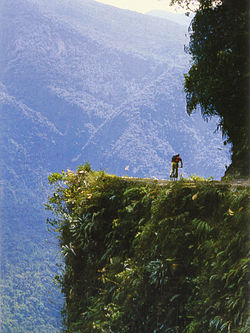 It's a 64 km long scenic ride downhill. Although it's a narrow, winding road with big drops on the side, going down by bike is probably the safest way to get to
Coroico
. You'll enjoy the day watching waterfalls and appreciating beautiful natural landscapes.
Mountain Biking (self guided)You can easily organise a cycling trip yourself. Try renting a bicycle with one of the tour companies that also offer tours. Take a bus from Terminal Provincial Minasa Yungas (or a private van from where you prefer) to at 4,650 m and go from there, or go directly to the , from where it is only 30 km, which may be preferred if the weather at La Cumbra is bad—with mist you will not be able to take pictures anyhow. Buses usually have enough space in their luggage compartment or on the roof. You can stay in the region or head back directly to La Paz with the next bus from Yolosita.
The "Death Road" itself is not difficult, it is just that when accidents happened, cars were often too fast or inattentive. This can be better controlled by bicycle. However, have someone more conservative leading your group, just in case. Since it is downhill all the time, the 60 km are possible in 3-5 hr, depending on the amount of stops and the weather. Front suspension is best, but full suspension is not needed—this is a gravel road used by cars before, it is not an off-road trail. Some tour companies offer their clients really bad and old bicycles, proofing the easiness of the road. Nevertheless, get a good bicycle—the most important thing are your breaks.
There is a along the highway, which is only open between 07:00—15:00. The first halt from La Cumbra is a sealed road. The North Yungas Road is gravel. Doing the trip on you won is more authentic, you do not have to start too early, it is cheaper, and you will have more time for yourself and pictures. In addition, it gives you the chance to visit a neglected but very versatile region.

Mountain Biking TourThe North Yungas Road is a popular destination for mountain biking tours from La Paz. There are many providers in La Paz that offer the tour. Unfortunately, they have kind of a quasi monopole, because most people will only contact one company and go with them. Hence, their prices are way too high.
Generally, bicycles and people are brought from La Paz into the region. You will ride a bike in the new paved road about a half hour, then enter the most dangerous road in the world, North Yungas Road (a.k.a. Death Road). All together 60 km (3-6 hr), and at the end you are having buffet lunch, showers and a swimming pool in Yolosa. You can of course also stay in the region, but general the tour providers are a little reluctant to take too much luggage.
Eat
Many shops in this region, e.g. in Yolosita, sell in palm leafs wrapped chocolate bars at Bs. 10/5 (large/small, but small is the better deal) made out of 100% chocolate without any sugar. So, if you ever wondered what pure chocolate taste like, this is your chance. The chocolate bars are actually intended for cooking—it does not mean however that you will find anything different offered in this region. Nevertheless, it can be good in combination with coffee or hot milk.
Sleep
You will find most sleep options in
Coroico
. However, there are remote accommodations all over this region, ranging from luxurious to typical Bolivian. Checkout Google Maps and contact them directly via WhatsApp or so.
Camping
Along the trails there should be enough options to camp, just make sure it is not close to a village or unintentional in someone's backyard. Check out the marked camp site on
OpenStreetMap
. Often however, you will also find options provided by the people of the village to put up a tent.
Campamento Minero La ChojllaApparently a great place for camping near an interesting mine for a visit.
Lodging
Cope
Beware of the sand flies in and around Coroico. They will bite you without noticing, and you will wonder later, where you got all the itches from. Wear long trousers.
Go next
If you thought the commercialised
Death Road
was crazy, enjoy the ride when heading further into the
Beni department
:
Rurrenabaque – There are many buses that go there from Yolosita, e.g. one at 14:00. You can buy your ticket (at least Bs. 110) in Coroico at one of the travel agency (On the day of departure, they will give you the description of the bus.), but it will certainly be overpriced. You can also just catch one of the buses down in Yolosita—they usually always have space. Ask around in Yolosita when the buses pass through. The journey takes about 13-14 hr in the dry season.
Trinidad – There are 3 direct buses or so to Trinidad, going by San Ignacio de Moxos. They leave between 18:00 and 00:00. It is probably better to just take the next best bus to Yucumo (8-10 hr, Bs. 50, but they might also take you for Bs. 40) and transfer there. The road conditions are awful and it can take up to 24 hr to get to Trinidad, assuming there are no road blocks.
Otherwise, there should be 24/7 (hourly) transport options back to La Paz along the North Yungas Road.