Yurihonjo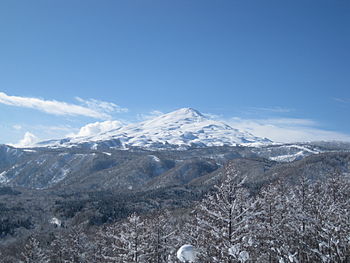 Yurihonjo
(
Yurihonjō-shi
) is a city in southern
Akita prefecture
. It was formed in 2005 by the merger of many towns: Chokai, Higashi Yuri, Nishime, Iwaki, Honjo, Yashima, and Yuri.
Understand
Yurihonjo was formed by a merger of several towns, yet those towns are still largely oriented around themselves. And since Yurihonjo is very large, in terms of area, people living in the SE may know nothing about people living in the NW, for example. Honjo (本荘) is in the west of Yurihonjo. To the south of Honjo is Nishime (西目). To the north of Honjo are Matsugasaki (松ヶ崎), Kameda (亀田), and Iwaki (岩城). Ouchi (大内) is NE of Honjo. Higashi Yuri (東由利) is east of Honjo. In the SE are Yuri (由利), Yashima (矢島), and Chokai (鳥海). Chokai is composed of three villages, Kawauchi (川内), Hitane, (直根), and Jinego (笹子).

History

Honjo, located at the heart of Yurihonjo, is a city surrounded by hills ("Dewa-kyuryo"), plateaus ("Yuri-hara") and the sea. It is believed that the area of Honjo was under the sea about 1,000,000 years ago and that its higher zones started gradually emerging some 500,000 years later. By 3000 B.C., some large villages had been formed at the foot of the Dewa-kyuryo.
The name Yuri appeared for the first time in "Azumakagami", a book written around 1200. The Yuri clan was a powerful family who governed Nikaho, Yashima, Koyoshi and other neighboring districts. Their territories, however, were confiscated by the government in 1213, and for the following 400 years up to 12 clans ruled over the area together. In the early 17th century, the area was disputed between the government and the local clans. It finally became the property of the Rokugo clan from Ibaraki in 1623 and remained so for about 250 years.
There once was a castle in Honjo, located on the site of today's Honjo Park. As a matter of fact, the old way of writing Honjo, 本城, means "main castle". However this castle can no longer be seen as it was burnt down in 1868 by the members of the Rokugo clan themselves at the end of their reign.
On April 1, 1889, the district officially gained the name "Honjo Town". On March 31, 1954, the town merged with the villages of Koyoshi, Otomo, Ishizawa, Minami-utetsu, Kita-utetsu and Matsugazaki. Then, on March 22, 2005, Honjo Town merged again with 7 other small towns of the area to become "Yurihonjo City".

Climate

July is the rainy season, with regular afternoon showers. The spring and summer before and after that have less rain, and are therefore good for outdoor activities. In November, cold weather thunder storms are said to mark the end of fall and the beginning of hatahata (a local fish) season. In the winter, the coastal areas of Yurihonjo get a little snow, and the inland areas get a lot, which makes for good skiing and snowboarding.

Get in
Depending where you're going, a car is probably your best bet.
By car
Within Akita, cars are the most convenient way to get around. Highway 7 connects Honjo with
Akita
to the north, by way of Iwaki, and
Nikaho
to the south, by way of Nishime. Highway 105 connects Honjo to Daisen in the NE, by way of Ouchi. Highway 107 connects Honjo to
Ugo
and Yokote in the east, by way of Higashi Yuri. Highway 108 connects Honjo to
Yuzawa
in the SE, by way of Yuri, Yashima and Chokai. There are several small highways through the mountains, but some of them are seasonal or are closed for long-term repairs, so ask someone locally and check. In the winter, the roads can be snowy and icy, and the mountain areas — Chokai, for example — get tons of snow.
By train
From Ugohonjo Station in Honjo, the Akebono night train goes direct to Tokyo, and the Nihonkai night train goes direct to Kyoto. The nearest shinkansen stations are the Komachi Shinkansen in
Akita
or
Omagari
, and the Tsubasa Shinkansen in
Shinjo
, northern
Yamagata
. Both of these shinkansen lines go to Tokyo. There are many daily trains going north and south out of Honjo. There is also a private train line that goes from Ugohonjo Station to Yashima, by way of Yuri. See
hyperdia
for train schedules.
Ugohonjo Station

phone: +81 184-22-0221

address: Nishibonten 85-1

The main train station in Yurihonjo.

Yashima Station

phone: +81 184 56-2036

address: Hazaka, Nanokamachi, Yashima

The terminus of the Yuri Kogen Railway. This station has a large sitting area and a computer with free internet.

phone: +81 184 56-2736

address: Hazaka 21-2, Nanokamachi, Yashima

This railway runs from Ugohonjo Station to Yashima by way of Yuri. Trains leave around once an hour; see the website for the schedule.
By bus
Night buses go from Tokyo to Yurihonjo. Several bus companies offer this service. Check the websites or ask at the bus station for more information.
address: Sakanamachi 45

Night buses go to and from Tokyo. There are other bus routes to various places in Akita, as well.

JR Bus TohokuThe line connecting Honjo and Tokyo is called "Chokai Dream". Passengers can board at Ugohonjo Station, Ugokotsu Bus Station, and several other locations in the area.

Orion BusRuns nightly buses connecting Honjo and Tokyo.
Get around
In Honjo itself, biking and walking are feasible. There are a few buses each day connecting outlying towns. Iwaki, Nishime, Yuri, and Yashima can be reached by train from Honjo. Taxis and daiko are available, but they're very expensive for outlying areas. Traveling by car is convenient, and parking is rarely a problem.
By bus
There are several daily buses connecting Honjo to Higashi-Yuri. Buses also go from Honjo to Yashima several times a day, continuing to Kawauchi and Jinego in Chokai. Though there are buses going from Honjo to Iwaki and Nikaho, the train is probably more convenient. The train station has timetables for local buses.
See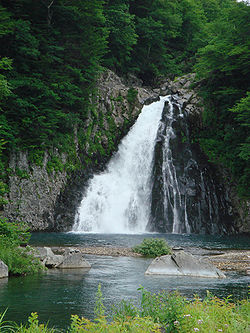 address: Uwadaomote 115, Akata

A large Buddha statue.

Honjo Culture Hall

address: Mikuramachi 30, Honjo

This building is the only large auditorium in Yurihonjo. It hosts many kinds of shows, such as dance shows, concerts, and karaoke contests.

Honjo Park

address: Honjo

Have a picnic. In April or May, watch cherry blossoms in the park.

Hottai Waterfall

phone: +81 184 57-2207

address: Momoyake, Chokai

A large waterfall with picnic and camping area and restaurant in Momoyake, Hitane, Chokai. There is also a 2km hiking trail. The facilities are closed in winter, and the road is not plowed. However, the road is plowed in Momoyake until the last 2km, so one can easily walk in on snowshoes.

Iwaki Local History Museum

address: Tamachi 41, Kamedamachi, Kameda, Iwaki

This reconstructed village has some museum buildings with old clothes, weapons, scrolls, and, oddly, biology research. There are also some reconstructed buildings, as well as old looms and blacksmith tools. Next to the reconstructed village there's a large tower, surrounded by a small moat. There's a restaurant and gift shop on the first floor, and the top floor has nice views of Kameda. No English is spoken, but the ticket window has an English language handout that describes each of the buildings. If the employees have time, they can demonstrate how some of the tools are used.

One Thousand JizōSee a thousand small statues on a path by the road.
Do
Chokai
Chokai Ballpark

phone: +81 184 57-2881

address: Nishino 108, Kami-Kawauchi

This ballpark hosts youth and adult baseball games.

Chokai Snowmobile LandA snowmobile training and recreation area. Instructors can teach beginners, including children. Reservations necessary.

address: Okuyamamae 8-45, Sarukura

Onsen and hotel on the base of Mt. Chokai. There are indoor and outdoor baths. Bring your own towel for bathing.

Mt. ChokaiClimb Mt. Chokai from the Haraikawa Trailhead near Yashima. It takes around 4 hours to reach the summit, or 8 hours round trip. The mountain is 2236 meters high.

Mt. HinotoA round trip climb up and down Mt. Hinoto takes around 5 hours. Get supplies in Jinego before going to the trail head. For a few kilometers leading to the trail head, the road is unpaved. The mountain is 1,145 meters high.

Noyake Onsen

address: Noyake 14, Kami-Jinego

Shisuikan

address: Kubo 193, Fushimi

This community center often hosts public events, such as guest speakers and concerts.

Yunosawa Onsen

address: Yunosawa 52, Sarukura

This onsen is part of Hotel Masaka. It makes a nice stop after skiing at Okojoland Ski Area.
Higashiyuri
address: Hatakeda 28, Oikata

This is a large onsen. It has relaxing areas, baths, and an attached restaurant.
Honjo
Honjo Library

address: Mikuramachi 30

Largest library in Yurihonjo. Some English books are available, but most of these are in a storage room in back, so ask for help.

Kofuen Sumo RingThis is an outdoor sumo practice ring, open for all to use. Contact the Honjo Board of Education (number above) for more information.

Koryu Gakushu Center

phone: +81 184 24-4344

address: Kami-Ōno 16

This public building has a small public library, as well as a gym and kitchen. Private groups often reserve the gym or kitchen and use them for various events. This building was formerly called the Koiki Koryu Center (広域交流センター).

Pine Spa Onsen

address: Tajiri 30-12, Ishiwaki

This onsen opened in 2005.

Tsurumai Kaikan

address: Kawarayachi 1

This community center has large and small rooms that can be reserved for various community events.

Tsurumai Onsen

address: Nishikobitomachi 23-1

This is a popular onsen in central Honjo with a scenic location by a pond.

Yurihonjo Softball GroundThis softball ground hosts youth and adult tournaments.
Nishime
Hamanasu Family Bowling

address: Shinmichishita 1112-1, Numata

A bowling alley with around 14 lanes, open until late.

Nishime Kominkan Seagull

address: Shinmichishita 2-533, Numata

This community center has a medium-sized auditorium. It often hosts community events like dance recitals and art exhibits.

address: Shinmichishita 1112-1, Numata

This bath house is part of a hotel. It's one of the only 24-hour bath houses in Yurihonjo. The building is not noteworthy, but on the other hand, it's clean, and the bath is large. There's a large bath, a small mineral bath, a sauna, and an outdoor sitting area. Massages are available.
Ouchi
Yurihonjo Sogo Gymnasium

address: Nishigoe 62, Iwaya

This large public gymnasium hosts a variety of sports tournaments. There is also a weight room with treadmills.

Nagasaka Ski Area

address: 長坂大霜38-3

A small ski area with one t-bar and one slope. Open for day and night skiing.
Yashima
Cycling Terminal Yamayuri

address: Minami Yurihara 360, Nishisawa

This building has a tourist information center, a small gift shop, a small restaurant, public restrooms and vending machines, and maps. There may be bicycles for rent, as well. The annual Chokai Marathon running race starts and ends here. Closed in winter.

Hanadate Milsey Dairy

address: Hanadate 60, Jōnai

This dairy has tasty milk and ice cream. Offers hands-on tours.

Yashima Nishinkan/Kominkan

address: Hazaka 64-1, Nanokamachi

Community center with library and small auditorium. There is free internet access in the library.

address: Chōhoda 6, Arasawa

Ski area in Yashima. Ski and snowboard rentals available. Small gear shop. Two restaurants. Two ski lifts (4 person and 2 person).
Buy
The best shopping in Yurihonjo is in Honjo itself. If Honjo doesn't have what you want, go to
Akita
. If you're shopping in one of the outlying areas, there are often interesting gifts at the rest area shops.
Chokai
A-Coop

address: Sakaidai 109-1, Kami-Jinego

Grocery store. Also sells local alcohol.

Conbini Sato

address: Ichinotsubo 9-1, Shimo-Jinego

Convenience store. Sells fresh fruit, local gifts, and post cards.

Hottoin Chokai

address: Sakaidai 100, Kami-Jinego

Sells fresh and canned vegetables and gifts for tourists, such as postcards and t-shirts.

Sairando

address: Kubo 146-1, Fushimi

Sells fresh and canned vegetables and gifts for tourists such as postcards and t-shirts.

Daily Yamazaki

address: Yamanoshita 166-1, Shimo-Kawauchi

The only convenience store in Kawauchi.
Honjo
address: Uraozakimachi 1-21

Sells crafts, food and drink from the region. For example, the shop sells many lacquer dishes and containers made in Akita, as well as local brands of sake and kiritanpo.

Saison Fugetsu

phone: +81 184-23-7288

address: Nakabonten 1-4

Dessert store. Sells pieces and entire cakes, cream puffs, and other sweets.
Nishime
Nishime Rest Area

address: Shinmichishita 1112, Numata

This rest area has a restaurant, gift shop, vending machines, and a large parking area. The gift shop has a large selection of local and regional foods, t-shirts, and crafts.
Yashima
Saison Fugetsu

address: Shimo-Yamadera 61, Nanokamachi

Dessert store. Sells pieces and entire cakes, cream puffs, and other sweets.

Lawson Station

address: Magaribuchi 181, Nanokamachi

Convenience store with ATM. For late night shopping, people from Yashima and Chokai go here, because it's the only option.
Eat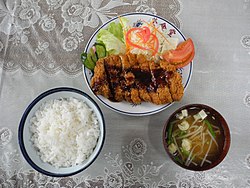 Akita Prefecture is famous for
kiritanpo
, a sort of grilled rice cake. In October and November, the local
hatahata
fish is quite popular. Though unfortunately these foods are only served at a few restaurants around town, they can be purchased at many gift shops. Yurihonjo itself is known for several brands of sake (Japanese rice wine), such as
Dewanofuji
(出羽の富士) and
Tenju SHUZO
(天寿酒造). Sake is served at bars and sold at many convenience and grocery stores.
Chokai
ChihiroMany kinds of Japanese food available. Can host private parties.

phone: +81 184 58-2065

address: Yunosawa 103-1, Sarukura

This hotel and onsen has a restaurant with a standard Japanese menu and tasty katsudon. Large rooms may be reserved for enkais.

Hottoin Restaurant

address: Sakaidai 100, Kami-Jinego

Ramen, soba, and rice bowl dishes available.

Momoya

address: Kubo 135-3, Fushimi

Specializes in soba. Ramen and udon also available.

Yokocho

address: Kawazoe 73-5, Fushimi

Ramen restaurant.
Honjo
Angel Bakery

phone: +81 184-23-3130

address: Iwabuchishita 117-2

This bakery makes and sells sells pastries, bread, coffee, and sandwiches. It's the only place in Honjo that sells Russian-style bread. The shop has some tables for customers who want to eat there.

Cake Kobo Furian Nakamura

address: Yazuma 118, Kawaguchi

A cake and dessert shop. Also serves coffee and has magazines and a sitting area.

Chinese Restaurant Sai-kan

address: Shinwa Building, Kami-Shōbuzaki, Kawaguchi

This Chinese restaurant has tasty seafood dishes.

Chiyogiku

phone: +81 184 23-4419

address: Mizubayashi 316-1

The special is toromi ramen, and the tanmen is also quite good. Seats 24.

Daimatsu

phone: +81 184 24-3039

address: Ōkuwamachi 285-2

A nice fish and sushi restaurant. Rooms can be reserved for enkais. Specializes in fried dishes, such as fish curry.

Gobando

address: Kyūjinchō 20-8

This izakaya serves standard fare. On Saturdays once or twice a month, it has open mic night for local bands.

Ichikoma

address: Iwabuchishita 47

This small udon shop has three tables and a counter. It serves many kinds of udon, and also oden. The shop is owned by a young couple, and their udon is quite good.

Ichiyoshi

address: Sakanamachi 15

A traditional Japanese restaurant where you sit and eat on tatami mats. Specializes in fish. Reservations required.

Kind Grill

address: Iwabuchishita 36

A very nice steak restaurant. There are only 3 tables, so reservations are required.

Kinkaku

address: Mizubayashi 430-14

A Chinese-style restaurant serving gyoza, rice dishes, and soup.

Kichijo Shuka

address: Iwabuchishita 51

This small Chinese restaurant has tasty lunch sets and large portions.

Koyo

address: Hanabatamachi 1-103

A small ramen restaurant.

Masadon

phone: +81 184-22-5387

address: Taniyamakoji 1-7

This izakaya's special is half of a small chicken, deep fried. The chicken sells out, so it's best to call in advance and reserve a portion. Because the chicken is greasy and tasty, this is a good location for drinking after dinner.

Oyaji Ramen

address: Yahata Building, Kawaguchi Hachimanmae 246-1

Serves several kinds of ramen and tasty gyoza. Buy food tickets at the vending machine before sitting down.

Ozono Ryokan

address: Nakamachi 16

This ryokan is often reserved for large enkais and used for formal dinners. The food is delicious. Reservations required.

Pizza 10-4

address: Aizu Building, Iwabuchishita 39-4

A delivery or carry out pizza place. Features a selection of seafood pizzas, along with a few meat and vegetarian options.

Ramen Ichiban Hoshi

address: Tsurunuma 89-2

The house specialties are miso ramen and tonkotsu ramen.

Ramen Menmaru

address: Mizubayashi 424-5

This ramen shop is centrally located and open fairly late. Its specials are assorted spicy ramen dishes. Also, the gyoza is quite good.

address: Kobitomachi 8-2

This restaurant has a large grill on which they cook their food. The menu is large, with an emphasis on okonomiyaki and steak.

address: Iwabuchishita 137

A modern izakaya.

Warabeuta

address: Hanabatamachi 2-68-1

An okonomiyaki restaurant. If you don't know how to cook okonomiyaki, the staff can help you learn.

Yu

address: #3 Ricchi Building, Iwabuchishita 117-6

This Japanese izakaya serves traditional Akita fare, among other things. In particular, it often serves doburoku, a local sake variant. Reservations recommended.

address: Iwabuchishita 37

This is a large izakaya that serves standard izakaya fare, with a slight emphasis on sushi.
Iwaki
Restaurant Quebec

address: Shintsurugata 192-43, Iwakiuchimichigawa

This Quebec-themed restaurant has various foreign food. Its pizza is fairly tasty, compared with normal Japanese pizza.
Nishime
Ibuki

address: Hamayama 6-1, Deto

This small shop has some of the best udon in Nishime. It also has blueberry and sesame soft-serve ice cream.

Keijiro

address: Shinmichishita 2-15, Numata

This restaurant and izakaya serves various Japanese food, such as ramen, soba, and katsudon. It also serves kiritanpo, a famous Akita dish.

Kohraku

address: Shinmichishita 2-637, Numata

This Chinese restaurant has eat in and take out options.
Yashima
Yashima is known for
toranokonomanju
, a striped red bean pastry, which is sold at dessert shops and grocery stores.
Daikokuya

address: Yamadera 15-7, Nanokamachi

This ramen shop is run by a former pupil of Yebisuya Ramen.

Donpei

address: Magaribuchi 1-12, Nanokamachi

Soba restaurant.

Izakaya Gatten

address: Okawabara 109-2, Motomachi

This is a fairly large izakaya. It serves pizza, fried food, and other standard fare.

Koya

address: Magi 41, Motomachi

Serves ramen, omelet-rice, and other Japanese food.

Kuro

address: Aibadate 149-5, Motomachi

Serves ramen and other Japanese dishes.

Sakae Shokudo

address: Magi 210-1, Motomachi

This small restaurant serving standard Japanese fare has been around for decades, and the menu has grown in length over time. Regular customers recommend the tonkatsu, friend shrimp, and chili shrimp. A regular size dish here is the equivalent of a large dish at nearby restaurants.

Takabe Shokudo

address: Hazaka 21-6, Nanokamachi

This eatery's special is the yakiniku bento.

Uogashi

address: Kumanodō 31-13, Nanokamachi

Sushi restaurant.

Yebisuya Ramen

address: Tsukidate 146-1, Jōnai

Yebisu-style ramen. The store specialty is ginger (shoga) ramen.
Drink
In Honjo, there are many small snack bars. The outlying communities have fewer bars. There are no real dance clubs in Yurihonjo — try
Akita
for dancing.
Chokai
OkuThis is a small snack bar with karaoke. It is the only snack bar in Hitane.
Honjo
address: Dai 3 Ricchi Building 1F, Iwabuchishita 117-6

A small bar with karaoke. Seats 5-6 groups, or around 30 people. There's no seating charge, and reservations can be made for large groups.

Cha Cha Cha

address: Tamachi 74

Silk

address: Hanabatamachi 4-3

This is a fairly large bar with darts, a pool table, a few gaming machines, and a sitting area.

Socket

address: 2nd Floor, #3 Ricchi Building, Iwabuchishita 117-6

This is a rather large bar with darts and karaoke. Drinks are fairly cheap.
Yashima
Partner Snack

address: Nanokamachi 1-11
Sleep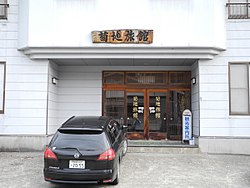 Business hotels are best found in Honjo. Ryokans can be found throughout Yurihonjo, though for a ryokan you'll want to have reservations or arrive early in the day. In a pinch, a car traveler could sleep in the car at any of the rest areas — this is quite common in northern Japan. If you're thinking of sleeping in your car after a night of drinking, please make sure you're completely alcohol-free in the morning, because the police may see your car in the evening and watch for it in the morning. Additionally, there are a few love hotels that could be used, but regular hotels are comparable in price, so it's not a great option.
Chokai
Chokai Ohira CampgroundThis isolated campground itself is not very scenic, but it is near the trail head for Hinoto Dake (丁岳), a good day hike. It has one toilet building, a small area for dish washing, a covered eating area, and a light. There is no resident caretaker. The road and campground are closed in winter.

address: Yunosawa 103-1, Sarukura

Hotel and onsen.

address: Okuyamamae 8-45, Sarukura

Hotel and onsen on the base of Mt. Chokai. There is a restaurant, a cafe, and a gift shop. It's about 10 minutes by car to Yashima Ski Area.

Hotel Masaka

address: Yunosawa 52, Sarukura

Hotel Masaka hosts overnight guests and large enkais. Yunosawa Onsen is part of this hotel.

Kikuchi Ryokan

address: Shimono 108, Kami-Jinego

Mt. Chokai Omonoimi JinjaThis summit hut is popular with hikers who stay the night and get up to see the sun rise from the top of the mountain. Overnight fare includes a bland dinner and breakfast, so many hikers bring a little extra food. Reservations highly recommended. The hut is open from early summer to early October — in that season, the website has relevant pricing reservation information.
Honjo
address: Ōdzutsumishita 4

Hotel and onsen.

address: Iwabuchishita 254

Upscale hotel in central Honjo.

Honjo Marina Auto Campground

address: Tajiri 32-8, Ishiwaki

phone: +81 184 27-2530

address: Hanabatamachi 1-29

This hotel is convenient for travelers without a car.

address: Sakanamachi 5

Upscale hotel in central Honjo. There is a restaurant.

address: Idojiri 50

This hotel has a convenient location for people traveling by car.

Sanboen Campground

address: Toriya 81, Ōya

This campground has tent spaces and a large cabin (with electricity, running water, and kitchen) for rent. There is also a playground and zip line.
Nishime
phone: +81 184 33-4422

address: Shinmichishita 1112-1, Numata

This 24-hour hotel and onsen is designed for people on the move. It's clean, inexpensive, and located on the highway.
Ouchi
address: Ishimori 4-13, Iwanomezawa

This facility has a lodge, some sporting equipment, and a campground.
Yashima
Chokai Plateau Hanadate Campground

address: Hanadate 63, Jōnai

This campground has both tent sites, with tarps or tents for rent if desired, and cabins. The scenic area has a nice view of Mt. Chokai.

Nishiki Ryokan

address: Tanakamachi 52

This ryokan can be used for lodging or for enkais. Reservations may be necessary.

phone: +81 184 55-2929

address: Hanadate 96, Jōnai

This hotel and neighboring youth hostel are located on the foothills of Mt. Chokai. A sports complex and a horseback riding area are located nearby. The youth hostel has rooms that sleep 5 people.

Yuri Plateau Auto Campground

address: Minami Yurihara 437, Nishisawa

This campground has camp sites and cabins. It also has a nice view of Mt. Chokai.
Connect
Finding free wireless internet can be a challenge. Aquapal, Yashima Station, and the Yashima Nishinkan have public use computers with free internet access.
When making local telephone calls, only the last six digits are necessary. For example, "+81 184 53-2055" becomes "53-2055".

Go next