Yuxi
Yuxi
(玉溪;
Yùxī
) is a city in
Yunnan
.
Administratively, Yuxi is a "prefecture-level city", meaning that it also controls several adjacent counties (
Jiangchuan
,
Tonghai
,
Chengjiang
). The actual "city" of Yuxi proper is formally known as Hongta District (红塔区).
Get in
Bus
Buses many times a day arrive from
Kunming
. The in Yuxi is north of downtown.
Train
The railway station still shown on most maps is
, formerly known simply as Yuxi Railway Station, and located close to downtown (Hongta St). This station
closed
on 2016-12-15, and a new, larger station () opened instead. The new station sits amidst strawberry fields at least 3 km southwest of downtown, but it feels like more, because the road network in that new area is yet to be completed. Buses no. 7, 11, 15, 22 serve the new station.
The new Yuxi Railway Station has two kinds of service. "Conventional" trains on the
Kunming
-
Hekou
line (several a day) stop at Yuxi as well; along their route they stop in
Kunyang
(between Kunming and Yuxi) as well as
Tonghai
,
Mengzi
, etc on their way to Hekou. These trains run from Kunming Railway Station, south of Kunming's downtown.
In the late 2016, soon after the new station opened, more frequent and faster service non-stop service from Kunming along the new ("intercity") line was introduced as well. As of 2017, these trains run from Kunming's new high-speed railway station, called Kunming South (Kunmingnan); however, Kunming's railway network is undergoing a major reconstruction now, so this may change after the end of 2017.
Get around
Much of the city is walkable and fairly flat, so ideal for exploration by bicycle. There is also a reasonable urban bus system. Taxis in town are 8RMB flag fall.

See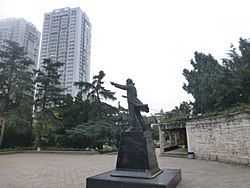 As of 2013, there are still some old
hutong
-style buildings about the center of town. Some of them are operated as restaurants and can be entered to give you a sense of traditional Yunnan architecture.
Nie Er ParkThe city's central park is dedicated to Nie Er, and has two statues of the composer.
Do
go to lakes Fuxian or Xingyun, camp, swim
Swim at Hongta Gymnasium. It has a clean and well-organized natatorium.
Eat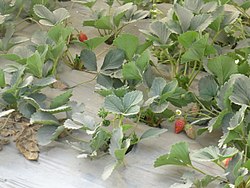 Strangely, there are many snacks in the center of town, but it can be hard to find sit-down restaurants with fried dishes. As well as many local restaurants and a significant Muslim presence (Halal food is easy to find), the standard chains are present: KFC, Dicos, etc.
There are lots of strawberry fields on the city's edges and along roads to neighboring towns, and the local strawberries are quite sweet and tasty. Pick-your-own signs can be seen at some farms.
Drink
Cafe Fin Du Monde

address: 小庙街三组团32

Historically well visited spot for foreign visitors, though still mostly local. If you are interested in international alcohols, they have imported wines from a few countries as well as German beers and a smattering of western food.
Shangcun Jie seems to host most of the serious drinking (at least, outside of KTVs). Bars there include:
Maya Western Cafe Bar

Jazz Pub
Go next