Yuzawa (Akita)
Yuzawa
(;
yuzawa-shi
) is a city at the southeastern corner of
Akita Prefecture
, along the border with
Yamagata
and
Miyagi
. It is southeast of
Yurihonjo
and south of
Yokote
.
Get in
Yuzawa is accessible by train. The main station is Yuzawa Station (湯沢駅). By car, Yuzawa is located on Highway 13, which goes to Yokote and Daisen in the north, and Yamagata in the south. The expressway is free between Yuzawa and Yamagata — however, Yokote is not free.
See
Akinomiya Museum

phone: +81 183 56-2608

address: 字湯ノ岱106

This fascinating museum is essentially a collection of historical objects. There are few explanations of what you're seeing, but most of it is rather obvious old records, comic books, toys, TVs, pachinko machines, etc. The museum building itself is an old house, and the owner often serves tea and snacks at no extra charge. There is bath in the basement, right next to the river, which also may be used at no extra charge.
Do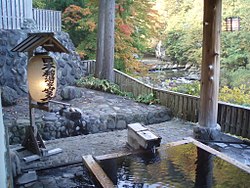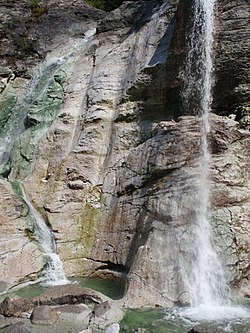 Takanoyu Onsen

phone: +81 183 56-2141

address: Akinomiya, Denjō 1

This onsen, which is particularly pretty in the autumn, is located near a beautiful gorge and a man-made waterfall. There are indoor and outdoor baths for each gender, and a mixed bath (混浴, konyoku) near the gorge and waterfall.

Kawarage ŌyutakiThis outdoor hot spring is a short walk from the road. There is a large somewhat smelly bath fairly close to the road, and perhaps 10 minutes' walk from there is a waterfall. All of the pools are open for bathing. Bring a swimsuit.

phone: +81 182 47-5111

address: 東成瀬村椿川字仁郷山国有林

This hotel and onsen has a wonderful view of Mt. Chokai.
Buy
phone: +81 183 79-3260

address: Aikawa, Nakayama 26

This shop has a good selection of coffee, by the bean or by the cup. They also have a small cake selection.

Nakano Shoten

phone: +81 183 78-1136

address: Ōmachi 2 Chōme 1-1

This is a general store with various kitchen, gardening, and household goods, but it also has a large tobacco selection, including cigarettes, fancy lighters, pipes, and imported cigars in a humidor. There is a small smoking area, as well.
Eat
Daigen

phone: +81 183 73-9737

address: Zaimoku 1, Chōme 3-46

The best miso ramen in Yuzawa. There's only counter seating, and the decor is eclectic. A side of chili paste is available on request, as is kimuchi.

Ramen Pleco

phone: +81 183 79-3456

address: Aikawa, Kaidōhigashi 1-5

A small shop with a wide selection of ramen. This shop stays open later than most other ramen shops in southern Yuzawa, making it a convenient stop.

Kikuchi Ryokan

phone: +81 183 52-2329

address: Kami-Innai, Kozawa 112-10

This restaurant serves Japanese food in large portions, and often serves local mountain vegetables (sansai). It is part of a ryokan.
Drink
Beer Bar Rosso Corsa

phone: +81 183 72-3661

address: Omotemachi 2 Chōme 1-23

This bar has a wide selection of beers from Japan and abroad, including Belgian Trappist brews.

Kushigoro

phone: +81 183 72-2288

address: Omotemachi 4 Chōme 1-1

A small jazz bar with great music.

phone: +81 183 73-0200

address: Omotemachi 2 Chōme 1-21

This bar has a great scotch selection. Some of their more obscure (expensive) scotch is not listed on the menu — ask a waiter.
Sleep
Some travelers sleep in their cars, which is typically not a problem. However, if you drink in the evening and sleep in your car, it is a good to use a personal breathalyzer before driving the next morning — even a small amount of alcohol in your system makes driving illegal, and the police are known to watch for this.
phone: +81 183 52-4334

address: Koshōji 16, Yokobori

A ryokan with onsen and mineral bath. There is a small gift shop, and also a cafe with coffee and tea. One of the managers speaks English. Large rooms can be reserved for enkais or private gatherings.

Kikuchi Ryokan

phone: +81 183 52-2329

address: Kozawa 112-10, Kami-Innai

This ryokan has rooms for sleeping and a restaurant for meals. It's on the highway and by the train station, which may be convenient for people on the move.

phone: +81 183 56-2400

address: Denjō 1-1, Akinomiya

This is a ryokan and onsen complex. It's quite large and can be reserved for private parties, though individuals are welcome, as well.
Go next
Yamagata prefecture lies to the south.
In the SE, Mt. Chokai is a good day hike.
To the north, consider visiting scenic Lake Tazawa.
The nearest shinkansen is the Komachi Shinkansen, passing through Omagari, an hour to the north of Yuzawa.
Shinjo, 90 minutes by car or train to the south, is the northern terminus of the Yamagata Shinkansen.