Yuzhno-Kurilsk
Yuzhno-Kurilsk
(
Russian
: Ю́жно-кури́льск,
YOOZH-nuh koo-REELSK
; Japanese: 古釜布,
foo-roo-kah-mah-poo
) population: 7 800, is the main town of the Kuril islands, in
Sakhalin Oblast
,
Russia
. It is on the mouth of the Sevebryanka river at the Yuzhno-Kurilsky cape, on
Kunashir
island - or 'Black Island' in the indigenous Ainu language. There is little to see in this city, which was severely damaged by a Tsunami in 1994. But the surrounding area, hosts one of the worlds most unique natural environments - complete with free roaming bears and wild horses.
Get in
See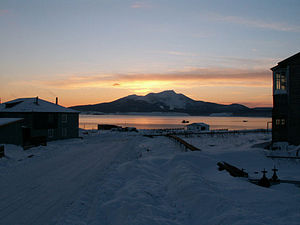 Sleep
Hotel Builder

phone: +7 42455 2-16-06

address: 3A Ilyichev street

Hotel Delta

phone: +7 42455 2-17-94

address: 5 Gnechka street
Connect
Kuril-Japan Center

phone: +7 42455 2-11-99

address: 2A Sadovij avenue