Záhorie
Záhorie
is a region in
Western Slovakia
.
Cities
ModraA town famous for its pottery industry. Its blue-and-white porcelain is famous throughout Slovakia. It is also known as one of the most important viticulture centers in the Little Carpathians region.

SkalicaEconomically the strongest town in the region. Also a good tourist destination thanks to its preserved city center and historical monuments.
Understand
The word "Záhorie" means "(The land) behind the mountains", referring to the
Little Carpathians
mountains that separate Záhorie from the rest of Slovakia.
See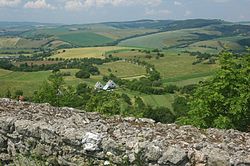 Habánsky dvorAn showcase of a typical "haban house" in the Veľké Leváre town. Guided visit can be arranged.

Church of Virgin Marry of Seven GrievancesOne of the most important Slovak basilica minors.

Jewish synagogue in Malacky

Manor house in HolíčA former water-castle, rebuilt to a manor house.

Manor house in MalackyOriginally a baroque home of the noble family of Palffy, re-purposed multiple times since. A relatively big park is accessible behind the main building.
Castle ruins:
Korlátka

Ostrý Kameň

PajštúnThis 13th century castle is a popular destination for Bratislava's inhabitants, because of the proximity. The castle was ruined in early 19th century.

Plavecký hrad
Do
Driny caveThe only accessible cave in Western slovakia.

Little CarpathiansA mountain range, part of Carpathians. The area is not compact, the hills are also not very tall.

Smrdáky spa
Go next