Zaanse Schans
The
Zaanse Schans
is an open air conservation area and museum, on the bank of the Zaan River, north of
Zaandam
in the
Netherlands
. It displays the traditional architecture of the area (green wooden houses) and has several functioning windmills and craftsman's workshops, which are open to visitors. Located next to it is the regional museum, the
Zaans Museum
.
Get in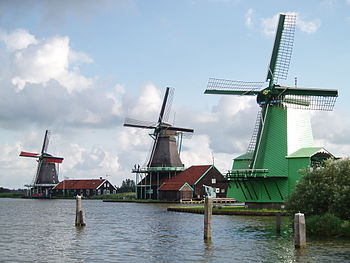 To get there, take a train to railway station
Zaandijk Zaanse Schans
. The ride is several stops from Amsterdam Central Station and takes 18 minutes. From there, walk 10–15 minutes along Stationsstraat in the village of
Zaandijk
until you see a windmill, and then cross the river on a bridge by that windmill.
Alternatively,
Connexxion
serves the area with buses. Take bus
391
from Amsterdam Central Station which has its terminus right beside the main entrance of the Zaanse Schans. The bus ride takes you there in around 40–45 minutes and the bus leaves every 30 minutes (in rush hours even more frequently). The bus link at Central Station is at the bus station at the east side of the main station entrance, at the bridge. The buses are the only ones painted red, so you can't miss them.
The
Zaanferry
is a boat connection from Amsterdam Central Station to the Zaanse Schans. The Zaanferry leaves every Thursday, Friday, Saturday and in the summer also on Sunday from Amsterdam Central Station (steiger 14) to the Zaanse Schans and back. A single ticket costs €10 and a return €15. The ticket is valid all day and you can board and disembark an unlimited number of times.
Several tour companies also offer half-day trips to Zaanse Schans, with transportation to/from Amsterdam included.
Get around
Walking to the end of the area is about a kilometer, so you can easily get around on foot. It is also popular to navigate through the surrounding area by bicycle. You cannot rent a bicycle at the Zaanse Schans or Koog-Zaandijk railway station, but you can at the railway stations in
Zaandam
and
Amsterdam
.
See
Open air museum
The access for the open air museum is free, the wooden houses are mainly normal living houses. Most of the windmills can be visited for a small fee.
Industrial mills
Saw Mill De Gekroonde Poelenburg

address: Kalverringdijk 27

Paint Mill De Kat

phone: +31 75 621-0477

address: Kalverringdijk 29

Oil Mill De Zoeker

phone: +31 75 628-7942

address: Kalverringdijk 31

Oil Mill De Bonte Hen

phone: +31 75 621-7452

address: Kalverringdijk 39

phone: +31 75 640-1377

address: Kalverringdijk 31a
Museums
Zaans Museum and Verkade Paviljoen

phone: +31 75 681-0000

address: Schansend 7

Grocery Museum Albert Heijn

phone: +31 75 616-9619

address: Kalverringdijk 5

Old coffee grinders, coffee storage boxes and commercial posters from the history of the most famous Dutch grocery store chain.

Bakery Museum In De Gecroonde Duijvekater

phone: +31 75 617-3522

address: Zeilenmakerspad 4

phone: +31 75 617-9769

address: Kalverringdijk 3

Distillery Museum De Tweekoppige Phoenix

phone: +31 75 635-3111

address: Kraaienest 3
Crafts
Zaandijk
Zaandijk is the community lying between the railway line and the bridge to Zaanse Schans. The street Lagedijk, running by the windmill
De Bleeke Dood
, is mostly lined with attractive Dutch houses between Boschjesstraat at the south end and the canal Zaandijker Sluisloot at the north end.
phone: +31 75 628 5602

address: Lagedijk 28

This windmill, named De Bleeke Dood (the pale dead), was built in 1656 and operated until 1931. In 2000, the mill was restored to operational condition, and grinds corn every Friday. It has a store selling its products.
Buy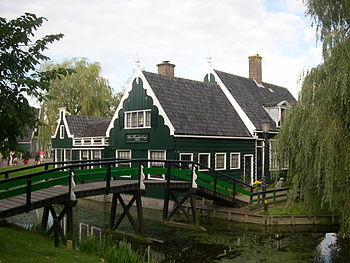 There are many gift shops selling much of the same touristy things. However there is a clog workshop with a store selling many designs and sizes. The cheesemaking workshop too has a shop selling a variety of cheeses.
The bakery In den Gecroonde Duyvekater sells typical sweet bread and self-made candies. The grocery store of Albert Heijn gives you an idea how the first grocery around 1900 was set up. This was the first store of Albert Heijn, which is the largest supermarket chain in the Netherlands. They sell some tourist-oriented products of Albert Heijn.
Hip aan 't Glop

phone: +31 75 670-1290

address: Kalverringdijk 21

This building dates from the 19th century, but the porch is as old as from 1630. The building has functioned as a book shop annex library at the Rozengracht in Zaandam, but now is a design and gift shop with watches, bags, ceramics, jewellery and many other small products.
Eat
There is also a smaller cafe, a fried food snack bar and many gift shops. Not to mention the cheese available on site.
phone: +31 75 616-5629

address: Kalverringdijk 15

phone: +31 75 615-6403

address: Kraaienpad 1

This is an excellent pancake house in an authentic former granary. Their specialty are Dutch pancakes, but they also have a range of cakes, salads, soups, snacks, and drinks.
Drink
Museum Cafe

phone: +31 75 681-0000

address: Schansend 7

Before or after heading out for the windmills you can have a cup of coffee or tea at the Museum Cafe. There is a beautiful view of the Kalverpolder and the lined-up windmills at the banks of the Zaan River.

phone: +31 75 207 7000

address: Lagedijk 71, 1544 BC Zaandijk
Sleep
phone: +31 75 670-1290

address: Kalverringdijk 17-21

This bed and breakfast is the only accommodation in the Zaanse Schans. There are three rooms in unique old Zaan houses that are protected as monuments. Price includes breakfast.
Go next