Zacatecas
Zacatecas
, the capital of the
state of the same name
, is a city in the
Bajío
in
Mexico
. Its historical centre has been inscribed on the
UNESCO World Heritage list
.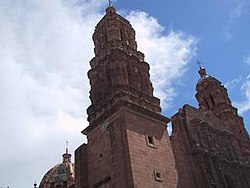 Get in
By plane
By bus
Most major cities offer direct buses to Zacatecas, especially those cities located in Northern Mexico. If you are traveling by bus from Southern Mexico you may have to make a connection in Mexico City.
Get around
Walking is probably the best way to get around the
Centro Historico
(Historic Downtown) which is relatively small. It will allow you to see the city at your own pace. The Centro is about 8000 feet (2400 meters) while surrounding portions of the city are much higher. Be sure that you are acclimated to the altitude.
If you get tired, take a taxi cab. They are moderately priced and available all over the city. Just make sure you ask in advance to the taxi driver how much he will charge you (
Cuanto cuesta ir a
'Insert place'?). As most prices in Mexico, taxi fares are open to negotiation and asking in advance should give you a better negotiating position.
There is also the Maxibus and Tren Zacatecano which will drive you around the city to show you the interesting sites. Both cost M$40 (
pesos
) for adults and M$30 for reductions, last about 45 minutes and leave from the Plaza de Armas.
See
Historic Downtown
Nearly all of the city center buildings are nineteenth century or older; the topography and irregular street pattern (most streets are too steep and narrow for vehicles; many have steps in them) almost make one think of a medieval city like Toledo, Spain. The city, built on the site where silver was discovered in the 1530s, is crammed into a narrow canyon, with houses and churches perched on its nearly vertical walls.
The whole town is a museum; there are three seventeenth or eighteenth century ex-monasteries near the center, several other churches from the colonial era scattered here and there, and at least half a dozen other museums, nearly all worth visiting. Houses and streets, all of which built in colonial times are worth seeing on their own.
Cathedral: It is one of the most beautiful examples of Churrigueresque arquitecture in Mexico. It is an elaborately carved red-stone (cantera) structure that was built between 1730 and 1760. It is flanked by two towers with an exuberant ornamentation and has a notable facade that was richly sculpted but its once decorated interior was looted during the civil wars of the 19th and 20th centuries. Its coupula was reconstructed in 1836 and imitates that one of the church of Nuestra Señora de Loreto in Mexico City.
Church of Santo Domingo: Almost in front of the cathedral, on one of the corners of the Plaza de Armas, the Veyna alley lies, leading to the church of Santo Domingo that was built by the jesuits between 1746 and 1749 and has a beautiful Baroque facade. Splendid gold wood-carved altarpieces, all of them churrigueresque, and Francisco Antonio Vallejo paintings (18th century) that represent scenes of The Passion can be found inside.
Exconvento de San Augustín is a former monastery from the 17th century. The main church is now used for conferences and cultural events; the monastery still houses the bishop's offices.
School of La Compañía de Jesus: It shows a richly sculpted facade; the cloister is surrounded by halls whose vaults are decorated with cherubim.
Church of San Agustin: It has a plateresque facade decorated with a bas-relief.
Parish of La Virgen del Patrocinio: It lies at the summit of a hill (Cerro de la Bufa). It was built in 1728.
El Cubo aqueduct: It runs through the city. It was constructed more than 250 years ago.
Antigua Plaza de Toros San Pedro: This former bull ring, adjacent to the Aqueduct has been converted into a luxury hotel. Enjoy a walk around the ring, and if you feel like splurging a bit enjoy lunch or dinner at the Hotel's restaurant, which has a commanding view of the ring.
Palacio de Gobierno and Plaza de Armas The square beside the Cathedral, interesting murals inside the Government Buildings.
Santo Domingo Church Located parallel to the Cathedral, Jesuit church.
Casa de Moneda
Palacio Legislativo Beside the former Convento de San Agustín, a church, now houses the state legislature.
Teatro Calderón Beside the Mercado González Ortega. Impressive facade.
Mercado González Ortega Nice, small market selling artesanship and other goods.
Jardín Juárez Beautiful small park beside a lovely square. Beside the University Museum.
Alameda Another garden, on the way back from La Mina de Edén, beside it is la Jardín de la Madre.
Templo de Fátima Impressive neo-gothic temple located on a hill above the Parque General Enrique Estrada
Parque General Enrique Estrada Beautiful park beside the aqueduct and the Templo de Fátima. Contains a beautiful fountain, a band stand and a number of places to sit and relax or have an enjoyable stroll.
Callejón de Alcaicería de Gómez Alley leading to Avenida Hidalgo from the Museum of Abstract Art.

phone: +52 492 922 3853

This restaurant could more aptly be described as an art museum and gallery where you can share a meal and drinks. It's a place of culture, dreams, and nightmares. There's some beautiful pieces of Huichol art, devil masks, paper maché demons and dragons to name but a few of the kinds of works found here. It is an experience, with nearly every surface is a piece of art. The owner and collector is there most evenings and is very approachable. And he welcomes people to come and view the massive collection. For lovers of art and culture, this place is not to be missed!
Museums
Museo Rafael Coronel

phone: +52 492 922 8116

address: S. Francisco S/N

Set in a partially restored convent dating back to the 16th-17th centuries, this museum houses a large and diverse collection of masks drawn from several regions of Mexico and from other cultures around the world. Masks from different regions and eras are grouped together by themes and uses, including masks used in Carnival and in religious pageants, such as those commemorating the Reconquista. Particularly interesting is the alternate incorporation and subversion of pre-Hispanic symbols. The Diablo room is not to be missed. Portions of the convent grounds that could not be restored have been converted into a garden, with crumbling walls, standing arches and greenery.

Museo Pedro CoronelLocated next to the "Santo Domingo" church, it houses a colonial-era library and a large eclectic collection of European, African, American, and Mexican art.

Museum of Modern Art Manuel Felguerez

phone: +52 492 924 3705

One of the best museums in Zacatecas. The large building, which once housed a Seminar and later a prison, now houses a large collection of Abstract paintings and Sculptures. The museum was restored in a minimalistic aesthetic, complementing the more than 100 works by Felguérez as well as works by more than 110 other artists from around the world. The room housing the murals that Felguérez made for the Mexican Pavilion at the Osaka World's Exhibition of 1970 is breathtaking and one of the highlights of the Museum's collection.

Museo Francisco Goitia

phone: +52 492 922 0211

address: Enrique Estrada 102

Museo Zacatecano (Museo Huichol)

phone: +52 492 922 6580

address: Dr. Hierro No. 301

A museum located across the street from San Augustín with exhibitions all about Zacatecas, notable residents and its long history. Of note is a large section of exhibits, crafts, and other artifacts belonging to the Huichol culture, whose members still maintain a pre-Columbian lifestyle in the mountains between Zacatecas and Nayarit.

Museo de la Toma de Zacatecas

phone: +52 492 922 8066

Located a top of La Bufa, it houses weapons, documents, photos, and other artifacts relating to this decisive battle of the Mexican Revolution of 1910.
La Bufa
The
Cerro de la Bufa
, a mountain with a very distinctive shape, is in the center of the city and, along the cathedral, is recognized as the city's most recognizable landmark. The best way to get to the top is using the
Teleferico
(Cable Car) which takes you from the
Cerro del Grillo
(Criket's Hill) to the top of La Bufa. Once at the top of la Bufa don't forget to visit:
The Museum of La Toma de Zacatecas (The fall of Zacatecas), displaying weapons, artifacts, pictures, and documents of this battle which took place during the Mexican Revolution.
From El Mirador you can enjoy probably some of the best views the city has to offer.
The Statues of Pancho Villa and his Liutenants. (You'll see them)
The Capilla de Nuestra Señora del Patrocinio (Chapel of our Lady of el Patrocinio), the city's patron.
If you are a little of an outdoorsy type you can hike to the summit of la Bufa which is indicated by the very large cross. It is not too hard to get to and the route is fairly obvious. It becomes a bit of a scramble towards the top, and be careful coming down. The view is amazing.
Rotonda de los Hombres y Mujeres Ilustres (Mausoleum of the illustrious Men and Women). Nothing very exciting about this structure unless you are extremely interested in researching the history of the city, but since you are up there why not spend a few minutes here?
Short drive away
Monasterio de Guadalupe Five miles away, in Guadalupe, Zacatecas, is the again-active Franciscan monastery from which missionaries were sent out to christianize the inhabitants of Texas, New Mexico, and Californiait is the mother of the Spanish missions in the U.S. Much of the old monastery is a museum of colonial religious art, paintings by Indians trained in the European tradition. The paintings are amazing, and the architecture of the cloisters, the church and the Capilla de Napoli is unforgettable.
Museo de Zoquite 13 km (8 miles) south.
Ex-Hacienda de Trancoso 29 km (12 miles) south
La Quemada 53 km (34 m) south
Do
Take the teleférico (cable car) to or from La Bufa, passing high above the city center. It is no longer in operation, as of 2015 due to insufficient maintenance funds lacking as a result of corruption.
Visit the no longer active silver mine El Edén to see how the mountain under the city was hollowed out by hand over a period of three hundred years (most of the rock was carried up in baskets on the miners' backs, as they climbed out on ropes). It also has a nightclub and although not many locals frequent the spot, it is fun to go once just to experience the world's only nightclub inside a mine.
Rent a car and go to La Quemada and/or Chalchihuites to see ruins of cities hundreds of years old.
Join locals in a Callejoneada', a walking party around downtown's distinctive "callejones" (narrow streets or alleys) complete with live music and a donkey loaded with free Mezcal. Usually everybody is welcomed to join and most likely you won't be the only tourist joining the entourage.
Take a number 2 bus for a scenic view of the city from the heights where the poor live (before the automobile the rich preferred not to climb mountains to get to their houses).
Visit Centro Platero Zacatecano to see the silver-processing hacienda, where mercury-based enrichment (developed in Zacatecas and adopted throughout the world) was used for more than a century to get metallic silver from ore. The State of Zacatecas today still mines about half the world's silver, though the mines under the city are abandoned because of the danger of using explosives in an urban area. To get there take the "Lopez Mateos Boulevard" from downtown south towards Guadalupe, take the "Bernardez" exit, turn Right into Avenida Mexico, and then left at the Security gate. (The former hacienda is within a gated community, no worries, they let anyone in.) An easier option would be to take a cab.
Buy
Silver
Pitiado-A local craft in which leather artifacts are beautifully hand-embroidered in complicated designs using pita thread.
Assorted Mexican candy.
Local artifacts - in the Mercado González Ortega, there is a shop that sells native Huichol artifacts, some of which can be relatively hard to find elsewhere. Apart from that, the usual things you find in tourist shops.
Eat
Los Dorados de Villa

phone: +52 492 922 5722

address: Plazuela de García 1314

One of the best spots for enjoying a traditional dinner. Expect a little wait as the place is popular and small.

phone: +52 492 922 1284

address: Hidalgo s/n

A good bet for tourists who want a conventional breakfast, if you can find a seat. Back in the days it used to be a hotspot for dignitaries, celebrities and artists visiting the city, evidence of whose passage line the walls. The Italian-style coffee is quite nice, and the huevos rancheros come recommended.
Mi Pueblito is a nice traditional Mexican restaurant near the Cathedral and recommended by locals. It is located inside of a shopping plaza just to the northeast of a Mercado building.
El Barretero is away from the center (on the other side of the railroad), but has excellent food and usually live music (strings, piano, Mexican popular music, not mariachi). Try the cabrito (baby goat).
Hacienda Del Cobre (House of the Coopper Kettle) Traditional Mexican fare. Serves fantastic molcajete, a type of stew made of a variety of ingredients such as chilis, chicken, pork, steak, avocados, cheese. Served in a hot from the fire molcajete bowl (mortar).
Las Costillas de Sancho (The Ribs of Sancho) Serves beef bibs and great steaks. Relaxing atmosphere with well stocked central bar. English menus are available by request.
Vips Mexican version of Denny's. Owned by the Walmart company. Serves American-style breakfast and Tex-Mex versions of traditional Mexican dishes. English menus are available by request.
Quinta Real Restaurant Restaurant is inside the Quinta Real hotel which is the old bullring of San Pedro. The restaurant is on the balcony of the rotation of the bullring, which has been turned into a beautiful colonial patio. Stone pavement and adorned style with abundant flowers combine with the meal to make this a unique restaurant. English menus are available by request.
La Traviata Good Italian fare in the shopping district.

La Mayora

phone: +52 4929225571

address: Plaza Goitya 104

A rock and roll bar.
Rincon Vegetariano Om Burger. Calle Elías Amador 207. +52 492 134-7451. Haré Krishna vegetarian restaurant one block from Alameda. Mixture of Mexican, Chinese and Indian fares. Closed Sunday.
Drink
Mezcal (Tequila is a variety of Mezcal). Zacatecano and Huitzila are some traditional local brands. Avoid anything that doesn't say 100% agave (that includes Cuervo Gold).

Sleep
Budget
phone: +52 492 925 0749

address: Calle Primero de mayo No. 201

The family-run Hostel Villa Colonial located on Calle 1 de mayo behind the Cathedral is the best value in town. It is in a beautiful colonial building and the large rooftop terrace has a breathtaking view of the cathedral. Although a hostel, it also has private rooms some of which also have a beautiful view. The owners provide excellent advice and really know the town. Kitchen use. Internet free but a wee bit unreliable. Dorms from M$100. It's a basic place but don't be put off by the rather sleazy looking 'reception' area.
Hostal Las Margaritas Recommended by Seth Kugel from the Frugal Traveler column of the New York Times , this family-run hostel is a great value at US$14 a night. Calle 2da de Las Margaritas #105.

Hostal Don David

phone: +52 9200 9224859

Just around the corner of Hostel Villa Colonial, Calle del Obrador 204, Rigoberto o Violeta, is a bit less comfortable. Dorms from M$90. Internet M$7/h.
Hotel La Central Right beside the central bus station, handy if you don't want to go further for a room. Internet available. Rooms are M$380.
Juvenil Villa Deportiva (1 & 2) Zacatecas has two institutional-style youth hostels. Each has about 100 beds and caters to youth groups, although anyone is welcome to stay. Cost is ~US$2/night.
Mid-range
Hotel Maria Benita

address: Av. Lopez Velarde #319-21

Comfortable but not expensive, located midway between downtown and the university campus. If you get a street-side room you may see parades, protests, and other local activities from your window.
Splurge
address: Av. Ignacio Rayón 434

For something a little more upscale, try the Quinta Real, which was the town's plaza de toros before it was turned into a luxury inn.
Go next
Day-trip places include the Convent of Guadalupe, La Quemada, Fresnillo, Juchilpila canyon amongst others.