Zahle
Zahle
(or
Zahlé
; Arabic: زحلة) is a city in
Lebanon
, located 52 km east of
Beirut
.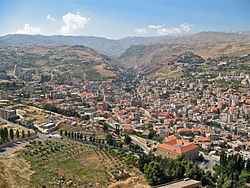 Understand
Zahle is located at an altitude of almost 1000 meters, at the end of the Beqaa Valley.

Do
Enjoy a leisurely meal at one of the city's numerous restaurants.
Eat
Casino Green House

phone: +961 8 805868, +961 8 806867

address: Ain El Dawouk

A well known restaurant with a panoramic view of the city.

Monte Alberto Hotel

phone: +961 8 810912

A nice place to eat Lebanese cuisine, which offers views of the whole city. This restaurant has the only rotating platform in Zahle.

Sea Sweet

phone: +961 8 822379

address: Zahle Blvd

A pastry shop that is part of a well known chain that originated in Zahle.
Wadi el-Aarayesh (Grape Vine Valley), popularly known as Al Wadi, is a well known area for strolling, eating and arcade activities. Restaurants in this area typically offer a traditional mezze and mechoui menu. Dining is primarily outdoors in a pleasant setting next to the river. The area is typically more comfortable, even on hot days, due to the cooling effect of the river and the shade in the valley. In addition to typical restaurants, there are ice-cream cafes.
Drink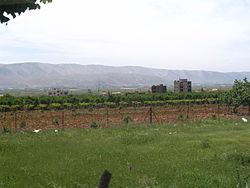 Visit Ksara winery, Lebanon's oldest and largest winery
Sleep
Grand Hotel Kadri is a five star hotel situated on the Berdawni river.
Go next
Visit
Baalbek
, a spectacular historical site.