Zakopane
Zakopane
is a very popular winter resort and summer getaway town in the
Tatra mountains
on the southern tip of
Poland
. It became a climatic health resort and as well as cultural spot in the 1880s. Many Polish writers and artists visited Zakopane at the turn of the 20th century. Stanisław Witkiewicz developed the so-called
Zakopane Style architecture
still popular in the Polish mountains.
Get in
By train
There are around five trains every day from
Kraków
. It takes three and a half hours, costs around 25 PLN and stops at many small towns along the way.
Sleepers
go to Warsaw and Wrocław every night as well. The is located about 500 meters east of the centre.
By bus
Several companies ply the route between Kraków and Zakopane. The two biggest are Trans-frej and
Szwagropol
. A ticket costs 20 PLN and discounts apply.
By car
From Kraków take the 2-lane 'Zakopianka' highway: road number 7 to Rabka and then 47 to Zakopane. It takes about one and a half hours, but depends on traffic. The traffic jams on summer weekends are legendary. As of summer 2018 some upgrades to the road are underway so limited access to some parts of the road and extra traffic jams are common.
By foot
Through
Łysa Polana
border crossing from
Slovakia
.
Get around
PKS buses according to schedule.
Mini bus — There is a large number of privately owned vans (called mini bus). Most have fixed routes and rates, no schedule. Often there is the possibility of negotiation (route, price, time). Note a driver's telephone number if you think you may need transport later.
Taxi
See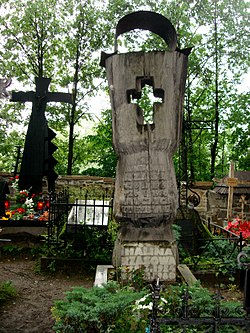 Morskie Oko lake

Cemetery of the Distinguished at Pęksowy Brzyzek

address: ul. Kościeliska, by the old church

The oldest cemetery dating from the 1920s. A burial place of distinguished people connected to Zakopane and the Tatra Mountains. Most of the tombstones are real works of art made of wood, stone and metal.
Museums
phone: +48 18 201 52 05

Has several buildings throughout the town.
The Main Building ul. Krupówki 10

Gallery of 20th Century Art at Oksza villa

phone: +48 692 029 817

address: ul. Zamoyskiego 25

Museum of the Zakopane Style - Inspirations

phone: +48 18 201 22 94

address: Droga do Rojów 6

Displays the regional Highlander architecture which inspired Stanisław Witkiewicz to develop the Zakopane Style. An ethnographic collection of Maria and Bronisław Dembowski can also be seen in this branch of the Tatra Museum.
The Museum of the Zakopane Style at 'Koliba' villa ul. Kościeliska 18
The Władysław Hasior Gallery ul. Jagiellońska 18b
The Gallery of Art in Koziniec ul. Koziniec 8
The Kornel Makuszyński Museum ul. Tetmajera 15
Museum of the 1846 Chochołów Uprising Chochołów 75

address: ul. Kasprusie 19

address: Harenda 12a
Do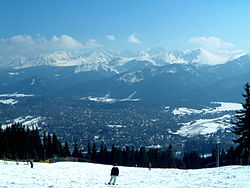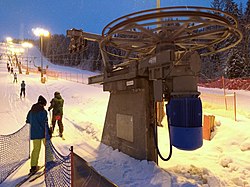 phone: +48 18 20 00 660

address: ul. Chramcówki 15

Ski
Kasprowy Wierch
Gubałówka
Nosal
Białka Tatrzańska
Bukowina Tatrzańska
Butorowy Wierch
Polana Szymoszkowa
Hike
ParaglideA 15-minute flight as a passenger costs 250 PLN. There are couple day courses in paragliding as well.
Many of these activities are outside of Zakopane. However, minibuses, leaving when full, depart from different points in Zakopane all day. Most minibuses leave from the front of the train station. The same system works to return hikers/skiers to Zakopane. Expect to pay about 3.50 zł each for the minibus (around 1 euro).
Additional things to explore:
Murowaniec hostel in Gąsienicowa valley
Morskie Oko valley
Kasprowy Wierch (mountain), 1985 metres. Tatra view point. Restaurant. Skiing area. Cable railway runs from
Hike
It's worth buying a map of the area if you're going hiking. Most likely you will be hiking in
Tatra National Park
. Be aware that as it is a National Park special rules apply—don't be loud, leave any garbage or disturb animals. Maps are sold by the
tourist office
(17 Kosciuszki St., telephone: 01820 12211), down the hill, on your left, just before getting to the bus stop and cross roads (Krupowki St. and Kosciuszki St.) in the centre of town. They'll also give suggested routes, based on the latest weather forecasts and your fitness and equipment. Note: you will have to pay a small entrance fee of 4 PLN (2 PLN for students and school kids).
The maps are very tourist-friendly, with the "difficulty levels" for different paths marked: possibly slightly patronising for seasoned hikers. The pram symbol for the 'easy' paths is taken too literally - people have been seen trying to get
prams
up steep paths from Zakopane into the mountains. All the paths marked on the map are well maintained by the government.
Whichever route you plan to take, it is advised you dress warmly and bring spare waterproof clothes and water. Put the clothes in a plastic bag in your backpack to keep them dry in case of rain. Even midsummer it can hail for a whole day in the mountains! Remember you are already at 1000m, although it doesn't feel like it.
See also:
Hiking from Zakopane to Giewont
Nearby hikes
Mount Rysy
2499 metres 4 hour hike from Morskie Oko valley
Buy
Many shops at Krupówki promenade.
Eat
Oscypek, local specialty, smoked sheep's milk cheese.
There are many good eateries within Zakopane. Look for authentic-looking wood huts. Avoid ones with colorful lights and multi-colored lamps. Good "Bacowkas" include "Bąkowo Zohylina Wyźnio and Nizino" right off of Krupowki. Chata Zbójnicka on Jagiellońska is also good for authentic food (and experience.) You can also try the fried fish eateries anywhere in town for a quick, cheap meal. Trout is the specialty in this town.

GofryWaffles with cream, ice cream, berries, fruit or whatever you want. Tasty dessert.

There is a cheese market every day. It's probably best to come early in the morning while the produce is still fresh, but it's fine to eat whenever it's purchased.

Regional Restaurant Nosalowy Dwór

address: Balzera 21d

The choice of meals from both regional and international cuisine.

phone: +48 18 2064167

address: ul. Kościeliska 8

First restaurant in Zakopane, opened around year 1850. Obviously they have THE traditional highlander cuisine.
Drink
phone: +48 18 201 21 08

address: ul. Krupówki 63

Full of surprises, strange sculptures, lamps made of (fake) amber. And the best thing is that there are swings in place of bar stools!
Sleep
Budget
phone: +48 18 201 22 56

address: ul. Żeromskiego

Place for tents and campervans as well as small wooden houses and rooms.

phone: +48 18 200 13 30

address: ul. Chłabówka 44

Wooden house, reputed to be 100 years old. It is located around 2 km out of town. Clean, but noisy and mostly occupied by foreign tour groups, Thefts and fights have been reported.

phone: +48 18 207 45 96

address: ul. Sienkiewicza 3B

In the centre.
Mid-range
Plenty of private rooms. Tourists coming by train or bus will often find private landlords waiting for them at the stations. Negotiate the price. Board often available. Ask to be shown the location on a map. Many locations are outside Zakopane city (which may be an advantage).
Splurge
Villa Vita

phone: +48 18 200 06 00

address: ul. Krupówki 2

5 min walk from a cable-lift to Gubałówka. From the windows you can admire a beautiful view over Krupowki and Tatra Mountains.

phone: +48 18 20 22 400

address: Balzera 21d

Two hotels of the Nosalowy Dwór Resort & Spa complex are situated at the foot of Mount Nosal in Zakopane. There is 3
* regional style hotel Nosalowy Dwor and new 4* Hotel Grand Nosalowy Dwor.
phone: +48 18 544 44 44

address: Mariusza Zaruskiego 5

Rather new upscale hotel in the former building of Dom Turysty, the former main budget accommodation provider of Zakopane. Now it is a rather luxurious hotel with spa.
Go next