Zandvoort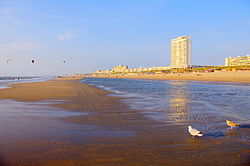 Zandvoort
is as famous and crowded as beach resorts get in the Netherlands. That is - in summer, when the weather is nice, Dutch and German visitors flock to the sandy beaches of this otherwise rather small town and dozens of beach pavilions along the long boulevard cater to their needs. By November, all pavilions have to be closed and mostly removed until Mid-February, changing the face of the Zandvoort boulevard completely.
Apart from beach life, Zandvoort is known for the Circuit Park Zandvoort, the main car racing circuit in the country. Although the last Formula 1 Dutch Grand Prix was held in 1985, the circuit still has a range of other races to offer for racing fans.
Understand

The whole west coast of the Netherlands is a single long beach. The nearest stretch to Amsterdam is Zandvoort—29 minutes by train from Amsterdam Centraal, every 30 minutes. In summer there are extra trains, change trains at Haarlem. Zandvoort is very crowded on warm days in summer: parts of the beach attract the in-crowd, others the somewhat less so.

Get in
On hot summer days, traffic jams in the directions of all major Dutch beach destinations are common - and Zandvoort is no exception. On such days, consider using the train instead of a car. On other days, driving in is easy enough. The
N201
is the main road in, connecting Zandvoort to the nearby city of
Haarlem
and, slightly further,
Amsterdam
.
Trains run every half hour from Amsterdam and Haarlem, with extra trains in high season and on very hot (and thus busy) days. From Amsterdam, it's easy to connect to countless destinations in the country and abroad. Station Zandvoort aan Zee is less than a 10 minute walk from the beach.
Bike lanes are readily available, and there are plenty of biking and hiking routes connecting Zandvoort to other beach resorts along the coast as well as to cities and villages in the region.
Get around
Zandvoort is a small place, so you can get around walking or rent a bike from one of the many bike rental stores in Zandvoort.
The nearest bike rental store to the train station is Zilt at Sea. Zilt at Sea is also a few steps from the beach.
Zilt at Sea Bike Rentals in Zandvoort

phone: +31 23 576 69 91

address: Passage 33

Rents bikes of all kinds, including electrical bikes, mountainbikes, tandems, scooters and children's bikes. You can also rent a locker, take a shower, and buy beach accessories.
See
phone: +31 235 740 740

address: Burgemeester van Alphenstraat 108

Having served as one of the Formula 1 circuits from 1952 through 1985, Zandvoort no longer meets the requirements for a Formula 1 race, though there still are plenty of championships and events held at Zandvoort to attend. Most notable are the Testing Days, which you can register for in order to drive your own vehicle(s) on the circuit.

phone: +31 235 712 221

address: Strandweg 2

A museum displaying what beachcombers find on the beaches of Zandvoort.
Do
Crowds flock here to find a spot on the sand and enjoy the sun and the sea. Sunbathing, swimming, beach walks and of course casual drinks in one of the many beach side bars is the core of all activity here.

Eat
Drink
Sleep
phone: +31 235 712 412

address: Boulevard Barnaart 68

phone: +31 235 760 760

address: Burgemeester van Alphenstraat 63

CenterParks Strandhotel Zandvoort

phone: +31 235 741 100

address: Trompstraat 2

phone: +31 237 436 725

address: Van Speijkstraat 162

phone: +31 235 712 911

address: Burgemeester van Fenemastraat 2

Amsterdam Beach Hotel Zandvoort

phone: +31 232 010 302

address: Badhuisplein 2-4

phone: +31 235 712 613

address: Boulevard Paulus Loot 5

phone: +31 235 712 202

address: Hogeweg 70