Zealand
Zealand
(
Danish
:
Sjælland
) is the largest island in
Denmark
, located between the Island of
Funen
and the southern tip of
Sweden
. It is the seat of the capital
Copenhagen
and home to 2.3 million people.
Regions
Cities
- Zealand's largest city and capital of Denmark.
- Home of Shakespeare's Hamlet and his Kronborg castle and a well preserved Medieval city centre.
- A castle town set amidst majestic beech tree forests.
- See the many remaining parts and ruins of the old fortified medieval town.
- A nice well preserved old city center. The beautiful Vallø manor and the 15 meter Stevns chalk cliffs within easy reach.
- Commercial centre smack on the middle of the islands, with the Danish Tramway Museum on its outskirts.
- World heritage site of Roskilde cathedral, containing the Royal Tombs for the past 1000 years. and the excellent Viking ship museum.
- Discover Denmark's Viking heritage, in the nearby Trelleborg ringcastle, one of only 4 discovered.
Other destinations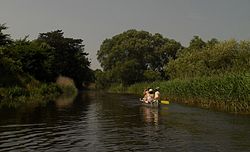 - A brand new national park covering the old hunting grounds of ancient kings.

Stevns Clif

- One of Denmark's longest rivers, popular with Kayak and Canoe sailors.
Understand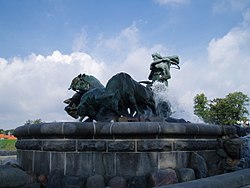 Rumours has it that Zealand was carved out of Sweden (See the ancient legend on your right), and the area where Zealand was carved out from, is now a huge lake which bears some similarity to Zealand. Today a large statue commemorating Gefions feat of ploughing Zealand out of Sweden with her ox cart stands near
Kastellet
in
Copenhagen
.
And for many years to follow, Gefion's Zealand was the geographical centre of the Danish Kingdom, as Sweden's three southern most provinces was then an integral part of Denmark. But the Swedes had their vengeance for Gefion's dirty tricks, though they had to wait a thousand years to taste it. In 1658 they took the eastern part of the Kingdom, in one of the countless wars between the two countries, so that Denmark now ended on the shores of Zealand - hence the rather odd location of the Danish capital.
Much has happened since then, and today nearly half of the population of Denmark lives on the island, where also the capital and largest city
Copenhagen
is situated - the metropolitan area covers almost the entire north eastern portion of the island, and many people on the rest the island commutes to the capital every day.
The country of
New Zealand
is NOT named after Zealand, but rather the Dutch province of
Zeeland
; the Dutch discovered the country in 1642.
Geography
Zealand is a quite large island, at just over 7000 km² (2,715 sq mi), it's among the 100 largest islands in the world. It's flat, but dominated by low rolling hills from moraines left behind from the last ice age - the highest point, Gyldenløves Høj, is only 126 meters (413 ft) above the sea. It's heavily cultivated, but there are some (by local standards) large forested areas in
Northern Zealand
and on
Western Zealand
between
Slagelse
and
Sorø
.
The sea south of Zealand is dominated by the three large islands
Lolland
,
Falster
and
Møn
,
Get in
Although densely populated and the seat of the Danish capital, Zealand is an island - in the past 20 years two fixed connections to Jutland and Sweden respectively have been completed, but there is still numerous ferry lines connecting Zealand with the European continent.
By car
Zealand is connected to the European highway network on European routes
E20
running between
Shannon
in
Ireland
, and
St Petersburg
in
Russia
, the
E47
between
Lübeck
,
Germany
and
Helsingborg
in
Sweden
and finally the
E55
between
Helsingborg
, and
Kalamata
in
Greece
. Please note that all of the ferry connections listed below, also take on cars. Avoid highways leading into
Copenhagen
in the morning rush hour between 7-9AM, where traffic is notoriously slow for tens of kilometers.
Storebæltsbroen (Great Belt bridge): Most people arrive from Funen (and Jutland), over this impressive 18 kilometer combined road and railway link, on the E20. A one way ticket with a regular sized car is 235 DKK.
Øresundsbroen (Oresund brige) this 16 kilometer connection; part brige, part artificial island and part tunnel tunnel is on the E20, and connects Copenhagen with Malmö in southern Sweden. Price of a one way ticket in a regular car is 325 DKK.
By ferry
style="vertical-align:top;width:33,3%;" |
style="vertical-align:top;width:33,3%;" |
By train
There are numerous trains connecting Zealand with
Funen
and
Jutland
, they all cross the Great Belt fixed link. The Main lines departs from Copenhagen twice every hour, usually divided in a Express and a Intercity train, and runs across the length of Zealand with stops in
Roskilde
,
Ringsted
,
Slagelse
and
Korsør
before crossing the Belt and
Funen
, and finally branching out when they reach Jutland. The most important branches being
Aarhus
/
Aalborg
running North,
Esbjerg
running west and finally
Sønderborg
running south. All cross belt trains are operated by DSB (
Danish Railways
.
International
trains depart
Copenhagen
Central station for
Hamburg
and
Berlin
several times per day, stopping in major Zealand cities;
Næstved
,
Vordingborg
and
Nykøbing Falster
on the way. There is also connections between Copenhagen and
Ystad
,
Göteborg
and
Stockholm
in
Sweden
across the Øresund bridge.
By bus
Buses between Zealand and Jutland are only marginally cheaper than the train, although there is considerable discounts between Monday - Thursday. The International buses on the other hand offers considerably lower prices than the train. Copenhagen due to its size, acts as the central hub for all bus lines, but the highway buses for Jutland, listed under
Copenhagen
, makes stops in both
Roskilde
and
Holbæk
.
Get around
By train
The vast majority of regional transportation is done by train, the bulk of it on the 4 main
DSB
corridors, radiating out of Copenhagen. It is worth noting that that the ticketing system changes in Borup and Hvalsø, roughly half way between Roskilde and Holbæk & Ringsted respectively, if you cross these cities "All-Zone" tickets bought in Copenhagen are no longer valid, and you need to purchase train tickets with DSB instead,
By bus
The regional transportation agency for the whole region is
Movia
. Though the lion's share of long distance transportation in the region are done by train, there are a few important inter-regional routes namely:
And two
express buses
running mainly in the summer on a non-stop route between Høje Taastrup and the beaches and vacation homes in North-Eastern Zealand:
By ferry
The most important
ferry route
on Zealand is between
Hundested
and
Rørvig
, crossing the big fjord in the northern part of the island. Many of the smaller islands dotting the sea around Zealand and Lolland are also connected by ferries, check these in the relevant sub regions,
See
Tour the 3 main castles of Zealand; The world heritage sight of Hamlet's Kronborg, Frederiksborg and Fredensborg slot - all within easy reach of each other.
Discover the world of Vikings in the Viking ship museum in Roskilde and the living history museum of Lejre.
Møns cliff - Bright chalk cliffs stretching some 6 km, some of the cliffs fall a sheer 120 m to the sea below
Stevns Cliffs - Another set of dramatic chalk cliffs, and with a cold war fortress bored into the mountain.
Dig up fossilized remains of a great coral reef in Faxe Limestone Quarry or simply enjoy the view from above.
Do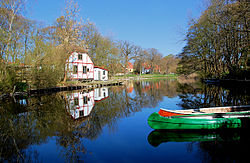 Skjoldenæsholm tramway museumRide hundred year old trams through a picturesque forest, at the end of the line (Eilers Oak) there is a picnic area with sale of coffee, soft drinks, etc. Also a good starting point for walks

phone: +45 5764 6144

address: Skovridervej 11, 4171 Glumsø

During the summer it is possible to do an almost 80 kilometers, 3 day canoe trip through beautiful scenery, on this stream that cuts through the middle part of Zealand.
Eat
While the rest of Denmark is aptly represented in terms of local specialties, the closest Zealand gets is probably the famous smørrebrød, meaning buttered-bread, which has its origins in
Copenhagen
. These open faced sandwiches of rye bread and butter, comes with as many as 250 different toppings, and are usually finished by some elaborate decorations. Smørrebrød is usually eaten at lunch.
Further south, on the island of
Møn
the local specialty is bidesild (
chewy herring
) and is herring that has been pickled in brine over several years, and is served with bread and fat.
phone: +45 57 52 60 33

address: Ved Kildepladsen 4, Borup

Cozy restaurant in the wood, popular with motor cyclists, especially the first sunday of the month
Drink
There are several breweries dotted around Zealand. Carlsberg & Tuborg, Denmark's major brands used to be produced in Copenhagen but production has now moved to Jutland, but there are several other local brands to choose from
phone: +45 5677 1590

address: Faxe Allé 1, 4640 Faxe

The largest brewery on the island, is famous for the Faxe Pilsner, which also sees exports to several countries.
Go next
The Swedish province of
Scania
is an easy trip by ferry or train from most parts of eastern Zealand. It shares a common history and heritage with the island.