Zhangzhou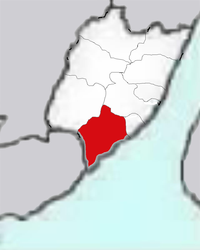 Zhangzhou
(漳州;
Chiang-chiu
in Minnan,
Zhāngzhōu
in Mandarin) is a city in the west of
Fujian
Province in
China
.
Understand
Prefecture consists of: Xiangcheng District (芗城区), Longwen District (龙文区), Longhai City (龙海市), Changtai County (长泰县), Dongshan County (东山县), Hua'an County (华安县), Nanjing County (南靖县), Pinghe County (平和县), Yunxiao County (云霄县), Zhangpu County (漳浦县), Zhao'an County (诏安县)

Talk
Minnan
is the main language spoken in Zhangzhou. The local dialect differs somewhat from that of neighbouring
Xiamen
, but they are still similar enough to be mutually intelligible. Most locals are also able to speak
Mandarin
, so Mandarin speakers would not have any problems getting around.
Get in
By bus
There are frequent buses from
Xiamen
(about 1 hour), as well as some direct service from most cities and counties in southern Fujian.
By train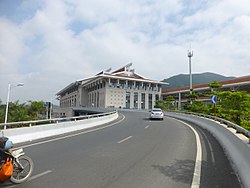 The railway arrangements in Zhangzhou have undergone significant changes recently. Since mid-2012, there are two passenger stations in the Zhangzhou metropolitan area: Zhangzhou Railway Station and Zhangzhou East Railway Station.
The spacious new
(which was known as Zhangzhou South during the planning stage) sits on the new high-speed railway (the Xiamen-Shenzhen line) about 10 km south of downtown Zhangzhou. Many of the high-speed trains travelling along the coast from
Xiamen
,
Fuzhou
and points north to
Shenzhen
stop here. There is also high-speed service inland to
Longyan
; many of the conventional trains from Xiamen to destinations in the interior of China use that line too.
The older is remarkably inconveniently located (miles away from the city, with few signs posted along the road, and fairly limited bus service; even some of the locals have only a vague idea as to where it is). Before the opening of the new Zhangzhou Railway Station all trains between Xiamen and the interior of China had to pass through Zhangzhou East station. Now many of them have been rerouted to the new rail line south of the city and the new Zhangzhou Railway Station, but a few (slower) trains still run through Zhangzhou East.
Finally, there is the Zhangzhou North Station, just north of downtown Zhangzhou. Don't go there: even though older maps still call it "Zhangzhou Station" (this is how it was called until 2011), it has no passenger service anymore.
By plane
The closest passenger airport is in
Xiamen
.
Get around
The city has extensive local bus service, with several routes extending to outlying suburbs (some of which are really cities in their own right, such as
Longhai
).
By train
Nanjing Railway Station

address: Yanta Village, Shancheng Town (山城镇雁塔村)

High-speed trains from Xiamen take between 30 and 60 minutes. From Zhangzhou, the journey time is just 15 minutes.
By bus
Nanjing Bus Station

phone: +86 596 7835824

address: 129-6 Renmin Road, Shancheng Town (山城镇人民路129-6

There are regular daily buses from Xiamen. Buses depart from the Fang Lake Bus Station (枋湖汽车站) in Xiamen's Huli District. The journey time is about 2 hours.
See
Zhangzhou urban area
phone: +86 596 2108779

address: Intersection of Yingbin Avenue and Longwen South Road, Longwen District (龙文区迎宾大道与龙文南路加叉口)

Zhangzhou's main museum.

Nanshan Temple

phone: +86 596 2023939

address: 11 Shuang'an Road, Xiangcheng District (芗城区双庵路11号)

Built in the 8th century AD, the Nanshan Temple is one of the oldest and most important Buddhist temples in southeastern China.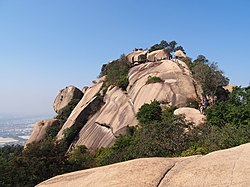 Yundongyan Scenic Area

phone: +86 596 2102223, +86 596 2106258

address: Caiban Village, Lantian Town, Longwen District (龙文区蓝田镇蔡坂村)

The only scenic area in Zhangzhou's main urban area to be designated as a 4A-rated tourist attraction by China's Ministry of Culture and Tourism. The main feature is a rocky hill named Yundongyan (literally 'Cloud Cave Rock'), which stands about 280 metres above sea level.
Rural Zhangzhou
Nanjing County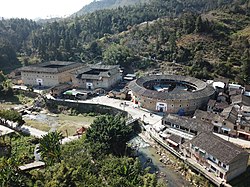 Most people travel to Nanjing County to see the
Fujian Tulou
clusters.
Zhangpu County
The
Liu'ao
Peninsula, in the southern part of Zhangpu County, has the ruins of an ancient fortress, good beaches, and interesting rock formations.
Xihu She Ethnic Township, also in Zhangpu County, has two 17th-century fortresses: Zhaojiabao and Yi'anbao.
Sleep
Accommodation within the century-old
Fujian Tulou
is possible, offering a unique cultural experience. Many of the guest houses and inns are family-run and allow for a glimpse into the local rural life.
Go next