Zhanjiang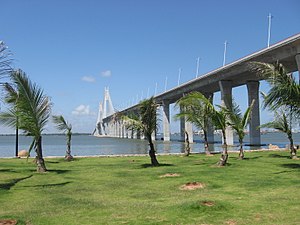 Zhanjiang
(湛江;
Zhàn​jiāng
​) is a port city in the western part of
Guangdong
Province in
China
.
Understand
Zhanjiang was a small fishing port when it was under French occupation in the early 20th century - named Fort Bayard - and some old colonial buildings still survive. Now it is a rapidly developing modern city. Many people in Zhanjiang speak Mandarin (普通话 Pǔtōnghuà) with a fairly strong accent, the native languages for most locals are
Cantonese
(广东话 Guǎngdōnghuà) and Leizhouhua (雷州话 Léizhōuhuà), a distinctly different dialect of
Hokkien
close to Hainanese.
Get in
Zhanjiang is at the base of the Leizhou Peninsula that points toward the island province
Hainan
. Travellers often pass through Zhanjiang en route to Hainan. There are trains and buses to and from nearby mainland cities and boats to
Haikou
, capital of Hainan. The boat is an hour bus ride away from Zhanjiang.
There are two major train stations and a small airport that service Zhanjiang. Buses also run daily to most nearby cities. The downtown bus terminal next to the downtown train station (end of Jiefang West Rd) has one bus daily to
Kaiping
at 14:00.
Zhanjiang Railway StationThe old Zhanjiang Station is commonly referred to (on maps, bus schedules etc) as Zhanjiang South Station (湛江南站), to distinguish it both from the former Zhanjiang North Station and the new Zhanjiang West Station. It is the terminal station for the slow "conventional" trains that come to Zhanjiang from a number of cities throughout China; it also has the baggage/parcel service department (中铁快运). It is located at the western end of the old Xiashan downtown area, and has good local bus service. The Xishan intercity bus station, with bus service to destinations throughout Guangdong and south China, is located a block to the north from the train station.

Zhanjiang West Railway StationZhanjiang West Station has two kinds of service. It is the terminal station for the frequent high-speed (D series) train service to Guangzhou South (a bit over 3 hours), via Maoming and Kaiping South. This is also the station where "conventional" trains connecting Hainan (Haikou or Sanya) with mainland destinations stop. As many other new train stations in China, Zhanjiang West sits in an empty field a few miles west of town, but it is well served by city buses. There is also a small intercity bus station adjacent to it.

phone: +86 759 3255026

address: 24 Airport Road, Xiashan District (霞山区机场路24号)

A small airport, located within a few km from Xiashan downtown, served by most of the major Chinese airlines. Two city bus lines, running until 9 pm or so, take you to both Xiashan and Chikan, for a nominal fare (Y1-2).
A bus runs daily from Zhanjiang to Hong Kong (8 hours) via Shenzhen and tickets are ¥280 at the travel agency's office in Chikan District.
Get around
Zhanjiang is almost like two cities combined. The northern half, composed of Chikan district (赤坎区 Chìkǎn qū) and Mazhang District (麻章区 Mázhāng qū) and the southern Xiashan District (霞山区 Xiáshān qū) are separated by a less developed corridor.
The main bus routes (2, 11, 12, 22) travel from the northern districts to Xiashan and back. Smaller buses and other routes can allow you to explore more areas of the individual districts.
The Zhanjiang bus company has a list of its routes (
公司所有线路
) on its web site (in Chinese only).
Taxis in Zhanjiang are fairly cheap, starting at ¥5. Afterwards the fare increases by ¥2 per kilometer. Please note that there is an additional ¥1 fuel surcharge that will be added onto your final fare.
See
Historical sites
Cathedral of Saint Victor

address: 85 Lüyin Road, Xiashan District (霞山区绿荫路85号)

Built by French missionaries in 1903, this is the largest Catholic Church on the Leizhou Peninsula. It remains active to this day.

Former Site of French Legation in Guangzhouwan

address: 3 Haibin Road, Xiashan District (霞山区海滨路3号)

Built in 1903, this was the main administrative office of the French colonial government. The site is now a museum.
Museums
Guangdong Ocean University Museum of Aquatic Organisms

phone: +86 759 2396181

address: Waihuan Road West, Mazhang District (麻章区外环西路)

Contains specimens of over 3000 different aquatic species collected from around the world.

Guangzhouwan Museum of History and Folk Culture

address: 51 Heping Road. Chikan District (赤坎区和平路51号)

A small museum focused on the French colonial period (1898-1945). Only 50 visitors are permitted to visit each day.

phone: +86 759 3338921

address: 50 Nanfang Road, Chikan District (赤坎区南方路50号)

Zhanjiang's main museum.
Parks and nature
phone: +86 759 2221574

address: Yuejin Road, Chikan District (赤坎区跃进路)

phone: +86 759 2260800

address: 4 Haibin Avenue South, Xiashan District (霞山区海滨大道南4号)

A famous waterfront park.

phone: +86 759 2819197, +86 759 2819033

address: Huguang Town, Mazhang District (麻章区湖光镇)

The center piece to this UNESCO Geo Park is a large Maar Lake.
Do
Movie theaters

address: Xiashan District

There are a few movie theaters

Bowling alley

address: Xiashan District

bowling alley now closed

Haibin Hotel and Hotsprings

address: Xiashan District

Admission includes a dinner buffet and an evening to enjoy the various hotsprings and pools.

Body Sculpture Fitness ClubFor those looking to exercise, this gym recently moved to a new location and upgraded most of its equipment.

Dragon Boat FestivalA large international boat race.
Buy
As a major stop for many bikers heading to the islands, Zhanjiang has a fair range of bicycle shops to shop on components and parts. Most shops are located along Minzhi Road (民治路) and certain brands such as Dahon, Giant, Merida also have their branches there.
Trust MartA large supermarket with a number of things to buy. Also found in the same building KFC and Macau Street Food City.

Wal-Mart

address: Xiashan District and Chikan District

Has a few imported items not found at other locations and also regularly has fresh milk.

Export MarketA clothing and fabric market with goods that are produced in China for export. You can sometimes find name-brand clothing items for cheap prices here.
Eat
Local specialties include seafood, sugarcane and beer chicken.
Inner Mongolia Dumpling RestaurantIf you would like dumplings or to sample a different variety of Chinese cuisine, this restaurant serves excellent food at inexpensive prices.

Steakking Kitchen ProductionAn upscale restaurant. The menu includes fairly authentic western food and an excellent Japanese sushi selection. Included in the price of your meal is a free trip to the salad bar.

Macau Street Food CityThis restaurant is very foreigner friendly and offers tons of dishes to choose from.
Drink
Zhanjiang has a small bar street (酒吧街 jiǔbā jiē) in Xiashan District. Unfortunately, most places do not serve cocktails or shots, but instead tend to sell liquor by the bottle. Beers in the bar also tend to be about three to four times more expensive than on the street.
Some western-style restaurants such as Steakking Kitchen Production and the West Coast Coffeehouse (西海安 xīhǎi ān) do sell mixed drinks and shots.
Also, Wal-Mart has the best selection of spirits for sell if you would like to make your own drinks.

Sleep
Zhanjiang is separated as two major districts: Chikan and Xiashan, in which Xiashan is more developed and newer than Chikan, but both districts also have plenty of hotels.
Many budget hotels are located along Minzhi Road (民治路) near to Jiefang East Road (解放东路). Prices range from 60-70 for a double room.
Crowne PlazaThe only five-star hotel in Zhanjiang. Hosts a buffet dinner with both western and oriental dishes. All you can eat food and beer for ¥100 per person.
Go next