Zhejiang
Zhejiang
() is in a province in
East China
, very close to the major city of
Shanghai
.
Cities
Main cities
(杭州市) – Zhejiang's capital, former capital of China, China's busiest destination for domestic tourism, famous for tea, silk and the great West Lake.
(湖州市) – borders Lake Tai to its south, includes the historic district of Anji.
(宁波市) – former treaty port, clean and compact with interesting islands nearby
(绍兴市) – traditional Chinese cultured city
(温州市) – major industral center, near the sea and Fujian border
(义乌市) – vibrant with Middle Eastern flavour due to large Islamic business community.
(舟山市) – gateway to Mount Putuo, an island that is regarded to be one of the Four Great Mountains of Buddhism
Smaller cities
(鳌江镇)
(北仑区) – international port near Ningbo
(慈溪市)
(江山市) – is a small city at the intersection of Zhejian, Fujian and Jiangxi.
(嘉兴市) – civilized city of fish, rice and silk including famous resting-on-water towns Wuzhen and Xitang
(台州市)
(溪口镇)
(余姚市)
(诸暨市)
(丽水市)
Other destinations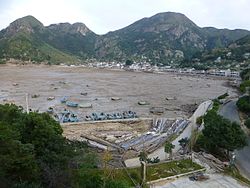 (普陀山)
(太湖)
(千岛湖) – a scenic lake known for its clear water and 1,000+ islands (hence its nickname Thousand Island Lake)
(雁荡山)
(莫干山) – a mountain getaway from Shanghai
(天台山) – Rocks, waterfalls, and an ancient temple
Get in
Hangzhou Xiaoshan International Airport (HGH

)

Ningbo Lishe Airport (NGB

)

Taizhou Luqiao airport (HYN

)

Wenzhou Longwan International Airport (WNZ

)

Zhoushan Putuoshan Airport (HSN

)
Get around
By plane
Zhejiang is a very small province, it usually makes sense to prefer train over plane whenever possible considering both money and time.
By train
High-speed rail
is most recommended. Most of the cities and towns in Zhejiang has at least one fast train station.
By taxi
Most cities have taxi providers, though online taxing platforms like Didi may be preferred.
See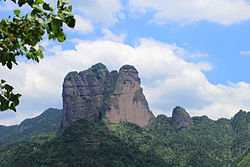 Wuzhen () is located on the Beijing-Hangzhou Grand Canal and also around a net-work of other smaller canals and rivers. The town has numerous bridges, ancient harbors and water-side pavilions, and makes an excellent complimentary side-trip for visitors staying in nearby Hangzhou. Buses ply the route from Hangzhou to Wuzhen.
The China Danxia landscape near Jianglangshan is inscribed on the UNESCO World Heritage List.
Eat

Zhejiang cuisine is one of the major cuisines of China. It isn't greasy and has a fresh and soft flavour with a mellow fragrance.

Go next