Zhuhai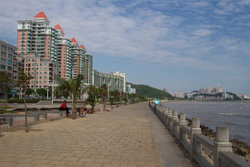 Zhuhai
(珠海;
Zhūhǎi
in Mandarin,
Jyūhói
in Cantonese) is a city in
Guangdong
Province,
China
. The name means
Pearl Sea
; Zhuhai is where the Pearl River (珠江;
Zhūjiāng
) flows into the South China Sea (南中国海
Nánzhōngguóhǎi
or simply 南海
Nánhǎi
).
Zhuhai is known for its beautiful long coastline, waving palm trees, open spaces, low population density, and its many islands; Zhuhai's nicknames are
the city of romance
(浪漫之城) and
the city of a hundred islands
(百岛之市). Zhuhai serves as the gateway to the former Portuguese colony of
Macau
, as a tourist destination for Chinese, and as a playground for hedonistic Hong Kong, Macau, and Taiwan visitors who come for Zhuhai's very colorful nightlife.
Understand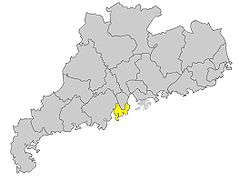 The Zhuhai area has been inhabited for thousands of years. Until the 1970s, Zhuhai was a group of fishing villages with a population of around 100,000. Since 1980, when it was designated a
Special Economic Zone
(SEZ) by the central government, Zhuhai has expanded to include nearby areas and is now a fast-growing modern city with about 1.57 million inhabitants as of the 2010 census. However, it is still not as large and developed as neighboring cities like
Shenzhen
and
Guangzhou
. Zhuhai's northern districts of Jinding and Tangjia, as well as the western district of Doumen, are less developed factory-driven areas that retain a deeper working-man, salt-of-the-earth quality.
Located in the
Pearl River Delta
, Zhuhai borders
Jiangmen
to the northwest,
Zhongshan
to the north, and former Portuguese colony
Macau
to the south. By sea, former British colony
Hong Kong
and Chinese boomtown
Shenzhen
are just across the Pearl estuary to the east. The provincial capital
Guangzhou
is about 150 km to the north.
Zhuhai is one of China's cleanest and prettiest cities, and received numerous accolades for its excellent ecological development efforts. In 1998, it was awarded the
International Award for Best Practices in Improving Living Environment
by the United Nations Center for Human Settlements. It is also commonly agreed to be one of the best cities in China to retire in. With a low population density compared to other cities in China, Zhuhai is unsurprisingly greener. Parks and open spaces dot the cityscape, and waving palm trees line the extensive coastline and many of the major streets.
The weather in Zhuhai is sub-tropical. Temperature varies between 10 °C (50 °F) in winter (Dec to Feb) to a hot and humid 35 °C (95 °F) in summer (Jun to Sep). Typhoons are also a possibility in summer. The best times to visit are during spring and Autumn.
Districts
The city of Zhuhai itself is composed of
Xiangzhou
,
Jida
,
Gongbei
,
Qianshan
and
New Xiangzhou
. The other areas mentioned are districts within the Zhuhai Special Economic Zone.
North to South along the coast, the main districts are:
Jinding (金鼎; Jīndǐng) – Zhuhai's northernmost district is a factory town whose main attraction is a very large and lively nighttime outdoor BBQ; see the Eat Section for details. Jinding definitely has a working class edge, and is worth visiting for the BBQ alone, but wandering around may give you a different perspective to the ones you have previously experienced elsewhere in Guangdong Province. Visit Jinding to experience the real China before heading back to your more affluent Guangdong stomping grounds. Jinding can be reached via bus 3 or 10, or via sightseeing bus 2.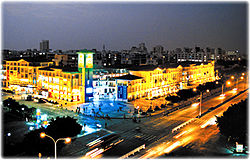 Tangjia (唐家; Tángjiā) – Both Tangjia and Jinding are parts of the nowadays subdivision named Tangjiawan. However, Tangjia, the centre of Tangjiawan, is somehow different from Jinding, so the local usually regard them as two places. Tangjia is a moderate sized town between Jinding and Xiangzhou. Like Jinding, Tangjia's salt-of-the-earth qualities are more evident than its southern neighbours. Best known for the large Dragon Union Opera House (located inside the Dragon Union Hotel) which, as the name suggests, puts on live variety shows semi-regularly, its primary function is serving as a gigantic karaoke house that mixes karaoke with all-inclusive adult entertainment.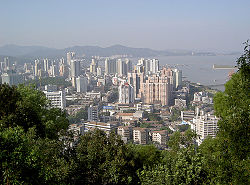 Xiangzhou (香洲; Xiāngzhōu) – Government offices, big department stores (including AEON), and some bars and restaurants are scattered throughout this district. This is the area where the locals mainly go shopping.
On the inland side is New Xiangzhou (新香洲; Xīnxiāngzhōu), an area that has undergone extensive development over the last few decades, especially midrange or upmarket residential buildings but with commercial and business buildings as well. Recently, it is often excluded when mentioning Xiangzhou only. Xiangzhou may be referred to as Old Xiangzhou (老香洲; Lǎoxiāngzhōu) in order to distinguish it from both New Xiangzhou and Xiangzhou District (香洲区; Xiāngzhōu Qū), a major administrative division which covers a much larger area and includes not only Xiangzhou and New Xiangzhou but also Jida, Gongbei, Qianshan, Tangjiawan, Wanzai and several other neighbourhoods. Both (Old) Xiangzhou and New Xiangzhou are informal names, which you won't necessarily find on city maps.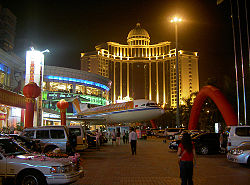 Jida (吉大; Jídà) is along the coast between Xiangzhou and Gongbei. This district has a lot of offices, high-end hotels and shopping complexes. This is not a particularly useful district to mention for directions, except for the fact that a Jida location assures you that the location is fairly near to the water and that a taxi driver will likely take the road right along the coast until you get there.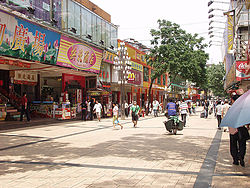 Gongbei (拱北; Gǒngběi) is the main tourist area with a wide variety of inexpensive hotels, clothing, electronics, souvenirs, food, drink, and colorful entertainment in relatively close proximity to the Macau border crossing. Lianhua Lu (Lotus Road; 莲花路; Liánhuālù; sometimes called Walking Street; 步行街; Bùxíngjiē) while interesting any time of day, is truly a must-see spectacle at night, with dozens of small outdoor-bar stalls which are always packed at night. Here you can see people drinking, playing dice with bar girls, and watching (or interacting with) working girls and passers-by on the crowded pedestrian-only street that is filled with shops and street-food vendors (see the Drink Section for more details). There is also the more upscale Bar Street (酒吧街; Jiǔbājiē), a modern strip of nicer upscale bars with indoor and outdoor seating, some featuring live music (many blasting loud music inside). Most of these cater to Chinese businessmen and moneyed tourists. At the southern edge of Gongbei is an underground shopping center and the Macau border crossing (see Buy Section for more details).
Going West from Gongbei are other districts:
Wanzai (湾仔; Wānzǎi) has a ferry terminal to Macau and a Seafood Street where you get to select your own live seafood before they are prepared for your dining pleasure.
Doumen (斗门; Dǒumén) is in the Norththwest. It is a bit out of the way, in that most of Zhuhai spreads north along the coast. The very scenic Jintai Buddhist Temple, built at the end of the Song Dynasty is over 1,000 years old and is well worth a visit if you are in the area. Get the full treatment at the Imperial Hot Springs Resort or Yu Wenquan in Doumen, the first Japanese outdoor garden-style hot springs resort in China, with over 20 kinds of hot springs.
Islands
One of Zhuhai's nicknames is
the city of a hundred islands
(146 to be exact), and it has a number of islands that are accessible from ports by ferries. An often overlooked aspect is the fact that each of the islands has a unique character. Some have decent beaches, and some are eerily quiet fishing islands. Each trip is a noticeable escape from the hustle and bustle of living in Chinese cities. A trip to the islands is arguably comparable to leaving the country. High-quality seafood abounds. Information about where to go or what to do can be difficult to come by because most locals do not visit due to cost of transportation. As a result, most tourists do not get a chance to explore these beautiful places at all, and most of the information available on the internet regarding Zhuhai focuses on the urban areas. Nonetheless, the curious expat or adventurous traveler will be generously rewarded. From the
Xiangzhou Port
(香洲港;
Xiāngzhōugǎng
), formerly
Xiangzhou Northern Wharf
(香洲北堤码头;
Xiāngzhōu Běidīmǎtóu
), you can get to the
Wanshan Islands
(万山群岛;
Wànshānqúndǎo
):
Dong'ao Island (东澳岛; Dōng'àodǎo) has diving facilities, clear waters, and a nice beach.
Outer Lingding Island or Wailingding Island (外伶仃岛; Wàilíngdīngdǎo) is also a nice getaway with clear waters and nice beaches.
Hebao Island (荷包岛; Hébāodǎo) is less developed and visited, and is a good spot for those who like wilderness.
Guishan Island (桂山岛; Guìshāndǎo) has a sleepy fishing island town feel with exceptional seafood.
While not as distant and not part of the Wanshan Islands,
Yeli Island
(野狸岛; Yělídǎo),
Hengqin Island
(横琴岛, Héngqíndǎo),
Qi'ao Island
(淇澳岛; Qí'àodǎo), and
Gaolan Island
(高栏岛; Gāolándǎo) can all be reached by bus via a bridge or dam.
Remember to take plenty of cash with you on these island excursions because some islands might not have ATMs.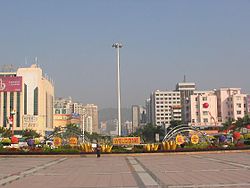 Talk
Cantonese
is the main local language of Zhuhai, it being a part of the
Pearl River Delta
. Nevertheless, due to the massive influx of immigrants from other parts of China over the last three decades,
Mandarin
is now the
lingua franca
. A dialect of Taishanese is the main language in the Doumen district.
English is not widely spoken, but some people, especially the young, speak it.
Zhuhai is one of the most popular cities for foreigners in China, and because of that, you can find some speakers of European languages here.
Get in
Most visitors to China will require an advance visa, which can be obtained in Hong Kong or Macau. See
Visas
for details.
Zhuhai is a Special Economic Zone (SEZ) which means that if you are only visiting the Zhuhai area, a special SEZ visa can be obtained upon arrival at the border. This allows you to visit Zhuhai only for up to 3 days. Upon entering the Gongbei immigration building, after passing all the duty free shops, the visa office is behind a green door on the right hand side of the hall. Follow the stairs and you will find the office on the left. You need to complete a small white form, pay the fee and have your photograph taken with a webcam. The visa is then processed within minutes. This costs ¥160 for most nationalities and ¥450 (December 2008) for UK citizens. It is reported that US citizens must pay ¥950 (January 2011), or else that they cannot use the service at all. Hong Kong dollars are not accepted. Currency can be converted at the China Tourist Services office back downstairs in the main immigration hall, but usually at an awful rate. Once the visa has been issued, proceed to the immigration hall to complete the immigration process.
By plane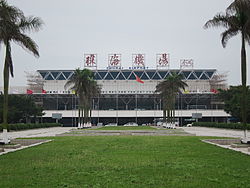 Zhuhai Sanzao AirportThis is a moderately sized, modern airport that connects the area with many Chinese cities, but no international destinations. It is in west of the centre of the Jinwan District.
The Airport Express Bus departs from the airport to Xiangzhou and Gongbei districts for ¥25 (March 2018) per passenger, and follows the schedule of arriving flights. The first bus departs around 11:00 and the last bus departs about 21:30. A taxi from the airport to Gongbei or Jiuzhou in downtown Zhuhai is around ¥130 (October 2011) when traffic is free flowing. You may also take public bus number 207, which goes right to the Gongbei border crossing, and costs ¥6. However the journey time is between 1 hour 45 mins and 2 hours. This bus does not have a luggage storage area on board.
Other airports
To reach Zhuhai from outside China, one would usually fly to
Hong Kong
,
Shenzhen
,
Macau
or
Guangzhou
. All four cities have large, modern airports with many international connections and all are within an hour or two of Zhuhai; Macau is closest.
Foshan
is another airport available nearby, but it has few connections.
From the
Guangzhou Baiyun International Airport
(
CAN
), a frequent express bus service that goes to Zhuhai is available. It costs ¥80 and takes approximately 2½ hours with one stop in the northern part of Zhuhai before going on to the Gongbei border gate to Macau. There is a check in for the airport at Gongbei bus station, located near the KFC.
From the Macau International Airport (MFM), the best way to get to Zhuhai is via the Express Link service, skipping the Macau immigration and customs altogether. Once you alight from the plane, instead of going through immigration, look for the Express Link (China) sign and follow it. This will lead you past a transit security scan station where you must pick up an Express Link card, and upstairs into the departure hall. Go to the ticket counter at Gate 8, present your card and buy a ticket for the coach that goes to the Gongbei Port of Entry. The coach fare is ¥52 and the ride takes only 15 minutes. Coach departure times are 11:00, 11:30, 12:00, 12:30, 13:00, 14:45, 17:00, 17:30, and 18:00. If you need to check in any bags for your flight, remember to have them blue tagged during your flight check-in procedure for this Express Link service. The blue tag is not a necessity, merely a convenience. Present your luggage tags at the above-mentioned coach ticket counter and pick up your bags at the bus bay later.
The option to skip the Macau immigration is not available on the return. Allow at least three hours to get from Gongbei to the Macau airport. Immigration formalities can be very time-consuming, particularly on the Chinese side during the weekends. Once out of the Chinese customs (before entering Macau), there is a little ticket booth to the left where you can get a shuttle bus ticket to the airport for ¥35. The buses will be waiting on the left once you leave the Macau immigration hall. They run at 10 minutes intervals.
Should you decide to go through the Macau immigration at the airport and use the Taxi service to get to Zhuhai, the ride takes only about 15 minutes. It costs about ¥60-80 for the short ride. But it is reasonable priced for those (>2 persons) who wish to share the taxi cab fees. The charges are inclusive of surcharge of ¥5 at the airport, ¥5 per piece of luggage. Taxi payment can be in patacas, Hong Kong dollars or renminbi. They are all treated equally in value (even though Macau pataca has the lowest value of the three currencies). Taxi cabs queue at the curve outside of the airport.
From Hong Kong International Airport (HKG), one option is to take the Airport Express to Kowloon Station (at the cost of HK$90), then hop on the free Airport Express transit bus K2 to the China-Hong Kong Ferry Terminal (中港城码头; Zhōnggǎng Chéngmǎtóu) to take a ferry to Zhuhai. See below for ferry timetable.
Another option from Hong Kong is to catch a ferry from the HKIA Skypier to Macau and then cross into Zhuhai via the Gongbei border gate. To catch the ferry from the airport, go directly to the ticket counter without passing through Hong Kong immigration or customs; see Hong Kong International Airport#By ferry for details. Full instructions can be found here. The ferry journey takes about 50 minutes and runs hourly (usually).
A third option from HKIA is now available in the form of long-distance buses that go overland to Gongbei. The journey takes 3½ hours and costs HK$200. Departure times are 07:00, 08:00, 16:00, 17:00, and 19:00.
A new ferry service was introduced that brings travelers directly from HKIA to the Jiuzhou Port in Zhuhai. The ferry leaves at 12:15, 14:15, 17:00, and 20:10. The one from Zhuhai to HKIA leaves at 9:30, 12:40, 15:25, and 18:35. The trip takes approximately 70 minutes and costs ¥290.

By bus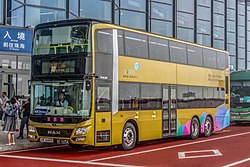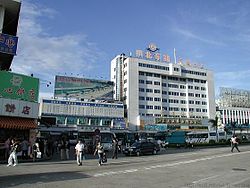 From Hong Kong, frequent HZMBus shuttle buses departing up to every 5 minutes, 24 hours a day are available to cross the Hong Kong–Zhuhai–Macau Bridge (HZMB). They take around 40 minutes, and tickets can be purchased with Octopus or AliPay from ticket machines, as well as cash and credit cards at the ticket desk at the HZMB Hong Kong Port. The Hong Kong Port can be reached by taxis or various buses including CityFlyer airport (A number) routes, or the B5 shuttle bus from Sunny Bay MTR station, or the B6 bus from Tung Chung. Once arriving at the (Gǎng Zhū Ào Dàqiáo Zhūhǎi Kŏu'ān 港珠澳大桥珠海口岸), you can take taxis or the L1 bus which uses historic tourist vehicles, or the 12, 23 or 25 buses to continue your journey in the mainland.
Hundreds of buses also come from Guangzhou every day, usually via the Jingzhu Motorway. You can catch one at:

South Campus of Sun Yat-Sen University (中山大学南校园) just next to the South Gate.
East Campus of Sun Yat-Sen University (中山大学东校园).
Guangzhou Baiyun International Airport (广州白云机场) just inside the Arrival Hall
Shipai Campus of Jinan University (暨南大学石牌校区).
Exit A2 of Zhujiang New Town Metro Station (珠江新城地铁站A2出口).
Exit B of Wanshengwei Metro Station (万胜围地铁站B出口).



Be cautious when leaving for Jizhu!

Both pinyin of abbreviations of "Zhuhai Campus of

Jinan

University" (暨珠) and "Zhuhai College of

Jilin

University" (吉珠) are

Jizhu

. Check twice you didn't make mistakes when buying tickets!


From any of these locations, the trip will cost ¥35-88 and take about 2-2.5 hours. Buses leave every 40 minutes (from Guangzhou Airport) or 1 hour (from SYSU Campuses) or 1.5 hours (from other places in Guangzhou) and go to Gongbei, Xiangzhou, Zhuhai Campus of Sun Yat-Sen University (中山大学珠海校区 or simply 中珠), Zhuhai Campus of Jinan University (暨南大学珠海校区 or simply 暨珠), Zhuhai College of Beijing Normal University (北京师范大学珠海学院 or simply 北师珠), Zhuhai Colledge of Beijing Institute of Technology (北京理工大学珠海学院 or simply 北理珠), Huxin Raod Crossing (湖心路口), Zhuhai College of Jilin University (吉林大学珠海学院 or simply 吉珠) or Tangjia depending on the bus you take.
Zhuhai has over twenty bus stations. Below are just some of the major ones:

Doumen Bus Station

phone: +86 756 2116222, +86 756 5519033

address: 389 Lianqiao Road, Baijiao Town, Doumen District (斗门区白蕉镇连桥路389号)

Doumen's main bus station. Also known as Baijiao Long-Distance Bus Station (白蕉长途站总站).

Gongbei Bus Station

phone: +86 756 8885218, +86 756 2225345

address: 1 Lianhua Road, Xiangzhou District (香洲区莲花路1号)

Gongbei's main bus station.

Kee Kwan Bus Station

phone: +86 756 8281003

address: Basement Level 2, Gongbei Entry Port Shopping Plaza, Yingbin Road South, Xiangzhou District (香洲区迎宾南路拱北口岸购物广场负2层)

Tangjia Bus Station

phone: +86 756 3317570

address: Tangqi Road, Xiangzhou District (香洲区唐淇路)

Xiangzhou Long-Distance Bus Station

phone: +86 756 2116222

address: 142 Zijing Road, Xiangzhou District 香洲区紫荆路142号

Large intercity bus station.
By boat
phone: +86 756-3333359

address: 599 Lovers' Road South, Jida, Xiangzhou District (香洲区吉大情侣南路599号)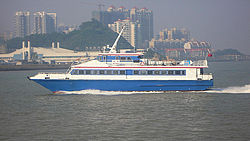 From Hong Kong and Shenzhen: There are several ferries per day from Hong Kong International Airport, HK-Macau Ferry Terminal (港澳码头; Gǎng'ào Mǎtóu; Hong Kong Island), China Ferry Terminal (中港城码头; Zhōnggǎng Chéngmǎtóu Kowloon) in Hong Kong and Shekou Ferry Terminal (蛇口港; Shékǒugǎng; Shekou) in Shenzhen arriving at the Jiuzhou Ferry Terminal (九洲港码头; Jiǔzhōugǎng Mǎtóu). There is a taxi rank and bus stops directly outside. You can take a free bus ride to Gongbei by showing your ferry ticket. Visas can be purchased here for most nationalities (not American citizens). Payment is in RMB only and the ATMs are through immigration so plan ahead.
The HKIA-Zhuhai ferry is operated by Chu Kong, who charge HK$260/¥280 one-way to/from Zhuhai.
Getting to Zhuhai Airport from the Jiuzhou Ferry port that connects Zhuhai with Hong Kong, an Airport bus can be taken for about ¥30 and the last bus departs at 20:00. The journey takes about 2 hours.
From Macau: There is a ferry service operating from Macau's Inner Harbour's Pier 14 (澳门粤通码头; Àomén Yuètōng Mǎtóu) to Wanzai. Daily departures roughly hourly from 08:00-16:00.

By car

From Macau: It is possible to drive across the border from Macau via Lotus Bridge or Port of Entry. Unlike Macau, Mainland China drives on the right.
Only vehicles with dual plates are allowed to drive across the border.
From Mainland China: The road connections from other parts of mainland China have been improved. The G4w Motorway (Jinggangao Motorway or Beijing-Hong Kong-Macau Motorway, 京港澳高速), also formerly Jingzhu Motorway (Beijing-Zhuhai Mortorway, 京珠高速), which connects Guangzhou, is always the main and the most crowded solution to arrive. The S43 Motorway or Guangzhu West Line (广珠西线高速), is another option. Highways like G105, S111 are also available.
From Jiangmen, there are S32 Motorway, (Western Coastal Motorway 西部沿海高速), S47 Mortorway (Jiangzhu Motorway or Jiangmen-Zhuhai Mortorway, 江珠高速), S365 and S272 to choose. However, the S272 is of rough surface.
From Hong Kong: The 50-km Hong Kong-Zhuhai-Macau link, a bridge and tunnel opened on 24 October 2018, is likely one of the largest construction projects in the world. The link makes it possible to travel quickly across the Pearl River Delta without taking the ferry. There are restrictions on driving across, and drivers must apply for special permits, so taking a shuttle bus is probably a better choice.

On foot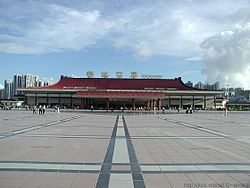 You can walk across the border from Macau at Gongbei. The border is open from 07:00-24:00. It typically takes 20 minutes of walking time, but be prepared for long queues, which can easily add over an hour to your total border crossing time.

An alternative crossing is via the Lotus Bridge in Macau's Cotai area to the island of Hengqin. This border crossing point is open 08:00-20:00. After crossing the Macau side, take a shuttle bus across the bridge to the China side (fare ¥3, no change given so carry the exact amount). From the Hengqin side of the border take bus number 14 to Xiangzhou, or catch one of the Kee Kwan air-conditioned minibuses to Wanzai or Gongbei (¥5).
For foreigner entering China, you will need to produce a valid visa. Follow the immigration line that says "Foreigner". Once you clear immigration, you enter the duty free zone. Consider picking up some Western chocolate or liquor, especially if you need gifts for Chinese. Jameson's at HK$70 a bottle is a good buy, as are some of the wines and single malt whiskeys. Do not bother with common brands of whiskey or cognac; those a readily available in China. Cigarettes are generally cheaper in downtown Zhuhai than at the duty-free (do not buy cigarettes in duty free, most are fake).
When you exit the Gongbei immigration building, you have reached the Zhuhai border. If you need to purchase a pre-paid cellphone card, please proceed to exit the immigration building, then walk downstairs to the underground mall. There are many telephone services stalls here. You may purchase a pre-paid sim-card here for ¥100. It comes with a loaded value of ¥50. You will need a GSM phone to get it to work. Always keep your belongings zipped inside your pocket here as pickpockets are very common at the border check point.
On the return trip from China to Macau, here are the border crossing tips from Zhuhai China to Macau via Gongbei port. The Gongbei immigration building opens at 07:00. If you arrived at the Zhuhai Gongbei port via Taxi cab, you either arrive in front of the Gongbei immigration building or via the underground tunnel, linked to the underground mall below the Gongbei immigration building. Proceed to queue up at the entrance of building. It is rather cold in the morning so bring enough warm clothing with you if you decided to queue up in the morning before 07:00.
When the building opens, proceed inside the building. Look for the line that says "Foreigner" (usually line# 15). If you are already late for your connecting flight, go to the express line (no queuing required) and show them your air ticket for immediate attention. Once you clear the Chinese immigration, you enter the duty-free zone. Proceed to the immigration hall. Foreigner is required to fill up a blue-color slip in this hall, declaring your place of stay in Macau and your departure details. Proceed to queue at the line that says "Foreigner". Once you clear the Macau immigration, proceed to exit the building. If you carry any luggage with you, the immigration officer may request that your luggage be scanned by the X-ray machine before you are allowed to exit the immigration building. The whole border crossing process takes about 20-25 minutes, excluding waiting time in the long queues.
You may choose Taxi cab or bus to get to the airport. The ride to the Macau International Airport takes only 15 minutes from Gongbei port. There will be surcharge of MOP5 to the airport and $6 per item of luggage. It costs about MOP70 to get to the airport by Taxi cab (inclusive of surcharges). Taxi cabs accept Macau patacas, Hong Kong dollars or Chinese yuan for payment. These currencies are treated equally (With yuan being the most expensive) during payment. You may still use your Chinese pre-paid telephone card up to the mid-span of the Friendship Bridge in Macau. After that, the signal drops off.

By train
The Guangzhou-Zhuhai Intercity Railway (Guangzhu ICR) was fully opened in 2012. There are five stations in Zhuhai:

Central stations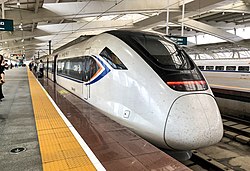 Zhuhai Railway Station

address: 5 Changsheng Road, Xiangzhou District (香洲区昌盛路5号)

Zhuhai's main railway station and the southern terminus of the line.
Other stations
Mingzhu Railway Station

address: 35 Mingzhu Road North, Xiangzhou District (香洲区明珠北路35号)

Qianshan Railway Station

address: 666 Gangchang Road, Xiangzhou District (香洲区港昌路666号)

Tangjiawan Railway Station

address: 399 Jinfeng Road, Xiangzhou District (香洲区金凤路399号)

Zhuhai North Railway Station

address: Jinfeng Road North, Xiangzhou District (香洲区金峰北路)

The journey from Guangzhou South station to Zhuhai takes around 53-78 minutes and costs ¥390 for luxury sleeper, ¥350 for standard sleeper, ¥205 for luxury class, ¥90-124.5 for first class and ¥56-¥91.5 for second class or no-seat ticket. Trains will stop at either Zhuhai North, Tangjiawan, Mingzhu or Qianshan (or any combination of the four) before terminating at Zhuhai Station: different trains stop at different stations, so if you intend to alight at an intermediate station, be sure to check first if your train will stop there. The first train departs Guangzhou South for Zhuhai at 06:20, while the last train departs Zhuhai for Guangzhou at 23:05.
Guangzhu ICR stations are served by several bus routes. Bus routes 3A (to Jiuzhou ferry port) and 65 (to Zhulinpu in Tangjiawan), as well as a minivan service to Beijing Normal University, serve Zhuhai North station, while bus 207 (to the airport) stops outside of Zhuhai station. There are also taxi ranks outside all stations.
The Guangzhu ICR has been merged into the railway system of China, so the train destinations increased. Trains from Beijing, Shanghai, Guiyang, Kunming, Chaozhou directions can reach Zhuhai now. For example, as of 2018, the Beijing-Zhuhai train (D923) leaves Beijing at 20:35, arriving to Zhuhai at 07:49 the next morning. The second-class seat fare is ¥779, a sleeper (动卧) is ¥1430. From Chengdu, it's a day train (via Chongqing, Guiyang, and Guilin),
D1841, leaving Chengdu at 06:39 and arriving to Zhuhai at 16:52.

Get around
Zhuhai is quite spread out. The terrain is coastal plain broken up by mountains or, seen from the sea, a series of bays and headlands. There are many clumps of development separated by hills, often parkland.
You can walk or take a taxi from ¥10 (the first 3-kilometre); these are good options for moving within a single district.
By bus
Zhuhai has an extensive bus system. The fare for a ride is ¥1 regardless of distance; pay in the box in front of the driver, or by Alipay or transit card (see below). Bus 10 will cross all of the Zhuhai SEZ north to south or south to north. By taking bus 10 it is possible to conveniently move between Gongbei, Xiangzhou, Tangjia, and Jinding. Bus 10 terminates in the south near the Macau border in Gongbei and terminates in the north on the main street of Jinding. Bus 4 will allow you to reach Jiuzhou ferry port for trips to Hong Kong or Shenzhen.
Avoid bus 2, bus K10 at rush hour, and buses 16 and 26 when the classes of boarding schools end on Friday or Saturday because of heavy crowds.
Zhuhai transit cards give you a 10% discount on the buses. Buying a card requires a ¥15 deposit. Zhongshan transit cards and Ling Nan Tong (岭南通) cards (used in
Guangzhou
and other cities in the province) are also accepted.
The double decker
sightseeing bus
bus goes to most areas between Gongbei and Jinding for ¥3. Padded seats and good air conditioning make it a lot more comfortable than city buses for long trips. The last sightseeing bus is at about 19:00.
By train
It is possible to move around districts using the Guangzhu ICR, although as trains don't stop at all stations, options for moving around Zhuhai are more limited than with buses. Fares start at ¥6 for second class, and ¥7 for first class: the journey from Zhuhai North to Zhuhai, for example, is ¥15.
Taking the tram from Haitianyizhan (海天驿站) to Shangzhongxiaozhen (上冲小镇) may be also a special experience.
By bike
Zhuhai's streets are mostly flat and the city has extensive bike lanes. Combine that with the attractive views and the fact that the city's attractions are pretty spread out, and you have a very good city for biking. Several competing bikeshare systems operate in Zhuhai; at least the blue ones are usable by foreigners if you have Alipay. In the denser areas of the city the bikes can be found all over, so unless you're going off the beaten path you're sure to find one if you walk for a few minutes.
By boat
phone: +86 756 2119915 (enquiries), +86 756 2222318 (complaints and suggestions)

address: Beidi Wharf, Lovers' Road Central Section, Xiangzhou District (香洲区情侣中路北堤码头)

The main terminal for ferries to Zhuhai's islands. Ferries are available to Wanshan Island (万山岛), Guishan Island (桂山岛), Wailingding Island (外伶仃岛), and Dong'ao Island (东澳岛). Ferries are sometimes cancelled due to bad weather conditions. The latest ferry times and prices can be found on Xiangzhou Port's official website. I

phone: +86 18578201185 (bookings)

address: Huandao Road West, Nanshui Town, Jinwan District (金湾区南水镇环岛西路)

Boats to Hebao Island (also known as Hope Island) depart from here. This wharf should not be confused with the wharf of the same name on the island itself.
To Dong'ao Island:
There are four ferries to Dong'ao Island per day, one of which makes the journey via Guishan Island. Standard cabin tickets are ¥85, first class cabin ticket are ¥105 and VIP cabin tickets are ¥125.
To Guishan Island:
There are five ferries to Guishan Island per day. Standard cabin tickets are ¥85, first class cabin ticket are ¥105 and VIP cabin tickets are ¥125.
To Hebao Island:
: There are usually five ferries to Hebao Island per day. The journey time is around 20-30 minutes. Return tickets cost ¥160, which includes the island access fee.
To Wailingding Island:
There are eight ferries to Wailingding Island per day, two of which makes the journey via Guishan Island. Standard cabin tickets are ¥120, first class cabin ticket are ¥145 and VIP cabin tickets are ¥170.
To Wanshan Island:
There are three ferries to Wanshan Island per day, including one direct ferry, as well as one ferry that goes via Dong'ao Island and one that goes via both Dong'ao Island and Guishan Island. Standard cabin tickets are ¥110, first class cabin ticket are ¥135 and VIP cabin tickets are ¥160.
See
Xiangzhou District
Museums and monuments
Fisher Girl statue

address: Lovers' Road

Legend has it that an angel descended to earth one day and fell in love with the beauty of the land. Reluctant to return, she turned herself into a fisher girl, weaving nets and searching for precious pearls to earn a living. In addition, she unselfishly used her knowledge and powers to heal villagers who were ill, and so was well loved by one and all. Soon she met a young fisherman named Hai Peng and they fell in love. Not long after, however, Hai Peng heard and believed malicious accusations, and demanded the fisher girl to give him her magical bracelets as proof of her affection. The fisher girl tearfully explained the origin of the bracelets. While she was still the daughter of the South Sea Dragon King, the eight bracelets were given to her by the eight palace mistresses, to guard her against the thought of abandoning immortality. She would die if she even removed one. Tragically, Hai Peng did not believe her story and turned to leave. The fisher girl, to prove her love for Hai Peng, removed her bracelets and died in his arms instantly. Hai Peng was filled with remorse and grief. His great sorrow moved the Jiu Zhou Huan Elder, who taught him the way to bring the fisher girl back to life. For this he had to travel to the Jiu Zhou Island to find the Resurrection Grass, which must then be fed with man's blood. After much difficulty, Hai Peng found the grass and grew it with his own blood. Days turned to years, and the grass was finally ready and used to revive the fisher girl. Henceforth, the fisher girl became a true mortal. On the day of their wedding, all the girls together found a gigantic, magical pearl at the seashore. In gratitude, the fisher girl presented this to the reverent Elder.

phone: +86 756 3818032

address: 388 Meihua East Road (梅华东路388号)

A museum displaying works by local artist Gu Yuan.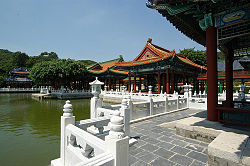 phone: +86 756 8610388

An imitation of the Yuanming Palace in Beijing that covers an area of 1.39 km². Inside the park there is also 80,000 m² of lake. Along the lake are many places to hire motor boats and pedelos. The park has many attractions from ancient emperors' artifacts and traditional Chinese architecture to cable cars and floating restaurants. It offers amazing photo opportunities with the mountains as a backdrop and there are many little pagodas to distract yourself with. In the evening, at the Northern side of the park, there are impressive stage shows depicting traditional Chinese dances and stories in a Broadway style musical presentation. This is a must-see. Also, in the Northern most part of the park there is a sea-battle re-enactment using real boats, explosions and also a troop of cavalry to add to the realism. The ticket prices for these shows are ¥85 for adults, ¥60 for persons aged over 65, and ¥60 for children with a height of 150cm or less who carry a student card. You also have the opportunity to dress in the Emperor's clothes and have your picture taken for ¥40, which is quite expensive. You are allowed to take the pictures with your own camera.

Zhuhai Museum

phone: +86 756 3324708

address: 191 Jingshan Road, Jida (吉大景山路191号)

A museum about the history of the Zhuhai region. The museum also hosts travelling exhibitions from other parts of China.
Historical sites
Former residence of Su Zhaozheng

address: 461 Baishi Street, Qi'ao Island 唐家湾镇淇澳白石街461号

Former home of early 20th-century communist activist Su Zhaozheng (1885–1929). The home has been turned into a museum with exhibits about the history of the area, Su's life, and his role in a major strike in Hong Kong. Unfortunately none of the information is in English. Don't miss the wall made of oyster shells and the various other well-preserved historic houses and structures in the neighborhood, including some old temples.

Martyrs Cemetery

phone: +86 756 2225097

address: 1149 Fenghuang Road (凤凰路1149号)

A memorial to the martyrs in the revolution in Zhuhai led by marshal Ye Jianying. It was transformed to a quiet place for citizens and tourists to relax and pay homage in the busy centre of the city now.

phone: +86 756 8635652, +86 756 8659577

address: 268 Lüyou Road, Qianshan (前山旅游路268号)

Built in 1886 and extended in 1891 under the orders of Emperor Guangxu, it was a memorial to praise Chen Fang, a consul of the Qing Empire. It was partly damaged during the Cultural Revolution, but not seriously. Chen Fang's former residence, which is just a few hundred metres east of the arches, can also be visited.
Parks and nature
address: Fuxiang Bay, Hengqin (横琴新区富祥湾)

One of China's most popular theme parks. Includes the largest oceanarium in the world.

Mangzhou Wetland Park

address: Qinhai North Road, Hengqin Island (横琴琴海北路)

Located on the tip of Hengqin Island, the park is an excellent alternative to the Chimelong Ocean Kingdom if you don't want to pay for its ticket because the park is free. It's a place to escape the noise of city, enjoy the sea wind and the flow of water on the pontoon.

Qi'ao Mangrove Forest Wetland Park

phone: +86 756 2239004

address: Qi'ao Island (淇澳岛)

A province-level wetland preserve, also a good place to enjoy the nature and watch birds.
Other sights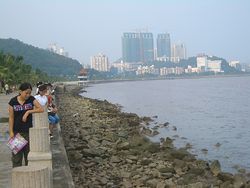 Lovers' RoadIt stretches along a big chunk of Zhuhai's eastern coastline, from near the border with Macau to well past the Fisher Girl statue. It's good for walking or biking, and offers a majestic view of the Macau skyline across the border, but the sea tends to be brown and muddy.

Zhuhai's many islandsOne of Zhuhai's nicknames is the city of a hundred islands (146 to be exact), and it has a number of islands that are accessible from ports by ferry boat (see the Districts Section for more information).
Doumen District
phone: +86 756-5103072

address: 2233 Xidi Road, Jing'an Town (井岸镇西堤路2233号)

A general museum with exhibits on the history of the district. The museum is also known as the Zhaozhen Museum, a name given to honour John C. Young (Rong Zhaozhen), a famous Chinese-American army colonel whose father was born in Doumen's Longtan Village.

Doumen Old Street

address: Dama Road, Nanmen Village, Doumen Town (斗门镇南门村大马路)

A historic precinct featuring an agglomeration of old commercial buildings, most of which were built between the late 19th and early 20th centuries when Doumen was an important trading post.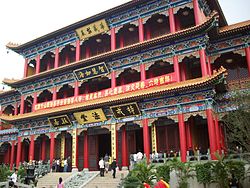 Jintai Buddhist Temple

phone: +86 756 5797083

address: Doumen Town (斗门镇)

Scenic temple built at the end of the Song Dynasty, over 1,000 years old and well worth a visit if you are in this area.
Do
Dreams Theater

Mysterious Island Theme Park

Ocean Hot Springs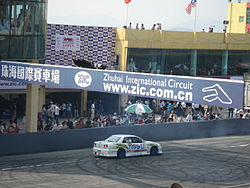 Zhuhai International CircuitHere you can watch and enjoy the atmosphere of international auto and motorcycle racing, including the FIA GT Championship, A1GP (World Cup of Motorsports), Asian Formula 3 Series, Asian Festival of Speed and ZIC's very own Pan Delta Super Racing Festival. It is also possible to take the ride of a lifetime by buckling up on board Asia's one-and-only 2-seater formula car and being driven by an ART Motorsports professional racing driver. Receive expert instruction and spend a half hour on the actual race course in a formula car for HK$1500. Enjoy the ride yourself, or with a group of friends in a full 30-minute session doing 2 to 3 laps each. You can also rent go karts and motorcycles for use on a separate track.

phone: +86 756 2221177

address: 129 Yuwan Road, Yeli Island (野狸岛渔湾路129号)

A shell-like theater which made itself a new symbol of Zhuhai. The shape is also originated from the legend of the Fisher Girl. It's the only theater located on an island in China.
Golf
There are several golf courses in the area. These are popular with Hong Kong players who come on weekends as they are cheaper and less crowded than those in
Hong Kong
. For more details see
Golf in China
. There is also a driving range in Jida. This is accessible via the #4 bus. Golf equipment is readily available and cheap in Zhuhai, but all
branded
clubs are knock-offs of varying qualities. There are several small golf shops in the underground shopping complex at the Macau border, several on Lianhua Lu (Lotus Road) in Gongbei, and two larger ones across the road from the driving range in Jida.
phone: +86 756 7631888

address: 2000 Jinwan Avenue, Jinwan District (金湾区金湾大道2000)

Features a 27-hole golf course designed by Scottish golf champion Colin Montgomerie. Accommodation is available on-site at the Golden Gulf Golf Hotel (珠海金湾高尔夫酒店).

phone: +86 756 3311673, +86 756 3311173, +86 756 3311674

address: Tangjiawan, Xiangzhou District (香洲区唐家湾)
Learn
Sun Yat-Sen University (中山大学, SYSU). The largest campus of this famous university in southern China is located in Tangjiawan, Zhuhai, consisting of 14 schools. About 9,000 students study here.
Jinan University (暨南大学, JNU). There's a delicate campus of Jinan University in Qianshan, Zhuhai, consisting of 7 schools and about 5,000 students.
Beijing Institute of Technology, Zhuhai (北京理工大学珠海学院, BITZH). A university academic affiliated college of BIT, consisting 13 academic schools with about 26,000 students.
Zhuhai College of Jilin University (吉林大学珠海学院). Consisting of 24 schools and about 30,000 students.
Buy
Gongbei
Always inspect the product before paying for it and leaving the shop. Also, note down where you bought the item. You will never get a refund, but Gongbei shop owners are surprisingly diligent about protecting their reputation, so they will more than likely exchange defective merchandise.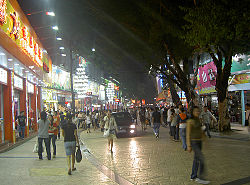 Lianhua RoadPedestrian-only street. The merchandise available here is similar to what you find in the underground shopping mall, primarily clothing and electronics. There is also a Bank Of China branch here with ATMs for foreign cards.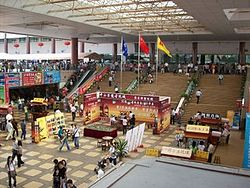 Underground shopping complexThis is a huge complex; the entire open concrete area in front of the border crossing has two floors of shops under it. There are several hundred shops, many with goods targeted at tourists, such as clothing and shoes, jade and other jewelery, handicrafts e.g. Tibetan accessories, and consumer electronics. There are also many CDs and DVDs for sale at cheap prices, although they are unlicensed copies. Also available in abundance are imitation watches with incredible resemblance to the real ones (e.g. Rolex, Breitling, Patek Philippe, Movado, and Omega). Even among these knock-offs, differences in grade can be seen for the same model in different shops. Whatever you buy here, always bargain and bargain hard. Mind your bags for pickpockets too.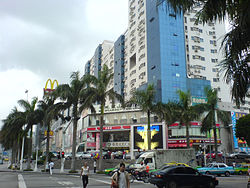 Yingbin RoadIt has several large shopping complexes with everything from cheap Chinese goods to trendy pricey international brands. On the left, there is Wanjia Department Store (万家百货 or formerly 万佳百货; Wànjiā Bǎihuò), which is the most recognizable landmark in Gongbei. Any local or taxi driver will know where it is. Slightly further up, there is also the Yingbin Plaza (迎宾广场; Yíngbīn Guǎngchǎng) on the right which has a McDonald's on the ground floor and a KFC right above it. Most of the shops here sell clothing.

Your Family Store

address: 152 Yuehua Road, Gongbei, Xiangzhou District (香洲区拱北粤华路152号)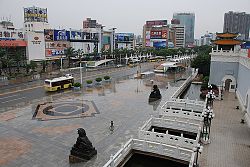 Jida
The main drag in
Jida
is Jingshan Road (景山路; Jǐngshānlù) and it has two blocks of nice department stores:
Tongluowan Shopping Mall

Zhuhai Jida Duty Free Shopping Mall

address: 220 Jingshan Road, Xiangzhou District (香洲区景山路220号)

Zhuhai Shopping Mall
Xiangzhou
Computers and electronicsTwo large buildings full of computer and electronics shops. This is the place to go in Zhuhai for anything computer or electronics related.

Xiangzhou Shopping Mall and Yangming PlazaHas plenty of shops, and is generally less touristy than Jida or Gongbei. Many locals shop here to buy their Chinese brand name clothing. The main street has the Japanese department (and grocery) store Jusco. There are also a number of other shops and several fairly large shopping complexes along the street north of Jusco.
Western groceries
To shop for imported groceries, including items such as cheese, chocolate, and milk, try
AEON

address: There are two AEON stores in Zhuhai, one at Yangming Plaza (扬名广场) on Fenghuang Road, one at Aoyuan Plaza (奥园广场) on Meijie Road

AEON (formerly Jusco and still called Jusco by many locals) is the place many Zhuhai expats go to buy groceries. Even though they seem to specialise in Japanese food, you can also find some decent western items at fair prices. More expensive than other supermarkets but carries a much wider range of products.

CarrefourThere are two Carrefour supermarkets. The one in Jida has western food available; the other one does not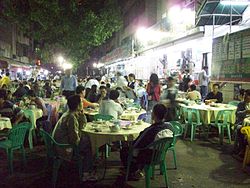 Eat
Cantonese cuisine is commonplace, but street food stalls and restaurants featuring food from all over China are also easily found. Seafood is a local specialty.
Budget
Street food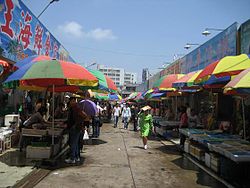 Gongbei SeafoodThere is a multitude of outdoor eating establishments with high quality seafood in Gongbei near the Macau border. Simply wandering around would probably work, but one large area with many such establishments is just Northwest of the border. Only a 5 minute walk from the border, any type of seafood can be had here (crab, oysters, prawns, large fish and the more exotic variety) as well as other non-seafood dishes that are just as good. They are authentic and much cheaper than anything you can find in the more pricey restaurants. Keep an eye out for the people cleaning large stacks of oysters.
Other tasty local grub in Gongbei can be found on any of the side streets off of Lianhua Lu (Lotus Road).
Jinding BarbequeBy far the largest outdoor street barbeque in Zhuhai. The BBQ is over 100 meters long, , with scores of proprietary stalls and tables (who vigorously compete against one another). Steam rises, motorcycles whiz by, and music blares from shops as dozens of proprietary stands serve up street specialties (such as spicy grilled squid tentacles) well into the night to a lively crowd seated at plastic tables and chairs. Meals are served on plastic bag covered plates and beer from the thinnest plastic cups in the world! Come here to experience regular Chinese street life, and leave full and satisfied.
Restaurants
Macanese Vegetarian Buffet

phone: +8615338151373

address: 2A, Level 2, Laimeili Womens' World, Xiangzhou District (香洲区来魅力女人世界2楼2A)

Buddhist vegetarian restaurant offering unlimited all you can eat vegetarian buffet including everything from cooked vegetarian Chinese dishes through cakes and pastries, cold dishes, noodle bar, fresh fruit, fresh real fruit juices, various teas, various soups, even vegetarian pizza! Tremendously popular and great value.
For a cheap and filling snack, look for the tiny noodle places run by Muslims.
Muslim RestaurantOne good one.
Mid-range
Western food
Azur Restaurant

phone: +86 756 8694868

address: Shop 1-04, Building 9, Midtown, 2055 Jiuzhou Avenue West, Xiangzhou District (香洲区九州大道西2055号富华里9栋1-04室)

Very good Mediterranean cuisine with a Croatian chef. The menu is quite small and constantly changes according to seasons and what's freshly available on the market. Most of the items on the menu are handmade, including bread, pastas, gnocchi etc. They also do excellent events with great musicians from all over the world. They are linked to the Hong Kong Jazz Festival, and occasionally bands that play in Hong Kong also play at Azur.
Cantonese
Jenny's Cafe

address: 10 Haibin Road North, Xiangzhou District (香洲区海滨北路10号)

A neat, cozy, jazz infused cafe serving mostly Chinese food but with an extensive and reasonably priced drinks menu that includes coffee, tea and some alcoholic drinks. (It's tucked back from the road, but easily seen due to the large signage around the door.)

May Flower Restaurant

phone: +86 756 3230000

address: 3F, Ridong Square, 49 Qinglü Middle Road, Xiangzhou District (香洲区情侣中路49号日东广场3楼; Xiāngzhōuqū Qínglǚzhōnglù Rìdōngguǎngchǎng)

Offers excellent seafood. As in many places in this area, you pick your fish from tanks. You may also pick your own vegetables and specify the cooking methods. This is not the kind of place to come if you like to pick things off a menu, but if you are willing to select your food while it is still swimming, it is a great choice. There is a large airplane attached to the front of the building.

Shishen Seafood City
Shishen Seafood City Gongbei Branch

phone: +86 756 8132108

address: 108 Gaosha Middle Street, Xiangzhou District (香洲区高沙中街108号; Xiāngzhōuqū Gāoshāzhōngjiē)

Shishen Seafood City Tangjia Branch

phone: +86 756 3611726

address: Gangwan Avenue, Xiangzhou District (香洲区港湾大道; Xiāngzhōuqū Gǎngwāndàdào)

In an interesting old building
Other Chinese
Food from other regions of China is also available. Hunan and Sichuan food is common.
Within walking distance north of Jusco on the main street of Xiangzhou, there are many restaurants:
Turn right at the first corner (KFC) for a big seafood restaurant and a good Sichuan restaurant.
Turn left at the seafood restaurant, and 20 meters along the side street will be an alley on your right with assorted cheap local restaurants.
At the end of the alley, turn left again for more of the same, including a good Muslim noodles place about half a block along on your right.
Back on the main street, turn left at the first pedestrian overpass for good Northeast China (Dongbei) food.
There is a fine Xinjiang restaurant on bus 4 route, one stop north of the Jida ferry port. That is part of a cluster of at least a dozen mid-range restaurants in a newly developed area.
Other Asian
Around the border shopping area, there are a number of good and reasonably priced Thai restaurants.
Pizza
There are several good pizza places, popular with the local expatriate community:
Amici Miei Authentic Italian Restaurant

address: 珠海市华伐世纪城

Truly authentic Italian cuisine, owned and operated by Italians, Amici Miei is the latest addition to Zhuhai's pizza scene.

Mr Pizza

phone: +86 756 3666885

address: Level 2, K-Box Houfang, Tangren Commercial Street, Tangjia Town (唐家镇唐人街商业街K-BOX后方2楼)

Imported wine is available here. The restaurant also has a small deli where you can buy cheese and other goodies. The first owner was an Englishman named Ken, but Mr. Pizza is now under new management.

Pizza Hut (Jida Branch)

address: Level 1, Zhuhai Duty Free Mall, 220 Jingshan Road, Xiangzhou District (香洲区景山路220号珠海免税商场1层)

Approximately half the cheese used in US Pizza Huts.

Portofino Ristorante Italiano

phone: +867568150111

address: 102 Building 9, Midtown, 2021 Jiuzhou Avenue West, Xiangzhou District (香洲区九洲大道西2021号富华里9栋102室)

A reliable source of good Italian food. Two beers on tap.

Uncle Mike's Pizza and Chicken

address: 10-105 Building 5, Tangren Street, 3399 Tangqi Road, Xiangzhou District (香洲区唐淇路3399号唐人街5栋105-10)

Great pizza and chicken is now accompanied by a partner Italian Restaurant and the Down Under Pub.
Pizza can also be found in other local restaurants, including a local chain called Pizza Coffee, but the pizza is not very appealing to Western tastes.
Splurge
Chinese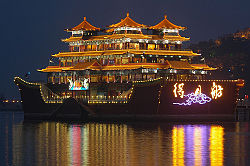 Deyuefang Seafood Restaurant

phone: +86 756 2251188

address: Inside Mingting Park, Yeli Island, Xiangzhou District (香洲区野狸岛名亭公园内; Xiāngzhōuqū Yělídǎo Míngtínggōngyuánnèi)

Large and popular high-end seafood place on an impressive looking boat in Xiangzhou harbour.
Pub food
The Old Chinese Junk

phone: +86 756 3319668

address: 5-401 Tangrenshangye Street, 3399 Tangqi Road, Tangjiawan District (唐家湾唐淇路3399号唐人商业街5栋401号; Tángjiāwān Tángqílù Tángrénshāngyèjiē

The Old Chinese Junk in Tangjia is a rooftop restaurant and pub run by an Englishman named Mike.
Japanese
There are several notable Japanese restaurants in Zhuhai:
Musashi

phone: +86 756 8330521

address: Shop A3023a, Level 3, Block A, Huafa Mall, 8 Zhuhai Avenue, Xiangzhou District (香洲区珠海大道8号华发商都A馆3层A3023a号铺)

Large upscale Japanese restaurant.

Sushi-Oh

phone: +86 756 2138009

address: Shop 4009, Level 4, Section 2, Yangming Plaza, 1066 Fenghuang Road South, Xiangzhou District (香洲区凤凰南路1066号扬名广场二期4楼L4009铺)

Good conveyor belt style sushi restaurant.
Other
Indian RestaurantThe name refers to the Native American Indian decor of the restaurant, not curries and nan bread. The specialty is high-priced steak that is no more than tolerable. However, you might consider going for the decor, which is American Plains Indian with a few pieces of Northwestern coastal art. The waitresses there wear fringed skirts with feathers in their hair.
Drink
Zhuhai is known for its nightlife due to its status as a tourist destination for Chinese nationals, and as a playground for Hong Kong, Macau, and Taiwan businessmen looking for female company. Whether it's enjoying Chinese street life, mixing it up with all walks of life on Walking Street, sipping cocktails on Bar Street, or hitting the wild electronic discos, Zhuhai has what you're looking for!
Lotus Road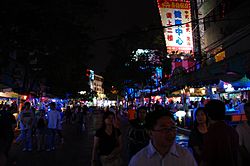 For a truly unique experience, have a beer or coffee at one of the couple dozen open-air bar booths along Linhua Road (莲花路;
Liánhuālù
; lit. Lotus Road; also known as Walking Street (步行街;
Bùxíngjiē
)). It is parallel to Yingbin Road and a block east of it, starting on the western side of Gongbei Bus Station, opposite the northeast exit from the underground shopping complex at the Macau border. By day, it is a busy pedestrians-only shopping street with numerous shops.
It transforms into a spectacular must-see atmosphere at night. There are many small outdoor bars, 3 or 4 meters square with a half-dozen stools on each side. In the middle is an open area for the bar girls. These girls earn commission on the drinks so their goal is to get you to buy as much beer as possible, partly by helping you put it back and often by winning at various games where the loser must drink. They are experts; do not expect to win. Also, do not expect to take one of them home; they are professional flirts, not prostitutes.
There are many streetwalkers in the area and offers from them are common, but prostitution is illegal in China. There are also beggars who offer to sing or shine your shoes, or present their pet monkey or simply point to their baby sadly.
There are two groups of outdoor bars with the one further south nearer the border emphasizing food (nothing special) and the one a little further north emphasizing drinks. There is a stretch of shops in between the two areas. Drinks are cheap (¥18 for a bottle of beer, fresh fruit juice or cup of coffee), and you get to meet all sorts of travelers, expats, Hong Kong and Macau residents coming over for shopping or cheaper entertainment, local wannabes, and working girls. Hanging out here is by far one of the most interesting things to do in Zhuhai. Use common sense late at night, as things can get pretty wild. Most stalls are open till 03:00 and a few stay open later for enthusiastic customers.
Bar Street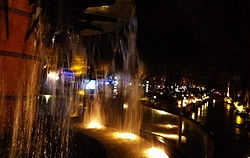 Bar Street (酒吧街; Jiǔbājiē), at around 300 meters long, is a well-established, modern strip of more upscale bars, some featuring live music. It is easily the first place newcomers to Zhuhai go to experience the energy and liveliness of life in Zhuhai after dark. This strip primarily caters to Chinese businessmen, Chinese yuppies, and moneyed or uninformed tourists. It is one block inland and a 20-minute walk from the Gongbei border. Follow the street with the clock tower until it becomes Bar Street.
No. 88 Bar

address: First Bar on Bar Street. 203-209 Shuiwan Road, Xiangzhou District (香洲区水湾路203-209号)

By far the most popular bar in Zhuhai is the no. 88 bar. It's on the corner and the first bar you see when you approach bar street. It's ¥380 for a dozen beers or ¥500 for a bottle of whiskey like Jack Daniel's or Chivas Regal. Beware of the bottle service though, you might get counterfeit alcohol and feel like crap afterwards. The best thing about this place is that most of the females that show up are customers themselves, as opposed to the other bars on bar street where most of the females work for the bar. open till 05:00.

Casa Pepe

phone: +86 18688182268

address: 215-217 Shuiwan Road, Xiangzhou District (香洲区水湾路215-217号)

Quiet place where you can sip red wine and have some fine dining. They have a private room in the back.

Cohiba

phone: +86 756 8892444

address: 203-209 Shuiwan Road (香洲区水湾路203-209号)

Older crowd with quiet outdoor seating and fireplace outside. Indoor seating with live singers and dancers. A nice break once in a while from the hardcore partying at Bar 88.

Hill Cocktail

address: Basement level, 223 Shuiwan Road, Xiangzhou District 香洲区水湾路223号负一层地窖

The only bar of its kind in Zhuhai where the bartenders actually mix cocktails according to specifications. For example a Long Island Ice Tea actually has 5 different kinds of alcohol in it. If you order this in other bars it's just a mix of lemon iced tea and vodka. Located in the basement of a hotel up the ramp from back street. It's a quiet setting - good for romancing a date you just met at the other clubs. The bar has another branch on the 19th floor of the Harbour View Hotel (怡景湾大酒店) in Jida.

La Bohemia

phone: +86 756 8896683

address: Level 1, Haiwan Haoyuan, 225 Shuiwan Road, Xiangzhou District (香洲区水湾路225号海湾豪苑1楼)

Aside from the hugely popular Friday night Latin dance parties, La Bohemia offers excellent Portuguese food, Mediterranean food and Asian dishes, as well as a large selection of fine wines and cocktails.
Zhuhai is heavily infested with
pickpockets
and bar street is among their favorite areas. Beware of pairs of well-dressed young men who quietly follow groups of revelers; typically they have razor blades for cutting open pockets,
Discos
Your best bet is to hit your bar of choice first and then inquire and explore. The discos tend to be large, intense, heavily into generic Chinese imitation euro-trance music, and popular with the young and rebellious. Cover charges may or may not apply, drinks are expensive by Chinese standards (generally ¥30 or more). Be careful with your possessions as these places are notorious for pickpockets.
There are numerous discos in Zhuhai that will allow you to continue your night into the morning. There are several in Gongbei within a short cab ride of either Bar Street or Walking Street:
Disco with lots of action.
There are several slightly smaller, dance type clubs located right on
Bar Street
.
The
Xiangzhou
and
Jida
areas also have popular discos.
Karaoke
For singing and drinking in private rooms with your friends, the following places charge per hour for the room and drinks are bought separately in the mini-supermarket within the facilities.
GongBei
Sea & Sand

phone: +86 756 8110111

address: Shop E16, 3 Huaping, Road, Xiawan, Xiangzhou District (香洲区夏湾华平路3号E16号铺)

Small karaoke lounge with private rooms on 2nd floor.
Jida
Xing Ge Hui Discount KTV

phone: +86 756 3227788

address: Level 1, West Wing Podium Building, 2 Jida Road, Xiangzhou District (香洲区吉大路2号国会西侧裙楼一楼)
There are a handful of karaoke establishments across the street from the McDonald's as well.
XiangZhou
There are many KTVs in Xiangzhou.
Jinding
Come to Jinding Barbeque for a unique dining experience and beers aplenty (see Eat Section) and then go to
Jinding Karaoke Bar Street
, an off-the-beaten-path strip of about 10 truly hole-in-the-wall karaoke bars located northeast of the main street in Jinding. Come here if you want to experience where real salt-of-the-earth working class Chinese people go to get their drinks and howl at high decibel levels into a microphone. It is not easily reached by walking if you do not know where you are going, but it is easy to flag down any of the locals and get a ride on their motorcycle (takes about 3 minutes and costs ¥5) or take any of the taxi vans parked all around the middle of the main street. Just motion that you want to drink and sing and point in a eastward direction from the center of the main street to convey the message. You will be popular here and may be encouraged to join someone's table and drink gratis as most locals will be surprised a foreigner would come here. Drink plenty of beer or bring earplugs or both to dull the volume of the howling.
Other options
The Blarney Stone
in the
Crowne Plaza Zhuhai City Center
(珠海粤财皇冠假日酒店) (listed in the Sleep section below) has quite a number of beers on tap. It is located in Jida. It features live western music performed by Filipino groups, among others, on some nights (usually weekends). The German beers on tap are rather expensive at ¥58 (+15%) but ¥23 (+15%) for a pint of draught Filipino San Miguel is rather a good deal, especially during happy hour (18:00-20:00 everyday) when it is buy one get one free. Although the Irish decor is pretty average, it is a large and comfortable venue for those who are looking for a tamer night out. One of the cheaper hotel bars in Zhuhai and enjoys a reasonable mix of clientèle for a bar in a western hotel.
phone: +86 756 3317888

address: Dragon Union Hotel, Building D, Tangjia Commercial Plaza, Shanfang Road, Tangjiawan, Xiangzhou District (香洲区唐家湾山房路唐家商业广场D栋聚龙酒店内)

a large entertainment venue inside the Dragon Union Hotel (聚龙酒店), occasionally featuring live, perhaps tacky, variety shows with acrobats, jugglers, rope climbers and singers, etc. Beer is expensive during shows. There is also a floor dedicated to massages. There are quite a few karaoke rooms available, complete with furniture, beds, food, drink, choice of girls, and optional adult entertainment options to fulfill your every need no matter how unusual. Known even in Hong Kong as a destination for those seeking an 'all inclusive' karaoke experience, it can be as tame or as involved as you want it to be.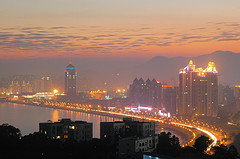 Sleep
Hotels in Zhuhai are reasonably priced. Travelers on tight budgets can opt for budget or midrange hotels. Most people choose to stay in
Gongbei
due to its proximity to attractions, nightlife, the Macau border, and its variety of conveniently located and reasonable hotels.
Jida
has primarily upscale hotels that business travelers sometimes opt for, which are usually conveniently located. Some are further away and require taking taxis or the bus. Further out,
Xiangzhou
also has a variety of options at different price ranges. The Northern districts of
Tangjia
and
Jinding
are further removed from the action of Zhuhai and offer very cheap hotels.
Budget
Most budget travelers opt for low end hotels, and there are a number of legitimate cheaper hotels in
Gongbei
with low prices between ¥160 and ¥230. Talking your way into
Chinese only
hotels may land you prices in the ¥120 to ¥150 range. Some hotels in
Xiangzhou
can be had for as little as ¥100 to ¥120, and in the Northern districts of
Tangjia
or
Jinding
hotels can be had for as low as ¥80 if you look around. However, for those who truly want rock bottom prices somewhere other than a hotel, there is budget lodging in the form of hostels, and private rooms offered by individuals or families.
Massage parlours
On the Walking Street in Gongbei there are at least three massage parlours. If you arrive after 21:00 you may pay ¥60 to ¥88 (depending on the room type) for two hours of traditional Chinese massage and they will let you sleep until mid-day without additional payment. In one establishment you may have the room to yourself. It has television and air-conditioning. In the others you share a room with four other guests.
Private rooms
Touts outside the Xiangzhou bus station offer accommodation, often in private apartments with the family on bunk beds in the living room so the bedrooms can earn money. ¥50 a night is usual. These are usually clean and have a TV in every room, but up several flights of stairs and with a squat toilet.
Hostels
Sunferia Inn

phone: +86 756 8534821

address: 15F Cuiweixizhu Building, Qianshan (前山翠微西珠大廈15層; Qiánshān Cuìwēixīzhūdàshà)

phone: +86 756 3332038, +86 756 3333838

address: 9 Shihua East Road, Jida
Gongbei hotels
There are at least a dozen hotels within short walking distance of the Gongbei border, mostly either cheap or mid-range (¥150-400) ones. You can bargain the prices down and normally they have
special prices
, around half the listed price. On the other hand, it is not uncommon to see a low price on the sign, but find when you go in that only more expensive rooms are available, sometimes this is true, sometimes it is an effort to coax you into a more expensive room. Adventurous single male travelers can scout around for rock bottom prices, and may be able to find a room for as little as ¥120-130 if they can talk these
Chinese only hotels
into accepting them, which is not always possible. Single female travelers, those with young families, or those fearing excessive street noise or noise from other guests should have no trouble landing a room for ¥175-275 (with an elevator, bellhop, restaurant, etc.), which anyone would feel more than comfortable staying in. Most of the hotels located around the border fall into this category. The available options are plentiful so looking around for a hotel that suits you may be the best plan.
7 Days Inn - Zhuhai Gongbei Port Pedestrian Street Branch

phone: +86 756 8867688

address: 138 Yuehua Road, Gongbei (拱北粤华路138号; Gǒngběi Yuèhuálù)

Dahai HotelClean rooms, television and air-conditioning. Some rooms even have bathtubs, which is unusual in China. This is a great place to stay, provided you do not mind the music from nearby bars which is audible until the wee hours, or the fact that some rooms are rented by the hour.

Friendship Hotel

phone: +86 756 8131818

address: 46 Youyi Road, Gongbei (拱北友谊路46号; Yǒuyìlù)

The hotel is at a convenient location for accessing the Macau border crossing, or Walking Street for commencing the night's activities. It is nothing amazing, but it is clean and safe, having typical hotel services.

Jin Sha Gong Guan

address: 20th floor of the building where COCO is located

The entire building has been converted to studio apartments, but the 20th floor is still available for rent on a nightly basis. They have Korean and Japanese style rooms.

Kapok Hotel

phone: +86 756 8804000

address: Inside Bianjian Courtyard, 2 Qiaoguang Road, Gongbei (拱北侨光路2号边检大院内; Gǒngběi Qiáoguānglù Biānjiǎndàyuànnèi)

Three-star hotel with small rooms and free internet. The cheapest rooms are very small and have no windows or internet. Business center, beauty salon, ticket office, karaoke, massage and sauna available. Coffee shop but no restaurant.
Other hotels
Home Inn (Zhuhai Jida)

phone: +86 756 3375111

address: 58-26 Shihua East Road, Jida (吉大石花東路58号26棟; Jídà Shíhuādōnglù)

Home Inn (Zhuhai Xiangzhou)

address: 158 Shishan Road, Xiangzhou (香洲狮山路158号; Xiāngzhōu Shīshānlù)

Jiahe Business Hotel

phone: +86 756 3897788

address: Cuizhu Industrial Zone, Qianshan, Xiangzhou (香洲前山翠珠工业区; Xiāngzhōu Qiánshān Cuìzhūgōngyèqū)

Large rooms with internet access against surcharge. Chinese restaurant.

Zhuhai State Grid Energy Hotel

phone: +86 7563363978

address: 12 Jianye Third Road, Jida (吉大建业三路12号; Jídà Jiànyèsānlù)

Rooms with internet access against surcharge. Business center, gift shop, ticket office, karaoke, billiard, fitness and outdoor swimming pool available. Chinese restaurant, bar and room service.
Mid-range
The Greenery Hotel

phone: +86 756 3333968

address: 45 Haibin South Road, Jida (吉大海滨南路45号; Jídà Hǎibīnnánlù)

Four-star hotel with rooms with free internet. Business center, currency exchange, gift shop, ticket office, karaoke, night club, table tennis, massage and sauna available. Chinese and Western restaurants as well as coffee shop.

Huaqiao Hotel

phone: +86 7568136688

address: 2106 Yingbin South Road, Gongbei 拱北迎宾南路2106号

Three-star hotel in Gongbei with Chinese-style buffet breakfast and free Wifi.

Junlin Hotel

phone: +86 756 2882222

address: 68 Cuiwei East Road, Xiangzhou (香洲翠微东路68号; Xiāngzhōu Cuìwēidōnglù)

Three-star hotel with rooms with free internet. Business center, currency exchange, gift shop, beauty salon, ticket office, karaoke, massage and sauna available. Chinese restaurant, coffee shop and bar.

Your Style Hotel

phone: +86 7562666555

address: 163 Hongshan Road, Xiangzhou (香洲红山路163号; Xiāngzhōu Hóngshānlù)

Three-star hotel with rooms with free internet. Business center, currency exchange, ticket office, fitness and virtual golf available. Chinese restaurant, coffee shop, bar and room service.

phone: +86 756 3366888

address: 62 Jingshan Road, Jida (吉大景山路62号; Jídà Jǐngshānlù)

Three-star hotel with rooms with free internet. Business center, gift shop, beauty salon, disco, karaoke and sauna available. Chinese restaurant, bar and tea house.
Splurge
Most higher end hotels are located in Jida or Gongbei. Gongbei situated hotels are more convenient for accessing the Macau border crossing, colorful nightlife and walking around and exploring. Jida locations vary, depending on the address of the hotel as some are essentially in Gongbei, while others are well north of that and are a taxi ride from the heart of the action.
Crowne Plaza Zhuhai City Center

phone: +86 756 3228888

address: 188 Jingshan Road, Jida (吉大景山路188号; Jídà Jǐngshānlù)

This hotel is western managed and has clean rooms. For American travelers, this is a high-end Holiday Inn, not the budget chain that is found in the U.S. Expect hefty prices for nicer accommodations. The rooms are large, if somewhat worn. On the executive floors you will find laundry, internet, local calling and breakfast are complimentary, making it quite attractive for business travelers. Nightly live music is available in the Irish bar downstairs. Floors two and three are owned by a separate Macanese company and offer massage, a large bar, karaoke and other entertainment. Not within walking distance of Gongbei nightlife, but if you are staying here you can afford the taxi fare.

phone: +86 756 8877998

address: 245 Shuiwan Road, Gongbei (拱北水湾路; Gǒngběi Shuǐwānlù)

Nice views of Macau overlooking the sea.

phone: +86 756 3322888

address: 47 Qinglü Middle Road, Jida (吉大情侣中路47号; Jídà Qínglǚzhōnglù)

Five-star hotel with fully furnished rooms with air-con, private bath with shower and tub, mini-bar, cable TV, and refrigerator. It has a good restaurant and is next to the only decent downtown beach.

Lexington Plaza

phone: +86 756 3220333

address: 33 Qinglü Middle Road, Jida (吉大情侣中路33号; Jídà Qínglǚzhōnglù)

phone: +86 756 8132222

address: 108 Gaosha Middle Street, Gongbei (拱北高沙中街108号; Gǒngběi Gāoshāzhōngjiē)

Not well kept, with uncomfortable beds and smelly lobby and lifts. The location, however, is very good.

phone: +86 756 8883388

address: 1150 Yuehai East Road, Gongbei (拱北粤海东路1150号; Gǒngběi Yuèhǎidōnglù)

Was the first 5-star hotel in Zhuhai but it has gotten old. Feels more like a 3½-star now.

phone: +86 756 3329988

address: 2 Jida Road, Qinglü Middle Road, Jida (吉大情侣中路吉大路2号; Jídà Qínglǚzhōnglù Jídàlù)

This large five-star hotel is very recognizable due to its unique quasi-romanesque dome and its location near the beach in Jida.

phone: +86 756 3333838

address: 9 Shihua East Road, Gongbei (拱北石花东路9号; Gǒngběi Shíhuādōnglù)

Considered a 5-star hotel, but by Western standards closer to 3 or 4.
Connect
The area code for Zhuhai is
0756
. When calling from overseas, dial +86 756 XXXX-XXXX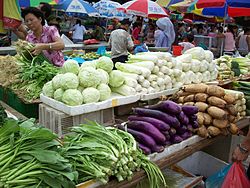 Stay safe
In general, Zhuhai is a safe and friendly city. However, it is heavily infested with pickpockets, especially in the crowded shopping areas in Gongbei and on buses. Using a razor to get a wallet out of a hip pocket on a bus is a favorite tactic.
In residential and collegial areas, street crimes are extremely rare. However, the police are also rarely seen patrolling at night. Go to the police station or police room to seek help in emergency.
Zhuhai is well known for its sex trade, but it is not Thailand. Prostitution is illegal in China, and if you are caught with a prostitute by the police, you may be sentenced to up to 15 days of security detention (administrative imprisonment without trial).
As is true everywhere in China, do not drink the tap water, avoid undercooked meats and watch out for counterfeit bills (especially 50s).
Unlike most cities in China, cars usually give way to pedestrians, even this may cause traffic jams, because drivers not yielding to pedestrians may be fined. But still be cautious about traffic. Also, most road junctions in Zhuhai do not have traffic lights, and largely rely on the signals of police officers.
It's illegal to drive motorcycles in Xiangzhou District.
Some tour guides will take you to shops that pay them commissions. Those shops are often overpriced, and the usual advice is to never let any local except a trusted friend take you to any tourist shop. One Zhuhai variant involves outrageously priced herbs from a Chinese medicine company called Bai Cao Tang (百草堂).
Go next
The bus to Guangzhou, the capital of Guangdong Province, costs ¥60 to ¥65, runs every half hour and takes 2½ hours from Gongbei or 1 hour 45 minutes from Tangjia. Allow an extra hour for the inevitable Guangzhou traffic jam. You can board one at the underground station in Gongbei to reach Garden Hotel in Guangzhou (花园酒店), or one from near the Gongbei border to get to the Provincial bus station (省汽车站) or Tianhe Dasha bus station (天河大厦). Additionally, it is possible to take the bus from Tangjia in northern Zhuhai to get to the Guangzhou airport, or Guangzhou proper.
Between Zhuhai and Guangzhou is the city of Zhongshan, the hometown of Sun Yat-sen, leader of the Xinhai Revolution and founder of China's first republic. There are frequent buses to Zhongshan from Zhuhai, particularly from bus stations in Gongbei. Moreover, trains on the Guangzhou-Zhuhai Intercity Railway usually include several stops in Zhongshan, though they sometimes bypass Zhongshan's main stations (Zhongshan Station and Zhongshan North Station) and stop only at suburban stations. If you plan on doing a day-trip just to see Sun Yat-sen's former residence, you should take the train to Nanlang Station (南朗站), then either take a taxi or catch a no. 12 bus. Sun Yat-sen's former residence is about 7km south of Nanlang Station.
Neighbouring Macau can be reached on foot or by car through the Gongbei border crossing, by ferry from Wanzai area (temporarily closed), or on foot or by car through the Lotus Bridge from Hengqin.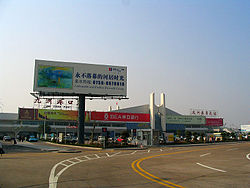 Hong Kong can be reached by a 1-hour ferry boat trip from Jiuzhou Port (九洲港). Bus #3 will take you to the ferry terminal. Ferries run regularly all day, with the last boat to Hong Kong leaving at 21:30.
Shenzhen can be reached by a 1-hour ferry boat trip from Jiuzhou Port (九洲港). You can also reach Shenzhen by high-speed train, which takes about 2 hours because the train must go via Guangzhou. The train terminates at Shenzhen North Station, whereas the ferry will take you to Shekou in the city's far southwest.
There are also buses to most nearby cities including Shenzhen (cheaper than the ferry), and overnight buses to Guilin, Xiamen, Zhanjiang and Beihai.
The Xiangzhou and Gongbei bus stations have overnight buses to Guilin or Yangshuo. These are fairly uncomfortable. Unlike most overnight buses, they have no on-board toilets, but they do make several stops during the 12-hour trip. A quicker and more comfortable option would be to take a high-speed train. The train from Zhuhai to Guilin takes just under 4 hours. You can also take the train to Yangshuo County, but keep in mind that Yangshuo Station is over 30km from Yangshuo Town.
Flying can either be accomplished by using the Zhuhai airport in the western Doumen district of the city, or taking the bus to the Guangzhou airport. Times vary for transportation depending on how far south in Zhuhai you are departing from. If leaving from Xiangzhou, Tangjia, or Jinding it is nearly as fast, and more perhaps more convenient, to get to the Guangzhou airport. If leaving from Gongbei or Jida the Zhuhai airport would be nearer.
There are remote check-ins for nearby airports in Zhuhai. For Guangzhou airport, the check-in is at Gongbei bus station, near the KFC. For Hong Kong and Shenzhen airports, you can check in at the ferry terminal, Jiuzhou Port.