Zipaquirá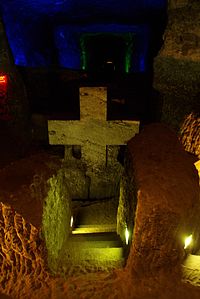 Zipaquirá
is a a cute colonial town of some 70,000 people about an hour north of
Bogotá
in the
Cundinamarca
province. It is Colombia's salt mining capital and is famous for its
Salt Cathedral
, constructed almost entirely of salt within a defunct mine.
Get in
By Tren Turistico de la Sabana
On
Sa Su and public holidays
a tourist train,
a few times per year
equipped with a steam engine, goes to Zipaquirá. Its route is
in Bogotá
in Bogotá
in Bogotá
in Bogotá
Train tickets are available from the stations only. Usually, the train is full, so it's wise to arrive some 75 minutes prior to departure.
On the train, food and beverages are available, plus entertainment from local music bands.
Also offered is a well-organised "Catedral Package", inclucing entrance and transport to the Catedral de Sal and back to Cajirá, where you can have a typical local lunch before boarding the train back to Bogotá.
By bus
From Bogota, take any "Transmilenio" bus bound for , the interchange between intra-city and inter-city buses. Once off the Transmilenio bus and onto the platform, look for turnstyle exit with the overhead label "Zipaquirá". Across turnstyle on other side of the same platform will be buses with signs "Zipa - Chía" on the wind shield (Chía being the mid way town). Buses depart about every 15 minutes, costing between COP$5,100 and COP$5,750; the journey takes 45 minutes without traffic, but more typically two hours. The bus will drop you off just south of .
To return to Bogota, find the bus station across the street from your drop off point. The return journey can take significantly longer due to afternoon traffic jam on the National Route 45A south of Chía.
Get around

If arriving by bus, get off on Carrera 15 then turn left at . Walking up Calle 4, at first you will see a large green pasture to your right this is the Parque La Esperanza. Once past the park, you will walk through a pedestrian-only lines with tons of shops and cafes. Where the pedestrian street ends, you will see the town's main historical plaza called . Enjoy the nice views, then turn left, walking up to get to the . After the entrance, follow the painted white line as it winds up the hill.
If you mind this 20-minute uphill walk, a taxi (COP$4,000) is an alternative.

See
Catedral de SalAn impressive cathedral hewn out of a salt mine.

Salt Museum

Town Cathedral

address: on the Main square

Admire the church interior with red bricks and white lime stone laid out in checkerboard pattern.

Archaeological Museum