Zurich
Zurich
(German:
Zürich
, Swiss German:
Züri
) is the largest city in
Switzerland
, with a population of some 400,000 in the city proper and 1.3 million in the metro area. Zurich is on Lake Zurich, where the lake meets the river Limmat, in the north of Switzerland. While Zurich is the country's financial centre and has the busiest airport,
Berne
is the Swiss capital.
Understand
Zurich is Switzerland's biggest city and a cultural center of German-speaking Switzerland. Despite it not being the administrative capital of any more than its
Kanton
, Zurich punches well above its weight in terms of major media and business headquarters and due to it being at the heart of Switzerland's excessively punctual and meticulously maintained
train network
and being home to Switzerland's most important airport, it is often the first part of Switzerland that visitors get to see. Zurich is close to some excellent skiing resorts and many people headed for the Swiss Alps don't spend much time in Zurich itself, but you'd be missing a lot if you don't stay in Zurich for a couple of days at least.

While Zurich can be expensive, it is also clean, efficient and blessed with a high standard of living, which together with the high wages, explains why people bear with the high prices. Zurich has drawn people from the rest of Switzerland for centuries, but in the 20th and 21st century it has also begun to draw both people and companies from outside Switzerland and in some cases even outside Europe. This means that you will hear a lot more languages than just Swiss German and the overall atmosphere is a lot more cosmopolitan than you might think.
Zurich is home to ETH Zurich, one of the world's leading technical universities, which has produced a number of Nobel laureates and numerous innovations and due to Switzerland's long history of neutrality it also houses headquarters of the likes of FIFA or the International Ice Hockey Federation. Zurich is also home to a number of large banking and insurance conglomerates that grew on the fabled Swiss banking secret and still enjoy good reputations in the financial sector.
History
The city's Latin name,
Turicum
, was used for a Roman customs station at the Limmat, which has some remnants today. The Alemanni, a Germanic tribe, settled in the 5th century.
While the Church used to rule early Medieval Zurich, the Guilds (
Zünfte
) took power in 1336, establishing Zurich as an autonomous republic. The Guilds have survived until today, though their role today is mostly ceremonial. Zurich became the fifth canton of the Swiss Confederacy in 1351, and has been its capital at times. However, Switzerland's famous neutrality and stability is a modern thing, as many battles have been fought in and around Zurich. The canton lost the Old Zürich War between 1440 and 1446 against the confederacy, and was re-admitted in 1450.
Ulrich Zwingli led the
Protestant Reformation
in Switzerland during the early 16th century. As the
Thirty Years War
ended in 1648, the Holy Roman Empire lost its grip on Switzerland, which has mostly been independent since then.
The 1830s and 40s saw a series of revolts and war, including the
Züriputsch
, a revolt of conservative landowners of the canton, against the city of Zurich, and the 1847 Sonderbund War. In 1848 Switzerland adopted a constitution, which established the country as a federal republic. While the government settled in Bern, many federal institutions, including the new Polytechnic University (ETH) have their seat in Zurich.
The Zurich Stock Exchange was founded in 1877, and the city rose as a financial centre in the 20th century, as Switzerland remained neutral in the World Wars, and could maintain lower taxes on capital than the European great powers. Even though Switzerland has opted out of NATO and the European Union, Zurich is today one of central Europe's most cosmopolitan cities.
Climate
Zurich has a four-season climate typical to
central Europe
. Temperature in winter is usually around zero degrees, which means that snow can linger or melt away. Summers are warm with temperature in the 20s and occasionally in the 30s. The nearby mountains are significantly colder than in the valley, with snow remaining well into spring.
Get in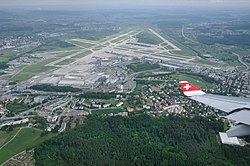 By plane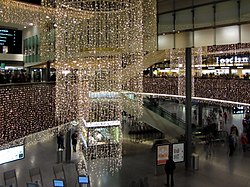 Zurich Airport
(
ZRH
) is Switzerland's largest and busiest airport, handling roughly 30 million passengers a year. It is actually in the community of Kloten and it is 10 minutes by train from the main station. The trains depart about every 10-15 minutes, during the day, but less frequently at earlier or later hours. A single ticket to the Hauptbahnhof (Main station, a.k.a. "Zürich HB") costs Fr. 6.80. Several bus lines connect to the airport and provide access to the Winterthur region near it. There is also tram 10 from Zurich terminating at the airport, a rather slow option, but it might be faster door to door for some destinations in Zurich.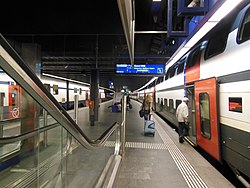 Most major airlines fly to Zurich but flag-carrier Swiss is still the biggest player at ZRH and offers the widest range of connections. Almost every large hotel in Zurich provides shuttle buses from the airport to your hotel. The stops for these buses are a short walk to the right from Terminal 1 arrivals.
Zurich Airport has high passenger costs due to several noise reduction and approach restrictions. Most no-frill airlines fly to Basel which is 1 hour away by train. EasyJet offer several flights to Germany, the UK and Southern Europe.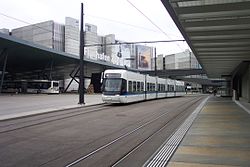 If you are travelling without a Schengen Visa to another destination in Europe (via Zurich airport) and if you are not a European citizen, you must not stay in Europe for longer than 90 days — even if your final destination would allow citizens of your country to stay for more than 90 days. Failure to do so will lead to very high fines (around €8100) should you try to leave Europe via Zurich airport .
Zurich Airport offers free WiFi for all guests for a maximum of two hours. A mobile phone capable of receiving texts in Switzerland is required. Travelers have to connect to the "ZurichAirport" network and register their cell phone number. The user will receive the access code via text message. After the free hour, there is a five-hour waiting period before you can access the next free hour.

By train
Regular trains to and from other Swiss and European cities leave from and arrive at Hauptbahnhof, the main train station, located in the city centre at the end of Bahnhofstrasse, with easy access to mass transit. The Zurich Hauptbahnhof (HB) is served by the local S-Bahn commuter trains, InterCity (IC and ICN) connections throughout Switzerland, Italy, Germany's IC and ICE, France's TGV Lyria and Austria's Railjet with some direct connections reaching destinations as far in Eastern Europe as Budapest. While Switzerland itself does not have many high speed lines, Zurich is connected to the high speed rail networks of neighboring countries. The once extensive sleeper train network has been cut down a lot in the 21st century, but there are still some ÖBB Nightjets connecting Austria and Germany with Zurich.
Domestic train tickets within Switzerland are available through the SBB Website though there are few early bird discounts. International tickets can sometimes be bought through the SBB as well, but often you can get better offers through the DB website (German) the SNCF website (France) or the websites of ÖBB and Trenitalia for Austria and Italy respectively. All adjacent railroads have (sometimes significant) discounts for early booking on international trains, so if you know your plans far in advance, by all means book early.
The train station and the connecting underground mall has shops, restaurants, and a grocery store which locals use when they need to do Sunday shopping, as it is not subject to the closing hours laws otherwise in force in the city. It also hosts a Christmas market and other events in the big entrance hall.
There are some 24-hour lockers in level B1 available for Fr. 6-9 per 24hr (maximum 3 days).
Just to the east of the train station on the Bahnhofbrücke bridge, there is a large Coop supermarket open Monday to Saturday till 22:00.

By car
The region around Zurich has probably the highest density of highways in the country, which makes it very convenient to a access. A1 goes past Zurich just north of the city, with two feeders into the city centre. A3 and A4 end just south of the city. The regional highways A51, A52 and A53 all also lead to Zurich. While this makes it that there are many ways to drive into the city from every direction, it also means that there is a lot of congestions, especially during morning and evening hours. Parking is also hard to get by at affordable rates, so it might nevertheless be faster and more convenient to travel by public transport.

By bus
By boat

It is possible to reach Zurich by boat on the lake from Rapperswil (2 hours) or Horgen (45 minutes). However, this is more of a leisure boat and only offers a couple of trips each day.

Get around
Public transport
Zurich is famous for its highly efficient, clean and safe public transport system, managed by the
Zürcher Verkehrsverbund
(ZVV) which covers the entire canton of Zurich as well as Rapperswil-Jona in the canton of St. Gallen and Pfäffikon SZ in the canton of Schwyz. The network includes trams, buses, S-Bahn (suburban trains), cable cars and boats. The size and complexity of the network may be daunting at first, but you will soon realize that there are dozens of ways to get from one place to another and following any of them will still be efficient.
Timetable information for Switzerland is available on
sbb.ch
or can be obtained using the SBB Mobile
iPhone
or
Android
App (requires a working internet connection). Or simply use
ZVV's own timetable app
; its advantage is that it also informs you about local disturbances or delays! You can also purchase ticket on
ZVV-Tickets app
. The free
Wemlin App on iPhone
and
on Android
gives you offline access to timetable information and network maps for the canton of Zurich area without internet connection and is therefore ideally for on the go usage in case you don't want to use data roaming.
The system is divided into numerous fare zones, with the city centre and innermost suburbs being in zone 110 and the outer suburbs located in other zones (Winterthur is in zone 120, for example), and the more zones you pass through, the more you'll have to pay for your journey. There are single tickets, day cards, monthly cards and annual cards. The monthly and annual cards are collectively referred to as
ZVV NetzPass
.
Tickets must be purchased from a ticket vending machine before boarding or from one of the ticket selling kiosks. The ticket vending machines are in German, English, French and Italian and offer almost all regular tickets available (not personal tickets though). You select the zones you wish to pass through upon buying the ticket, with a zone map on every machine as well as clear instructions coming to your aid, so feel free to choose! Once you've got your ticket it gives you access to all modes of transport.
If you're staying for a longer period, consider a monthly ZVV NetzPass, because even though there are no regular tickets valid for something between 1 day and a month, it takes only 10 "zone 110" day cards for a "zone 110" monthly card to be cheaper. When travelling in all zones, it takes only 8 day cards for the monthly card to be cheaper. A 24-hour ticket for zone 110 costs just the same as two single rides.
If you don't mind starting your travels after 09:00, the "ZVV-9-UhrPass" is the best option. It is available as daily, monthly and annual cards, and will save you a lot of money compared to regular similarities, especially given that the 09:00 rule does not apply on weekends.
There are also so-called Z-passes, which can be used not only in Zurich, but also in one of the neighbouring cantons (Aargau, Schaffhausen, Schwyz, Zug, St. Gallen or Thurgau); however, only one additional canton is possible, so if you're not going to one neighbouring canton more often than the others you are probably better off with just a normal all zones Zurich monthly card and buying single ticket from the last valid station to your final destination. The Z-pass system also has its zones, even in the neighbouring cantons. It is only available as monthly and annual cards and can not be bought from ticket vending machines.
For all details regarding fares, see the ZVV home page linked to above.
The
Swiss Travel Pass
(not to be confused with the SwissPass) is valid on all public transport in Zurich and, if you are a tourist visiting most of Switzerland, this may be your best way to saving money and time spent trying to figure out zones, routes, and fare options. Eurail passes are valid only on the S-Bahn and boats. Interrail passes are valid on the S-Bahn (although the ZVV website claims a "reduction" for other routes for Interrail holders). Nevertheless, you may find you don't need the trams and buses if you don't mind walking around a little.
By tram and bus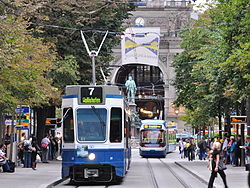 Several tram lines, trolleybuses and buses cover the city at street level. Like all other public transport in Zurich, you must purchase and validate tickets
before
boarding, or risk a fine if they decide to spot check. You can find a timetable at every stop which is usually accurate to the minute, however delays do occur due to heavy traffic, rerouting, or other factors.
By rail
The 'S-Bahn' is Zurich's convenient and fast suburban rail system which covers nearly all suburbs of Zurich and beyond. Zurich's S-Bahn system provides convenient and fast service throughout the region. All lines except the rural ones pass through the Hauptbahnhof. The ZVV offers directions for a series of excursions on the S-Bahn.
You must have a validated ticket before you board. If you do not have a ticket you will be liable for an on-the-spot fine of Fr. 100.
By boat
There are two types of boat-based public transport operated in Zurich: river buses and lake boats. The river boats operate in the summer months only and the lake boats operate on a much reduced schedule during the winter.
The river buses operate between the Landesmuseum (near the Hauptbahnhof) along the river Limmat and out in the Zürichsee (Lake Zürich) to Tiefenbrunnen. There are several stops along the Limmat.
The
Zürichsee Schifffahrtsgesellschaft
(ZSG) operates lake boats (including two historic restored steam ships) which leave from Burkliplatz (at the end of Bahnhofstrasse). The ZSG's website provides information on destinations and ships. The ZSG offers a variety of tourist-oriented trips (including Jazz Brunch), and a popular trip is to Rapperswil at the south end of the Zürichsee. The town has a beautiful castle overlooking the lake surrounded by a medieval town.
On foot
The main train station, old town and the lake promenade and all nearby tourist attractions are easily walkable. You may find that you don't need transport for most of your tourist needs once you get into the city.
By bike
Zurich is generally easy to get around by bicycle. There are bike lanes marked out in most parts of the city and if you don't mind the hills, a bike might be a fast and cheap alternative to public transport. The city has an
online map service
, which can calculate routes for biking and also shows locations of bike parking and pumps. Many of the major intersections don't have bike lanes due to space constraints, but it is generally possible to avoid those. Note that cycling on the pavement is not allowed. Cyclist are commonly fined for cycling against the traffic or ignoring traffic lights.
Züri rollt
offers free bike "rental" around the city. To get a free bike, you have to register with your I.D. or passport and pay a refundable deposit of Fr. 20. There are seven stations. Two of them are located at the main station ( and ) and are operated year round. The rest are operated only from April to October. Two of them are located near the old town at and at . The opening hours vary by station, but most of them are operated daily from 09:00-21:30.
O-Bike is a Chinese start-up bike sharing service that is new in town. It's a free floating system with its bikes parked randomly all over the city. To unlock you need their app and a deposit of Fr. 130. After it lets you rent bikes for Fr. 1.50 per half hour.
By car
Driving in Zurich is possible but it is painful as the city centre is not easy to navigate by car. It's cheaper and more convenient to park outside the city and take a train.
By taxi
The taxis in Zurich are very expensive compared to New York, London and other major cities. Most of the taxi drivers are unfriendly and uncommunicative. Better travel by tram, bus or S-bahn. Uber has gained popularity in Zurich but recently stopped their UberX service and now offers only the regular and UberBlack service.
Talk
For formal speech and writing, German-speaking Swiss use Swiss Standard German (Schweizer Hochdeutsch), which is very similar to standard German. The Zurich dialect (Züritüütsch) is dominant among the Swiss German (Schweizerdeutsch) dialects, and is difficult to understand for non-Swiss.
English is widely spoken, at least among the young and businesspeople.

See
Most of the interesting sights are in the old town around the river and lakefront.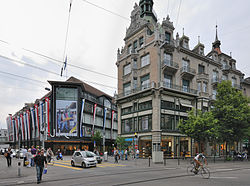 BahnhofstrasseOne of the busiest and best-known shopping streets in the world. Highly refined. Certainly a must-see for every tourist in Zurich!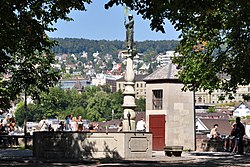 LindenhofThe hill in the heart of the old town. A beautiful view of the city and one time location of a Roman fort.

Lake PromenadeEspecially during summer, the lake is a beautiful place to spend the evening or the weekend. Starting from Bellevue, the boardwalk goes for about three kilometers along the lake towards Tiefenbrunnen. About halfway from Bellevue there is a meadow where you will find thousands of people on a sunny day.

address: Zwingliplatz

Old Romanesque church, symbol of reformed Zurich, where reformer Huldrych Zwingli was appointed the people's priest in 1519. Go up the tower for a great view of Zurich, though the stairs can be quite small and steep.

address: Kämbelgasse 2

Old Gothic church (former convent) with window paintings made by Marc Chagall. No photos or videos allowed inside.

SchanzengrabenA small canal that used to be part of the city fortifications between Limmat and Sihl. From the main station, go to Gessnerallee, find the stairways down to the tiny creek, and walk all the way to the lake.

LangstrasseRed light district of Zurich, with more drug dealers and police than usual, but interesting because even this most notorious spot in Switzerland is so clean and safe. The area is the most overtly multicultural spot of the town. In recent years, ateliers and stylish bars start to coexist side by side to the about 15 strip clubs.

Friedhof Flunterncemetery with lots of famous people most notably James Joyce who lived in Zurich for quite some time, the writer Elias Canetti and a few nobel price winners are also buried there

phone: +41 44 254 25 00

address: Zürichbergstrasse 221

With the new Masoala Rainforest Hall, the Zoo is really worth a visit!

phone: +41 44 380 31 51

address: Bellerivestrasse 138

This small but beautiful Chinese garden was offered to the city of Zurich by the Chinese city of Kunming as symbol of gratitude after Zurich helped Kunming with technical knowledge.

NiederdorfThe old town offers beautiful alleys, restaurants and shopping mainly aimed at younger consumers. In the evenings, people visit the Niederdorf's many bars.

Zurich WestThis modern quarter used to be an industrial one, but modern urban developments made it into a centre of vibrant night life.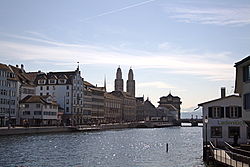 Museums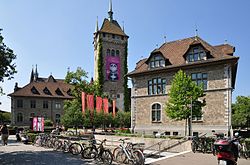 phone: +41 44 218 65 11

address: Museumstrasse 2

This is the place to go if you want to learn more about the history of Switzerland. There are permanent exhibitions on history, archaeology and art. Changing temporary exhibitions usually also turn around Swiss topics.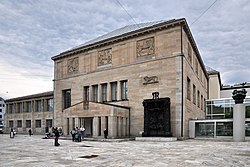 Do
Take the

address: Central 1

A 19th-century funicular, up the steep hill for a fine view. Starts at tram station Central and goes up to the ETH. Nice terrace up there. During the week, the student cafeteria below the terrace is also open to the public.

Oberer/Unterer LettenIf you go to Zurich during summer take your swimwear with you. The clean river at both the public river baths "Oberer Letten" (mainly youngsters) and "Unterer Letten" (also families) is used by the locals to cool down after hot days. Jump in upstream and the river will carry you down. Right in the middle of the town there is also a wooden floating bath for women only Frauenbad Stadthausquai at the start of the Limmat. Showers and free lockers are provided but you need to bring your own lock.

Go skiing by train — Buy a snow'n'rail ticket (train & skipass) at the Hauptbahnhof during winter months, train out in morning, back in evening. Flumserberg is the closest large ski-resort, popular with people from Zurich, with a good range of runs for beginners and intermediates. Retreat to the right side of the resort if the rest gets busy.
Take a

trip on the ZürichseeWith one of the two old steam ships. There are a few different routes you can choose from, which will vary mainly in the distance. Journeys usually start from Bürkliplatz. Steam ships operate between April and mid-October.

Rent a small rowboat or pedalo.
Take a

address: Landesmuseum Pier

Offers views of the old town and Lake Zurich. Operates between April and October.
Go up

UetlibergA hill overlooking Zurich. You can hike up, or take a train from the "SZU" part of the main station. Enjoy the 360-degree view from a tall viewing tower (not for vertigo sufferers!) This is also the Start of the Planetenweg (planetary walk), a 12-km (8-mile) walk along the ridge with models of the planets along the way. These are scaled down in true proportion to the solar system. To look at Zurich from the other hills, go to the Irchel (Tram station Milchbuck) or Käferberg (Bucheggplatz, walk up the hill and keep right of the forest).

Watch football ie soccer: the city has two teams playing in the Super League, the top tier of Swiss football. Both FC Zürich and Grasshoppers or GC Zürich play at Letzigrund, capacity 26,000, at 500 Badenerstrasse, 1 km west of the main railway station.
Go club-hopping — Zurich has proportionately the largest number of clubs per capita in Europe - take a look at Usgang.ch for up-to-date listings.
The Grossmünster sometimes has organ concerts in the evenings. Check the front door for notices.
Events
Street ParadeThe biggest open air techno rave in Europe. It happens one day each year on the second Saturday of August, during which trucks which function as mobile soundsystems ("Love mobiles") start driving along the lake side, starting from the east at Utoquai and ending at the west at Hafen Enge. Every year this event attracts nearly a million visitors who dance in the streets to the music which you can hear from anywhere in the city. After the Street Parade the party doesn't stop, there are open air parties along the route until midnight and club parties at various locations in town until late the next day, to keep the party going. Don't be surprised if the city's cleanliness isn't up to its usual standard the next day. Check out Lethargy festival that happens during the same weekend if you're into less commercial electronic music.

Swiss national day1st of August — Celebrations are carried out in many cities in the evenings and fireworks are launched at night. Watch them over the lake, or if you're experienced with safely launching fireworks yourself, you can buy them in the days leading up to the national holiday and have fun. The display over the Rheinfall, one hour away by S-Bahn, is also extremely popular.

SechseläutenAround mid-April, the guilds of Zurich celebrate their traditional spring festival with the burning of the snow man (Böögg). A procession of several hundreds of people with historical guild costumes and horses takes place in the centre of the town.

Caliente FestivalThe largest latin festival in Europe. Held every year in early July. Try all types of Latin American food and listen to samba, merengue & co. Huge crowds.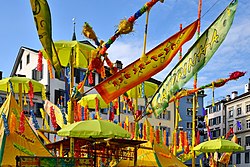 Züri FäschtA weekend festival celebrating Zurich, which occurs every 3 years (last held 1-3 July 2016, next 2019). It is visited by around 2 million people.

phone: +41 (900) 320 320

address: Landiwiese

A festival for the performing arts. Held along the lake on the Landiwiese near Rote Fabrik and features a number of free performances. Usually in August.
Shows and theaters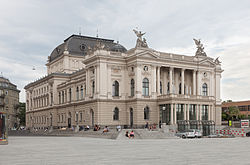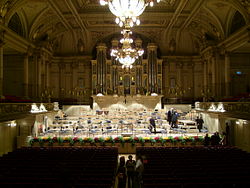 phone: +41 (44) 206 34 34

address: Zahnradstrasse 22, 8005 Zürich

During the renovation of the Tonhalle concert house the internationally reknown classical orchestra, the Tonhalle Orchester Zürich, plays at the intermediately built Tonhalle Maag concert hall. From season 2019/20, Paavo Järvi leads the orchestra.
phone: +41 (44) 250 55 00

address: Gottfried-Keller Strasse 7

Frequently changing arthouse movies; students get a discount.
Buy
Shopping districts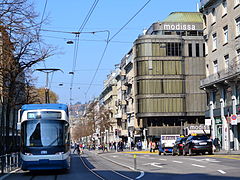 For shopping in Zurich there are three different areas in the centre:
BahnhofstrasseRuns from the Zürich Train Main station "Hauptbahnhof" right down to the lake. Bahnhofsstrasse is famous for being one of the most exclusive and expensive shopping streets in the world. Here you can get anything from diamond rings to chocolate to fur coats. Globus and Jelmoli are two fiercely competitive department stores, both of which carry items from many high-end brands.

NiederdorfThe Old Part of Zurich which expands from "Bellevue" by the Lake right to "Central" which is just over the river from the train station. The Niederdorf is more for young people. Aside from a lot of fast food places you will find a lot of trendy clothes stores here.

LöwenstrasseRuns west of Bahnhofstrasse from the main train station, has shops selling everyday items and a large branch of Migros, a department store chain.
Swiss clocks and watches
You may be disappointed to know that most of the cheap watches and clocks in Switzerland are imported from China and Japan for their cheap quartz movements (including most of the wall clocks and alarm clocks sold at department stores, for example). Don't purchase a "Migros Budget" clock for Fr. 8 thinking it is a Swiss clock! Nevertheless, real Swiss-made clocks are still well known for their quality and reliability, and intricate mechanics. The following are true Swiss-made watches:
Swatch, possibly your best bet for a "cheap" Swiss watch (Fr. 40-100) and perhaps better suited for the younger generation. Available in their stores on Bahnhofstrasse and various other locations, or in department stores.
M-Watch, based on both Mondaine and Migros and available in Migros Electronics stores such as the one on the 2nd floor of the Lowenplatz location. Also relatively inexpensive (Fr. 40-100). Do not confuse this with "M-Budget" which is an imported cheap watch.
Mondaine is known for their use of the famous SBB railway clock face. You can buy a replica of the SBB clock as a watch or a wall clock in most major railway stations, among other locations. However, most of them do not replicate the hallmark smooth movement of the second hand for 58.5 seconds followed by the 1.5-second pause that is characteristic of real SBB railway clocks, but they do replicate the clock face. They are quartz, and the price may seem a little inflated to you (Fr. 130-180). The vast majority of SBB railway clocks are produced by Mobatime (Moser-Baer AG), not Mondaine, even though Mondaine's name appears on some of the larger clocks such as the Treffpunkt in Zurich HB. Mondaine's wall and desk clocks, however, are only of "Swiss design" and are manufactured in China and Taiwan.
Mid-range brands (Fr. 100-500) can be found at clock and watch stores throughout the city. Just walk in and have a look if you're interested.
Upper-end watches and clocks, such as Rolex, are also sold, but you should probably do more research into them than you can find here. If you just want to stare at some of the most expensive watches for sale, take a look at the Bucherer store window at Bahnhofstrasse and see what a Fr. 25,000 watch looks like.
Swiss chocolate
Brands
Frey is not as well known abroad as other Swiss brands, but with a market share of roughly 35%, it is the most popular brand in Switzerland. It mostly produces for the Migros supermarket chain and is known as good quality chocolate at a cheap price. A big share of the production is also exported, mostly however under store brand labels for chains such as Marks & Spencer, Loblaw, Tesco, Coles. The factory is in Aarau (about 1 hour by train and bus), where there is also a visitor centre.
Lindt is available at the Coop and other supermarkets besides Migros for Fr. 2-2.50, but Lindt chocolates are also sold at the Lindt & Sprungli Chocolate Factory Shop, which is accessible by taking the S-Bahn S8 to Kilchberg (12 min) and then bus 165 to the stop "Lindt & Sprüngli" (2-3 min). Hours are limited (M-F 09:00–17:00). The factory store prices are somewhat lower than supermarket prices (on the order of 10-20%), but there are some sale items, including factory rejects (for underweight chocolates, improper packaging, or filling showing through) that are sold for roughly half-price. The Lindt factory used to offer tours and free samples, but this is no longer the case.
Chocolats Halba belongs to Coop Coop_(Switzerland)|Coop Coop_(Switzerland)|Coop and produces all own-brand chocolates for the retailer (e.g. Naturaplan, Qualité & Prix, Prix Garantie, Karma). Chocolats Halba also produces for customers abroad - including in Germany, France, the USA, Canada, New Zealand and China. Chocolats Halba specialises in sustainable chocolate. Overproductions are sold in the outlet shop, the Schoggihüsli, located in Hinwil (Zürichstrasse 55, 8340 Hinwil). The offer is seasonally adapted and low-priced. It includes, for example, broken chocolate in a 1 kilo bag for 5-8 francs. In addition, there are also export articles that cannot be bought anywhere else in Switzerland.
Läderach produces their signature "fresh chocolate" as well as confectioneries. They sell their products in a chain of stores in Switzerland. Multiple stores are located at the Zurich main station, and another one is located right at the entrance of Bahnhofstrasse.
The larger Coop supermarkets carry many brands, including
Lindt
,
Camille Bloch
,
Goldkenn
, and others, including all sorts of alcohol-filled chocolates.
Confectioneries
Teuscher— An upscale confiserie that specializes in truffles. There are three stores in Zürich.
Teuscher

phone: +41 44 211 13 90

address: Bahnhofstrasse 46

Teuscher

phone: +41 44 211 5153

address: Storchengasse 9

Teuscher

phone: +41 44 211 5153

address: Schweizergasse 11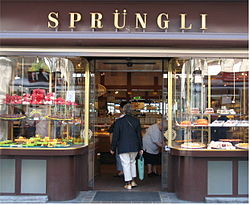 Sprüngli — A Zurich institution that offers a variety of sweet and savory goodies including a wide variety of chocolates, from handmade truffles to special chocolate bars. There are locations throughout the city, including Bahnhofstrasse and inside Zurich HB. Some specialities include the Luxemburgerli, a sort of soft macaroon resembling a hamburger in looks but is actually completely pastry and cream, and comes in a variety of flavors; the Truffe du Jour, a chocolate truffle that is made daily from raw cream and is meant to be consumed immediately; and the extraordinary Grand Cru Sauvage truffle, made from wild cacao beans from Bolivia. Most items are rather pricey but worth it. The flagship store on the Paradeplatz is a very popular spot for breakfast, lunch and afternoon tea. Try their berry-filled muesli, it's like no other muesli you've ever had. There are two handy stores at the Kloten airport for last-minute gifts to bring home.

St. Jakobs ConfiserieBadenerstrasse 41. The background organisation, Behindertenwerk St. Jacob, aims at providing jobs for disabled people.
Swiss handcrafts
phone: +41 44 222 19 55

address: Uraniastr 1

Also branches at the Bahnhofstrasse 2 and the airport. Quality Swiss handicrafts and other Swiss-made products presented in a gallery-like setting. You won't find many cuckoo clocks and the like here (cuckoo clocks are not really Swiss, they are from the Black Forest (Schwarzwald) in Germany!), the emphasis is on real traditional crafts and the work of modern craftspeople. You will find things like sleek modern hand-blown glassware and beautiful hand-carved wooden items from the Appenzell region. A worthwhile visit even if you just browse.
Swiss army knives
Coop City in Bahnhofstrasse sells the Victorinox line at uninflated prices, although you won't get additional bells and whistles like customized faceplates or engraving. Many other department stores also carry them.
Any cutlery shop will probably carry both Victorinox and Wenger lines of products. However, do make sure they are not inflating the price. For example, a SwissChamp (possibly the most popular model) should be retailed around Fr. 78.
Markets
Flohmarkt Bürkliplatz (Fleamarket)

address: Bürkliplatz

Fairly relaxed yet large flea market with many interesting stalls.

Flohmarkt Kanzlei (Fleamarket)

address: Helvetiaplatz

A big flea market that hosts up to 400 stalls on busy days.
Other
There is an English language bookstore at the intersection of Bahnhofstrasse and Rennweg.

phone: +41 44 204 99 99

A good old fashioned shopping mall, which is a 5-minute S-Bahn ride away from the main station. It comprises some 100,000 m² of rental space with a range of facilities, such as restaurants, a shopping center, a multiplex cinema, entertainment, health and fitness/wellness area, nightclub, a Four Points hotel and a chapel.
Eat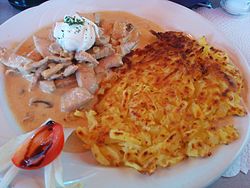 The quintessential Zürich dish is
Zürcher Geschnetzeltes
(Swiss-German:
Zürigschnätzlets
), sliced veal in a cream and wine sauce. Various kinds of grilled
wurst
(sausages) are also popular. These are most often accompanied by boiled potatoes,
rösti
, a Swiss potato pancake (grated potato, formed into a pancake then pan fried until crisp in butter or oil similar to hash browns) or
chnöpfli
, in German sometimes called
Spätzle
(small noodle dumplings).
Veal is still very popular, though the use of turkey and other meats as a substitute is growing.
While
fondue
(melted cheese in a central pot, dip bread into it) and
Raclette
(cheese melted in small portions, served with potatoes and pickles) are not really local to Zürich (they come from the Western Switzerland) they are commonly available at restaurants aimed at tourists. Swiss people usually eat those dishes at home and only during winter.
The
bread
available in Zürich is generally delicious. There are many varieties, and your best bet is to go to a bakery or a supermarket in the morning or just after work hours, when most people are doing their shopping and bread is coming out fresh.
Try grilled
bratwurst
from street stands, served with a large crusty roll of sourdough bread and mustard, or sandwiches made with fresh baked
bretzeln
(large, soft pretzels). A typically Swiss bread is the
zopf
, a braided soft bread that is commonly served on Sundays (the other name for it is
Sonntagszopf
).
For breakfast, try a bowl of
müesli
, which was invented as a health food in Switzerland. The Sprüngli confectionery store tea rooms serve a deluxe version of this fiber-filled cereal with whole milk, crushed berries and cream.
There are a huge variety of
cheeses
available at the supermarkets, specialty stores and markets, as well as all kinds of
hams
and
dried sausages
. Dairy products are generally delicious, especially the
butter
. Do not miss the supermarkets! You should take a thorough look through Migros or Coop and maybe even assemble your own lunch or dinner some time. Even the cheap, budget prepackaged desserts in the supermarket exceed the quality of what you may be used to.
For those with a sweet tooth, there's a huge variety of
chocolates
to enjoy, from the cheapest chocolate bar to individually handmade truffles. (See the Shopping section above). The chocolate bar displays at the supermarkets will overwhelm you! Also enjoy
pastries
and
cakes
from the various
Konditorei
scattered around town. In pastry shops, you can also find special pastry from Zurich: The most famous of them probably is
Tirggel
, a rather hard pastry made of flour and honey. Although traditionally made and eaten during the Winter holidays, many pastry shops (including larger supermarkets) sell them throughout the year. Often, they've got sights of Zurich printed on the top, can be stored for months and thus make up a pretty good and cheap souvenir. Another famous type of pastry are
Luxemburgerli
exclusively sold by the confectionery chain of Sprüngli (part of the famous chocolatier Lindt & Sprüngli). A typical cake is the
Mandelfisch
, an almond cake shaped like a fish.
Like most European cities, Zürich abounds with cafés where you can enjoy a leisurely cup of coffee, glass of wine or other beverage, and watch the world go by.
There are many international dining options available too. The current hot trend seems to be pan-Asian noodle, rice, and sushi places. However, due to the far distance to the sea and the lack of original, well-trained Chinese/Japanese cooks, the quality cannot live up to that of the original countries. Instead, the Italian cuisine holds the highest popularity among the foreign restaurants. They can be found throughout the city and are relatively cheap. Turkish fast food restaurants are also a delicious, cheap option.
Vegetarian food is easy to find throughout the city. Vegans may have a little trouble because cheese is used generously in most food, but should be fine living off supermarkets at the very least.
Hiltl
, the first vegetarian-only restaurant in Europe, is also worth a visit. You choose from the buffet, where your meal is priced by weight or from a variety of à la carte menus, which are a bit more pricey, but include vegetarian/vegan versions of popular Swiss meals like Züri-Gschnätzlets or Beef Stroganoff amongst Indian food and classic vegetarian plates. Another vegan friendly restaurant is "Bona Dea", which is located directly at Zurich Mainstation.
Budget
phone: +41 44 260 96 69

address: Seeanlaga Utoquai

Part of the Restaurant Pumpstation is located direct at the lake promenade (south of Banhof Stadelhofen). From April–October, serves fresh grilled sausages, ribs, and chicken for about Fr. 6-10.

Lee's take-away

address: Preyergasse 8

Stand-up place serving excellent large portions of Asian food. Special student dishes under Fr. 10

phone: +41 44 261 01 17

address: Limmatquai 16

Pizzas and pastas in a relaxed setting. Check website for more locations.

address: Ankerstrasse 110

Offers delicious Thai dishes to budget prices. Great pit-stop in a Langstrasse pub crawl.

address: Langstrasse 103

A typical Swiss restaurant with good food and cold beer. It is located in the Red Light District (Langstrasse) of Zurich and is not the ideal place to bring children or acquaintances. Gambrinus looks like a pub more than anything else, but the staff are friendly and speak English. Try the Zürigschnätzlets mit Rösti or the fondue (one of the best in town).

Rheinfelder Bierhalle

phone: +41 44 251 54 64

address: Niederdorfstrasse 76

In this huge and boisterous restaurant you get good value food and rich portions (only try the Jumbo Jumbo Cordon-Bleu when really hungry). Cheap beer. Service can range from very good to poor depending who is working that day.

phone: +41 043 811 52 16

address: Limmatplatz 1

Offers great pizzas, large hamburgers, spicy kebabs and other Italian and Turkish dishes at reasonable prices. Staff is very friendly and service is great. Perfect for lunch or a late-night snack.

address: Theaterstrasse 22

Zurich's most famous sausage stand near Bellevue tram stop. Red or white sausages for around Fr. 6, a piece of bread and (hot!) mustard is included.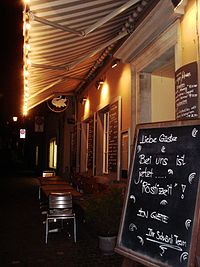 1001A nice Turkish place with remarkably good kebab, friendly service, and possibility to seat conveniently inside.

Manora

address: Bahnhofstrasse 75

Restaurant on the top floor of Manor department store. Fresh buffet or daily menus. During the summer months it is possible to sit on a terrace with decent views.

phone: +41 44 211 80 04

address: Molkenstrasse 15

Restaurant, café, bar and bakery in old bank. Mostly organic and mediterranean food.

phone: +41 76 498 62 74

address: Kalchengasse 12, Kloten

One of the best Indian restaurants in Zurich. Also does takeaway and catering.
Food courts
The Migros and Coop supermarkets (several branches all over the city) are good places to assemble an inexpensive and delicious picnic lunch consisting of freshly baked bread, cheese or ham and fresh fruit. Migros Gourmessa is the 'gourmet' takeaway counter, available in larger Migros stores including the Migros City branch at Löwenstrasse. The Coop Bahnhofbrücke branch near the main station also has a small fast-food restaurant. The Migros branch in the main station is open on Sundays when most other stores are closed, and also until 21:00 on weekdays, whereas the Coop Bahnhofbrücke is open M-Sa 07:00 to 22:00.
Jelmoli, St. Annahof and Manor department store restaurant for a cheap buffet lunch, good salad and vegetable stands. All located at Bahnhofstrasse and open during the day
Mid-range
Splurge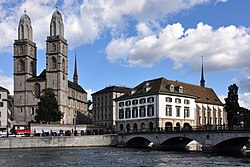 phone: +41 43 321 75 75

address: Weinbergstr. 75

Traditional kitchen with Catalan influences as one of the best restaurants in Zurich

phone: +41 44 262 99 00

address: Rämistrasse 4

The city's most famous restaurant where all the glitterati go to see and be seen. Good Swiss food and heavenly chocolate mousse are one reason to go, the opportunity to dine among original artwork by famous Swiss and European artists (who paid in paintings instead of money) the other. Dress nicely, and treat yourself to a drink at the classy bar before or after your meal.

Widder Hotel

phone: +41 44 224 2526

address: Rennweg 7

High-class food in a cool setting. The hotel has a trendy bar, great piano music, cool red leather decor, and halogen lighting.

Zunfthaus Zur Waag

phone: +41 44 216 99 66

address: Münsterhof 8

Very authentic Swiss high-end restaurant. To ensure your meal does not get cold, they split your order into 2 plates and bring you one at a time.

phone: +41 44 251 61 29

address: Römergasse 7

Traditional French-Swiss food from the French-speaking Kanton Waadt (Vaud). One of many fondue restaurants in Zurich.

phone: +41 44 388 68 40

address: Seefeldstrasse 223

Romantic cuisine in a beautiful building.

phone: +41 44 211 98 98

address: Bleicherweg 1A

Grill restaurant that offers set menus for lunch and a menu surprise for dinner (either fish or meat). Also has a good wine selection and very nice in the summer due to a small garden

phone: +41 44 492 29 31

address: Hohlstrasse 449

Authentic Italian food.
The restaurants at the top of the
Uetliberg
are great to combine a nice view of town (a hike in the summer) and some great food. It also has a cheaper self-service area.
Drink
Zurich has a lot of places to go out. There are a lot of clubs, restaurants,
cafés
, bars but also many museums and theatres. The most common drinks in Zurich include: Beer, Swiss white wine (e.g. Fendant), Swiss red wine (is delicious), and Spanish red wine (is generally good value here). At
apéro
time (after work), you will find many people drinking a
Cüpli
(glass of sparkling wine).
Bars
Centre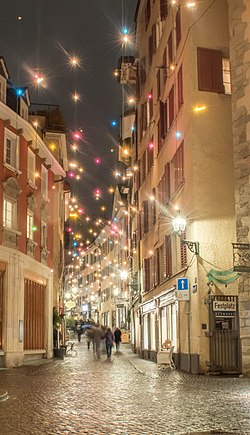 Kreis 2 (Wollishofen)
Kreis 4 (Langstrasse)
Kreis 5 (Zürich West)
Clubs
Zurich has proportionally more clubs than any other city in Europe. You will find anything from very "fancy" clubs to places you can just chill. If you want, you can go to a club every night. There is always a Club that has a party going and Zurich's young make sure to splash all their income on going out.
Most of the clubs are located around the Langstrasse and Hardbrücke. The internet site
usgang.ch
is a good place to look up what's up.
Gay and lesbian travellers
Sleep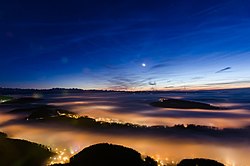 Zurich is the financial centre of Switzerland and most travellers come with an expense account. The hospitality sector focuses therefore mostly on the 4- and 5-star sector. Zurich is known for its superb hotels, but these won't come cheap. Best is to go on a company rate, because rack rates are sometimes ridiculous.
Budget
CouchsurfingHas a lot of members in Zurich. Public transport is very fast and good, so also consider staying in surrounding areas instead of in the city centre. Remember that couchsurfing is about the community and not only a free place to crash.

phone: +41 44 251 90 15

address: Niederdorfstrasse 5

The most convenient hostel for backpackers. There are shared bathroom and cooking areas.

phone: +41 44 251 42 22

address: Limmatquai 88

A simple, small hostel. Some rooms have river view.

phone: +41 43 399 78 00

address: Mutschellenstrasse 114

A little way out of the centre, but the city is easily reached by public transport (take the S-Bahn to Wollishofen and walk over the hill). A clean and sleek facility, if a little quiet.

phone: +41 44 251 45 50

address: Zähringerstrasse 36

A "clean and friendly" place which doubles as a hostel and a one-star hotel. They also have weekly and monthly rates for rooms, and a couple of studio apartments.

phone: +41 44 251 22 07

address: Oberdorfstrasse 7

A good hotel for the price. The rooms have been decorated with the kind of care that one normally expects in a much more expensive hotel, each with its own theme. You can choose from the jungle room with its hammock, or the pink Carmen, or go for the top floor apartment. Each floor's three rooms share a bath, shower and toilet (WC), with the exception of the apartment which has its own shower. Fr. 115 for a single room, Fr. 150 for a double, and Fr. 200 for 2-person apartment (Fr. 240 for 4-person apartment).

address: Rosengasse 5

This hotel is relatively cheap. The rooms are clean but spare. Private showers and bathrooms are not available, you share with your floor. What is really great is the location, right close to the Gemüsebrücke and the city centre. Fr. 62-85 for a single, from Fr. 160 for a 4-person room, plus Fr. 2.50 City-Taxe per person.

phone: +41 43 276 20 00

address: Technoparkstrasse 2

This hotel is in a great place if you want to party, next to some great bars and restaurants. The rooms are clean and comfortable. It's also near a tram station, which takes 10 minutes to get to the main train station.

Hotel Schäfli

phone: +41 44 251 41 44

address: Badergasse 6

The location is the draw in this somewhat run-down hotel. Situated in the old town near the station and by the charming Niederdorfstrasse, where there are tons of bars and restaurants. The shower has a timer. Be sure to get all the coins for the shower you need by Saturday, as the reception desk closes on Sundays. Fr. 102 for a double room.

phone: +41 43 960 7373

address: Friesenbergstrasse 15

The comfortable, modern 3-star owner-run hotel is located just a few minutes away from the city centre. All 40 new renovated rooms are comfortable and modern furnished. Perfect for businespeople and tourists. The rates start from Fr. 110 for a single and Fr. 155 for a double room, including tax breakfast and free wifi.

phone: +41 44 241 11 44

address: Weberstrasse 11

Traditional and charming owner run hotel in the city centre, 10 minutes walking distance to the train station. Convenient for businespeople as well as tourists and backpackers. The rates start from Fr. 99 for a single and Fr. 228 for a double room, including tax, breakfast and free Wifi.
Mid-range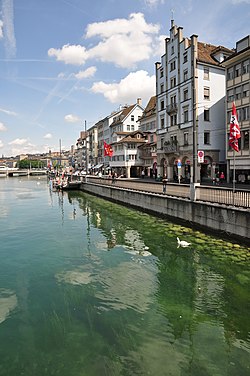 phone: +41 44 266 9696

address: Rosengasse 10

Clean rooms and breakfast is included in the price. They have a terrific restaurant attached and associated with the hotel that has delicious fondue. The hotel is in a great area for foot exploration. With many bars, restaurants, and cafes all within a few minutes. They have a single computer on the second floor with free internet access.

phone: +41 44 258 9898

address: Falkenstrasse 6, CH-8008

Four-star boutique hotel situated in the town centre, opposite the Opera House and only 10 min away from the main station Hauptbahnhof and 30 minutes from the Zurich airport. Renovated and exquisitely decorated. Single room from Fr. 220, two-person room from Fr. 390 in the low season.

phone: +41 44 266 9595

address: Schifflände 30

Three tram stops with tram number 4 from the main station. Located directly next to the Limmat in the old town of Zurich. Very traditional four star hotel with first-class service, style and modern comfort. Single room from Fr. 230, double room from Fr. 300.

phone: +41 44 360 2525

address: Weinbergstrasse 92

Three-star hotel, 5 minutes by tram number 7 from the Hauptbahnhof. All rooms are non-smoking.

Wellenberg

phone: +41 43 888 4444

address: Niederdorfstrasse 10

The four-star Art Deco Hotel Wellenberg with its idyllic inner court terrace is in the car-free old town of Zurich, 10 walking minutes from the Hauptbahnhof. The rooms are modern and elegant. One-person room from Fr. 290, two-person room from Fr. 370.

phone: +41 44 388 8485

address: Kraftstrasse 33

Three luxury rooms in Zurich's most prestigious residential building. Located 2km from the centre, above the university district at Toblerplatz (Trams 5 and 6, direction Zoo), in the heart of Zurich's prime residential area. The rooms come with a large well-stocked fridge, kitchenette, 32" or bigger flat screen TV, wireless internet access, and open to the terrace of the Palais Kraft. Beginning at Fr. 385 per room/night, including continental breakfast, soft drinks, snacks, internet, local calls, and all taxes. Fr. 330 double-bed guest room with bath and kitchenette.

phone: +41 43-243 4243

address: Herman-Greulich-Strasse 56

Located in the heart of Zurich's vibrant Aussersihl district, the stunning Hotel Greulich is a haven of style and comfort with a renowned gourmet restaurant. Online booking.

phone: +41 44 227 7700

address: Bahnhofstrasse 87

Business hotel. A five-floor building, with 143 spacious rooms, 11 of which aresSuites, comfortable lobby and three restaurants, the Hotel Gotthard meets all the expectations of the demanding traveller. The Hotel Gotthard lies center of the city, located on the Bahnhofstrasse, within 10 minutes walk from sightseeing, the business district and Lake Zurich.

phone: +41 44 404 4444

address: Badenerstrasse 420

Clean rooms and breakfast included in most of the rates. It has a fitness centre, a bar and a restaurant. It is about 200 m away from Albisreiden Tram station (tram number 3).

phone: +41 448081000

address: Riethofstrasse 40, 8152 Opfikon-Glattbrugg

The hotel (opened in 2014) is located near the airport and offers 235 rooms.
Splurge
Camping
phone: +41 44 482 16 12

address: Seestrasse 559

This camp site is the closest to the city. Many guests were not too happy with the facilities and the friendliness of the owners.
Stay safe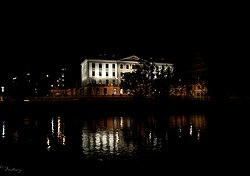 Zürich, like all cities in Switzerland, is relatively safe. Nevertheless, be on guard for thieves and pickpockets. Carry your wallet or purse in a secure way, not in your hip pocket or a backpack outer pocket. In particular, thieves are known to operate around the Zurich main train station. Do not let your bags out of sight for even a moment.
Certain areas along the lakefront are frequented by young people who sometimes try to pick a fight when they are drunk. Do not let them provoke you, as they are likely to be there in numbers and will use any excuse to go at you. You may also notice many of said young people smoking something that isn't a cigarette. Switzerland is surprisingly lenient about such things but it is hardly a cause for alarm.
Public transport is very safe. You can use it without any special precautions.
If you decide to bicycle in the city, understand that Zurich is a city of public transport. Beware of tram tracks which can get your wheel stuck and send you flying into traffic, of the trams themselves which travel these tracks frequently (and may scare you into getting stuck into the track), and the buses, which make frequent stops in the rightmost lane. In short, bicycling downtown should be only done by those experienced with cycling with such traffic.
Gay and lesbian travelers
Zurich is the favourite place to live for Switzerland's (German-speaking) gays and lesbians. The Canton of Zurich was the second canton, after Geneva, to allow registered partnerships for same-sex partners for example. The city of Zurich is probably the place in Switzerland that offers the most open environment for gays and lesbians. Gays and lesbians need not take special precaution for their safety on the streets. It is always possible for random homophobic behaviour to happen, though.
Connect
The bigger railway stations around the city (including the main station and Stadelhofen) offer one hour of free wireless internet per station per 3 hours. You will need to be able to receive a text message for a one-off registration.
address: Uraniastrasse 3

PCs, printers, and a selection of snacks.
Cope
Permanence Hauptbahnhof
at the main train station provides urgent out-patient care for tourists without prior appointments. There is also a dentist downstairs at the station. For serious emergencies rush to "Kantonsspital", the university clinic which has a 24/7 emergency ward. Tram stop "Universitätsspital" (look out for the inexplicable golden boy statue in front of the building, then follow the red "Notfall" signs). They will not send away people with serious, urgent health problems. Ambulance phone number is 144 but the European 112 emergency number works as well.
If you're on a budget, don't stay out too late — the "N" night buses only run on weekends. When they run, they run only once per hour and you must purchase a Nachtzuschlag for 5 Fr from the machine and validate it before boarding. On work nights, there is no public transport at all after about 00:30 (although expensive taxis still exist in case you're stuck).
Stores are generally closed on Sundays including all supermarkets in the city, except those in the main train station, Enge and Stadelhofen stations, and at the airport which remain open.
Avoid reaching/visiting Zurich on 1 May. The city is on a Labour Day/May Day holiday. The trams don't run for half the day so getting around could be a problem. Also, there could be some minor violent outbreaks and damages to cars.
Zurich has two police departments, the Stadtpolizei Zurich which is responsible for the city area and the Kantonspolizei Zürich which is responsible for the whole region. With approximately 1'800 and 3'000 officers, these corps are the biggest in Switzerland. While police officers in Zurich will happily help you out if you are in trouble or need directions, they are also known for approaching "suspicious" persons in order to check their papers. This procedure is annoying but legal as you will probably have a hard time proving you were not acting suspicious. Carry a photocopy of your passport and your onward ticket with you, stay calm and polite and you're unlikely to have any trouble.
Go next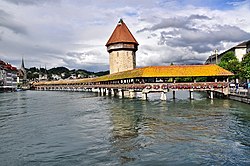 Some interesting destinations nearby:
A bit further away, but also worth a day trip: