Zurich Airport
Zurich Airport
(
ZRH
) is in Kloten (hence its alternative name, Kloten Airport) and is essentialy Switzerland's main airport, serving the Zurich region.

Understand
Construction of the airport started in 1945, on land in Kloten granted to the Canton of Zurich by the federal government.
The airport is about 13 km north of the city. It is a hub for Swiss International Air Lines and its subsidiaries, including Edelweiss.
There are three terminals. The Airside Center houses check-in and security.

Flights
Zurich has a considerable route network, with flights to most major airports around the globe. Many major North American, European, and Asian (including Middle Eastern) airlines fly to and from Zurich. The airport serves all inhabited continents except Oceania - in fact, Swiss's route network alone serves five such continents.
Terminal A
The airport's oldest terminal, built in 1971. It is connected to the Airside Centre at one end. Most Swiss domestic flights arrive and depart from Terminal A.
Terminal B/D
Terminal B/D was built in 1975 and is also connected to the Airside Centre. It can serve both Schengen and non-Schengen flights at the same time with the same set of gates - depending what type of flight is being served, the gate number is prefixed either with a B (for Schengen) or D (for non-Schengen). There are separate ways to get to the gates so that the passengers don't mix.
Terminal E
The newest terminal, finished in 2003. It is also the only terminal not connected to the Airside Centre (hence its alternative name : Midfield Terminal), so getting there requires a short trip on a driverless train.
Departure
There are three check-in facilities. Check-in 1 and 3 are used mostly by Lufthansa group airlines, while all other airlines use check-in 2 (with the exception of Vueling, which uses 3). Check-in 1 and 2 are attached to the Airside Centre, while 3 is across the street and is connected to 1 (and thus the rest of the airport) via an underground passageway.
Ground transportation
By train
All trains go to . It is located under check-in 3. Train tickets are available at the station as well as at Arrival 1 and 2 (look for the SBB machines).
S-Bahn
serve the airport. They go into the city with the first stop being Zurich Oerlikon. S24 also runs the other direction towards Winterthur, while other lines turn around at the airport.
Regional and intercity trains
Trains go to much of Switzerland as well as Munich. Most trains go directly to Zurich Hauptbahnhof, but some InterRegio trains, like the S-Bahn, stop at Oerlikon before reaching Zurich HB. In the other direction, many trains stop at Winterthur HB.
By tram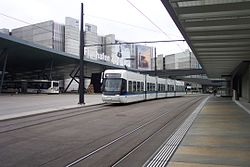 Tram lines 10 and 11 stop at a small station outside the Airport Centre.
By bus
A regional bus station is also outside the Airport Centre.
By car
The airport is accessible via highways A11 and A51. See
Driving in Switzerland
for more details on speed limits and driving laws.
There are several major car rental places.
Get around
Terminal E is connected to the Airside Centre by the SkyMetro, an underground automated train. It takes about 3 minutes. Look out the window - there are pictures on the corridor that resemble a movie due to the the movement of the train.
Otherwise, walking is how you reach most of the terminals.

Wait
Lounges
ASPIRE Lounges

dnata Skyview Lounge

phone: +41 43 815 85 20

Emirates Lounge
Connect
Free Wi-Fi is available for 2 hours, with the usage amount being refreshed every 5 hours. Additional internet usage is available for a fee. Connect to the
ZurichAirport
network and get a verification code via text via a boarding pass scanner (list of locations, along with more info such as sites that can be visited for free at all times is
here
).
Cope
The airport now has a page on Sina Weibo and a WeChat account to handle queries - useful for Chinese residents and visitors.

Sleep
Nearby