Ölüdeniz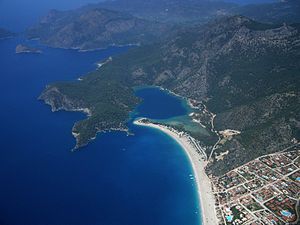 Ölüdeniz
is a town near
Fethiye
in
Turkey
, famous for its 'Blue Lagoon'.
Understand
The village and the beach by the lagoon was locally known as Belcekız or Belceğiz before the area became a magnet for mass tourism, although today many people in the area have no idea about what Belcekız is. The town and the lagoon are both known as Ölüdeniz, which literally means "dead sea" and used to refer only to the lagoon.
Inland to the north, 2 km to Ölüdeniz, are the former villages of Ovacık and Hisarönü, with occasional family-run guesthouses only a decade ago, but are today concrete sprawls of hotels and bars, agglomerated almost without a gap with the town of Ölüdeniz. Both serve as "bedroom communities" that offer accommodation that is close to but cheaper than Ölüdeniz proper.

Get in
Ölüdeniz is connected to
Fethiye
with a wide road that is well-paved and is in a very good condition.
Most buses will drop you off at the bus station in
Fethiye
, from there you can take a very frequent
minibus
(
dolmuş
).
Get around
Dolmuş
busses running from
Fethiye
to Ölüdeniz connect
Ovacık
with both cities.
See
Blue LagoonKnown in Turkish literally as "dead sea" because of the stillness of the water, the lagoon is a nature preserve. To enter the park there is a fee of 7 TL per person. You will also likely have to hire a beach chair which are an additional 15 TL each (15 TL for an umbrella).
Do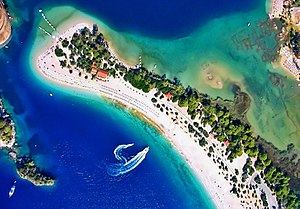 ParaglidingA number of companies in Ölüdeniz offer paragliding opportunities from the summit of nearby Mt. Babadağ, about 1,900 m from the sea elevation. A "trip" from the top to the beach takes around an hour and offers stunning views of the Blue Lagoon and the valleys and mountains covered with pine forests around. Training and tandem flights are also possible for those inexperienced at paragliding.

Hike along Lycian WayYou can hike to Fethiye the western end of the Lycian Way or just start in the direction of Faralya (5 hr) and Kabak. While the views of the sea, the mountains and the Ölüdeniz beach are great, there isn't much shade on the way to Faralya, so try to avoid the noon-heat, bring enough sunscreen and water (or some water purification if you intent to use the cisterns on the way). If you're just doing a day hike you can take a dolmuş back from Faralya (last one leaving about 19:40). You can also take the dolmuş to Kabak and hike the coastal route to Faralya (4-5 hr) and again return by dolmuş, though it's well worth staying at either village.
Eat
There are lots of different places to eat a wide variety of foods from different cultures and countries. You can find anything from original English breakfast to true Mexican dishes, all for different budgets. You can check the menus right in front of the restaurants, or go in and see them before deciding.

Drink
There are a variety of international alcoholic beverages and wide selection of beers. You can try a lot of different cocktails but always be careful about suspicious cocktail bars with very cheap menus. They might be using counterfeit products, always look for trusted reviews and recommendations.

Sleep
Ölüdeniz and Ovacık are cluttered with hotels, most of which have an online presence and can be found through various hotel-booking websites.
Budget
phone: +90 252 616-61-39

address: Kırıncağıl Mahallesi, Ovacık-Ölüdeniz

A hotel at the trail head of Lycian Way, a very convenient base to get rest after/before your long hike. Rooms with en-suite bathrooms, air-con, and balconies, all with the view of large pool.
Mid-range
phone: +90 252 617 00 86

Family-owned, small hotel. Rooms with air-con, TV, and balcony. There are also a swimming pool with children section, playground, and safety boxes. Staff is friendly and fluent in English and French. The hotel is on the top of a small hill, so it has clean and cool air flow. View of the Oludeniz from the hotel is breathtaking.

phone: +90 1603 869930 ,+44 117 230 3677 (in the UK)

Orka Village is set in a private complex with breathtaking views of the Babadag mountains. The site is beautifully landscaped and features a 650-m² swimming pool and a separate children's pool. There is also a bar/snack bar on site. The complex also features a reception, secure parking and 24h security.
Splurge
Go next
Butterfly Valley (Faralya) is a remote canyon to the south, on the sea-shore, with some rare butterflies and waterfalls. Boats and minibuses head there from Ölüdeniz. A little further south, at the end of the road is the village of Kabak, which has a canyon similar to Butterfly Valley, although a little easier to access.
For a bit of history and a deserted ghost town experience in your trip, take the road to west from Hisarönü and head to Kayaköy, where hundreds of partially ruined houses cover the side of a hill.
Ovacık to the north of Ölüdeniz marks the beginning of Lycian Way, a more than 500 km hiking trail leading to Antalya in the east.