Aarhus
Aarhus
(also written Århus and pronounced
Oar-Hoos
) is the main city on the
Jutland
peninsula in
Denmark
. With a population of over 345,000, it is Denmark's second largest city and has the youngest population.
Understand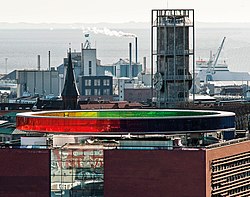 Aarhus is known as "The City of Smiles" (Danish:
Smilets By
). This slogan probably started as publicity to improve the city's image, but it has nevertheless caught on. "City of Cafés" is another moniker the city wears with pride: its roster of coffeeshops exemplifies Aarhus' elegant mix of cosmopolitan city life and quaint small-town charm.
Being a university city and centre of education, Aarhus has a large student population and one of the lowest median ages of any city in Europe. The cultural scene here is always thriving: for a long time, Aarhus has been an incubator for Danish artists and performers, and it's also home to
Aarhus Festuge
, Scandinavia's largest cultural festival, held annually for 10 days at the end of August. But that's not the only thing that's on the rise: Aarhus, along with the East Jutland Metropolitan area for which it serves as the central hub, is the fastest-growing area in Denmark in terms of population, with a huge building boom taking place and new high-rises sprouting like mushrooms on the skyline. Little wonder, then, that Aarhus was selected as 2017's European Capital of Culture, with a full slate of events on tap all year throughout the entire city and region.
Orientation
Aarhus C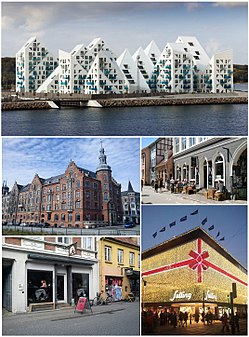 Aarhus City is the central district and the most active area of the city with several interesting and special neighbourhoods, including these:
Indre by (Inner City) is the old medieval core of the city which used to be walled and gated up until 1857. A large part of the inner city is pedestrianized. The Latin Quarter is a small special quarter with cobblestone streets, low-rise buildings and old townhouses that has been preserved.
Vesterbro, situated north and west of Indre by, is mostly a residential area. However, you'll find several major attractions including the Botanical Gardens, the Old Town museum and the main university campus.
Øgade-kvarteret is a residential quarter immediately northwest of the Latin Quarter and also presents a unique town environment with lowrise buildings and colourful townhouses, mostly from around the 1850s-1920s. Most of the streets of the quarter are named after Danish islands.
Aarhus Ø is a new residential neighbourhood on the harbourfront.
Trøjborg is located north of the inner city and is like a small town within the city. The area was developed in the early 1900s with mostly four- or five-storey apartment blocks in brick. It used to be a working class neighbourhood. It is a somewhat quiet residential quarter but also includes a central shopping street with restaurants and a cinema.
Frederiksbjerg is another quarter with its own charm and character. Located immediately south of the broad railway yard in the city centre, this area was developed primarily in the late 1800s and most of the original buildings have been preserved. It is a lovely mix of bustling street life, restaurants, specialty shops, small businesses and residential areas. Mostly low-rise buildings and townhouses, with several small parks in between.
Aarhus N
Aarhus Nord
(Aarhus North) is a large postal district comprising the northern parts of the city. It is made up mostly of quiet residential neighbourhoods, but boasts natural attractions such as the Risskov urban forest, Egå Engsø lake area, and some beach parks. The district is also home to several educational institutions, a large business park, an industrial park with light industry, and a huge regional hospital. Some of the neighbourhoods in Aarhus N, like Skejby and Vejlby, are former suburban villages that have merged with the city.
Aarhus V
Aarhus Vest
(Aarhus West) is perhaps the largest postal district and includes all the western neighbourhoods of the city. Most of it is residential areas of more recent development, but some neighbourhoods, like Åby and Hasle, are former suburban villages or outlying farms that have merged with the city. There are several natural attractions in this large area, including the Brabrand Lake area and the nature site of Skjoldhøjkilen, and many opportunities for sports.
Viby and Højbjerg
Viby
(officially Viby J, with J for Jutland) is a former railway town that has merged with the expanding city. It is sometimes unofficially referred to as Aarhus S (Aarhus South) along with
Højbjerg
,
Skåde
and
Holme
, three adjacent districts and neighbourhoods. There is some activity around the central square of Viby Torv, but otherwise these southern parts of town are predominantly residential. Marselisborg Forests and the Moesgaard Museum are the two most important attractions here.
When to go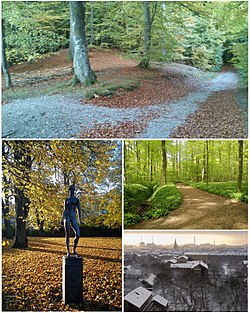 As the seasons change, the character of Aarhus changes accordingly. In winter, outdoor activities are limited and this is primarily a time for the indoors. It is unusual for everything to be covered in metre- thick layers of snow and the temperatures are not excruciating cold normally, but daylight hours are limited, the trees stand bare, and the skies are often depressingly grey. The city is still full of people but the outdoor street life is uninspiring for most visitors, except for the Christmas period of December. The city centre is decorated, and as Christmas approaches, more street vendors sell sweet treats and comfort food like
æbleskiver
, pancakes, mulled wine, and sugar-glazed almonds.
Starting in Apr-May and ending with Oct-Nov, the city has more to offer. The beech trees burst into leaves around the first of May. Daylight hours and temperatures increase rapidly throughout this month. Having waited for this, citizens are quick to fill the parks and green spaces; street life shows much more intensity and diversity, and several outdoor events take place. However, Aarhus, as the rest of Denmark, is almost closed down with empty streets during Easter.
Major attractions in Aarhus are open throughout the summer, but quite a few restaurants are closed for several weeks, though not all at once; there are still plenty of opportunities. However, if you plan to visit a specific eatery, confirm their hours beforehand. In July and August, many residents leave the city or travel abroad. University students have time off from their studies and many visit family in other cities, work elsewhere, or travel. Working people have five weeks of paid vacation and nearly everybody spends some of it during this season. For these reasons, the city centre can appear deserted in mid-July to early August and chances are that you will encounter more visitors than residents. It would therefore be a good idea to combine a visit to Aarhus with excursions to nearby countryside and attractions in the height of summer. From mid-August, things start to happen again in the city as residents return. It is still summer and soon time for the annual Aarhus Fest.
Through September the temperatures begin to cool and it gets windier, but there are still many daylight hours in the day and the weather is usually fine. From October the leaves on the trees start to turn yellow and red, and any trace of summer ends with the onset of November. September and October are also a good time to visit if you want to include outdoor and nature experiences to your trip, just bring more warm clothing. October and parts of November is a particularly beautiful time of year in the city parks and forests with all the vibrant colours of autumn.
Tourist information
As most other places in Denmark, the official tourist website of Aarhus is managed by VisitDenmark, a public-private partnership with free tourist services. The Aarhus website is called
VisitAarhus
.
The main office for tourist information in the city is in the
Dokk1 library
building at the harbour front. Ask the staff at the information desk and they will help you. In the summer, extra staff servicing tourists specifically are there to help. There is also a touchscreen available with interactive tourist information about the city, and a plethora of free inspirational and informative pamphlets about notable sights and happenings in the region. Apart from information, help and inspiration, you can buy an
AarhusCARD
here, a tour card with discounts on transport and cultural institutions throughout the city.
Talk
Many Danes can be reserved towards strangers, but friendly towards tourists, and will normally be happy to give you directions and advice in good English. As Aarhus is a big city, it will hardly be a problem getting help or directions in near-fluent English.

Get in
By train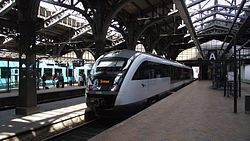 It is also possible to catch a train to other parts of the Jutland peninsula from Aarhus. There are trains going north to Aalborg twice an hour most days and going west to Skjern or Struer once an hour. Trains from
Hamburg
arrive several times a day, but they are expensive (€50-86 one way, July 2017). Nevertheless, if you book about two months before travelling, you can buy one of the few tickets for €30 (called "Europa-Sparpreis"). For more information check out the website of the German national railway company
DB
DSB introduced a mandatory reservation on trains to and from Germany in July 2019. Even though Denmark is in the Schengen area, passports are being checked by customs at entry points.
Tickets used in trains are also usable in buses, and if you are travelling from Copenhagen, you can use your ticket for the rest of the day to get around Aarhus at no extra expense.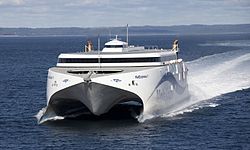 By bus
Buses have become an attractive way of travelling between Aarhus and Copenhagen, due to their significantly lower prices. An inter-city bus takes roughly an hour longer than an equivalent express train, but the fares are typically between 40% (standard tickets) and 90% (the cheapest Saver tickets) lower than full-price train tickets.
By boat
By plane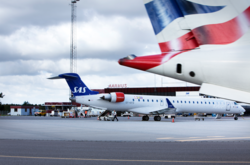 Get around
On foot
The entire city is clean and well organized, which makes
walking
an excellent and enjoyable way to get around. The inner city has an extensive pedestrian zone, and almost every town road in Denmark has sidewalks. If you want to venture further out, several routes have been established for exercise and for leisurely strolls. Known as "
sunbeams
", they avoid heavily trafficked roads and includes nature experiences.
By bicycle
Bicycles are easily available. You can borrow a free
City Bike
at about 50 spots around the city (check the link to see a map). Insert a kr 20 coin and when you park the bike at another "bike station", you get it back. City Bikes are available from 1 April to 30 October. If you choose to bike after dark, bring your own bicycle lights; it is illegal to ride without them and you could get fined by the police if you forget.
Donkey Republic
offers more comfortable bicycles to be picked up for rent 24-7 around town too, at a similar number of spots. These bikes however costs money to rent, paid through a phone-app.
Bikes4Rent
south of the Central Station is one of several bike rental shops in the city.
Even though Denmark is very flat generally, be aware that Aarhus has some of the steepest roads in the country and they can be quite a challenge if you aren't used to ride a bicycle. However, most roads are a breeze and on longer rides, you can usually plan your route to avoid the hardest ascends if you fear the "Aarhusian Alps".
The inner city of Aarhus has a network of bicycle streets (Danish:
Cykelgader
) where priority is given to cyclists. Here bicycles can use the entire lane and cars are not allowed to overtake. Not all drivers respect these rules (perhaps because they are unaware of them), so you should still watch out for occasional car traffic.
By bus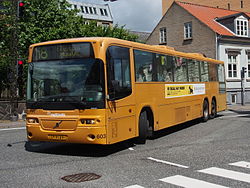 There are two bus systems in Aarhus, both operated by
Midttrafik
.
Yellow buses
serve local routes within the city limits, and
Blue buses
serve municipal and regional routes. The blue bus routes pass through the inner city, so if you have to go on longer journeys, you do not have to change between the two systems.
X-buses
are express blue buses, discernible by a large X sign. X-buses make fewer stops, are equipped with free Wifi, usually have toilets and you are allowed to eat and drink. All blue buses have limited cargo space for heavy luggage, bicycles, etc., that you can use if you inform the chauffeur.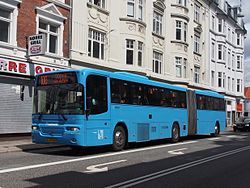 Tickets bought on blue buses (and trains) can also be used to ride the local yellow buses, but not necessarily the other way around. On the yellow buses you have to buy a ticket at vending machines inside the bus or you risk getting fined heavily.
Bus tickets
for travel within the city limits are kr 22, or kr 11 if you are under 16 years of age. Tickets are also available in 10-trip tickets, that vary in price depending on how far you want to go (kr 170-). Cheaper cards are also available for people under 16 years old. Finally there are tickets that allow you to ride all you want for 30 days, with prices depending on how far you wish to travel. For planning bus trips, it is recommended to use the official travel planner website for all Danish public transport:
Rejseplanen
.
You can also buy a
AarhusCARD
which gets you free transportation with Letbanen light rail and all Midttrafik buses including buses to the airport (Aarhus and Billund). The AarhusCARD also includes free admission to more than 25 museums, attractions and activities.
Night buses
are extra buses and routes to and from the outlying districts and suburbs throughout the night. The fare is double the normal price.
In all of Denmark, train tickets can also be used to ride local bus lines, if you get on the bus within the time limit on your ticket.
By light rail
The electric light rail system "
Aarhus Letbane
" opened its first line in late 2017. Aarhus has the first light rail system in Denmark which will be expanded across the city and into the suburbs. Tickets for the light rail system are fully compatible with the local yellow bus system and vice versa. Bicycles can be brought along on the light rail although not on the stretch Skolebakken - Universitetshospitalet during morning and afternoon rush hour periods on weekdays (07:00-09:00 and 15:00-17:00). Bicycles require a ticket.
By taxi
phone: +45 89 48 48 48

phone: +45 86 16 47 00
See
Many attractions and events in Aarhus are free, and there is an interesting street life, so even on a budget you can have an enjoyable experience.
History
With a history dating back to at least the 700s in the Viking Age, Aarhus holds many historic buildings, some of which are of national importance.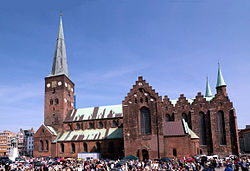 Apart from the old churches, the
Latin Quarter
in the city center has many historic houses in a preserved environment, just walk around the cobblestoned streets and have a look. There are many niche boutiques, cafés and restaurants.
Several professional guides arrange historic walks around town.
Museums
There are a lot of museums around Aarhus, and Denmark in general, but many of them are not museums in the ordinary sense, more like themed and interactive cultural centres. The three main museums in Aarhus are The Old Town museum, ARoS Art Museum and Moesgaard Museum.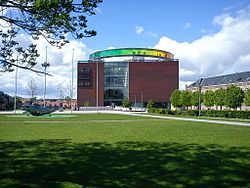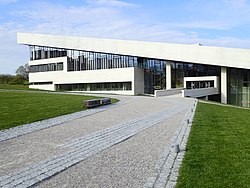 phone: +45 8 730 66 00

address: Aros Allé 2

One of Denmark's largest museums. Be sure to check out the '9 Spaces', a maze of black-walled galleries. A work by Icelandic-Danish artist Olafur Eliasson, "Your Rainbow Panorama", offers a splendid roof-top view of the city inside a circular walkway with rainbow-coloured windows. There is a café with dining options in the lounge area at the entrance and a celebrated high-end gourmet restaurant by the name ARoS Wine and Food Hall at level 8 of the museum (This restaurant is temporarily closed).

phone: +45 86 12 31 8

address: Viborgvej 2

Open-air museum village comprising a collection of 75 original Danish buildings from 1597 to 1909 gathered from all corners of the country. There are historical shops and eateries, most true to the period. A few staff members and volunteers dressed up in historic clothes adds to the ambience, and sometimes events are arranged. You can buy a round-trip horse and carriage ride through the museum's cobblestone streets or through the outside park. A new addition to the complex that's nearing completion showcases town culture and buildings from the 20th century, including a bakery, several stores, a poster museum and a jazz club. As well, for the European Capital of Culture celebration in 2017 the museum inaugurated new permanent exhibitions focusing on local history and classic Danish jewellery from the 20th century. Be sure to also spend some time in the large surrounding Botanical Garden and the new Greenhouses.

phone: +45 86 20 60 50

address: J.M. Mørks Gade 13

An arts centre promoting contemporary art. Built in 1917, it is one of the oldest arts centres in Europe. Nice café.

phone: +45 86 18 64 70

address: Domkirkepladsen 5

Residing in the old City Hall building beside the Aarhus Cathedral, this place focuses on the importance of gender in the past and today. The Women's Museum presents changing exhibitions on the cultural history of gender and possess a fair collection of historical stuff related to women. You can look through or buy publications on former exhibitions that you missed or general books related to the role of gender. Some titles are in English. The Women's Museum has a nice old-fashioned decorated café and on Sundays, lunch is included in the entry fee.

phone: +45 8739 4000

address: Moesgård Allé 20, 8270 Højbjerg

Stupendous architecture: a vast prism of a building half-buried in a grassy hill. The central staircase provides an innovative route into human evolution and prehistory. The museum hosts large changing themed exhibitions from cultures around the world but is also a fantastic place to study Danish prehistory in particular. The main permanent attractions in this regard are an artificial reconstruction of a large Bronze Age roundbarrow that you can walk inside and two finds from the Nordic Iron Age: Grauballe Man, the only completely preserved bog body, and the impressive sacrifice of weapons from Illerup Ådal. The museum re-opened in the new building in October 2014. Excellent museum restaurant and café. The large historical landscape below the museum is also worth a visit, and is free and accessible year round.

phone: +45 87 16 11 06

address: Victor Albecks Vej 3

Operated by Aarhus University, the focus of the Museum of Ancient Art's collection falls on Classical-era artworks and artifacts from Ancient Greece, Rome, Egypt, the Near East, and elsewhere in the Mediterranean area. Their collection of Ancient Greek coins is one of the largest in Europe.

phone: +45 86 12 97 77

address: Wilhelm Meyers Allé 210

Another museum brought to you by Aarhus University, the Natural History Museum's four fully wheelchair-accessible exhibition halls educate visitors on over 5,000 different animal species hailing from all over the world, displayed in reproductions of their natural habitats.

phone: +45 87 15 54 15

address: C. F. Møllers Allé 2

A science museum with a focus on medicine and astronomy, with a diversity of exhibits including (among many others) a planetarium, a medicinal herb garden, a Foucault's pendulum, and historic artifacts such as old X-ray machines and surgical equipment. Lots of engaging and interactive exhibits here for both young and old. There's an onsite café serving light lunches, and a gift shop with cool educational toys for kids: chemistry sets, crystal-growing kits, star charts, etc.

phone: +45 41 85 62 90

address: Katrinebjergvej 81

An arts museum, displaying art created by psychiatric patients specifically. The museum has a special focus on its namesake artist Ovartaci, a transgender mental patient who lived at the city's former mental hospital in Risskov for 56 years until his/her death in 1985. Guided tours can be pre ordered and arranged.
Architecture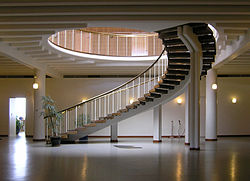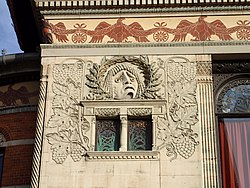 Anyone who appreciates European architecture will find many points of interest in Aarhus, from medieval buildings to modern icons. Even though Aarhus is one of the oldest towns in Denmark, most of the inner city was erected in the 1800s and 1900s during and after the industrial revolution, and you will not find many larger structures from the 1600s and 1700s as compared to Copenhagen for example.
Modern architecture is abundant with many notable buildings such as the university campus in yellow brick, the futuristic Dokk1, the residential Isbjerget (The Iceberg) at the harbourfront, Musikhuset (the Concert Halls) and the Moesgård Museum from 2014. Notable architecture in the city also includes a bit of post-modernism, plenty Nordic functionalism and in particular historicism which is abundant. The Aarhus Cathedral begun in the 1100s is the oldest building in the city, but there are several preserved Medieval timber-framed buildings, mostly in the inner city, with the oldest dating to the 1500s.
phone: +45 89 40 20 00

address: Rådhuspladsen 2

This building is considered one of the highlights of Danish architecture, designed by the famous architects Arne Jacobsen and Erik Møller in cooperation with equally celebrated furniture designer Hans Wegner. Clad in grey Norwegian marble, it might appear bland to the untrained eye from the outside, but the indoor design is much more intriguing. Every Saturday from 10:00-11:30 guided tours are arranged around the interior of the building. For a fee, you can visit the clock tower and enjoy the view. There are several interesting statues around the town hall. Enjoy the dramatic bronze statue and fountain of "Agnethe og Havmanden" near the city entrance towards the Central Station. It depicts a scene from a Danish fairy tale about Agnethe who falls in love with a merman. From here you can walk through the city entrance and the Town Hall Park and observe more bronze statues and memorial stones. The park is quite lively in the summer, as people tend to flock here as soon as it gets warm enough. Don't miss the "Grisebrønden" statue (the well of the pigs) with the drooling and peeing pigs, at the Town Hall Square. You can buy good hotdogs at the Town Hall Square too.

Aarhus UniversityDesigned by famous Danish architects C. F. Møller, Kaj Fisker, and C. Th. Sørensen (the latter of which designed the landscaped garden), this is another noteworthy piece of architecture. The first buildings were finished in 1933, but construction is still going on today, all adhering to a common characteristic design-code in yellow brick. Here you find the State Library, a landmark high-rise for the city, plus a cluster of museums (the Museum of Ancient Art, the Natural History Museum, and the Steno Museum) that you can read more about in the "Museums" section above. As well, the park itself is worth a visit, no matter the time of year.

Aarhus TheaterIf older times architecture is more your thing, you will love to study the Aarhus Theatre building inside-out. Built around the year 1900 in the Danish version of Art Nouveau (known as skønvirke), the building is crammed with architectural details from the history of theatre and the interior is even more lusciously decorated than the outside facades. Guided tours (in Danish) on some Saturdays.

FrederiksbjergHistoricist architecture is abundant in this neighbourhood where large-scale construction of urban planned townscapes took off in 1898. Go to the square of Sankt Pauls Kirkeplads, uphill and south of the central station. The square is surrounded by notable historicist apartment blocks, each with their own peculiarity. Look up, take it slow and enjoy the variety. From here, there are numerous options for the architectural walk. A stroll down Odensegade towards Ingerslevs Boulevard is a good choice.

MejlborgFinished in 1898, this was the first large apartment complex to be erected in Aarhus, built where the Northern city gates were demolished two decades before. Gothic Renaissance at its finest. There is no public access, but the detailed facades and metal clad onion dome can easily be enjoyed from the street. Good idea to go here by the historic street of Mejlgade and backtrack by the coastal promenade Kystvejen. Take it slow and be sure to look up, there are many more historicist waterfront buildings to experience here.

phone: +45 86 14 04 00

address: Ørneredevej 3

Another well-known architectural landmark of Aarhus, and a bit of a change of pace from the modern style that predominates over larger parts of the city, Varna Palace is a palatial Neoclassical resort pavilion. It was designed for the Danish National Exhibition of 1909 by native Eggert Achen and is found in the outskirts of the Marselisborg Forests, south of the inner city. The Varna Palace now serves as the headquarters of the local Odd Fellows Society, but with a public onsite restaurant.
Green spaces and nature
Aarhus has a few large parks and several smaller green spaces. The largest and most notable parks includes The University Park, Aarhus Botanical Gardens and The Memorial Park. The city has some nice woodlands, beaches and countryside within easy reach.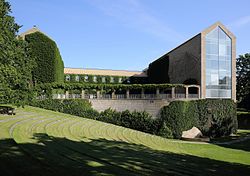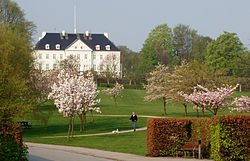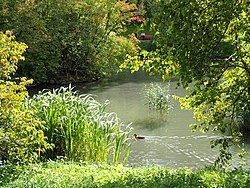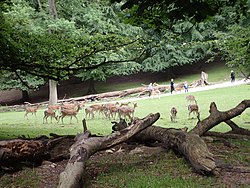 Aarhus Botanical Gardens

phone: +45 89 40 44 00

address: Peter Holms Vej

Founded in 1873 as a research garden for students at Aarhus University, nowadays the Botanical Gardens have been repurposed more as a pleasant outdoor space for citizens to enjoy during the warm months. However, for laypeople who may be interested in botany, there are still thousands of different species of plants on display throughout this 21-hectare expanse, all labelled in Latin and Danish. The bulk of the place is a hilly outdoor expanse of open lawns, ponds, and landscaped gardens, with tropical plants to be found in a large greenhouse complex, designed in the modernist style (of course) by the prominent architectural firm of C. F. Møller. There's a small children's playground onsite, ample facilities for picnicking, and a café in the greenhouses, serving light lunches.

Aarhus University ParkThe University Park at the university campus is a soothing spot of greenery in the city centre and it is open year round. It is a celebrated piece of landscape architecture with rolling hills, open lawns, large old oak trees and a couple of duck ponds. If there, be sure to visit the southern section as well, known as Vennelystparken. It is the oldest park in Aarhus, dating to 1824, and is a bit different from the main park.

Brabrand LakeThe Brabrandstien pathway leads upstream the river all the way to the Brabrand Lake nature site in the western parts of the city. Brabrandstien is a twenty kilometre long safe and tranquil corridor of greenery perfect for hiking, cycling and rollerblading. There are several spots for picnicking and resting, and even though it doesn't feel like it, you are always close to the city and its bus lines, if you don't want to backtrack. It is not possible to bath in the lake, but you can go there by canoe from the inner city if you want some alternative action.

phone: +45 40 72 73 71

address: Randersvej 395

Located in Lisbjerg on Aarhus' northern outskirts, this is a large, authentic Japanese garden laid out in traditional chisen kaiyu style designed for promenading. There is an onsite restaurant and café (Park13). While the garden is only open for visitors in late spring and summer, larger special events, such as concerts, are occasionally arranged in the winter.

Marselisborg ForestsA 3,700-hectare expanse of woodland stretching along the coast of Aarhus Bay south of town, Marselisborg is one of the most visited forests in Denmark. Aside from Ballehage Beach, Tivoli Friheden amusement park, and Varna Palace described elsewhere in this article, other amenities for visitors include:
Aarhus Forestry Botanical GardenEstablished in 1923, this arboretum at the north end of the Marselisborg Forests is small (5 ha) but packed with over 900 species of trees and bushes from all over the world. It's a pleasant place to take a load off, but it's prohibited to disturb any of the plants, and falling tree branches are a persistent danger in windy weather.

Marselisborg Deer ParkThis 22-hectare enclosed section of Marselisborg serves as a low-key sort of zoo or safari park, with a few species of native woodland animals such as deer and wild boars dwelling peacefully in the hilly, not especially thickly-forested environs. The deer park is open from dawn to dusk year round, but for safety's sake it's best to avoid visiting during mating season in the autumn (Sep-Nov), and in the early summer when the does are nursing their calves (June-July).

A trio of preserved historic water mills dating from the 16th, 17th, and the 18th centuries hearken back to the time when this land was a series of tenant farms owned by the barons of Moesgaard Manor. , a former grain mill, is now the clubhouse of OK Pan Århus, Denmark's longest-running orienteering club. Skovmøllen, the oldest of the three, has again been a working mill since 2000, and also a restaurant. Thors Mølle, an old powder mill, has served guests since the 1700s and is now exclusively a restaurant.

address: Moesgård Allé 15

A southern part of the Marselisborg Forests, Moesgaard contains a marked history trail, The Prehistoric Trail, running from the Moesgaard Museum (q.v.) right down to the beach, with reconstructed Stone, Iron, and Viking Age houses and tombs, runestones, etc. If history isn't your thing, just enjoy the beautiful and varied nature of this place; in the spring and summer, it is worth a visit just for that. If you want to eat or drink, start your tour with a meal at the excellent Aarhus Golf Club restaurant near the museum, drop in later on at the old watermill of Skovmøllen in the woods or bring your own supplies and have a picnic lunch at the Moesgaard Beach.
MindeparkenThis memorial park offers a panoramic view of the Bay of Aarhus. Many larger events are held here and when the weather permits, citizens flock to relax in the park area. The park is centred around an extensive lawn but has several interesting sections of different designs, including a grove of Japanese cherry trees and a flower and sculpture garden. It also contains the largest World War I memorial in the country, commemorating 4,000 dead Danish soldiers.
Riis SkovPresented to the citizens of Aarhus in 1395 by Queen Margaret I, Riis Skov is the oldest public forest in Denmark. It is a very popular (and semiwild) green getaway from the bustle of the city, on the waterfront just a short distance northeast of the city centre, next to the charming neighborhood of Trøjborg. At Riis Skov you can have a barbecue on the beach (just bring coal and food); swim, play or soak up some sun at the baths of Den Permanente; or enjoy some upscale dining in a traditional Danish setting at Sjette Federiks Kro.
Miscellaneous
phone: +45 89 40 92 00

address: Hack Kampmanns Plads 2

This large state-of-the-art public library and culture centre at the harbourfront is the largest public library in northern Europe, and is designed as a public meeting place for all kinds of activities. Enjoy the peculiar and futuristic architecture or engage in the library's many activities. Guided tours are arranged at regular intervals. Good café and an interesting four-section outside playground (adults may try the slides too). There is a specialized toddlers' play section inside. Large subterranean robotic car park below the building. Great for kids and adults alike. The whole building is accessible to people who use wheelchairs.

Marselisborg Palace

phone: +45 33 40 10 10

address: Kongevejen 100

This small summer residence of the Queen of Denmark is situated just west of Mindeparken. The surrounding garden-park is fenced, but open to the public when the Queen is not in residence. It is dotted with sculptures from the private art collection of Prince Consort Henrik, the Queen's late husband.
Do
For a city its size, Aarhus offers a multitude of things for visitors to do. Public events are generally oriented for folks of all ages and budgets, so whether you're a solo visitor, a family, young, old, handicapped, on a tight budget, or in the mood to splurge, there's much to choose from.
Guided tours and sightseeing
City SightseeingSee Aarhus from an open double-decker bus. With an audioguide in eight languages you can hop on or off at 8 stops on the route around the city. Buses come and go every half-an-hour so you can spend as much time in each spot as you would like, but it takes 70 minutes to complete the circuit if you don't hop off at all. Suitable for the handicapped.

phone: +45 27 29 06 90

address: Frederiksgade 78

Participate in a guided bike tour around the city. There are several tour themes to choose from and if you are a group of four or more people, you can design your own personal tour with the guides. The guides are all fluent in Danish and English.

phone: +45 42 42 19 25

address: Banegårdspladsen 1

Every Saturday at 11:00 and 14:00 o'clock, two-hour culture walks starts off from the square outside the Central Station. Just show up or book on-line and save 10 percent. The tours covers both present and older times city life, architecture, art and local stories. Tours on other days of the week and with more personalized themes can be arranged for groups of five or more people, but it costs €100.
Theatre & performing arts
phone: +45 89 33 23 00

address: Teatergaden

The city's main theatre. A luscious outstanding art nouveau interior design. You can dine or have a drink or coffee at Café Hack to the left of the main entrances.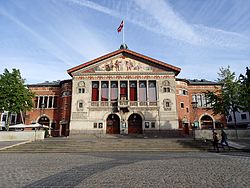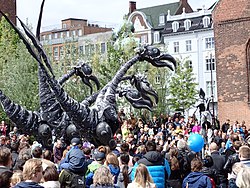 phone: +45 86 24 05 72

address: Frederiksgade 72

This is a good example of one of the many small niche theatres in Aarhus. Located in a tranquil backyard in the city centre, Teater Refleksion specializes in puppet and animation theatre of a high international standard. Equally suited for children and adults. Most performances can be enjoyed without knowledge of the Danish language. Sometimes workshops.

phone: +45 86 13 53 11

address: Mejlgade 55 B

This small theatre is touring around the world on a regular basis and to accommodate an international audience in Aarhus, a special programme in English has been launched for 2018. There is a small café at the theatre, pay a visit for a cup of tea and see if this place is for you.
Every second year in May, Aarhus is host to the
International Living Theatre
(ILT) festival, with the next event taking place in 2019. For a number of days, thespians from all over the world meet up here and share the universe of stage art in its broadest sense with each other and interested participants and audiences.
Cinema
There are three mainstream movie houses in Aarhus, and a number of smaller niche theaters.
Live music
address: Skolegade 25

Housed in an old building from the 1700s in the city centre, Fatter Eskil hosts bands from Denmark in a diverse mix of genres, but mostly blues and rock.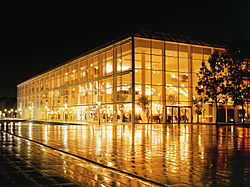 Festivals and events
Aarhus FestugeThe whole city is decorated for partying and filled with music, theater, food, experimental architecture, film, literature and other events during this 10-day multicultural festival held every year in late August and early September, the largest of its kind in northern Europe.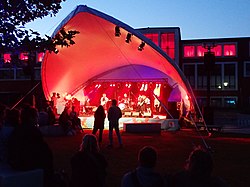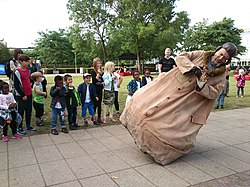 SPOT festivalA music festival, show-casing local amateurs and up-and-coming bands for a few days in early May every year. The festival also arrange several concerts around town throughout the year. In 2020, the festival will run from 30 April to 2 May. SPOT Festival is meant as a rendezvous between the Danish and international music industries and is headquartered at the Concert Halls and the conservatory but with concerts all over town. Small and large concerts from a tightly packed programme of many musical genres. Also talks and interviews with musicians and the music industry as well as conferences and networking opportunities. In the last few years, SPOT Festival has also included films and fashion.

address: All over town

Århundredets Festival, or Festival of The Century in English, is a broadly appealing knowledge, art and culture festival held every year in the first half of March across the city. The festival alternates between a historical era theme and a present theme relating to current state of affairs. In 2020, the theme will be focussing on the last thirty years of world history, with an interactive look towards the future. This period has been a time of great and unexpected global changes on many levels. From the end of the Cold War in 1989, symbolized by the Berlin Wall's demolition, to the present cracks in the EU unity. From a newfound peace, friendship and prosperity in the global community, to the War on Terror and a global financial meltdown. From dawning democracy in the Middle East and North Africa to bloody civil wars and refugees on a scale never witnessed before in human history. In the mean time, the patterns of global power are changing steadily, away from a US dominance, and the whole planet is heading towards a climate crisis. How did we end up where we are now, and how can we shape the future? The festival is arranged in a collaboration between the city's many educational and cultural institutions, Aarhus University and Aarhus Municipality, and includes a plethora of events, happenings, debates and lectures based around the annual theme. Everything is conducted in Danish as one of the festivals main purposes is to incite public debate among people and a broad engagement, but some events could be of interest to visitors who don't know the Danish language.
In 2022 Aarhus will host
The Ocean Race
, an international yacht race.
Beaches
Almost the entire coastline of Denmark consists of publicly-accessible sandy beaches well suited for leisurely activities, and the Aarhus area is no different. Beachcombers might want to be on the lookout for petrified belemnites and sea urchins, but you shouldn't expect to spot any amber in this part of Denmark.
The municipality offers real-time updates of water quality, temperature, etc., at area beaches, on a
website
and via a free mobile app. Be aware that there is increased wave activity throughout the entire bay whenever the catamaran ferry is passing through. The phenomenon is harmless and only lasts 5-10 minutes, but small children are sometimes frightened by this, especially when it happens on an otherwise calm day.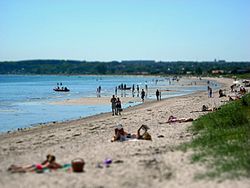 ÅkrogenAn unpatrolled beachpark located some distance north the city centre with shallow, balmy, and clean waters. The beachpark is centred around a marina, from which it stretches north and south. It is especially popular with windsurfers and kitesurfers. At the marina there are several eateries and access to bathing facilities for a fee. Huge lawns with room for sports and other activities in connection with the beaches. The beach itself is not the best quality, it is rather narrow and somewhat stoney in most places, but nontheless Canadian newspaper The Globe and Mail rated Åkrogen one of the world's ten best beaches.

Ballehage BeachThis lovely stretch of white sand south of town benefits from a stunning location nestled against the hilly greenery of the Marselisborg Forests, yet within easy walking distance of popular sights like the Marselisborg Deer Park and Varna Palace as well as a number of restaurants. Popular with swimmers, sunbathers, and picnickers, Ballehage boasts calm and clean waters, as well as amenities such as toilets and changing areas.

Bellevue Beach ParkAnother popular beach in a verdant yet often crowded setting, you'll find Bellevue Beach on the northern outskirts of town just past Riis Skov, facing Aarhus Harbor in the distance. Bellevue's sands are delightfully white and powdery, and the water is shallow and balmy, but notably less clean than other beaches listed here, especially after heavy rains. Amenities includes public toilets, drinking water, trash bins, and a small kiosk. You can get a meal at the café in the adjacent Bellevuehallerne sports complex and there are several small eateries in the immediate neighbourhood.

Den PermanenteThe name translates to "The Permanent", and reflects the fact that this place is as much about the indoor public bathhouse as the outdoor beach (or more; the latter is quite small). Changing rooms, showers, public toilets, and lifeguards are all provided. The tiny beach immediately south of the bathhouse has been designated as a nudist spot, but welcomes everybody. The historic inn Sjette Federiks Kro, located just up the hill in the forest, is the place to go for a nice traditional Danish meal after your swim. The sea bath was opened in 1933 but has been rebuilt several times since then. It was renovated in 2019.

Moesgaard Beach12 km from the city center and further south than Ballehage Beach, Moesgaard Beach is patrolled by a lifeguard during the summer months, and the water is even cleaner. There are large green areas here, a car park, toilet facilities, and a kiosk with fast food items, beverages, candy and ice cream for sale in the summer. You can reach the area by road (bicycle, car or bus) through the forests, on foot by The Prehistoric Trail from the Moesgaard Museum or from the beachside. If you go by bus, one option is to take Bus 31 from the Aarhus Bus Station.
Swimming pools
There are a total of
four public indoor swimming pools
throughout the city that can be used most of the year. Be sure to check up, as some are closed for extensive periods in the summer. Same price at all venues: kr 45; special prices for children and groups. You can rent towels and bathing suits at some places, but it is expensive.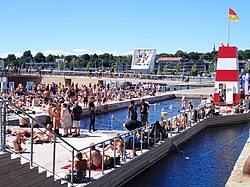 phone: +45 86 12 86 44

address: F. Vestergaards Gade 5

If swimming specifically is what you want to do, this is a better option than Badeanstalten Spanien, with an outdoor pool (summer only) to go along with the indoor one. Nonswimmers not allowed. There are also two associated sports halls known as Frederiksbjerghallerne. Bring your own lock for your personal locker, or buy one at the reception for kr 25.

phone: +45 89 40 20 70

address: Spanien 1

The pool at this renovated historic bathhouse from the 1930s hosts many families and children on weekends, but Badeanstalten Spanien is so much more than just swimming: there's a luxury co-ed wellness section (kr 90) with saunas, steambaths, spas, infrared heat lamps and other facilities. The building also houses a fitness centre, a couple of small boutiques offering massage, beauty treatments, wellness products and a café.

phone: +45 86 25 69 01

address: Dortesvej 43, Brabrand

If you're a family with kids, Gellerupbadet is the swimming venue for you, with special shallow heated pools and a sauna, plus a large climbing wall in the hall.

Havnebadet

address: Irma Pedersens Gade

Large floating bathhouse in the northern parts of the harbour, part of the developing docklands district. Designed by renowned architecture company BIG, Havnebadet was inaugurated on 30th June 2018. The open-air bathhouse has several pools, including child friendly paddling pools. It is open to the public from June through August. The surrounding area is still under development, but a number of small shops offers coffee, drinks, ice cream and some food.

phone: +45 87 13 33 85

address: Lysengvej 4, Højbjerg

Located in the outer district of Højbjerg to the south of the city centre, this is a swimming hall complex for everybody. Three pools to choose from: a shallow one with swimming toys for the kids, a deep one with diving boards, and swimming lanes for exercise and competitions. Sauna in both the men and women departments.
Sports
Throughout the city there are a number of sports complexes, small and large stadiums,
indoor sports halls
, and several facilities for street sports. Apart from the free street-level activities, you'll need to be a member of a team to visit most of these places, but sometimes hourly rental or trial lessons are offered.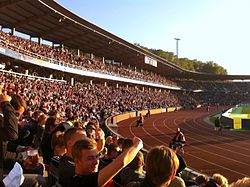 phone: +45 86 10 42 19

address: Gøteborg Alle 9

Aarhus Skøjtehal is an indoor ice rink offering ice skating in season, including occasional "ice disco" events and hockey matches. In winter, an outdoor ice skating venue is set up in the inner city park outside the Concert Halls.

Ceres Park & ArenaThe home pitch of local soccer team AGF, Ceres Park & Arena holds around 21,000 spectators. If you're a soccer fan, don't miss a home game (played on Saturdays or Sundays) as the atmosphere is amazing during game night!

phone: +45 86 18 00 88

address: Værkmestergade 17

DGI-Huset is a sports centre of about 5,000 m² in the city centre where you can engage in many kinds of indoor sporting activities. If you're not a member of a team, you can still play badminton or football, or pay by the hour to tackle one of the large climbing walls. Children are welcome and accommodated with a special play area, and there's also an onsite café. Weekends and holidays often see discounts on admission.

phone: +45 86 14 25 11

address: Observatorievejen 2

Horse racing.
Aarhus hosts many
large sports events
on both national and international level. You may want to attend or plan your visit around one of these events. In March 2019, the city was host to the
World Championships in Cross Country
.
Boating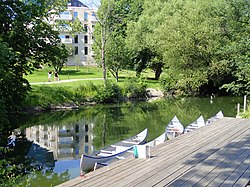 In the summer from early May through September you can rent canoes at the central community centre of
Folkestedet
and paddle along the Aarhus River for short or extended journeys.
Angling
The are several good spots for recreational fishing on the harbourfront with good chances of catching cod, mackerel, herring, and flatfish (Although eating the latter and other bottom-feeders is not recommended if caught in the harbour). In the countryside surrounding Aarhus streams and lakes likewise offer many opportunities for angling for trout, roach and bream. You will need to buy a
Angler Fishing License
.
Horse riding
A few places offers horseback riding as an alternative way to experience the immediate countryside.
phone: +45 23 30 16 50

address: Ormslevvej 325

Try some guided horseback riding on Icelandic horses in the countryside west of Aarhus city. Depending on your skill level, you will be guided by professionals on site, and when deemed qualified you can begin exploring the surrounding area on the back of a horse. The nature around Årslev Lake and Brabrand Lake close by offers a memorable nature experience. Icelandic horses are a sturdy breed, but smaller than most other horses, so the weight limit is 90 kg. This place is open for both single visitors and groups year round.

phone: +45 22 47 81 10

address: Fuldenvej 119

Horseback riding on Icelandic horses in the beautiful forests and countryside south of Aarhus. All tours are with guides. Only helmets are for rent here, remember to bring your own boots and long trousers. Please book and arrange everything a few days in advance.

phone: +45 28 15 73 01

address: Rønbækvej 35

Rønbækgård is in the forest of Himmerigskov between the suburban villages of Trige, Søften and Hinnerup north of Aarhus. Beginners, as well as the more experienced, can participate in guided tours on Icelandic horses every Friday and Sunday afternoon, tailored to the riders skill levels. Visit, or call, in advance to arrange and book. Tours on other days of the week can be negotiated.
Golf
The
East Jutland
region has many options for golfers. The courses are of a high quality and often situated in beautiful settings. As part of this region, Aarhus has several options:
phone: +45 86 94 26 77

address: Brydehøjvej 35, Harlev

This golf club is west of Aarhus near the town of Harlev. Beautiful countryside. 18 holes. Restaurant.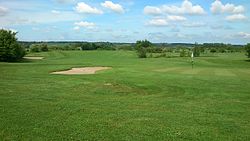 Miscellaneous
phone: +45 86 22 14 44

address: Sylbækvej 7-9 in Brabrand

Indoor lasergun battles for six or more people. Minimum age is 8 years old. Call in advance to book and pay. Instructions and equipment is part of the package. Bring your own food and drink or buy drinks at the place.

phone: +45 86 14 16 00 (Rush), +45 60 19 87 52 (Eventhall)

address: Søren Nymarksvej 8

A cluster of activity game arenas and an event venue, located in an otherwise uninteresting area of light industry in the south of the city. Rush Aarhus is a trampoline park for kids and adults alike. Every Friday and Saturday evening 20:00-22:00, Rush after Dark parties are arranged. Eventhall is a multi-purpose arena for all kinds of activity games; try to be a sumo wrestler, play bungee-basket or shoot your friends in a paintball game. Savvaerket is an event venue with occasional concerts and cultural happenings.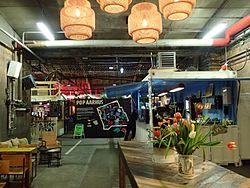 address: Ingerslevs Boulevard

An outdoor farm and artisan market with fresh vegetables, fruit, bread, fish, meat, cheese, and some prepared foods sold by local producers. There's also a small permanent café here with good coffee. and are two indoor food markets since 2016 in the city centre near the central station. Each offers a culinary world tour ranging from craft beers, charcuterie, and luxury porridge to pad thai, fish & chips, and Afro-Caribbean barbecue. Both food courts are open every day of the week.

phone: +45 8940 9948 or +45 2920 9043

address: Skovgaardsgade 3

A new centre for cultural productions of all kinds: theatre, concerts, performance, film, art exhibitions, finders-keepers markets, and more. There is a restaurant and café here too. Even if you are not interested in participating in anything in particular, Godsbanen is worth a visit for its strange and unique architecture, including the DIY commune known as Institut for (X) behind the main buildings. Here people tend gardens, play football, skateboard, play street sports, party and even live. The vibe is a friendly, inviting take on the anarchist "free town" — you'll find none of the decadence of Christiania here. A larger part of the village was bulldozed in late 2018 to make way for new construction projects, so visit now if you're at all interested.

PlaygroundsAarhus has many small (and a few large) playgrounds in and around the city, the vast majority of which are free. Kloden at Dokk1, Legeland in Storcenter Nord shopping mall, and the outdoor playgrounds at Mindeparken and the Botanical Gardens are popular choices. At Børnenes Jord in the city centre, indoor and outdoor playgrounds are attended by professionals who supervise kids and also arrange events. Commercial sites includes Leo's Legeland in the northern district of Skejby and the Legelandet complex in the western district of Brabrand, both with facilities for kids of all ages up to 17 years.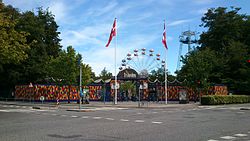 phone: +45 86 28 01 70

address: Hasselager Centervej 30

Go for a go-kart race in what is claimed to be the largest indoor race track in Europe. Onsite American-style diner.

phone: +45 86 19 21 22

address: Store Torv 4

Play a round of roulette or a game of cards and hope for the big prize, take a break from the action over a cup of coffee in the Royal Café or dinner at Queens Garden restaurant, join the party at the Royal Casino Bar, or just gawk at the bronze sculptures at the main entrance, designed by local artist Hans Krull.

phone: +45 86 14 73 00

address: Skovbrynet 5

An amusement park with roller coasters, ferris wheel, haunted house and similar classic entertainment. Also restaurants, a dance floor, and a large stage hosting occasional concerts and large events. Special schedule around Christmas.
Learn
Make no mistake about it: Aarhus is a college town. As the home of
Aarhus University
, the largest in Scandinavia, plus nine other institutions of higher education, Aarhus' student population numbers one out of every five residents — a statistic that certainly explains the youthful vigor in the city's dining, nightlife, and cultural scenes.
Even if you're not matriculated at any of Aarhus' colleges and universities, the city still offers a lot of informal learning activities and courses on all kinds of subjects.
Apart from degree courses, (AU) also offers a number of independent academic courses in English, as well as...
Folkeuniversitetet (Folk University), which hosts lectures and seminars on many popular academic subjects, with a more relaxed and less technical tone aimed at laypeople. However, the teachers come from a rigorous academic background (many are professors at AU), and are equipped to deliver up-to-date knowledge from the forefront of research. All courses are in Danish, so this can be a good opportunity for you to exercise your language skills in an intellectually stimulating way.
Dokk1 , a new central library and cultural centre, offers a plethora of cultural events, gatherings, seminars, and discussion groups with various cultural notables.
(Frederiksgade 78C) is a cluster of buildings tucked away in a courtyard behind City Hall Square that serves as a centre for a diversity of courses in general education, meetings and conferences. There is an onsite café (Café Nicolai) and sometimes markets where the students sell their own crafts and artworks.
FOF is a longstanding adult education program that offers all sorts of courses with qualified teachers, usually in the evening, in various locations throughout the city. Here you can learn to play guitar, cook for your baby or acquire a sailing certificate.
. If learning Danish is your goal, this is the place to go. The language courses here are mostly geared toward foreign students at Aarhus University and immigrants, but are open to all. Courses are held at both the LærDansk's offices (Paludan-Müllers Vej 82) and the AU campus.
Buy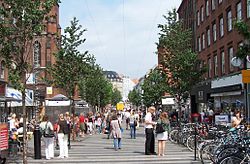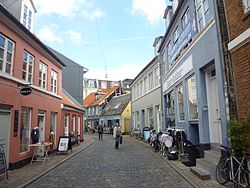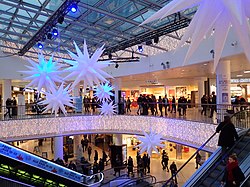 The
pedestrian zone
in the city centre is the best place for shopping — and it's right outside both Aarhus Central Station and the bus terminal, so you can't miss it. It's packed with small specialty boutiques and cafés, but you'll also find larger stores too: locations of
Salling
and
Magasin du Nord
department stores; three
H&M
outlets; several supermarkets. The main street of
Strøget
is the place to go for upscale Scandinavian clothing, design and jewellery shops. There are also a number of larger bookstores where you can buy books in English, including guides and maps.
Bruun's GalleriThe biggest city mall in Denmark. 95 shops to choose from, plus the largest and most advanced cinema in Jutland.

Latin QuarterAnother shopping district in the old city centre, in the Latin Quarter you'll find small independent shops as well as some of the city's oldest cafés. There's something for everyone here: unique clothing, furniture and design boutiques, many with an unmistakable Danish flair (check out the Bang & Olufsen Hi-Fi store for a particularly good example), storefront art galleries, record shops, tattoo parlors, hair saloons, not to mention plenty of opportunities for just soaking up the atmosphere and street life. Every year in May or September, the shops and businesses of the neighbourhood celebrate the Latinerfestival for a couple of days, with events and concerts.

phone: +45 86 12 76 88

address: Skt. Clemens Stræde 7

One of only four shops in Denmark selling high-quality reproductions of original Viking jewellery. Many different varieties.
Outside the city centre, notable shopping opportunities include:
address: Edwin Rahrs Vej 3

An international bazaar of 110 small shops where you can buy all kinds of imported items and ethnic food. Get yourself a meal, a haircut and your shoes fixed or what about a hookah, a real Persian carpet and a specially designed Arabian perfume? Many cuisines, from Greek and Turkish to Somalian and Indian. Good shawarmas, falafel and sweet Arabian delights. Sometimes events such as market days with special discounts or concerts with Middle Eastern artists or world music. Large parking lots.

City VestLocated in the western part of the city, this mall has around 30 shops and cafés.

Storcenter NordAround 50 shops, including a surprising abundance of eateries and a large indoor playground with room for up to 150 kids. Have your lunch while your kids play beside you. Large parking spaces in the basement and on the roof.
Self-caterers on a budget should look for a red
Fakta
or yellow
Netto
; these are the most abundant discount grocery stores in the city. Other discount options are
Aldi
and
Rema
.
Some places, particularly restaurants, assess a surcharge of a few percent extra on purchases made with foreign credit cards, due to banking fees.
Eat
Aarhus is generally known as one of the best places to eat in Denmark. However, the best places are not necessarily located at the most prominent addresses, so a bit of browsing is recommended if you have a particular interest in fine dining. Prices tend toward the low end — perfect for perennially cash-strapped university students — but that's not necessarily an indicator of quality; you can find surprisingly good food at some of these budget-priced places. Several spots have lunch offers.
With an immigrant population of around 15%, Aarhus has many opportunities for ethnic food; Italian, Greek, Middle Eastern, Chinese, Vietnamese, Thai and Japanese food are the most common cuisines, and again, prices are usually quite affordable.
Most restaurants close the kitchen at 21:00, but you can usually sit back and enjoy your meal for as long as you like. At gourmet spots, it is a good idea to book a table beforehand, and for groups of five or more people it is highly recommended. Otherwise, you risk being turned down in the door, due to the unexpected workload or lack of space. Many restaurants are closed for extensive periods throughout the year; usually in the summer months or Jan-Feb, so be sure to check in advance if you plan to visit a specific place.
Barbecue and burgers
In the last few years, Aarhus has experienced a veritable "burger war", with good quality burger joints popping up everywhere, making for strong competition. As well, Aarhus has several choices for both American- and traditional Danish-style barbecue, and Middle Eastern fare such as kebab, shawarma and falafel can be had at numerous eateries in nightlife districts. Several Mexican spots has also appeared in recent years.
Budget
In addition to what's listed below, no visit to Denmark would be complete without patronizing a
Pølsevogn
(sausage wagon): street vendors that sell a variety of hot dogs, sausages, and sometimes burgers. The inner city has several, including one in front of the central station and another at City Hall Square, most of which are owned by a Danish
charity
that donates the surplus to needy children.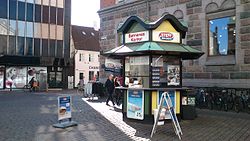 phone: +45 42 55 82 26

address: Åboulevarden 17

Mexican tacos, burritos and quesadillas with many creative variations on offer. Excellent quality. Mexican sodas available. This is one of only a few quality eateries serving late weekend nights in Aarhus.
Mid-range
Some of the best barbecue spots in town are American-style.
phone: +45 87 30 04 00

address: Åboulevarden 20

American-style barbecue in two floors. Bone's is a family friendly Danish restaurant chain with eateries across the country. Lunch options every day.

phone: +45 87 30 04 00

address: Christiansgade 32

Really good American-style barbecue in the southern smokehouse tradition. Lunch options on weekends.
Italian
Italian restaurants are numerous in Denmark, serving everything from gourmet dinners to fast-food options like pizza and panini. Quality ice cream was previously not a very popular sweet treat in Denmark, but that might be changing, as numerous ice cream vendors have popped up across the country. In Aarhus, this trend also includes quality Italian ices.
Budget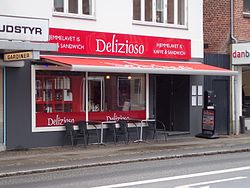 Pizzerias are abundant throughout the city, including the outlying districts. Some places puts in an extra effort:
Mid-range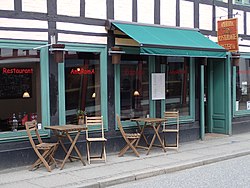 Good restaurants with a broader and more substantial Italian, or Italian-inspired, menu include:
phone: +45 86 19 30 77

address: Vestergade 60

Located in an old preserved timber-framed house, AmoRomA's owners draw on their experience operating their specialty grocery store Il Mercatino in Mejlgade for their menu of tasty Italian food served in romantic surroundings. Very good pizzas.

phone: +45 23 62 35 72

address: Banegårdspladsen 14

This Italian-inspired gourmet restaurant in the Mayor Hotel at the central station is among the best restaurants in town. Lunch and evening menus.

phone: +45 86 18 19 69

address: Marselisborg Havnevej 46 B

Martino serves great Italian-inspired gourmet cuisine with an emphasis on seafood. Order à la carte from their wide-ranging menu or check out their selection of seasonal two-, three- or four-course prix fixe meals. Special lunch menu is in effect from 11:00-16:00. Outdoor seating when the weather permits.
Asian
Budget
There are many options for a budget-priced Asian meal. Chinese restaurants usually offer budget-priced lunch buffets, a few
à la carte
dishes, and takeaway boxes. Notable also is a cluster of Vietnamese and Thai places along Vesterbrogade past Vesterbro Torv, and down Nørre Allé and Nørregade.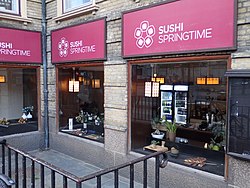 Mid-range
Sushi dominates the roster of mid-priced Asian restaurants in Aarhus: in addition to those listed below, national chains
Karma Sushi
and
Sota Sushi
have two locations each in the city centre.
phone: +45 87 80 00 08 (Jægergårdsgade)

address: Jægergårdsgade 81 and Nørregade 28

Saichi is an original Japanese restaurant and the sushi and sashimi you can get here is among the very best in town. "All you can eat" arrangements available with special discount for lunch. Also a few other Japanese dishes and a good selection of sake, shochu and of course Japanese beer. Take away discount. The kitchen closes one hour before the restaurant. There are two Saichi restaurants in Aarhus, one in Nørregade near the Latin Quarter and one in Jægergårdsgade on Frederiksbjerg.

Sushi Springtime

phone: +45 22 55 55 44

address: Park Allé 9

Possibly the best and most authentic sushi restaurant in Aarhus, with a chef and owner trained in Japan. Original Japanese teas. Best to order well in advance, preferably a day or more and especially if you're arriving with a large party, as everything is made fresh to order.

phone: +45 81 470 470

address: Nørre Allé 51

The South Indian is one of only a few places in Aarhus, serving Indian food. Very good and authentic Indian food here, with a focus on the South Indian Chettinad region in particular. Soups, stews, curries, various breads and plenty of Indian specialities, all served in comforting and cosy surroundings. Good options for vegetarians and vegans alike.
International gourmet
While gourmet dining in Denmark traditionally means French, the large and diverse slate of such restaurants in Aarhus ranges from Spanish and Italian-inspired gourmet cooking to seafood restaurants and New Nordic. Four places have been awarded a Michelin star and several are mentioned in respectable food guides, including the White Guide covering Nordic countries specifically.
Most larger hotels have their own restaurant, usually with decent-quality international fare at mid-range prices, and some with outstanding dining. You don't have to have a room there to eat there. See the "Sleep" section and/or individual hotel websites for details. Further out into the countryside, traditional inns
(kroer)
also offer culinary experiences comprising both native Danish fare as well as international gourmet cuisine, again mostly at mid-range prices.
Mid-range
Great quality international gourmet food can be had for mid-range prices. Even if your budget is limited to mid-range, do also check out "Splurge" restaurants, as more expensive places are known to offer special promotional discounts from time to time.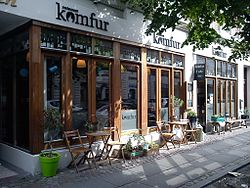 Splurge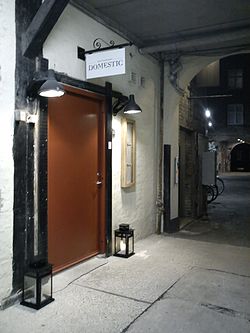 Steakhouses
Denmark is well-known worldwide for its pork, but also produces topnotch beef. Many restaurants have steak on the menu, including some of the international gourmet spots, but a few places serve it as the specialty of the house. To enjoy the best possible steak in Aarhus, you will have to splurge.
phone: +45 86 13 53 25

address: Kannikegade 10-12

A renowned chain of steakhouses based in Herning and with locations across Denmark and even as far afield as Greenland and Australia, Aarhus' location of A Hereford Beefstouw sports an in-house brewery to go with its wide variety of different steaks and lamb, fish and some seafood dishes. All this goodness is served up in a spacious wood-panelled dining room that seats 160. A kids' menu is available, as is a discounted "Theatre Menu" for four (weekdays only).

phone: +45 38 41 60 50

address: Åboulevarden 23

Top-quality steak and seafood, with beef sourced from Denmark, Uruguay, the U.S., and Australia.

phone: +45 33 13 93 00

address: Banegårdspladsen 12

Another Danish steakhouse chain, with some of the best cuisine of this type in the country as well as a very impressive wine list. A selection of fish dishes and some high-quality burgers round out the menu.
Traditional Danish food
Unlike the experimental and often quite expensive dining of the New Nordic Cuisine, traditional Danish food is hearty, simple, and of course old-school — and its popularity is surging on Denmark's restaurant scene these days. Special menus are served around
Mortens Aften
(St. Martin's Day; 11 November), Christmas, and Easter. Prices are mostly mid-range.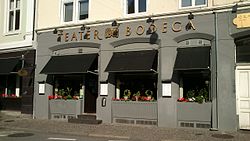 Vegetarian
Many eateries in Aarhus have vegetarian dishes or alternatives on the menu. A few places are dedicated vegetarian only.
Cafés
The many cafés in Aarhus span a diverse range, from tiny holes-in-the-wall with two chairs to extravagantly decorated places with mirror rooms and waiters in fancy clothes. Some places serve only the most basic items, while other places offer lunch, evening dinners or cocktails and parties at night. So whatever you are looking for, it shouldn't be a problem to find a café that suits your taste or pocket.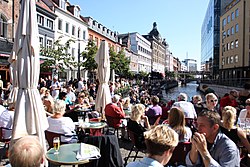 The majority of cafés in Aarhus are unique, each with their own individual charm and character, and you'll find an emphasis on high-quality coffee in quite a few of them. However, national chain cafés also have a presence, with locations of
Espresso House
,
emmerys
,
Lagkagehuset
and
Anettes Sandwich
across the city, and
Starbucks
have two cafés in the inner city as well. If you're not a coffee drinker, cafés also often serve hot chocolate and sometimes smoothies, but quality tea is only just beginning to catch on around these parts.
Take note that in almost all cafés in Denmark you are expected to contact staff yourself, usually at the desk, to grab a menu card, to place your order and when you wants to pay. This is often very bewildering to tourists, but is how things are typically done in Denmark and not a sign of rude or ignorant service.
Although there is a high concentration in the inner city, cafés can be found all over town. A few special places might be hard to discover without particular mention:
Bakeries
Denmark has a long tradition of unique, good quality
bread and confectionery
. You might find it in cafés or in common bakeries across the city, but some places merit a visit for the special effort they put into the craft of baking.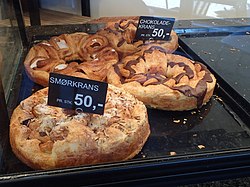 and are two Danish chains of high-end bakeries with attached café sections. Lagkagehuset has seven spots across town and presents a great selection of cakes which, apart from the Danish pastries of course, include cold confectioners cakes such as layercakes and creamcakes. Emmerys is an organic certified bakery with five spots offering brunch servings, while the cake selection is more limited. Both chains offers breakfast and various snack foods and they are open every day of the week.

phone: +45 86 12 43 93

address: Åboulevarden 53

At this small but great bakery you can sometimes watch the bakers at work. A good variety of breads are always available, but the selection of cakes is somewhat limited, but changes often. They only use butter for baking here, no cheap substitutes, and Briançon is renowned for their croissants specifically, which are always up for sale. Also homemade confectionary (their caramels are exquisite) and chocolate delights, quality coffee beans and champagne. The shop is administered by a brother and a sister since 2006 and is located at the riverside, but at a less busy place. No room for eating, but several public spots nearby.

phone: +45 86 12 34 47

address: M.P. Bruuns Gade 56

A modern yet historic bakery open for breakfast and lunch. The menu at this pleasant little bakery is full of traditional delights; the variety changes often, but always includes several types of Danish pastry. Schweizer Bageriet is a small place, with only a couple of seats for eating. Good sandwiches and salads.
Drink
Aarhus has a lively nightlife, with everything from big mainstream clubs to small alternative hangouts playing niche music. Aarhus's young population fuels a major part of the partying, and the large numbers of students tend to keep prices reasonable. Legal drinking age in Denmark is 18, but some bars limit entry to those over 20 or even 23. In any case, it pays to have picture ID on you if you want to indulge in the bar scene. Prices are generally higher than in other parts of Europe, but cheaper than Copenhagen and with several budget options. Entry fees are almost non-existing. The action tends to concentrate around Jægergårdsgade, Frederiksgade, Åboulevarden, Vestergade, the Latin Quarter, Mejlgade, Nørregade, and the riverside
(Åen)
, the latter of which is the most expensive area.
The nightlife in Denmark and Aarhus is quite safe, though occasionally plagued with young immigrants (primarily of Middle Eastern descent) who harass people, sell drugs, and engage in vandalism. These incidents might be rarer these days, but if you are a group of young males with a Middle Eastern look, be aware that you could risk being denied access to some of the more popular spots. Drinking does not limit itself to the night (or the weekends) in Danish culture, so you will not have a problem finding a good place for a cold beer, a nice drink or a glass of wine in the afternoon or even in the morning.
The most widely available Danish beers are Tuborg, Carlsberg and Ceres. With a 150-year history in Aarhus, Ceres was by many considered the "beer of Aarhus", with Ceres TOP as the flagship pilsner, but the beer is not brewed locally anymore. Most places also serve other well-known international brands, mostly on draft. Quite a few spots specialize in quality beers and craft brews, and offer a large variety for the beer connoisseur. This trend seems to have spilled over and affected many of the regular places as well.
Cocktail bars are getting increasingly popular, with most places now offering some kind of mixed drink as an alternative to the omnipresent beer. Quality whiskey, rum and gin can be had in many bars. While in Danish culture wine is traditionally enjoyed with food rather than by itself, recently a few high-end wine bars have opened and are very popular.
Many Aarhus bars change concept and/or owners quite often, some every 2-3 years or so, while other spots close and new ones emerge. This listing is therefore incomplete and may be out of date, though we've tried to limit it to places with proven staying power.
Frederiksbjerg
A neighbourhood with its own atmosphere, separated from the rest of the city centre by a rail yard. Frederiksbjerg's nightlife scene is a mix of traditional
bodegaer and værtshuse
of the type you can read about below as well as some newer and more fashionable spots.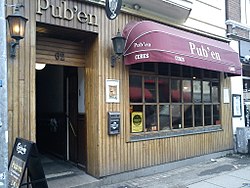 Frederiksgade
This partly pedestrianized street brims with nightlife.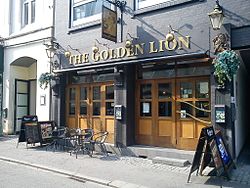 Riverside
Most of the cafés near the mouth of the river turn into bars and nightclubs in the late evening, but there are also many places here dedicated exclusively to nightlife. One of the busiest bar scenes in the city, the riverside can be hectic Friday and Saturday nights, attracting many young people. The rest of the week, the promenades along the river offers a more laid-back vibe. Despite the many upscale and fashionable places, there are a surprisingly ample selection of budget-friendly options in between. The nightlife scene here starts off at
Immervad
, the small bridge crossing the canal at Frederiksgade, and stretches all the way to the mouth of the river at the harbourfront.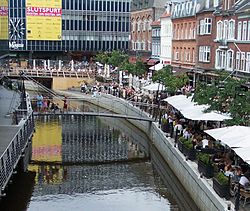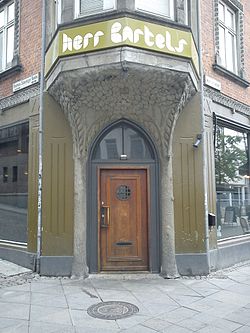 Skolegade
Skolegade is an old narrow sidestreet behind Åboulevarden with a long history as a nightlife destination. Most of the action is near the south end, closest to the riverside.
phone: +45 86 13 79 26

address: Skolegade 32

This is a small bar where heavy metal and hard rock music rule the day, including demo-tapes from local bands. Green chartreuse and absinthe are specialties here. Escobar is a great place to get acquainted with the local metal scene, but if you're not the headbanging type, never fear: the nonjudgmental, come-as-you-are ambience is welcoming to all. Pub quiz Monday nights with a focus on movies and music.

address: Skolegade 28

Aarhus' gay and lesbian club.

phone: +45 86 12 20 60

address: Skolegade 11

This small bar has served since 1848, but got its name from a miss Elna Pind who took control in 1936, notorious for her sharp tongue and very strict rules. Things are more easy nowadays but the old-fashioned decor clings on. The clientele is typically of the mature and relaxed kind. Smoking allowed.
Latin Quarter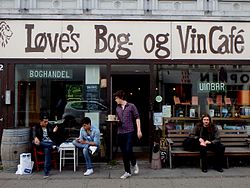 As at the riverside, several of the Latin Quarter's cafés turn into festive bars in the evening, while other places serve as such all day.
Elsewhere
Bodegaer and værtshuse
In Denmark, a
bodega
is a traditional Danish pub or bar. The
bodega
has a long cultural history in Denmark and is conceptually somewhat similar to an English pub, but only a few places offer meals and live music. You could warm up at one before going to a concert or a fancy club, or you can drop in for a coffee or a beer in the afternoon. It should be fairly easy to find yourself engaged in a conversation at these places, as the majority of people are here to socialize and unwind.
Peder Wessel

phone: +45 30 36 75 16

address: Niels Juels Gade 49

Nice classic bodega on Trøjborg, north of the city center. Relaxing and cosy atmosphere on the week days but packed with people ready to party on weekend nights. Often live music.
In the older days, when alcohol was seen as a basic thirst-quencher for the working man, bars were much more abundant. These were watering holes with the sole purpose of serving cheap beers all day, every day. The Danish word for these basic bars is
værtshus
, which loosely translates as "hosting-house": in other words, a place that hosts people for drinking. Times have changed, but there are still some of these places left in Aarhus, many with their own peculiar charm. They are mostly frequented by regulars, but visiting strangers are welcomed too. The crowd at these places can be a lovely mix of joyful people at times, especially weekend nights.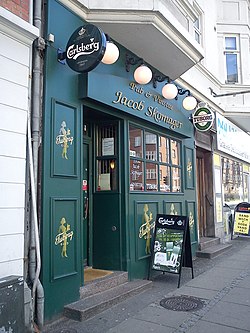 Ceres TOP pilsner is the
de rigueur
beer in
bodegaer
and
værtshuse
, but other alcoholic beverages are usually available too, along with coffee and soft drinks. An "Aarhus set" consists of a Ceres TOP with a shot of Arnbitter on the side, both beverages from Aarhus. Shots of black liquorice-flavoured vodka, often referred to as
Fisk
, are popular with young people.
In popular usage, the terminology can be confusing: the words
værtshus
,
bodega
, and
café
are nowadays often employed indiscriminately in business names, and in particular
værtshus
can be used for any kind of bar. To learn more about the true
værtshus
concept — and to learn how to differentiate between the three categories yourself — you can start your field research at these spots:
Sleep
Prices for hotels are generally higher than in other parts of Europe, but there are a number budget options of a good quality.
Apart from the well known hotels listed below, there are also options for small
bed and breakfasts
— usually located some distance outside the city centre — as well as private stays and holiday rentals.
Budget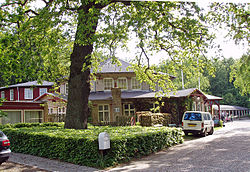 Mid-range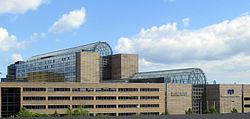 Splurge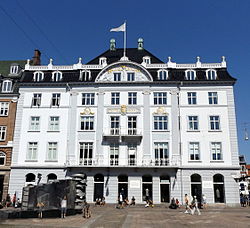 Kroer
Kroer
(singular
kro
) are traditional country inns of a type that has a long history in Denmark: a nationwide network of these places was laid out by royal decree beginning in the 13th century (and culminating in the 17th) in order to provide easy shelter, dining and fresh horses for the king and his entourage when travelling through the country. Others emerged in places like village halls and old flour mills to provide food and accommodation for larger gatherings and celebrations in the surrounding rural communities. Today,
kroer
are usually held in high social regard. If you're looking for an all-inclusive getaway in a romantic countryside setting, yet not too far away from the action of the central city, this might be the option you're looking for.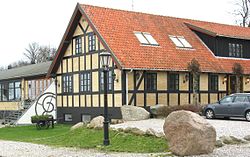 Connect
Wi-Fi
Nearly all hotels supply free Wi-Fi and limited workspaces. Most cafés also offers free Wi-Fi for customers, but gazing into your laptop for more than half-an-hour in a café is usually disapproved and you are best advised to find another spot to satisfy your digital needs. In this case Aarhus's free municipal WiFi network,
Smart Aarhus
, can be freely accessed in and around most public squares, parks, and institutions, including the Urban Mediaspace of Dokk1 where finding a spot to sit around should not be a problem.
Computers
If you need to use a computer, the library at
Dokk1
has several terminals for public use, with Internet access through an SMS authentication system and printing services available for a fee. Also free Wi-Fi throughout the building.
Cope
Accessibility
In Denmark, all newer buildings — and quite a few older ones as well — are specially equipped with ramps, elevators, lifts, and sometimes escalators to help handicapped people navigate the public space. As well, the beeping sound you hear coming from the traffic lights at some of Aarhus' busier intersections are there to help visually impaired pedestrians know when it's safe to cross. Guide dogs are allowed in most places (even in some cinemas), and personnel are unusually friendly and helpful towards the handicapped.
Begging
The homeless in Aarhus are usually harmless (to the point where you could make small talk with many of them), and aggressive begging is uncommon. Many of them earn a nominal income selling the street newspaper
Hus Forbi
("House Passed") to passersby in public places.
Consulates
Austria

phone: +45 89 34 00 00

address: Hans Broges Gade 2, 8000 Århus C

Belgium

phone: +45 33 34 07 90

address: DOKK1, Hack Kampmanns Plads 2, Niveau 3, 8000 Århus C

Burkina Faso

phone: +45 40 27 76 24

address: Hjortevænget 11, 8270 Højbjerg

Chile

phone: +45 40 28 40 37

address: Skovboulevarden 8, Stevnstrup, 8870 Langå

Croatia

phone: +45 72 27 00 00

address: Bech-Bruun, Værkmestergade 2, 8000 Århus C

Cyprus

phone: +45 40 68 05 38

address: Oldrupvej 57, 8350 Hundslund

Czech Republic

phone: +45 88 80 82 40

address: Sofienlystvej 6-8, 8340 Malling

Estonia

phone: +45 70 10 05 55

address: Østhavnsvej 5, 8000 Århus C

France

phone: +45 40 60 88 62

address: Skolegade 4, 8000 Århus C

phone: +45 28 92 23 98

address: P.O. Pedersens Vej 10, 8200 Aarhus N

Hungary

phone: +45 86 18 49 33

address: Helgesvej 18, 8230 Åbyhøj

Iceland

phone: +45 33 34 00 00

address: DLA Piper Denmark, DOKK 1, Hack Kampmanns Plads 2, 8000 Århus C

Italy

phone: +45 42 37 69 65

address: Laksedalen 81, 8220 Brabrand

Malta

address: Flakvej 3, 8240 Risskov

Mexico

phone: +45 87 40 80 00

address: Stenvej 25 B, 1, 8270 Højbjerg

Netherlands

phone: +45 20 60 73 62

address: Vestre Skovvej 14, 8240 Risskov

Norway

phone: +45 23 28 02 48

address: Axel Kiers Vej 13, 8270 Højbjerg

Oman

phone: +45 86 17 50 72

address: Strandvænget 5 B, 8240 Risskov

Philippines

phone: +45 29 17 70 40

address: Bjarkesvej 30, 8230 Åbyhøj

Poland

phone: +45 87 34 34 34

address: Mariane Thomsens Gade 1, 8, 8000 Århus C

Romania

address: Systematic A/S, Søren Frichs Vej 39, 8000 Århus C

Slovakia

phone: +45 70 26 70 10

address: Marselisborg Havnevej 56, 2., 8000 Århus C

Slovenia

phone: +45 86 20 42 00

address: Stenvadet 6, 8240 Risskov

Sweden

phone: +45 87 32 12 50

address: Sct. Clemens Stræde 7, 1. sal

Switzerland

phone: +45 21 48 48 67

address: Agro Food Park 13, 8200 Århus N

Ukraine

phone: +45 70 22 84 55

address: Marselis Boulevard 1, 8000 Århus C

United Kingdom

phone: +45 70 11 11 22

address: Åboulevarden 13, 8000 Århus C
Stay healthy
In case of medical emergency, tourists should call the general medical emergency line at +45 70 11 31 31 or, in the case of life-threatening emergencies, 112. There is only one
emergency centre
serving all of Aarhus. It is located at the new Aarhus University Hospital out of town in the northern district of Skejby. Take note, that you are required to call in advance in any circumstance!
There are many pharmacies
(Apotek)
in Aarhus, in the city centre as well as the outlying districts. Supermarkets and some shops also sell non-prescription medicine. At the
Aarhus Løve Apotek
near the Cathedral, medicine can be picked up all week 6:00-24:00.
Go next
Close by
Explore the
East Jutland region
with Aarhus as a base, be it day trips or longer stopovers. The region offers many kinds of activities and experiences, especially in the summertime.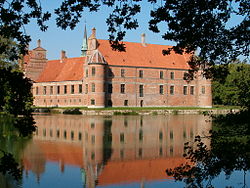 A trip through the immediate countryside around Aarhus — say, to the Jeksendalen valley southwest of town, or around Norsminde Fjord on the coast — combined with a nice meal at a roadside kro can make for a great little getaway from the city. This is best done on four wheels rather than two: many roads here are narrow, there are no bike lanes, and car traffic can be fast-moving.
Djursland is the "nose" of Jutland immediately northeast of Aarhus, a thinly-populated rural area where folks have made a living farming and fishing for millenia — a history you can get a sense of in the preserved Medieval-era old town of Ebeltoft, or at the ruins of Kalø Castle, both part of Mols Bjerge National Park which comprises most of southern Djursland. If animals are your thing, you'll find Kattegatcentret, an aquarium in Grenå where you can swim with seals, as well as a pair of open-air zoos: Skandinavisk Dyrepark with large animals related to Scandinavia exclusively, and Ree Park Safari with a plethora of exotic animals from all around the world. Also popular is Djurs Sommerland, an amusement park with thrill rides including the largest rollercoaster in Northern Europe. North of Aarhus is Randers, home to a jungle zoo as well as Gammel Estrup, a manorhouse-museum situated in one of the many castles and manors that dot the region.
Søhøjlandet, the "lake highlands", is a scenic region of forests, hills and lakes west and south of Aarhus that's historically important as home to medieval religious orders and the birthplace of the Danish national state. Hiking is a major attraction of this region: the Aarhus-Silkeborg hiking trail leads from the city centre through a scenic landscape of rivers and lakes to the town of Silkeborg, where you'll find an impressive modern art museum and yet another aquarium — Ferskvandscentret — displaying native freshwater aquatic species. From Silkeborg you can press on to Himmelbjerget, or the Sky Mountain, one of the highest points in Denmark with an impressive view of the surrounding landscape from the red brick tower on top. Elsewhere in the region is Skanderborg, a small historic town that was once the royal family's favorite hunting grounds and later during the Second World War served as headquarters of the Danish faction of the Luftwaffe (you can explore this history at the Skanderborg Museum), and Horsens, a port town that's home of the European Medieval Festival.
Samsø is clearly visible from Aarhus across the bay, and is accessible by ferry from the village of Hou. From mid-June 2020 a new small catamaran ferry (no vehicles except bicycles) will connect the center of Aarhus with Samsø. The pace slows on this pastoral island powered entirely by renewable energy, with golf, horseback riding, and fine dining all on offer.
Vejle, Southern Jutland's regional capital, boasts a range of historic and art museums as well as Trekantsområdets Festuge, a 10-day regional cultural festival akin to Aarhus Festuge.
Viborg is - like Aarhus - an old Cathedral town with an interesting townscape full of history, quirky alleyways and summertime street life. It is a work-hard, play-hard town, home of one of Denmark's most popular and dominant football teams. Viborg has been administrative capital of the entire Region Midtjylland (Central Denmark Region) since 2007.
Further afield
Denmark's third-largest city, Odense, is the birthplace of fairy-tale fabulist Hans Christian Andersen, and it plays that connection to the hilt for the benefit of tourists: the house he grew up in is now a museum, Little Mermaid statues dot the town liberally, and there are parades and monuments in his honor.
A lively student culture rules the day in Aalborg, in the far north of Denmark, home of the eponymous University of Aalborg as well as Jomfru Ane Gade, the longest bar street in Scandinavia.