Aberdeen (Washington)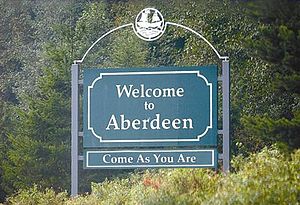 Aberdeen
is a city in the
Olympic Peninsula
region of
Washington
. The city is the economic center of Grays Harbor County, bordering the cities of
Hoquiam
and Cosmopolis. The population was 16,461 according to the 2000 census.
Understand
Aberdeen is called the "Gateway to the Olympic Peninsula," because of its proximity to the southern end of the peninsula and to
Olympic National Park
. In recent history Aberdeen has become more famous as being the "Birthplace of Grunge," and the hometown of Nirvana members Kurt Cobain and Krist Novoselic. A sign welcoming visitors to Aberdeen proclaims "Come As You Are" as a tribute to the band. Although it's hard to imagine today, at one point Aberdeen was a notorious Western outpost at the turn of the 20th century, with a number of saloons, brothels, and gambling halls in and around the town. Because of the wild atmosphere associated with these establishments, Aberdeen was nicknamed "The Hellhole of the Pacific."
Get in
By plane
The nearest major airport for commercial flights is
Seattle-Tacoma International Airport
(
SEA
), which is about 80 miles away. While it's possible to get to Aberdeen via a number of different bus routes, your best bet is to rent a car, especially if you are using Aberdeen as a jumping point into Olympic National Park as public transportation inside the park is unavailable.

By car
From Seattle, Interstate 5 provides access to Olympia, where you can take US Hwy 101, which becomes State Route 8 after passing the Shelton Exit into or along U.S. Route 12 from Exit #88 (especially if coming from south of Olympia) west into the city.

By bus
If traveling into Aberdeen without a car from Sea-Tac take:
The Aberdeen (bus) Station for Grays Harbor Transit and Pacific Transit occupies an entire city block at Wishkah & G Streets, across the street from Rite Aid in downtown Aberdeen:


Get around
By bus
Grays Harbor Transit provides local bus services in and around Aberdeen (Rt #5, 10A, 10B, 20); Cosmopolis (#30) and Hoquiam (Rt #20, 40, 50, 60, 70)
See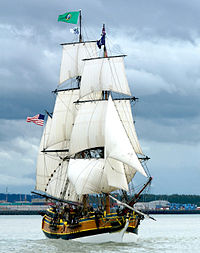 Aberdeen is well known for its lovely harbor, spread glittering and gray along the west edge of town, where the bay bobs with sailboats and speed cruisers.
The Lady Washington

phone: +1 360 532-8611

address: 712 Hagara St

Make a visit to see the great Lady Washington, a replica of the original which sailed the seas in the late 1700s. The Lady Washington offer sailing and dockside tours, which make their way up and down the coast from Washington to California.

Morrison Riverfront Park walkA great way to take in the sights of Aberdeen, stroll along this 1½-mi-long trail to the 40-foot-wide Compass Rose mosaic, which joins the Wishkah and Chehalis rivers.

phone: +1 360 970-7080

address: 413 E. Wishkah St

When owner Don Sucher saw Star Wars in 1977, he was so blown away by the special effects, he decided to start collecting paraphernalia from the movie. What started as a summer hobby has now ballooned into a full-time store in downtown Aberdeen, with an estimated 70,000 collectibles.
Do
Grays Harbor Historical Seaport

address: 712 Hagara St

Set sail on the Lady Washington or the Hawaiian Chieftain for a real experience on a replica tall ship, or just explore the seaport that was once home to a thriving fishing community. This seaport aims to preserve the maritime heritage of Aberdeen and the greater Grays Harbor area.

phone: +1 360 533-1976

address: 111 E. Third St.

Get a taste of the local history of Aberdeen at this museum, located inside the Aberdeen Armory Building. Exhibits include a history of the local logging and maritime industries as well collections on Native American artifacts.

phone: +1 360 533-1976

address: 111 E. Third St.

The Aberdeen Museum of History honors the early life of Kurt Cobain, lead singer of the grunge rock group Nirvana, with a walking tour of where he grew up in town. Note that most of the sites are businesses or private residences and are unaffiliated with the museum.

Kurt Cobain Memorial FoundationThe foundation's goal is to honor the legacy and contributions that Kurt Cobain and Nirvana made to modern rock. Each October they present Lounge Acts, a concert that highlights the work of local bands.

phone: +1 360 648-2224

address: 1 South Arbor Rd.

Washington's westernmost winery and vineyard offers tastings and tours of their products, which are self-proclaimed "on the cutting edge of maritime viticulture." The winery also strives to capture the essence of beach culture.

phone: +1 360 532-8443

Over 150 vendors sell everything from food to arts and crafts and offers great activities for kids, with the motto "where we make it, bake it, grow it, or create it." Open June 7th to August 30th

phone: +1 360-268-9717

address: 33 Ocosta 3rd St

75 acres and 6000 feet of mud flats are home to a rich and diverse ecology of wildlife such as invertebrates and birds. The park is an important stop in migratory patterns and is a great place for bird watching.

Morrison Riverfront ParkGet out and stretch your legs along the Chehalis River with a 1.5 mile trail. This waterfront park offers picnic tables, a fishing and viewing dock. Great for walkers and joggers.

Grays Harbor National Wildlife Refuge

phone: +1 360 753-9467

Another great bird-watching area, this refuge is home to a migratory stop for shorebirds making the 15,000 mile flight from Argentina to the Arctic Circle. The refuge is also home to a number of species that live in the surrounding mudflats and estuaries.
Buy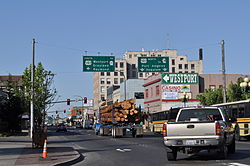 Southshore Mall

phone: +1 360 538-0760

address: 1017 South Boone

Still has 30 stores as of September 2019 but Sears is closing in December and other stores have been closing and being demolished.

Arts and Crafts Unlimited

phone: +1 360 532-0534

address: 2715 Simpson Ave

One stop shop for all your arts and crafts needs. They also offer art classes on site.

Premier Books Direct

phone: +1 360 310-0593

address: 2404 Pacific Ave

With the latest arrivals from non fiction, and an impressive array of hardcover titles, you can spend an inordinate amount of time browsing these shelves.
Cannabis 21, 1000 E. Wishkah. Recreational marijuana retail store.
Eat
Billy's Bar and Grill

phone: +1 360 533-7144

address: 322 E. Heron St

Go for the great food and drink, stay for the haunting. Billy's Bar and Grill sits in an old Sailor's Union of the Pacific building, which was supposedly the workplace of William F. "Billy" Gohl, a notorious figure in Aberdeen who worked as a bartender by day, but as a strongman for the Sailor's Union by night. Legend has it that if sailor's didn't comply with union rules, that Billy's job was to make them disappear. Sit down for a cold drink at the bar and see if you can spot ghosts that are said to still roam free throughout the establishment.

Amore Italian Restaurant

phone: +1 360 533-2442

address: 116 W. Heron St

Italian restaurant.

Breakwater Seafoods and Chowder House

phone: +1 360 532-5693

address: 306 F St

Locals consider this seafood restaurant a well-kept secret, and the clam chowder is some of the best in the area. This charmingly small, casual restaurant is in Grays Harbor and appropriate for kids. There is sparse seating indoors, yet there is outdoor seating as well; you can sit on the patio deck overlooking the Wishkah River. Beer and wine are available. Take-out is an option, and they sell fresh fish, shellfish, pickled fish, smoked fish and other seafood accompaniments. Call for daily hours of operation.

Mazatlan Restaurant

address: 1165 E. Wishkah St

This Mexican restaurant has a people-pleasing menu including enchiladas, chicken and beef fajitas and specialty dishes like pollo de crème. A children's menu is available as well. The meals are in generous portions and served with fresh tortilla chips and homemade salsa. Take-out items are available. Open every day, lunch specials M-F; call for hours.

Ocean Palace Restaurant

phone: +1 360 533-5808

address: 112 Wishkah St

Ornately decorated with white columns and striking carved jade boat, this is a large restaurant with a friendly, family atmosphere. Serves Chinese cuisine with a menu that has many offerings including family-style meals, teriyaki chicken and more modern items like crab cream cheese wontons. Wine and beer available.

phone: +1 360 533-4841

address: 2121 Simpson Ave

Burgers, fries and grilled sandwiches. Family owned since 1984.

Ann Marie's Cafe

phone: +1 360 538-0141

address: 110 S I Street

Comfort food, breakfast, coffee.

phone: +1 360 637-9259

address: 118 E Wishkah St

Restaurant & bar serving locally sourced Pacific Northwest dishes in a chic, contemporary setting.
Drink
phone: +1 360 532-0349

address: 1202 E. Wishkah St

Even in the remote areas of the Olympic Peninsula, you can find a branch of Seattle's famous coffee shop. You know the deal: coffee, lattes, espressos, specialty drinks and a variety of snacks and sandwiches.

Blue Beacon Restaurant and Lounge

phone: +1 360 532-2980

address: 406 S Boone St

Local dive bar which offers a surprisingly good selection of food. Try the Big Beacon burger.
Sleep
phone: +1 360 533-4200

address: 616 W. Heron St

This motel offers good value for the price with its spacious rooms and continental breakfast. All rooms have refrigerators, microwave oven, iron and iron board, and hair dryer, cable color T.V; movies and ESPN. Direct-dial phones, free local calls and free wireless internet. Fax and copy machine available upon request.

phone: +1 360 533-7996

address: 111 W. 11th St

This waterfront 30-room historic estate turned B&B, is perched on a hill with a welcoming view, while the porch area overlooks the town and has a harbor view. The interior is furnished with antiques and private collections. Each unique room is well appointed and has harbor views, a television (most also include a VCR or DVD player), its own private bath and wireless DSL Internet access. A cozy afternoon snack includes homemade cookies, scones, and a plethora of hot beverages, and a luxurious, multi-course breakfast awaits you in the morning.

phone: +1 360 537-7460

address: 701 E. Heron St

On-site is a fitness center, indoor hot tub, and indoor heated swimming pool. There is a Business center, meeting facilities, and a free daily USA Today as well as a free weekday local paper. Family plan, kids 18 and under free in room with parents. Amenities include guest coin laundry, safety deposit boxes at front desk, and same day laundry and dry cleaning (weekdays only). Bountiful, complimentary continental breakfast includes waffles and fresh fruit.
Go next
Aberdeen has been referred to as the 'Gateway to the Olympic Peninsula' and is a great stop off before venturing into this impressive range. The Olympic Peninsula is home to some of the few temperate rain forests in the world, including the Hoh, Queets, and Quinault. The Olympic mountain range sits in the center of the Olympic Peninsula. This range is the second largest in Washington State. Its highest peak is Mt. Olympus.
Hoquiam - sharing a border with Aberdeen, Hoquiam maintains its own identity but shares a history in the lumber industry.
Westport - located fiften miles west of Aberdeen, Westport is situated on a peninsula on the south side of the entrance to Grays Harbor from the Pacific Ocean and is home to Washington's tallest lighthouse.