Abiquiu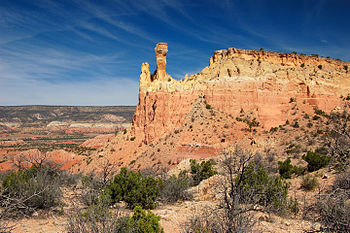 Abiquiu
(AH-bi-kyoo) is a village in the
north central
region of
New Mexico
,
USA
. Despite its small population, it is interesting for attractive scenery and for
Ghost Ranch
, a conference center and living museum. In the village proper, one can visit the home of famous painter Georgia O'Keefe.
Get in
Abiquiu is about 60 miles north of
Santa Fe
on US highway 84. This road from Santa Fe is generally passable as far as Abiquiu even after winter storms, as unlike some of the region's other highways, it stays in the valley. However, north of Abiquiu, it can be messy in the winter, so check on conditions if you're approaching from
Colorado
. The nearest major airport is in
Albuquerque
60 miles south of Santa Fe. Limited bus service to Española (with connections to Santa Fe and Taos) is available from the
NCRTD
.
Get around
There's not much town to get around in. Most of the outlying attractions are on good road, but if you're heading into the
Jemez Mountains
(see under "Go next"), a high-clearance vehicle is a good idea if you're going to get off the main highway.
See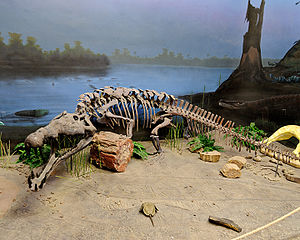 Ghost RanchAn education and spiritual retreat center owned by the Presbyterian Church, Ghost Ranch is a large complex of lodging and conference facilities situated amidst some spectacular red rock scenery. The complex is open to anyone, with a visitor center, a pair of museums, and several hiking trails leading into the surrounding country. Most notably, Georgia O'Keefe maintaned a summer home here starting in 1934, and later purchased a home in the village proper; however, O'Keefe's Ghost Ranch home is not open to the public. Guided hikes and horseback rides are offered.
Florence Hawley Ellis Museum of Anthropology

phone: +1 505 685-1000 ext 4118

address: Ghost Ranch

Displays artifacts from ancient Paleo Indian cultures, including material excavated from sites on the Ghost Ranch property, as well as the work of local Native and Hispanic artists.

Ruth Hall Museum of Paleontology

phone: +1 505 685-1000 ext 4118

address: Ghost Ranch

Ghost Ranch is noted in the paleontology community for being the site of one of the best-known sources of fossils from the Triassic period, when dinosaurs began to emerge on the planet. The fossils at this small but engaging museum reflect that legacy, including the skeleton of a Coelophysis, one of the very first dinosaurs. There are also some interactive exhibits, as well as a huge block of dinosaur bones from the Ghost Ranch property that is being worked on in the middle of the museum.
Much of the red-rock scenery commonly associated with O'Keeffe's work is seen well from the highway through town, US 84. One highlight of particular note is Echo Amphitheater, just off the highway north of Ghost Ranch, where a short, easy trail leads to the eponymous geological feature, a natural amphitheater that echoes any loud noises.
phone: +1 505 685-4539

The main home and studio of Georgia O'Keefe in Abiquiu. Open to the public on a reservation basis, you must book tours through the Georgia O'Keefe Museum in Santa Fe, online at the link provided. No walk-ins are allowed.
Do
Water sports are available at nearby Abiquiu Lake, one of a number of small artificial lakes built primarily to control flooding along the Rio Chama and Rio Grande. Picnics and rustic camping are possible. Abiquiu Lake is generally held to offer some of the best fishing in New Mexico.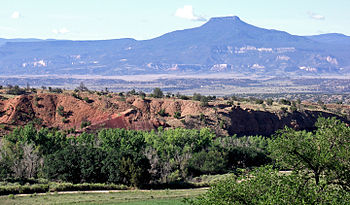 Hiking trails into the red-rock country around Ghost Ranch is available from the ranch, with notably good hikes being the one to a view of Chimney Rock, a hike up to Kitchen Mesa with excellent views over the surrounding country, and a hike along a small creek into a box canyon; detailed info on these can be found at Ghost Ranch. To experience mountain hiking, try the route suggested under "Go Next."

Christ in the Desert Monastery

phone: +1 801 545-8567

address: Forest Service Road 151

The Monastery is situated in a beautiful, quiet canyon in northwestern New Mexico, surrounded by miles of government-protected wilderness. The chief architect of the original monastery was George Nakashima, famous Japanese-American woodworker and architect. The church, meditation garden (next to the church), gift shop, and restrooms located in the lobby are open to the public. Visitors are welcomed.
Buy
phone: +1 505 685-4422

address: 21196 U.S. 84

A true general store since 1919. Also the last gas station going north until Cebolla. Variety of groceries, snacks, beer, wine and spirit. Organic frozen meats, selection of wines, large selection of cold beer and drinks. Cleaning and paper products, household and picnic needs. Also a cafe with fresh-brewed coffee, pastries, pies, muffins and cookies. They serve up breakfast in theAM, and burgers, burritos, frito pie, deli sandwiches and more for lunch. They also have beer on tap. After 3:30, they have a hot case with burritos and burgers, and a cold case with sandwiches and salads.
Eat
phone: +1 505-685-4378

On US 84;. An entertainingly eclectic menu with Southwestern and Mediterranean dishes featured. Open three meals a day. At the rustic little Abiquiu Inn; see below under "Sleep."

Mamacita Pizzeria

phone: +1 505 685-4111

address: 20814 Hwy 84, Abiquiu NM

Excellent pizza. Right next door to Los Caminos Bar. You can eat your pizza at the bar next door as long as you get something to drink. Bartender is former kindergarten teacher who keeps the place civilized.
Drink
Los Caminos Bar

phone: +1 505 685-4635

address: Highway 84

Serves beer on tap, also serves liquor and mixed drinks. They also have package sales. Mostly a local hangout.
Sleep
Camping is possible at Abiquiu Lake, and also at Echo Amphitheater campground a few miles to the north.

phone: +1 505 685-4378

address: US 84

A good place to spend a quiet night far out in the boonies; both Cafe and Inn are much more comfortable than you'd expect. 25 great Casitas with Kiva fireplaces & wonderful views.

The Casita del Lago on Abiquiu Lake

phone: +1 224-600-4642

address: 155 Shining Stone Drive

The Casita del Lago is a two-bedroom, two-bath, furnished private home that sits on 22 acres of pristine lakefront property on Abiquiu Lake in the heart of Georgia O'Keeffe territory. You can enjoy original artwork, the kitchen, free WIFI, two flat screen TVs, floor-to-ceiling windows, air conditioning, authentic furniture and furnishings, washer/dryer, great views and indoor and outdoor fireplaces. You can also soak in the hot tub, nestled in the rocks above the lake, for a private viewing of the lake, Chama River and stars.

phone: +1 505 685-4333

Bed and Breakfast, lodging and camping available at Ghost Ranch. Rooms are basic, no frills, but clean and comfortable with magnificent views.

phone: +1 505 685-4200

A true country experience. The 55-acre compound is surrounded by the white cliffs and mesas. There are two large, comfortable bedrooms, each with beautiful vistas of the landscape. Each includes a king size bed with down comforter, private full bath with Mexican tile, wood burning fireplace, hand carved furniture, private entrance & brick portal, thick terry towels & robes, and extra luxuries.
Go next
The pretty Jemez Mountains are south of town and can be seen to good advantage from either Abiquiu Lake, or better, NM SR 96 along the north side of the range. Trailheads leading into San Pedro Parks Wilderness and other points in Santa Fe National Forest are reachable by side roads from this highway, but two warnings: First, many of the side roads are rough enough to require high-clearance vehicles, and in spring and early summer, 4-wheel drive is nearly essential owing to muddy spots. Second, there have been problems with vandalism to vehicles parked in this region.