Abisko
Abisko
is a village in
Norrbotten County
and the
Lappland
province in northern
Sweden
.
Abisko nationalpark
is a national park around Abisko, .
Understand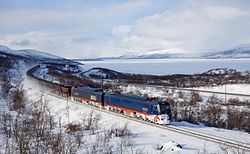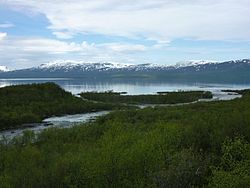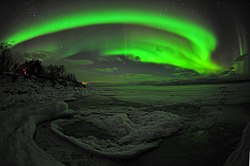 Abisko is a popular outdoor destination due to its proximity to nature and relatively easy accessibility. Abisko is near many great national parks and hosts a trailhead on the spectacular
Kungsleden
hiking trail; at the same time, it is on the
malmbanan
railway between
Narvik
in
Norway
and
Luleå
, which means it can be reached by an overnight train from
Stockholm
quite easily. Abisko village is around the train station "Abisko Östra". The large and well equipped hostel/hotel "Abisko turiststation" lies at the train station of the same name, two kilometres further west.
Get in
By car
Abisko is located 80 km east of
Narvik
and is easily accessible by car by the
European route E10
. Cars can be rented at the Tourist Office in
Kiruna
(closed from Friday 18:00 to Monday morning).
By plane
There are three main airports serving Abisko:
#
Narvik
/Harstad Airport in Norway, 120 km west of
Abisko
, has direct flights to/from Oslo Gardermoen (operated by SAS, Norwegian), Trondheim Værnes (operated by Norwegian, Widerøe) and Bodø (Widerøe) Airports.
# The smaller
Narvik
Framnes Airport, 86 km west of Abisko, has only fights to/from
Bodø
opeerated by Wideroe.
# Kiruna Airport, 100 km south-east of Abisko, has daily direct flights to
Stockholm Arlanda Airport
(operated by Norwegian and SAS). It is connected to Abisko by train and buses run by "
Länstrafiken Norbotten
".
By train
The two nightly trains from
Stockholm
to
Narvik
stop in Abisko. One is direct, whereas the other has a change in
Boden
. There are also two daily trains from
Luleå
or
Narvik
. Timetables can be found through
Samtrafiken
(look for Nr. 30, Narvik-Kiruna-Boden-Luleå).
Get around
There is a chair lift up Nuolja mountain operating in the summer from the tourist station.
It also runs from 8pm to midnight during the aurora season and is operated by the nearby STF hostel.
The Abiskojåkka delta is off limits in summer, to protect the nesting of birds.
There is a snowmobile route to Abiskojaure and onwards, turning back towards
Riksgränsen
along the border to Norway.
See
Abisko is a great place to observe
Northern lights
thanks to the location within the Auroral belt and its relatively dry climate and low cloudiness. Aurora Sky Station (a part of STF Abisko Mountain Station) is located on the top of the mountain Nuolja and can be reached by a 10 min walk from STF Mountain Station and from there by a chair-lift.
phone: +46 980 402 00

address: STF Abisko Mountain Station, Sweden

The night visit to the station includes return ticket by chair-lift, guided tour and an aurora watchers overall. Alternatively, an aurora photo tour with professional photographers can be arranged.
Do
The tourist station organises various activities throughout the year, but the real attraction is hiking on the many trails, out in the spectacular wilderness of the national parks of the area. Winter offers cross country skiing and even some alpine skiing. There is a chair lift on Nuolja and two more alpine areas nearby at
Björkliden
and
Riksgränsen
.
There are three (partly coinciding) long distance hiking trails from or passing Abisko.
Kebnekaise, the highest mountain in Sweden, can be reached from Abisko by Kungsleden, although Nikkaluokta is closer (see
Kebnekaise and Nikkaluokta
). Kebnekaise fjällstation at the root of the mountain can be used as base for expeditions (also guided tours in season).
There are also other mountains in the 2,000 m (6,000 feet) range in the area.
Buy
There is a shop at the tourist station which caters for hikers' daily needs and also carries a selection of outdoor equipment, and some other shops:
phone: +46 980-669 30

address: Kalle Jons Väg 1, 98107 Abisko

A shop with a petrol station and a restaurant/bar.
Eat
Tjuonavagge

address: Abisko Östra

Serves up great organic food, buffet style, taking inspiration from the nature around it - reindeer meat with cloudberry jam anyone?

phone: +46 980-402 55

address: Kalle Jons Väg 1, 98107 Abisko

The restaurant offers à la carte food and a lunch menu.
Drink
The Storstugan pub inside the tourist station is the friendliest place in town, rather fortunate, since it's also the only place in town, to go for a drink.

Sleep
There's a bed'n'breakfast in Abisko village, as well as some summer cottages. The tourist station has hostel, hotel and cottage accommodation available. It is run by STF, Svenska Turistföreningen; as accommodation is considerably cheaper for members it may be advisable to sign up for membership before booking. Membership is also available at the reception. There is also a camping ground – although the
right to roam
basically entitles you to sleep anywhere except in the Abisko national park or by private houses, as there are not really any cultivated lands. In the national park camping is allowed at the tourist station, at Nissonjohka and at the Abiskojaure cabins.
Abisko FjällturerLonely Planet describes it as a "backpackers delight", and few would disagree. Good-value accommodation in twin and dormitory-styles rooms.

phone: +46 980 401 00

address: Lapportsvägen 35 Box 86, SE-981 07 Abisko

Abisko Mountain Lodge is a small hotel surrounded by cosy cabins that offers a relaxation only possible in a rustic setting.
There is a quite good network of cabins, day huts and shelters along Kungsleden, other trails and commonly used routes. Mostly there is a moderate fee for lodging. Also camping by cabins is usually subject to a fee (giving access to the facilities, such as possibly a
sauna
).
Connect
STF Abisko (Abisko Tourist station) +46 980-402 00, .

Go next
Laponia, several national parks and nature reserves forming a UNESCO World Heritage site, some 100 km southward
Kiruna, the nearest city
Narvik, Norway, a port town at the end of the railway; the Narvik mountains are an important hiking destination