Abu Ghosh
Abu Ghosh
is a town in
Israel
.
Get in
Abu Ghosh is just outside Jerusalem on the road to
Tel Aviv
.
See
Church of Our Lady of the Covenant

phone: +972 2-5342818

address: Abu Ghosh

Located at the north-west part of the village of Abu Ghosh. The church is located at the summit of Tel Kiryat Ye'arim. The site is identified with the biblical Kiryat Ye'arim, where the Ark of Covenant was brought after it was captured back from the Philistines. The biblical story was the impetus to constructing a church at this site. A church was first constructed at this site during the Byzantine period, which was later on destroyed in 614 during the Persian conquest of the region. The church was established in 1924 together with a women monastery on the remains of the Byzantine period church. Since the 1980s music festivals have been held occasionally at the church.

The Benedictine monastery in Abu Ghoshlocated at the center of the village of Abu Ghosh, and is best known for the Crusader church that contains remains of a 12th-century frescoes. The church was built over a spring. Abu Ghosh's main mosque is adjacent to the monastery.

The Chechen mosque in Abu GhoshThe second largest mosque in Israel. The mosque has four minarets and was funded and built with the sponsorship of the Chechen government.
Do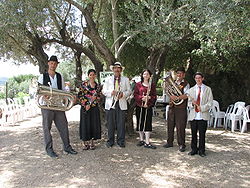 Festivals and Events
Eat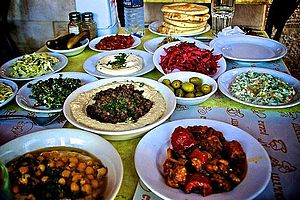 Abu Ghosh is famous for its food, particularly its
hummus
(chickpea paste). One of the restaurants in Abu Ghosh held a Guinness record for largest hummus dish, weighing 4 tons.
Lebanese Restaurant

phone: +972 2 533-5561

address: 88 Hashalom St

This restaurant, as its name would suggest, specializes in serving traditional Arab cuisine in the Lebanese style. The Lebanese Restaurant is frequented by locals, Israelis and tourists alike and serves, amongst other reasonably priced delicacies, what is arguably the country's best hummus. Many Israeli notables have eaten here. In good weather, you can eat under the mulberry tree that this gem of a restaurant is built around.

Abu Ghosh Restaurant

phone: +972-2-533-2019

address: 65 Hashalom St

Open seven days a week starting from 11:00 am to midnight. Specializes in serving traditional Arab cuisine, as well as stuffed fish.

Mifgash Caravan Restaurant

phone: +972 2-5342744

address: HaShalom Street 27, Abu Ghosh

The restaurant is open seven days a week between 10:00 am to 10:30 pm. Specializes in traditional Arab cuisine.

phone: +972 2-5341175

address: HaVadi Street 9, Abu Ghosh

Open every day of the week, starting from 09:30 am until the last customer. Specializes in traditional Arab cuisine.
Sleep
Go next