Acadian Coast
The Acadian Coast
(French:
la Côte Acadienne
) covers the eastern coast of
New Brunswick
.
The Acadian Coast extends eastward from Campbellton/Pointe-à-la-Croix along the south shore of the Baie de Chaleurs, a warm bay which continues past Caraquet. This region has a strong francophone heritage, in sharp contrast to the United Empire Loyalist roots of more southern New Brunswick communities such as Fredericton.
Cities
— a mining, fishing and forestry centre with access to some beautiful wilderness areas
— connected by bridge to Quebec, it has a strong Acadian heritage
— a lobster fishing village and seaport and a focus of the August 15 Acadian "fête nationale"
— long stretches of natural beaches, scenic vistas, and lots of snow for winter sports
— a francophone fishing village
— beautiful beaches
Understand
Much of what is now
New Brunswick
and
Nova Scotia
was once
Acadia
, a French-speaking colony in North America which was defeated by the English in the 1750s. Great Britain demanded Acadia pledge allegiance; the Acadians refused out of fear they would be forced to attack the
Nouvelle France
colony on behalf of the English and claimed neutrality. The English retaliated with mass deportations, known as
le grand dérangement de 1755
. Some Acadians settled as far afield as
Louisiana
, some returned to France. A few, displaced from points in southern New Brunswick such as
Fort Beauséjour
, fled north to establish the clandestine precursors of what is now Caraquet in 1757.
The people of the Acadian Coast region speak French as their first language, however many Acadians (particularly those south of the Miramichi Bay and Bathurst, Gloucester County regions) can speak fluent English.
Get in
By plane
Bathurst Regional Airport (ZBF

) has flights from Montreal

Charlo Airport (YCL

)

has flights from Halifax
The nearest international airport is in Moncton,
By train
Via Rail
's Atlantic train
The Ocean
stops in Bathurst twice a day, three days a week: in the morning having departed from Montreal, and in the evening having departed from Halifax.
By bus
The
Maritime Bus
travels between several locations in the Maritimes and eastern Quebec, and has daily service in Bathurst, Campbelltown and Dalhousie.
By car
From
Quebec City
, Campbellton is 520 km along Autoroute 20 and Highway 132.
From
Moncton
, Bathurst is 220 km on highways 15, 11 and 8.
Get around
By bus
The
Maritime Bus
travels between several locations in the Maritimes and eastern Quebec, and has daily service in Bathurst, Campbelltown and Dalhousie.
By car
Highway 11 is the main highway that connects the Acadian Coast, running from the bridge from Quebec at Campbellton, through Bathurst, Caraquet and Tracadie-Sheila, then on to
Miramichi
.
From Campbellton to Bathurst, Route 134 follows the coastline more closely, providing a slower, more scenic route. From Bathurst, it turns south and connects to Highway 8, providing a more direct route to Miramichi across the base of the peninsula.
See
address: Dalhousie

The 'Bon Ami Point Range Front' lighthouse was constructed on Inch Arran Point in 1870 to guide ships to safety at night. It is recognised as a Federal Heritage Building.

address: Dalhousie

This volcanic formation represents a lava flow deposited during the Devonian period, nearly 400 million years ago.

address: Bertrand

A pioneer village living museum reconstructing a francophone village of 1755-1855 with its people.
Do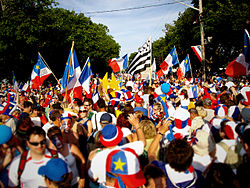 Festival Acadien

address: Caraquet

Annual festival culminating in Tintamarre, a boisterous and noisy costume party where revellers make themselves heard at 5:55PM on August 15, the feast day of the Virgin Mary and de facto Acadian national holiday.

address: Campbellton

Late June to early July. Miss and Little Miss Salmon Festival pageants, Canada Day celebrations (July 1) with a giant fireworks display, salmon suppers, road race, live bands, Campbell Amusements Carnival, daily children activities, family activities, and a gigantic parade.

address: Campbellton

11.5-km² park. Hiking, and biking in the summer; downhill skiing, cross country skiing, snowboarding, snowmobiling, etc., in the winter.
Eat
Acadians adapted their cuisine to incorporate the crops and animals that flourished in the Upper St. John River Valley in Maine, particularly after the English began pushing the French farmers out of their original settlements onto less productive land. Typical dishes include:
Poutine râpée: potato dumplings
Fricot: a type of soup or stew
Tourtière: meat pie
Rappie pie: a dish of grated potatoes and meat (salted pork or chicken