Aegean Turkey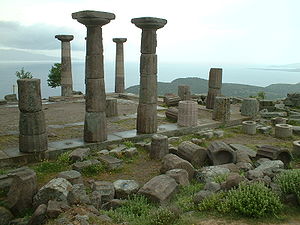 Aegean Turkey
(
Ege Bölgesi
) is in
Turkey
. It occupies the western part of the country, including the western coast (Aegean Sea coast) across from a wide arch of Greek islands and some places more inland.
Regions
null
Izmir and its vicinity with lots of history and beautiful seaside towns
null
milder climate than the south with olive groves everywhere
null
crystal clear turquoise sea, verdant citrus plantations
Cities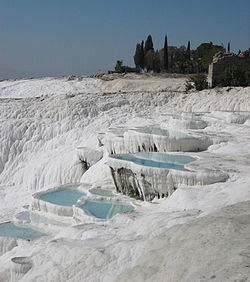 — Turkey's third biggest city, and a beautiful coastal one. Undeniably the capital of the region.
— pleasant village with preserved architecture and impressive Temple of Athena overlooking the Aegean
— a pleasant town in the north with distinctlively Greek/neo-classical architecture everywhere.
— located near the ruins of the ancient city of Pergamon
— nice and trendy resort known for its castle and/or "foam parties"
— town on the westernmost tip of Turkey
— unspoilt town with the nearby ancient city of Knidos forming the boundary between Aegean and Mediterranean
— inland city serving as a hub to Roman sites such as Pamukkale, Hierapolis, Aphrodisias in southeastern Aegean Region
— a resort town with the citadel on an island. Has a large harbour used by ships cruising around Mediterranean
Other destinations
— great ruins of an ancient city founded in honour of the goddess of love
— perhaps the wildest stretch of land on the Turkish Aegean coast, with its lush forests, hiking trails, and desolate beaches, this is a great get-away from concrete sprawls of resorts
— the best preserved of the ancient cities in Turkey, Ephesus was once the capital of Roman province of Asia Minor
— the "cotton castle", the white world of travertines
— the ruins of the capital of the Lydians, the inventors of "money", backed by the craggy Mt. Tmolos
Understand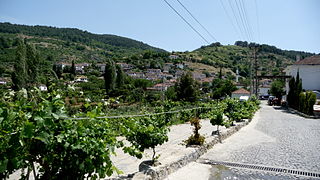 Aegean coast of Turkey is lined by a succession of modern cities with palm-lined avenues and liberal attitudes, towns with old quarters that are filled with elegant turn of the 20th century neo-classical architecture, and ruins of what were once major powers of the Mediterranean in ancient times; all backed by fertile valleys and hills, sides of which are dotted with picturesque villages and large oliveyards—which help to make Turkey one of the biggest producers of olive oil in the world. It's little wonder that much of ancient art and philosophy—from Aristotle to Homer, many were citizens of cities along this coast—was developed in this land of wine and honey, which has a favourable climate year round.
During the
Roman era
, Aegean Turkey and the neighbouring parts of
Central Anatolia
constituted the
Province of Asia
(hence "the Seven Churches of
Asia
", see
below
). The name of the province was later extended to include
all of the continent that lies to the east
.
Talk
Turkish
is the native language in the region. But as tourism is one of the main industries of this region, finding someone who can communicate in English or
German
to a lesser degree is generally not a problem.
Get in
See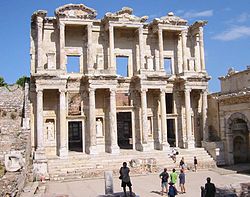 The Aegean is the region with the highest concentration of
ancient city
ruins in Turkey, which should be no surprise given that this was the heart of the
Aeolian
,
Ionian
,
Lydian
, and
Carian
civilizations. Expect to come across with another set of ruins as close to each other as every 10 or so kilometers. Some, such as
Ephesus
—which very possibly is the best preserved ancient city in all of the Mediterranean basin, except for
Pompeii
—still exhibit much of their former glory, while others may not seem to be offering much more than a pile of collapsed marble columns at first sight. In addition to Ephesus, other likely contenders to be on the checklist of many travellers to the region include
Assos
,
Pergamon
,
Miletus
, and
Didyma
, but some often overlooked sites such as
Sardis
, and
Aphrodisias
are also well worth a visit. Besides, as most of the still-inhabited cities and towns in the region are merely modern versions of ancient cities (it's hard to find a city
younger
than 3000 years old in the region after all), it's always possible to see yet another unexpected bit of ancient ruins, even in a city as modern-looking as
Izmir
.
When the fatigue from visiting one ancient city after another sets in, it might be time to look for
medieval Seljuk and Ottoman architecture
that some of the Turkish regions are known for. However, the scorched earth policy of the retreating Greek army in the final days of Greco-Turkish War of 1919-1922, or the War of Independence as known in Turkey, left many Aegean towns in rubbles, and the concrete-mania of the following decades didn't certainly help either. Regardless, often unexplored inland village of
Birgi
southeast of Izmir is one of the places that happily escaped such destruction, and its Çakıroğlu Konağı, a three-storey mansion that is colourfully painted inside-out is a rare treat for architecture enthisuasts. It may also be possible to visit the odd
mosque
that dates back to the days of the Turkish frontier principalities (which rose to power after the central Seljuk authority vanished with the Mongol invasion in the 13th century), which has a unique post-Seljuk, yet pre-Ottoman transitionary style, one great example being İsa Bey Mosque in
Selçuk
. Fans of
neo-classicism
are luckier, as the coastal towns that used to be inhabited by the Ottoman Greeks and have been full of neo-classical buildings were left intact—
Ayvalık
,
Foça
,
Alaçatı
, and
Çeşme
are the towns that you should head to if this is what you are after.
So many years of wars and invasions mean that the
castles and citadels
are an unmissable mark of the regional landscape. Those that are in
Bodrum
,
Kuşadası
, and Çeşme quite form the symbol of their respective towns, while the small picturesque castle of the coastal village of
Çandarlı
, surrounded by well-manicured grasses, is one of the main attractions of the surrounding area. However, if you are looking for something really impressive and really off-the-beaten path, head for
Babakale
("the father castle"), which has been proudly standing on the westernmost tip of
Asia
mainland for centuries.
Seven Churches of Asia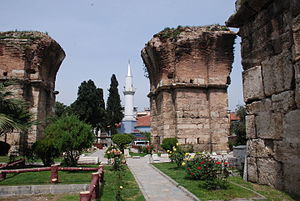 Aegean Turkey played a major role in the development of early
Christianity
, and of particular note are the
Seven Churches of Asia
:
Ephesus
,
Smyrna
,
Pergamon
,
Thyatira
,
Sardis
,
Philadelphia
, and
Laodicea
. While the prophecies didn't refer to physical churches, and only Pergamon, Ephesus, and Philadelphia have Roman-era churches remaining, all of these cities have ruins of some kind, and Sardis has the ruins of a synagogue. Apart from Izmir (Smyrna), which doesn't have much in the way of Roman ruins, but is one of Turkey's major cities, the most popular of these cities are Ephesus and Pergamon, with Sardis and Laodicea coming in far behind, and Akhisar (Thyatira) and Alaşehir (Philadelphia) are almost never visited by tourists (except the handful seeking to see the Seven Churches). While Akhisar and Alaşehir's Roman-era ruins are minimal compared Ephesus, Pergamon, Sardis, or even Laodicea, these cities are still interesting to visit, as they remain local farming centers, with strikingly different feels.
All of these cities except for Pergamon can be reached (or the nearest city, no more than a 20 minute minibus ride away can be reached), by train, however except for
Selçuk
(Ephesus) and Denizli (Laodicea) the trains run only a few times a day, and the schedules may be inconvenient.
Selçuk and Denizli can both be reached by the regional Denizli-Izmir train. Minibuses, taxis, or a long walk will be required to reach both sites from their associated cities.
Sardis (Sart on the schedule) and Alaşehir can be reached by the regional Izmir-Uşak train. The train station for Alaşehir is in the center of two, while the location of Sart station seems to be slightly over a kilometer from the gymnasium complex.
Akhisar can be reached by the either the 6 Eylül or 17 Eylül express between Izmir and Bandirma, each of which runs only once a day. The station itself is seven blocks, or about 400 meters, from the ruins.
It is also possible to take buses or minibuses between the cities. In Izmir, the buses run to each of these cities at intervals ranging from every half hour (Bergama/Pergamon) to every two hours (Alaşehir). It's likely that buses between the other cities will be less frequent, so if you plan to make a loop around Izmir, ask at the bus station when the buses to your next city run.
Do
With its long craggy coastline, finding somewhere for a
swim
is rarely a daunting task in the region. As for the related
watersports
, some towns are better suited to them than some others; for example the waters of
Alaçatı
and
Bitez
are known to be great for
windsurfing
.
With the Mediterranean climate in charge, and the latitude being more southern than most of Europe, there is not much room for
wintersports
in the region (in coastal locations, it only snows once, and lightly, every decade—this is why the locals find the pictures of the amphitheatre of Ephesus under snow so magical and make them into postcards). While the snow-hungry residents of Izmir flock to the Mount Spylus near
Manisa
at every opportunity to witness the snowfall, that particular mountain does not really receive that much as to let skiing or doing other snow-related sports. For these, it may be more worthwhile to head more inland to Mt. Bozdağ, or ancient Mount Tmolos between
Salihli
and
Ödemiş
, which, with its mountain lake, is beautiful regardless the season.
When it comes to
thermal waters
, the Aegean is less known as a destination than some other Turkish regions. Two especial places of note may be
Ilıca
, which has hot springs discharging from the sea floor inside natural rocky pools, and much more famous
Pamukkale
, which offers the unique experience of swimming amidst toppled ancient columns lying at the bottom of a thermal water-filled pool, which has been continuously in use for millennia.
Drink
While the viticulture is big business in the agricultural interior of the region, most of the produce is of the Sultana variety, which is not processed into wine, but rather exported as dried raisin. A number of towns around
Denizli
has some level of fame for their
red wines
which often have a strong flavour, while the village of
Şirince
is well-known nationwide for its wines produced out of almost just about any fruit that can be imagined.
One drink that is unique to the region is the
sübye
of
Tire
, oddly made of melon seeds.
While some of the inland towns might be a little bit more conservative than those on the coast, you are never too far away from a bottle of
Efes
lager
whenever you are thirsty in the region.
Go next
If the sea, sun, and ancient cities here are not enough, why not moving on southeast to
Mediterranean Turkey
?