Airlie Beach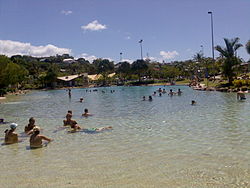 Airlie Beach
(or Airlie) is a town in Queensland, Australia and is the closest port from which to access the
Whitsunday islands
on the
Great Barrier Reef
. With around 25,000 residents, it is developed to cater for almost every kind of tourist and backpacker, and is the major hub for trips out to the Whitsunday islands and Outer
Great Barrier Reef
.
Abel point marina
is the location for taking boats out to islands, and is a brisk 15-minute walk from Shute Harbour Road, Airlie's High Street, around a renovated seaside boardwalk.
Understand
Airlie beach used to be a backpacker haven but has now been discovered by Australians and has consequently become more commercialised. Still plenty of good cheap accommodation and an excellent stop off on the East Coast of Australia.
Orientation
The main strip of Airlie where most of the backpacker resorts and pubs are is usually known as Airlie Beach proper. Cannonvale is the section west of the strip to where the developments peter out. Beyond that is Cannonvalley and Strathdickie - more rural areas where the housing is more acreage style or farming land. Other suburbs in the area are Jubilee Pocket and Shute Harbour, where the ferries to the
Whitsunday Islands
depart from.
Get in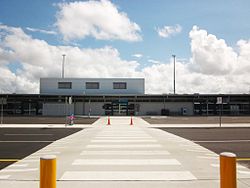 By plane
Flying to Proserpine Airport, also known as Whitsunday Coast Airport, in
Proserpine
is the easiest way to reach Airlie. The two main airlines flying to here are
Virgin Australia
and
Jetstar
. It has upgraded facilities with full baggage collection, hire car and service desks and a small bistro area.
There is also
Hamilton Island
airport which is just off Airlie Beach. Do your research though as you have to get off Hamilton Island and this could be expensive.
By train
There is a train station in Proserpine for those travelling up the East Coast.
By bus
Greyhound
and
Premier
coaches stop at Airlie on their trip between
Brisbane
and
Cairns
.
There are also tours that travel up the East Coast and visit Airlie Beach.
HitchHiking is rare but it can be efficient.
Get around

A number of buses serve the airport terminal, and drive to Airlie beach or other locations but all but one must be prebooked. The tickets cost a flat $15 per person one way and can be purchased in a queue at a clearly marked booth just inside the arrival gate. The bus driver mans the booth, and when everyone has got a ticket (about 30–40 minutes wait from arrival) the bus gets going. Another option is to take a taxi, for which there is also a booth inside the arrivals gate. However taxi rides seem to match the bus price, and cost $15 per person. Also, there may not be any taxis waiting. The ride to Airlie beach is smooth and takes about 40 minutes. The driver will ask where you are staying and take you to the door of the hostel or hotel in Airlie Beach.

Do
On Saturday morning there is a charming market along the waterfront, with a range of locally produced foods and souvenirs.
Swimming
Despite its name, Airlie Beach is not the best place for the beach. The few near Shute Harbour Rd are small and pretty, but the presence of jellyfish (there are signs up detailing different species near the beaches) means people do not swim in the water from around October to around May. There is a new man made beach Port of Airlie which has a larger beach than Airlie beach proper and it also has a shopping area and boat marina. A swim in the water requires a stinger suit - made from rash top type material. However more than making up for this, Airlie has a fantastic man made lagoon. This is around 200 m long and 50 m wide, landscaped with a bridge and grass to lie on surrounding. It is watched by lifeguards during the day and security at night, and because it is open to swim in at all times the lagoon makes relaxing in Airlie pure delight.
Day trips
Transfers to cruises and daytrips to the
Whitsunday Islands
and Outer
Great Barrier Reef
are popular in Airlie. See the
Whitsunday Islands
for information.
Hiking
Airlie Beach features several hiking trails of different length. One starts at the end of and leads in about 90 minutes up through the national park to a beautiful lookout over the harbor and the Whitsunday Islands.
Eat
Airlie has many varied restaurants, both budget and more expensive, and a range of takeaway places with specials catering to the backpacker market.
For those foodies out there, Deja Vu at Water's Edge Resort is beautiful and Capers at the Airlie Beach Hotel is always reliable.
For those on a budget, Morocco's, Beaches or Magnums offer good pub-style meals, with some of the sailing trips offering meals there included as part of the trip cost.

Drink
Airlie has a great nightlife with bars concentrated on the main road.
address: 303 Shute Harbour Road
Sleep
Connect
Hostels and hotels provide internet access, some for free but most at a cost of a few dollars per hour or day. You can also check 'The Whitsunday Central Reservation Centre' at the end of main Street Airlie Beach ($1 for 30 min; 30 min free if you're using AI's Laundry opposite the road). Peterpans travel agency on the main street provide Wi-Fi, computers and a printer. McDonald's offers free Wi-Fi.
address: 8 Galbraith Park Drive, Cannonvale

Offers Internet access, including Wi-Fi.
Go next
For those with access to a car and don't mind a bit of a hike, a trip to
Cedar Creek Falls
is well worth it.
Dingo Beach
and
Hideaway Bay
are also within 30 minutes drive, and the quaint restaurants are a quiet break away from the younger crowd. Quad biking and horse riding are also other options for something to do in Airlie.
Airlie Beach and Shute Harbour are access points to the
Whitsunday Islands
and cruises around them.