Albuquerque
Albuquerque
is a vibrant, sprawling city near the
center
of
New Mexico
. Cradled in the Rio Grande Valley beneath the Sandia Mountains, it is by far the largest city in the state, acting as the media, educational, and economic center of New Mexico, as well as the home of the state's only major airport, making it a common entry point into New Mexico. Despite this, Albuquerque is often overshadowed as a tourist destination by
Santa Fe
, 60 mi (97 km) to the north.
But any visit to New Mexico would be incomplete without taking in what Albuquerque has to offer, as New Mexico's only major city has pleasant scenery, colorful history, and a wealth of great attractions in its own right. Here, in a setting that has been made familiar to many by the television series
Breaking Bad
, you'll find many excellent museums, colorful neon signs along old
Route 66
, the naturalistic beauty of the Rio Grande and the Sandia Mountains, and a spectacular hot-air balloon festival in the fall.
Understand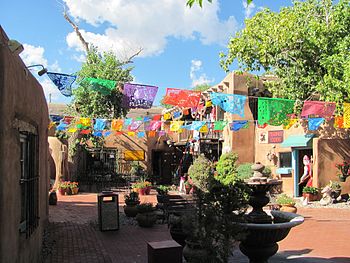 History
Albuquerque was founded in 1706 as a small Spanish settlement on the banks of the Rio Grande and was named for the Duke of Alburquerque (hence Albuquerque's nickname, "The Duke City"). In the 1880s the railroad came to town, and almost overnight a new city grew up around the train tracks a couple of miles away from the original settlement. This "New Town" became the hub of commerce for the state, and the city grew exponentially (eventually the "New Town", which today is Downtown, and the original "Old Town" settlement were joined to become part of the same city).
In the 1920s the federal government designated a series of highways that ran from
Chicago
to
Los Angeles
as
Route 66
, and Albuquerque was one of the towns "The Mother Road" passed through. Starting in the 1950s, Albuquerque grew exponentially given federal investment in the local military bases and a massive influx of visitors and new residents, and for the most part it hasn't slowed down. Today, Albuquerque is still the hub of commerce and transportation in the state. While Santa Fe is the state capital and the principal tourist destination of New Mexico, Albuquerque is the state's only truly urban area, with a city population of over 500,000 and a metropolitan population of nearly a million people. This is where you'll find the headquarters of the state's businesses, the University of New Mexico, and the Albuquerque International Sunport, the only major airport in the state.
Climate
Albuquerque is in the high desert and has a generally warm, dry climate with four distinct seasons. Spring is sunny and windy, although temperatures at night can be unexpectedly cool. Summers are hot (highs average 90–95°F/34°C, and temperatures near 100°F/38°C are not rare) and still mainly dry, but monsoonal conditions develop in July or August and produce furious if short-lived thunderstorms. Have rainwear available in the summer, although you won't use it most days. Fall is delightful, with comfortable temperatures and a return to generally dry conditions. Winter can be blustery, with overnight lows below freezing, but subzero temperatures are rare. One winter-weather issue for the traveler: snow, while infrequent and short-lived, does occur, and its relative rarity means that local drivers don't deal with it well. If you happen to be in town for a snowstorm, expect road chaos far out of proportion to the amount of snow that falls.
People
Albuquerque's demographics are reflective of New Mexico as a whole. While Albuquerque does have a large non-native population, the city's makeup is predominantly white and/or Hispanic, with a significant population of Native Americans. These groups are spread throughout the city, but the largest concentrations of Hispanics are found in the South Valley (along the river on the south side of town) and in the Southeast Heights near Kirtland Air Force Base. The Southeast Heights is where you'll also find a large foreign-born population, with significant groups of Vietnamese, Taiwanese, Central American, African, and Middle Eastern descent.
Albuquerque is a casual town: expect shorts, a T-shirt, and sandals to be entirely acceptable almost everywhere. It's also a very humble city, with something of a self-deprecating vibe; you may hear a local remark on how backwards and small it is compared to larger Western cities, though this frequently gets rebuked with a passion from locals who adore their home. Either way, people here tend to be extremely friendly and exhibit very little pretension.
Visitor information
Get in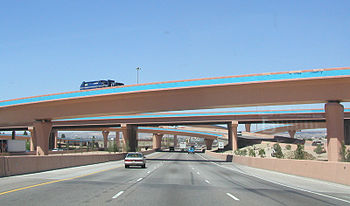 By car
Two interstate highways pass through: I-40 goes east–west and I-25 goes north–south. Where they meet is a large intersection called "The Big I". Albuquerque's Central Ave. is part of old
Route 66
. A minor note of caution: I-25 south of the city is a "safety corridor" in which state law mandates higher fines for traffic violations. Enforcement is spotty, but take the speed limits seriously anyway.
By plane
Albuquerque International SunportThe major air hub for all of New Mexico. Alaska, Allegiant, American, Delta, JetBlue, and United serve the Sunport with limited service to their respective major hubs, but it's Southwest Airlines that operates most traffic into ABQ, with direct service to most western cities as well as some of Southwest's hubs in the Midwest and eastern United States.
One tip: If you're prone to airsickness, try to get flights into this airport that arrive either before noon or after sundown, particularly during late spring and early summer. The high elevation, hot sun, and spring winds combine to produce thermals that can make afternoon arrivals an extremely bumpy proposition. There are no major safety issues (the airport's runways are long, owing to the adjacent Air Force base, with no nearby obstacles to run into), but try telling your stomach that! The rough ride is less of a problem with outbound flights.
Incidentally, this airport has a number of attractive displays of New Mexican arts and crafts, and is a more pleasant place than most airports to kill time while waiting for a flight. The Sunport also has charging stations for electronics and free wireless internet access. The major car rental companies are nearby, with a shuttle from the airport to the large rental center. The airport is served by a number of
shuttle services
and by local bus #50 on the lower level at the west end of the shuttle island.
By train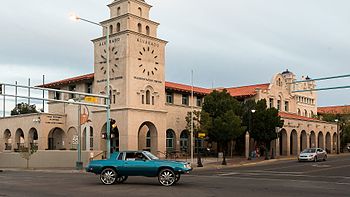 Albuquerque is a layover stop along
Amtrak's
Southwest Chief
daily train route. The depot is at the , in downtown at 320 First St SW (in the same building as the Greyhound depot). The westbound train to Los Angeles is scheduled to arrive at 3:55PM and departs at 4:45PM. The eastbound train to Chicago arrives at 11:42AM and departs at 12:10PM. The station has a small cafeteria.
A commuter rail line, the
New Mexico Rail Runner Express
, connects Albuquerque to Santa Fe and to the smaller communities north and south along the Rio Grande, including
Belen
,
Los Lunas
, and
Bernalillo
. The main station is at the Alvarado Transportation Center in Downtown, which has regular bus connections along Central Avenue and to the airport. The Rail Runner runs daily, although service can be limited outside the weekday rush hour periods. Fares are based on how far you ride; a day pass will usually be in the range of $4–10. Tickets can be purchased online or from ticket agents on the train.
By bus
Albuquerque has a fine bus depot at the Alvarado Transportation Center in downtown, 320 First St SW, which is served by
Greyhound
, and
Autobuses Americanos
which provides bus service to many points in Mexico. The depot has a small cafeteria.
Get around
Albuquerque is a heavily planned city. In much of the city, the major roads are lined primarily with businesses with residential mazes on the insides. The city is divided into four quadrants, with street addresses taking the form "12345 Main St. (NE/NW/SE/SW)" in which the NE/NW/SE/SW suffix denotes the quadrant of the city containing the address. The railroad tracks, which run parallel to I-25, are the east–west dividing line, and Central Ave. is the north–south dividing line. Thus, the street address 3600 Menaul NE would be north of Central and east of the railroad tracks. This nomenclature, while useful in helping you with maps and directions, has the drawback that you can't tell whether a street runs north–south or east–west simply by looking at the address.
By and large it's difficult to get truly lost in Albuquerque, thanks in large part to the looming presence of the Sandia Mountains to the east. If you can also remember that I-25 runs north–south, I-40 runs east–west, and the Rio Grande runs along the bottom of the valley in the western part of the city, you should be able to make your way around the city without too many problems. Here are some basic terms that will come in handy when asking for directions or looking at a map:
Central Avenue is a principal east–west artery, running roughly parallel to I-40 and through Downtown just west of I-25 and past the University of New Mexico (UNM for short) just east of I-25.
The Heights are the eastern part of town closest to the Sandia Mountains. You may also hear reference to the Foothills, which are the most extreme eastern part of the city, right at the base of the mountains.
Uptown is a business and shopping district in the Heights at I-40 and Louisiana Blvd.
The North Valley and Los Ranchos de Albuquerque (which is a separate municipality from Albuquerque) encompass the area north of I-40 between I-25 and the river.
The South Valley is the area south of Central Avenue west of I-25.
The Westside is all the suburban neighborhoods on the western side of the river. Rio Rancho, a separate community from Albuquerque, is the metro area's largest suburb and can be considered a northern extension of the Westside. Sandwiched between Albuquerque and Rio Rancho is the village of Corrales, which sits adjacent to the river and has a more rural feel, with a single narrow roadway through town lined with picturesque adobe buildings, many of them containing locally owned shops.
By car
If you're driving, be prepared for frequent road construction. The city government web site gives
information on major construction projects
, but there are always minor ones going on. Several radio stations try to give traffic reports during morning and afternoon rush hours, but the service tends to come and go, and it's best to inquire locally as to which stations are offering it. KKOB-AM, 770 on the dial, seems to be fairly reliable for these reports. The interchange of I-40 and I-25 is commonly called "The Big I", and you will hear it referred to as such in traffic reports. Traffic congestion, while not nearly as horrible as some of the other cities in the Western U.S., can still get bad during the rush hour and on Saturdays. The two interstates and the river crossings usually have the worst congestion.
Many Albuquerqueans seem to consider I-40 and 25, which run through the city, to be their own personal expressways. The lack of turn signal usage is a running joke for most Albuquerque drivers, so watch for cars changing lanes without warning. However, Interstate traffic usually flows around the pace of the speed limit.
Driving while talking on your cell phone is illegal in Albuquerque unless you use a hands-free system.
By bus
ABQ Ride
, +1 505 243-RIDE, is Albuquerque's public transit system. Despite some strides in the development of its public transit system, Albuquerque is still primarily a driving city, so with the exception of Central Avenue public transit is still for the most part very underdeveloped. Most of ABQ Ride's routes spur out of the Alvarado Transportation Center in Downtown at Central Avenue & First Street, which also serves as Albuquerque's Amtrak station and Greyhound depot as well as a Rail Runner station. Bus service is reduced during the weekend.
The
Rapid Ride
is an express bus service operated by ABQ Ride which runs frequently, utilizing bright red articulated buses. There are three Rapid Ride routes: the #766 (Red Line) and #777 (Green Line) each run very frequently and almost entirely on Central Avenue, serving attractions such as the BioPark, Old Town, Downtown, UNM, Nob Hill, the fairgrounds, and Uptown; the #766 runs between Uptown and Unser/Central on the Westside, while the #777 runs between Downtown and Tramway/Central on the eastern edge of the city. Additionally, the #790 (Blue Line) connects UNM to the Cottonwood Mall area on the Westside, but runs less frequently than the Central Avenue lines and is geared more towards commuters. Local routes that are useful for visitors include the #50, which runs Monday-Saturday between the airport and Downtown; and #40 (the "D-Ride"), a free shuttle which circulates around Downtown on the weekdays.
Standard fares for ABQ Ride routes are $1 per ride, with discounts for seniors and children available (cash only; exact change required). A day pass costs $2. A day pass is included in the price of a Rail Runner Express day pass, so visitors who ride the Rail Runner train to Albuquerque can also ride the bus for free using their train ticket.
By bike
Albuquerque is fairly bikeable, but it's a sprawling Western city and things are spread out. It's hillier than it looks; Old Town and Downtown attractions are several hundred feet lower than things in the heights on the eastern side of the city; plan accordingly. Getting around by bike can be a mixed bag in Albuquerque: street cycling can be risky as drivers may not always be aware and most major streets lack bicycle lanes (and even those that do have lanes may require uncomfortably close proximity to fast traffic). On the other hand, Albuquerque has a very proactive cycling community and a splendid paved trail network which is undergoing an expansion phase.
The crown jewel in this network is the
Paseo del Bosque Trail
, which runs along the east side of the Rio Grande and offers lovely riverside scenery. Another backbone to the trail network is the
North Diversion Channel Trail
which runs from UNM north to Balloon Fiesta Park, and while not nearly as scenic as the Bosque trail (it runs along a concrete drainage channel and past some industry) it offers the occasional grand vista of the city. Another fun ride is the paved trail along
Tramway Boulevard
on the eastern edge of the city, which offers excellent views of the city and access to the foothills of the Sandia Mountains. You can find a complete bike map of all the trails, lanes, and recommended routes on
the city's bicycling website
.
By horse
A principal corridor for equestrian use is the
Paseo del Bosque Trail
. Trailhead parking lots are large and one, at the Los Ranchos open space in the North Valley, has a feed store, Miller's Feed.
See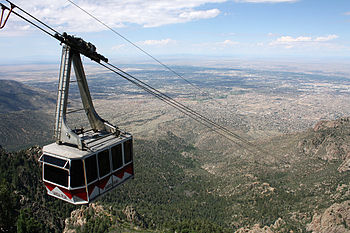 phone: +1 505 768-2000

Includes the city's aquarium, botanical garden, zoo, and Tingley Beach (see below under Do). Combo tickets for the Biological Park can be purchased and include the price of train rides on a small narrow-gauge train running between the Aquarium/Botanic Garden and the Zoo. The train runs Tu-Su from around 10AM-4PM at 30-min intervals.
address: 903 Tenth St SW

It may not be as big as your average big city zoo, but this zoo is surprisingly comprehensive for its size, with most of the popular species you can expect to find at any good zoo: polar bears, lions, zebras, tigers, giraffes, elephants, gorillas, etc. And like any good zoo, the animals are in nice, naturalistic exhibits. The highlight exhibit areas are the seals, the polar bears, a large Africa area, and a large elephant enclosure. Every day there are scheduled feedings of the seals and the polar bears; during the warmer months more feeding times, activities, and outdoor concerts are scheduled. A small narrow-gauge train runs through the zoo (Tu-Su 10AM-3:30PM at 20-min intervals), with a conductor pointing out some of the animals and explaining what goes on behind-the-scenes. A separate train line runs to the Aquarium/Botanic Garden.

address: 2601 Central Ave NW

Albuquerque's small but pleasant aquarium is well-curated, with exhibits designed to simulate the Rio Grande and the saltwater marshes of the Gulf of Mexico before moving on to ocean species. Among the sea creatures on display are jellyfish, seahorses, eels, and plenty of colorful reef fish, with the highlight being a huge tank at the end with sharks, sea turtles, and rays. Divers enter the big tank every day from 2-3PM to feed the fish.

address: 2601 Central Ave NW

Next door to the Aquarium, this expansive botanical garden is one of Albuquerque's real gems. The place is an oasis with a variety of gardens to explore, with an emphasis on high desert plants but also with many highlight exhibits that are great for children: an indoor conservatory with lush Mediterranean plants, an insectarium with plenty of creepy-crawlies, an indoor butterfly pavilion that's open in the summer, a large Japanese garden with a koi pond and a waterfall, a recreation of an early 20th-century farm with a barnyard petting zoo, a model railroad, and a fantastic children's "Fantasy Garden" made to look as if you've shrunk down to a bug's size, with giant pretend vegetables, garden tools and bugs.
Rio Grande Nature Center State Park

phone: +1 505 344-7240

address: 2901 Candelaria Rd., NW

Visitors can walk the paths through cottonwood forest and next to managed ponds and wetlands, or avoid the elements at the Visitor Center. Beautiful tile installments throughout the park educate visitors on local ecology and conservation efforts. Birdwatchers find this site an especially rewarding urban location.
Old Town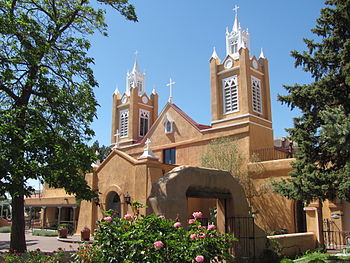 The Old Town is east of Rio Grande Boulevard in between Central Ave. and Mountain Rd. (
west of downtown
).
A nice sightseeing area, Old Town is where the city was founded in 1706 and is a place where centuries of history and modern life merge; 18th century architecture with narrow brick paths is blended with adobe architecture, and there are lots of little nooks and crannies, small restaurants, and specialty shops. At the center of the district is the pleasant , which has a gazebo, historic exhibits, and is bordered on the north by the , the oldest building in Albuquerque. In Christmas time, thousands of
luminarias
(paper bags filled with sand and illuminated from within by a lit candle) line the streets. Guided tours of Old Town are available from a
private operator
or from the
Albuquerque Museum
.
There are several museums within easy walking distance of the Old Town Plaza. Most of them are on Mountain Rd., just a few blocks northeast of the Plaza.
University of New Mexico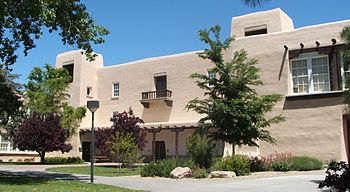 address: between Central Ave., Girard Blvd., Lomas Blvd., and University Blvd
By far the largest institution of higher education in the state, UNM has a significant presence in the center of the city. The main campus makes a very pleasant diversion, with its Pueblo-Revival adobe buildings and pleasant landscaping. Near the center of the campus is a , a popular relaxing spot for students where you can rest on the lawns and feed the birds.
Maxwell Museum of Anthropology

phone: +1 505 277-4405

address: Redondo Dr

The anthropology department at UNM has been acclaimed as one of the finest in the nation, and over the years its field schools have amassed an impressive collection of artifacts. The museum has changing exhibits and two permanent exhibits; one showcasing the evolution of humans from primates, and the other focusing on the prehistoric native cultures in the American Southwest, with a reconstruction of an archaeological dig in Chaco Canyon.

phone: +1 505 277-4204

address: in Northrop Hall, on the Yale walkway just north of Central Ave

In the university's geology department building are a pair of galleries with minerals, fossils, and meteorites collected by UNM faculty and students, as well as exhibits about local geology.

phone: +1 505 277-4001

address: in the Center for the Arts building, on the Cornell walkway near the bookstore, just north of Central Ave

Changing exhibitions of art, with a focus on New Mexico and UNM artists.
Itineraries
Breaking Bad Tour — A tour of filming locations from Albuquerque's main claim to fame: the popular television series Breaking Bad, which was set and produced almost exclusively in Albuquerque. This itinerary contains most of the filming locations for the show as well as some local businesses selling show-inspired products.
Do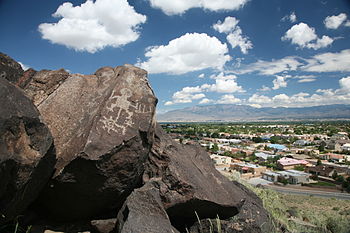 Outdoors
phone: +1 505 897-8831

address: 6500 Coors Blvd

The center for the city's open space program, which encompasses land from around the city to preserve for environmental and recreational use. The visitor center has exhibits on the natural and cultural resources of the area, an art gallery, a nature area, and views of the bosque and mountains.

phone: +1 505 899-0205 ext 331

address: visitor center at 6001 Unser Blvd NW

On the west side of town, Petroglyph is a unit of the United States National Park System and preserves a significant archaeological site with an impressive number of petroglyphs. Despite their proximity to an urban center, the petroglyphs are in good condition with very little vandalism or theft. The monument has a visitor center with some interpretive exhibits and a few short trails that lead past numerous petroglyphs. Also within the monument are a series of volcanic cinder cones overlooking the city, accessible by hiking trails from Atrisco Vista Blvd along the backside of the monument.

Rio Grande Valley State ParkA very pleasant state park running along the banks of the Rio Grande through Albuquerque. The park encompasses almost the entirety of the bosque (cottonwood forest) in the city, which is home to much wildlife, such as geese, roadrunners, beavers, rabbits, squirrels, and numerous other species. Numerous trails criss-cross the park, most notably the Paseo del Bosque paved bike/walk trail which runs the length of the park and offers a scenic walk or bike ride. The park's trails are also utilized by an active equestrian community in the area. There are also several picnic areas and wetland areas, with the two most prominent listed below.
phone: +1 505 344-7240

address: 2901 Candelaria Rd NW

The bosque provides a tranquil setting for this small but delightful nature center, with its wildlife pond and exhibits on the native wildlife. Nature lovers will particularly enjoy the enclosed views of the pond behind the visitor center. Two short trails head into the bosque from the visitor center.

address: Tingley Dr, just S of Central Ave

A facility of the Albuquerque Biological Park, this park along the Rio Grande has fishing ponds for adults and children, a model boating pond, a cafe, and a gift shop where you can buy fishing licenses, fishing gear, or rent a pedal boat for a ride on the central pond. Trails lead into the bosque to the edge of the river and to a pair of restored wetland ponds. A narrow-gauge train links Tingley Beach to the Albuquerque Aquarium/Botanical Gardens and the Rio Grande Zoo (listed above under See).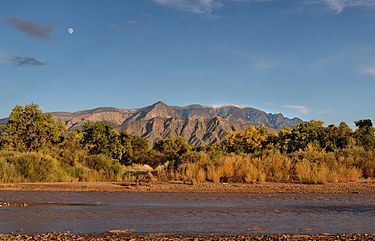 The Sandia Mountains offer outdoors opportunities ranging from straight hiking (the La Luz trail is popular, perhaps too much so) on to serious, multi-day rock climbing. Mountain biking is also really popular, and there are great trails in the foothills as well as at a ski area on the other side of the mountains during the summer. If less athletically inclined, ride the Sandia Peak Tramway (see "See" section above) to the top. At the base of the mountains, near the tramway, you can find magnificent views of the city and mountains and access trails into the mountains, especially around the . For a map of Sandia Mountain trails, see the Cibola National Forest website. During the winter, the Sandia Peak Ski Area serves skiers and snowboarders; see Cedar Crest for details. The ski area can be reached either by taking a 45 min. drive around the mountain to the base lodge or by taking the tramway up to the top of the mountain—presuming there's enough snow at the top (skiers get a discount on tramway tickets, but you have to bring your own equipment).
Sports and amusements
Performing arts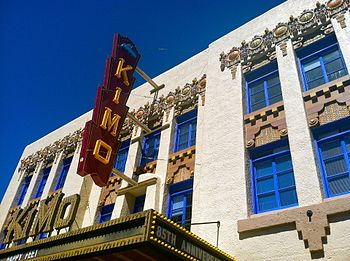 Albuquerque International Balloon Fiesta
Albuquerque International Balloon Fiesta
address: Balloon Fiesta Park
The Fiesta is the world's largest ballooning event and one of the most photographed events in the world. A cultural landmark for Albuquerque (and indeed, all of New Mexico), this festival gives you a first-hand look at the world of ballooning. For nine days in October, you can walk out onto a large field where balloonists from around the world set up, inflate, launch, and possibly land their balloons. Mass ascensions of balloons with hundreds of different colors and shapes create an often stunning and magnificent sight. It's one of the most heavily attended festivals in the entire U.S.
Balloons fly best in cooler conditions, so many of the events take place early in the morning. Traffic is pretty bad around the festival; expect a long, long line of cars (you may want to seriously consider taking park-and-ride to beat the traffic). Get your hotel reservations
far
in advance, because everyone fills up around this time of year.
If the event is rained or snowed out, there are no refunds on prices. Most years the weather works in favor of the balloonists, so this shouldn't be a problem, though.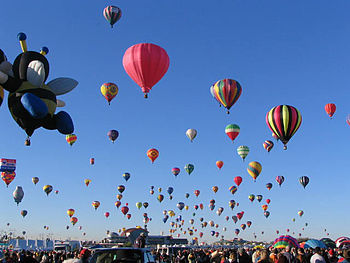 The event begins on the first Saturday of October and ends with a farewell mass ascension on the Sunday of the following weekend, with numerous events in-between, such as concerts and balloon races. Here are a few of the highlights of the fiesta:
Dawn Patrol. Every day there's a Dawn Patrol at around 6AM, where a few balloons take off before the sun rises. These balloons test the conditions before other balloons take off.
Mass Ascension. On weekend days at about 7AM the Mass Ascension occurs, which is the lift off of all the balloons participating in the fiesta, usually in two waves. Not to be missed.
Balloon Glow. On weekend evenings (except for the final day of the event) a Balloon Glow takes place, when the balloons don't lift off the ground, but are illuminated by the light of their propane burners going off.
Morning Glow. The same as the balloon glow but early in the morning (may not always occur).
Special Shapes Rodeo. Happens at 7AM on the Thursday and Friday of the event, which is a Mass Ascension for all the "special shape" balloons. There are also Balloon Glows called Glowdeos (a portmanteau of "glow" and "rodeo") for the special shape balloons. The special shapes are the balloons in forms other than the standard balloon shape, and are very popular with kids; expect to see animals, cartoon characters, clowns, and many other colorful creations. Returning favorites include a milk cow, a wagon coach, and a trio of bees.
And if you want to do more than watch the balloons, there are several local companies which provide balloon rides year-round:
phone: +1 505 823-1111

The only one which operates directly from Balloon Fiesta Park during the Balloon Fiesta

phone: +1 505 550-2677

phone: +1 505 250-2300
Other annual events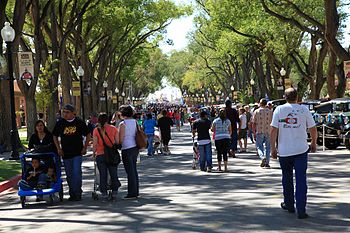 Besides the Balloon Fiesta, there are numerous festivals and celebrations on a yearly basis. Here are some of the major ones:
Around Christmas time, thousands of luminarias (a paper bag half-filled with sand with a lit candle placed inside) line the streets of Old Town. If you come to the city during this time of year you are also likely to see electric luminarias (a string of lights designed to resemble authentic luminarias) lining the roofs of many buildings in the city. You may also see luminaria displays in some of the city's residential neighborhoods, on the UNM campus, and on many an individual's front yard, but Old Town provides the most accessible and dramatic display.



Buy
Upon first glance, it might seem like your only place to shop are the miles and miles of strip malls that line the major arterials. While that's not
entirely
the case, everything is really spread out, with the exception of the concentrated Old Town-Downtown-Nob Hill area along Central Ave. So while you can find just about anything you're looking for, you will probably have to drive a ways to get it.
Here are some good places around town to shop: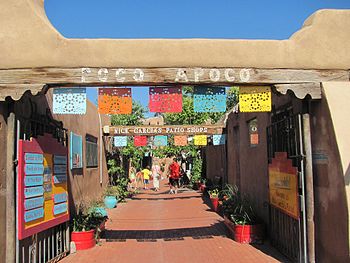 address: at Central & Rio Grande

If you're looking for all the "New Mexican" shops, this is probably the next best thing to Santa Fe. Granted, some of it is tacky souvenir stuff, but there are also plenty of quality gift shops with authentic Native American and Southwestern art. You can also find plenty of antiques, art galleries, jewelry, pottery, weavings, clothing stores, and other specialty shops.
Albuquerque Photographer's Gallery

phone: +1 505 244-9195

address: 303 Romero St NW, STE N208 (upstairs)

A juried photography co-op of award-winning photographers, representing a wide variety of styles and techniques.

phone: +1 505 242-4311

address: 205 Romero St NW

Co-op of 40 contemporary artists selling a wide variety of southwestern arts and crafts.

phone: +1 505 243-6239

address: 524 Romero St. NW

A popular candy shop with lots of homemade fudge, chocolates, caramels, and other sweets, though it has also gained notice for providing the blue-colored hard candy that served as the meth prop in the locally-set Breaking Bad television series. You can buy a bag of a faithful recreation of the prop, which is now one of the shop's most popular products.

phone: +1 505 266-8443

address: 800 20th St NW

A wonderful store with an extensive collection of minerals, geologic specimens, gems, beads, supplies for the geologist, information about local geology, and more. Anyone even slightly interested in geology could spend a lot of time here.

phone: +1 505 842-8102

address: 204 San Felipe NW

A very large gift shop with all the typical tourist kitsch, which certainly has its charm.

R.C. Gorman/Nizhoni Gallery

phone: +1 505 843-7666

address: 323 Romero St NW

Featuring works by several popular artists, including noted local painter R.C. Gorman.

phone: +1 505 247-2242

address: 323 Romero St NW

A long-standing business selling native arts and crafts.
phone: +1 505 255-8878

address: 107 Carlisle Blvd SE

Stock up on all your herb supplies and herbal remedies here.

phone: +1 505 256-4183

address: 3106 Central Ave SE

An art gallery and store cram packed with Day of the Dead folk art.

Objects of Desire

phone: +1 505 232-3088

address: 3225 Central Ave NE

Fine furnishings and accessories.
Outside these areas, there are also some specific businesses around town that are worth your time:
Active Imagination

phone: +1 505 299-2019

address: 11200 Montgomery Blvd NE

Formerly Wargames West on Central, this store has a long history in Albuquerque. Features cards, board games, role-playing games and a gambit of miniature table-top games. Open boardgame night is Thursday, but you're bound to find people gaming any night of the week.

phone: +1 505 821-5400

address: 100 Bien Mur Dr NE

Owned by the Sandia Pueblo, this huge market has loads of Native American jewelry, pottery, rugs, paintings and folk art. Most of the stuff here comes directly from the artist to the market.

Gertrude ZacharyA locally-owned jewelry chain in Albuquerque with plenty of antiques and Southwestern jewelry. There are three locations around the city:
Gertrude Zachary Jewelry Showroom

phone: +1 505 247-4442

address: 1501 Lomas NW

Gertrude Zachary Antiques Showroom

phone: +1 505 244-1320

address: 416 Second St SW

Gertrude Zachary Nob Hill

phone: +1 505 766-4700

address: 3300 Central Ave SE
Eat
Dining out in Albuquerque tends to be relatively inexpensive and very casual. Many places offer outdoor seating. Iced tea is the beverage of choice.
New Mexican dining
New Mexican cuisine is unique. Be ready for the question "Red or green?" or in Spanish "¿Rojo o verde?" which refers to the chile based sauce included in or used to smother various menu items. There are constant arguments as to which is hotter, the ripe and often dried red chile, or the immature green chile; however, spiciness depends much more on the strain of pepper and how the chile is prepared rather than the color, and varies greatly by restaurant, so inquire and experiment. Many meals will include
sopaipillas
, the characteristic New Mexican fry bread, as a side. The characteristic desserts are
flan
, a type of custard, or
Natillas
, closer in texture to pudding.
Budget
Acapulco

phone: +1 505 268-9865

address: 840 San Mateo Blvd SE (alternate location at 2617 Wyoming Blvd NE)

Serves excellent New Mexican cuisine from a stand.

phone: +1 505 247-8522

address: 2111 Church St NW

A cozy little restaurant with good New Mexican food tucked away down a side alley of Old Town.

phone: +1 505 247-4141

address: 1815 Central Ave NW

An inexpensive lunch counter in the back of a pharmacy serving cheap, hearty New Mexican cuisine.

phone: +1 505 242-3102

address: regional chain, original in Old Town at 2105 Mountain Rd NW

Consistent, great quality food with great service and atmosphere.

phone: +1 505 268-0974

address: regional chain, main location at 4901 Lomas NE

A pleasant sit-down restaurant with a milder chile.

phone: +1 505 345-9200

address: 7308 Jefferson St NE (alternate location at 2100 Candelaria Road)

Flavorful but not-too-hot chile.

Ortega's Mexican Restaurant

phone: +1 505 298-0223

address: 3617 Wyoming Blvd NE

Whole grains, low fat.

Papa Felipe's Mexican Restaurant

phone: +1 505 292-8877

address: 9800 Menaul Blvd NE

Home-cooked, authentic New Mexican cuisine since 1977. Lunch and Senior specials. Full bar and happy hour.

Perea's

phone: +1 505 293-0157

address: 1140 Juan Tabo Blvd NE

May have the hottest green chile in town.

phone: +1 505 345-5339

address: regional chain, original at 6230 4th St NW

Consistent quality. Often a long wait. Hot chile.
Mid-range
Non-New Mexican dining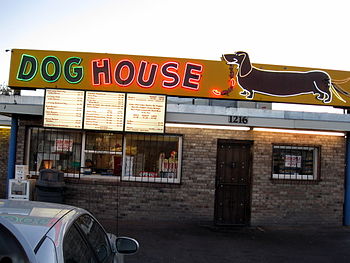 Budget
Banh Mi Coda

phone: +1 505 232-0085

address: 230 Louisiana Blvd SE

Excellent Vietnamese sandwiches. Get the #6, grilled pork on a French style baguette with French-inspired style mayo (aioli), cucumber, cilantro, strips of pickled carrots, and slices of jalapeños. Bakery also carries various Vietnamese desserts, steamed sweet/glutinous rice with mung beans, and Vietnamese steamed pork sausages.

Bob's Burgers

phone: +1 505 831-2111

address: several locations around town; Central location at 4506 Central Ave SW

A home-grown chain of burger stands with a New Mexican flair. The ones west of the river are owned by Bob, the ones east of the river by his son-in-law Clifford. Bob makes some of the hottest green chile sauce in the state; Clifford flat out tries to kill you. A "chile-head"'s paradise. Try a foot-long chile-cheese dog with green sauce instead of traditional red.

The Dog House

phone: +1 505 243-1019

address: 1216 Central Ave SW

phone: +1 505 255-1094

address: several locations around town; Zuni location at 5555 Zuni SE

The place is a little bare-bones, but the food is excellent (and shows the difference between "Mexican" and "New Mexican" cuisine), not to mention cheap. Get a horchata as your drink.

phone: +1 505 266-0550

address: 2400 Central Ave SE

One of the most popular restaurants in Albuquerque; a big hangout for the college students at UNM. Good American and New Mexican food, the breakfast burrito here is one of the best in Albuquerque. The atmosphere is casual, and it's a great place to people-watch and witness a good cross-section of the city's population. If you can't make it to the Frontier, you can go to one of the several Golden Pride chain places around Albuquerque, which is owned by the same family and serves much of the same food.

phone: +1 505 243-1881

address: 2500 Broadway Blvd SE

Enjoy some authentic Albuquerque cuisine, restaurant is best known for serving a fry covered, football sized burrito called the Travis. They can be ordered in eighths, quarters, halves or whole; consumption of an entire travis is sometimes used as a fraternity hazing. The breakfast skillet meals are wonderful.

Pericos

phone: +1 505 247-2503

address: 109 Yale Blvd SE

A small Mexican/New Mexican greasy hole-in-the-wall joint with lousy service, but delicious burritos.

Pho #1

phone: +1 505 268-0488

address: 414 San Pedro Dr SE

Pho: Vietnamese noodle soup. Also grilled pork / chicken / beef noodle bowl and rice plates. Great friendly service. Don't miss the Vietnamese cold coffee with condensed milk.

Que Huong

phone: +1 505 262-0575

address: 7010 Central Ave SE

Bright, clean Vietnamese restaurant serving a range of Southeast Asian specialties for very good prices.

phone: +1 505 884-4000

address: 2321 Carlisle NE (alternate location at 10136 Coors NW)

Casual, relaxed, and wonderful self-serve BBQ. Don't miss the beef brisket!

phone: +1 505 255-5454

address: 107 Cornell Dr SE

Some of the best pizza in Albuquerque. The atmosphere is wonderful, with statues, murals, plants, and televisions everywhere. There is a sports bar in here, but the place is still very kid-friendly.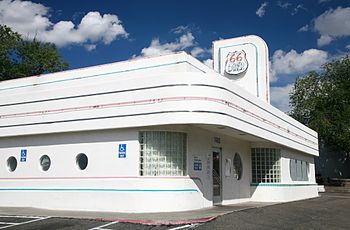 phone: +1 505 247-1421

address: 1405 Central Ave NE

A Route 66 themed restaurant serving classic American dishes. Big portions, great atmosphere.
Mid-range
phone: +1 505 856-7477

address: 9600 Tramway Blvd NE

Spectacular views of the city from the picture windows in the main dining area. For weekend dining, be prepared to wait a bit. Good Texas-style BBQ, relaxed atmosphere and large portions for your dollar.

phone: +1 505 265-6919

address: multiple locations; Central location at 4717 Central Ave NE

A popular local chain of pizzerias, serving some of the best pizza in Albuquerque. They also have sandwiches.

phone: +1 505 266-7855

address: multiple locations; Nob Hill location at 3403 Central Ave NE

Fresh gourmet pizza and beer.

phone: +1 505 255-6633

address: multiple locations; Nob Hill location at 3416 Central Ave SE

A local space age-themed chain with a wide variety of salads, sandwiches, entrees, New Mexican food, and superb desserts. Rated 'Best Bakery' in Albuquerque. Daily and weekly specials. Free wi-fi and comfy seating areas. Vast selection of magazines. Flying Star also operates the local Satellite Coffee chain, which has a great coffee selection and some of the same pastries you'll find at the Flying Star.

phone: +1 505 345-5156

address: 4320 The 25 Way, Ste 100

Persian food. Cushion seating available, bellydancing on weekend nights. Hookah available for rental. Wonderful Persian classics.

Namaste Cuisine of India and Nepal

phone: +1 505-266-6900

address: 110 Yale Blvd SE

An excellent Indian and Nepalese restaurant with a lovely atmosphere and delicious food.

phone: +1 505 243-2210

address: 515 Slate NW

American cuisine. They have a nice wine list and a wine bar loft too.

phone: +1 505 255-1994

address: 1430 Carlisle Blvd NE

Excellent Indian food.

Thai Tip

phone: +1 505 323-7447

address: 1512 Wyoming NE

A Thai restaurant with a loyal local following, and for good reason. Friendly owners and relaxed atmosphere.
Splurge
Grocery stores
La Montanita Nob Hill

phone: +1 505 265-4631

address: 3500 Central Ave SE

Slightly spaced out till staff.

La Montanita Valley

phone: +1 505 242-8800

address: 2400 Rio Grande NW
Sprouts on Corrales

phone: +1 505 890-7900

address: 10701 Corrales Rd NW

Sprouts on Lomas

phone: +1 505 268-5127

address: 5112 Lomas Blvd NE

Sprouts on Montgomery

phone: +1 505 298-2447

address: 11205 Montgomery Blvd NE

Sprouts on San Mateo

phone: +1 505 821-7000

address: 6300 San Mateo Blvd
Trader Joe's Far Heights

phone: +1 505 796-0311

address: 8929 Holly Ave NE

Trader Joe's Uptown

phone: +1 505 883-3662

address: 2200 Uptown Loop NE
Drink
Downtown
Nob Hill & UNM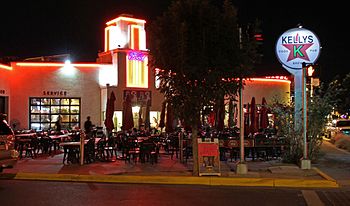 North I-25 Corridor & Heights
Westside
Sleep
If you want a nicer—and pricier—hotel, then head east on I-40 to "uptown" (in the northeast side of the city, which is at higher elevation than "downtown" close to the river) or north on I-25. If you don't mind less free stuff, Central Ave. (old Route 66) is cheaper. However, there are some real dives along Central Avenue, many with unsavory reputations and occasional police raids. Hotels around the airport are generally vanilla-flavored, business-traveler places, but at least are somewhat less expensive than airport hotels in many cities. There are a few nice highrise hotels in the Downtown/Old Town area. Lodging Per Diem is $75.
Albuquerque is experiencing a massive wave of hotel building, mainly in the "Mid-range" class. This apparently is driven in part by the infamous lodging shortages during the Albuquerque Balloon Fiesta in October. The result is that during other parts of the year, affordable hotels shouldn't be too hard to find. Even with the growth in the hotel market, lodging can be tight for the Fiesta, so if you're coming then, reserve well in advance—months rather than days.
For some free lodgings try looking for cafes where bands are playing (normally on the weekends) and ask among the punk kids and see if they'll help. Even they, however, may not have much space during the Balloon Fiesta.
Budget
Mid-range
Splurge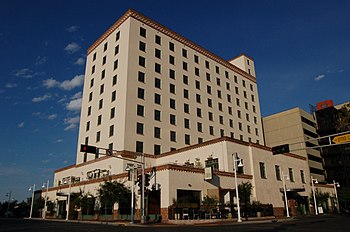 Stay safe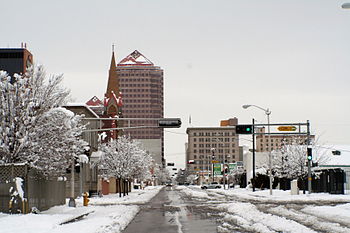 Albuquerque has an average crime rate compared to some other American cities, but most of it is property crime of more concern to residents than to visitors.
Central Avenue is home to some of Albuquerque's main attractions, but portions of it can be somewhat dangerous after dark. The section from the train tracks (eastern edge of downtown) to University Blvd. can be a little scary in the evening. Even in Downtown, while Central Avenue is passable, smaller nearby streets such as Copper Street can be scary after dark. The Nob Hill/UNM district (between University and Carlisle) is perfectly safe at night, but Central gets progressively seedier east of Carlisle, and can get quite scary around the Fairgrounds. Consider the bus or a cab through these areas after the sun goes down.
Due to its size and mild climate, the streets of Albuquerque are considered home to many people. While not typically a danger, do expect to meet up with beggars and vagrants, particularly around UNM.
If you're going to be engaging in outdoor recreation (even as laid-back as watching an Isotopes day game), slather on the sun screen. The elevation of the city is 5000 ft or higher, and there is usually not much cloud cover, so one can get a bad sunburn in surprisingly short order.
Also, New Mexico is very arid. That, and its high altitude results in very low humidity in both summer and winter, which can lead to dehydration. Drink plenty of water. A common complaint among visitors from lower altitudes is a persistent headache, which is often mistaken for altitude sickness, but is really a common symptom of dehydration. Consider carrying a water bottle and drinking frequently throughout the day if you don't already.
Be forewarned about New Mexican cuisine; if you're not used to green chile, go easy at first. Many first-timers have tried to eat the hottest chile they could find, only to discover six hours later that it was MUCH hotter than they remembered. Be prepared.
Connect
The area code for the city is
505
.
Every branch of the
Albuquerque/Bernalillo County Library System
provides free wifi; they also have computers available but these require that you purchase an internet access card for $3. The is Downtown at 501 Copper NW, +1 505 768-5141. There are also a number of
free Wi-Fi hot spots provided by the city
, mainly around Civic Plaza in Downtown, the Sunport, and the Old Town Plaza. Also, it is free to connect to the guest wifi on the UNM campus. Generally, there aren't very many wireless cafes in the city, but there is a good concentration around the UNM/Nob Hill area. The local Flying Star Cafe and
Satellite Coffee
locations offer free wireless internet to customers.
Newspapers
The Albuquerque Journal ($0.50 daily, $1.50 Sundays) is the state's largest newspaper and talks about issues in the metro area, the state, and the world.
The Alibi (free Wednesday mornings) is a free weekly that discusses issues in the metro area and runs some columns, but is more focused on the arts scene and has some great movie and restaurant reviews. They also run a number of "best of..." lists, notably the yearly "Best of Burque" awards. Great event listings.
The Daily Lobo (free daily) is a daily news service (Monday through Fridays in the school year) produced by UNM students. The online version is updated daily, but the printed version is only distributed on Mondays and Thursdays.
Magazines and TV
Cope
Smoking
New Mexico has a statewide ban on smoking in places of business. This includes bars and restaurants. The only exceptions are casinos and cigar bars. In addition Albuquerque has banned smoking on all public property except the golf courses.
Consulates
phone: +1 505 247-2147

address: 1610 4th St NW
Go next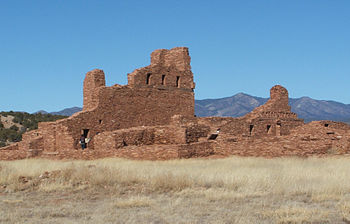 North of Albuquerque:
South of Albuquerque: